by
posted on December 2, 2021
Support NRA American Rifleman
DONATE
From the perspective of an outsider or prospective shotgunner, connecting with an airborne—or scurrying—target would seem rather simple. After all, there are so many pellets, how could one miss? The answer is, easily. The ardent shooter understands that, although there is a veritable swarm of shot, connecting with the mark isn't guaranteed—far from it.
But, before you worry about the intricacies of hitting dynamic targets, or even proper type of lead, you must first find the proper shotgun for you and then set it up for success. Here's what you need to know to do so.
Narrowing the Field
The type of shotgun best suited for you depends primarily on its end use—be it for hunting, competition, defense or some combination thereof. In this article, we'll focus on sporting shotguns.
Before delving into desirable types and traits, it's worth mentioning that, although it is for most consumers, price shouldn't be the foremost consideration in selecting a shotgun. Buy the best that you can save for and consider it a far-sighted investment—especially for the high-volume competitor. Though perfectly serviceable for most kinds of hunting since the round count is limited, lesser-quality guns tend to experience a higher rate of malfunctions when heavily used. In the realms of competitive shooting, that can cost you dearly. Thus, it is best advised to avoid them.
Whereas side-by-side and pump-action shotguns make great hunting arms, they're less desirable for competition outside of skeet, trap and sporting clays events set up for, as well as limited to, those shotguns. The latter can prove problematic for all but the fastest shell-shuckers when shooting challenging simultaneous pairs.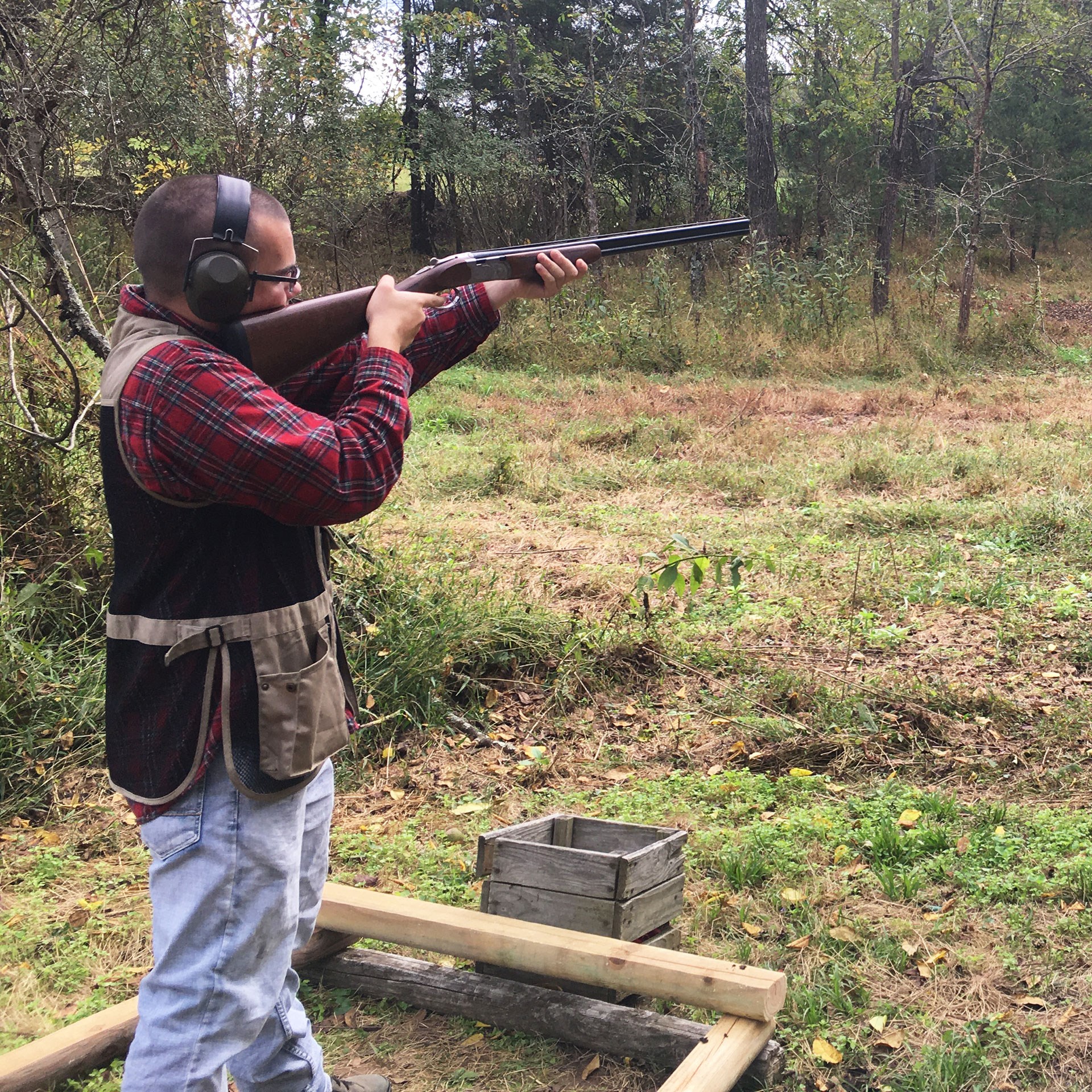 The author's son, Gabriel, practicing at a range. Sporting clays is an especially challenging clays sport due to ever-changing course designs and diverse landscapes. Before you worry about the minutia of engaging targets, though, you must have a solid foundation on which to build your shotgun.

For the shooter who wants an "all-around" shotgun that can easily handle the rigors of hunting and competition, a solid choice would be a high-quality, over-under or semi-automatic. However, understand that to be considered "all-around," something, somewhere is sacrificed. As an example, many semi-automatic field shotguns now feature lightweight aluminum receivers and 26" to 28" barrels. They're wonderful to tote on lengthy strolls and more maneuverable, but at the expense of a shorter sighting plane and increased perceived recoil.
Enhancements, such as Benelli's Combtech and Comfort Tech 3 along with Browning's SoftFlex and Inflex Technology, to name a few, along with gas-operation or "Inertia-Driven" systems (and clones) can diminish or change the recoil impulse into something more pleasant to the body. Gas-operated, semi-automatic shotguns are especially shoulder friendly, but they are more time-consuming to clean.
Concerning semi-automatics, Beretta, Benelli and Browning shotguns are tough to top. In fact, the Benelli Super Black Eagle II that accompanies me when chasing sea ducks and divers on Virginia's Eastern Shore and boisterous springtime gobblers was the very one that helped me to punch into the National Sporting Clays Association (NSCA) Master Class. You cannot reach your full potential without absolute confidence in your equipment.
Similarly, stacked-barrel shotguns intended for hunting tend to be lightweight—especially the imported, aluminum-framed models. Wonder what it's like to get hit repeatedly by a UFC fighter? Use an ill-fitting one in a 200-clay (or more) tournament to find out. A wiser decision is to select a dual-purpose, over-under shotgun, such as the relatively new steel-frame Browning CXS. Its impressive list of features enables it to work well for hunting, serious skeet and sporting clays competition, though its near 8-lbs. weight would be a bit much for long treks. Competition-specific, over-under shotguns are, in general, heavy due to their construction, which is essential for extensive long-term use.
Non-Negotiables
When selecting a shotgun, ensure that it shoulders smoothly and fits you. Once shouldered, the rib and bead(s) should align with the eye, even though you don't "aim" a shotgun—you point it. Whereas most utilitarian shotguns have non-adaptable stocks (other than shims), the trend in competition-grade guns is maximum user adjustability. For instance, the comb can be adjusted for height and cast, with some buttstock designs also permitting length-of-pull modification. This facilitates a proper fit, as well as ensuring the barrel(s) send the shot where you're aiming.
As previously mentioned, some "premium" semi-automatic shotguns have shims to aid fitting the shotgun to you. For shotguns that don't offer comb-height adjustability, a low comb can be built up using foam and fabric, moleskin or a commercial product such as Beartooth's Comb Raising Kit (CRK) and Recoil Systems' ISIS Comb Raiser. This will bring the eye into the correct alignment. Although an add-on disrupts the aesthetics of the gun, it'll serve its purpose well.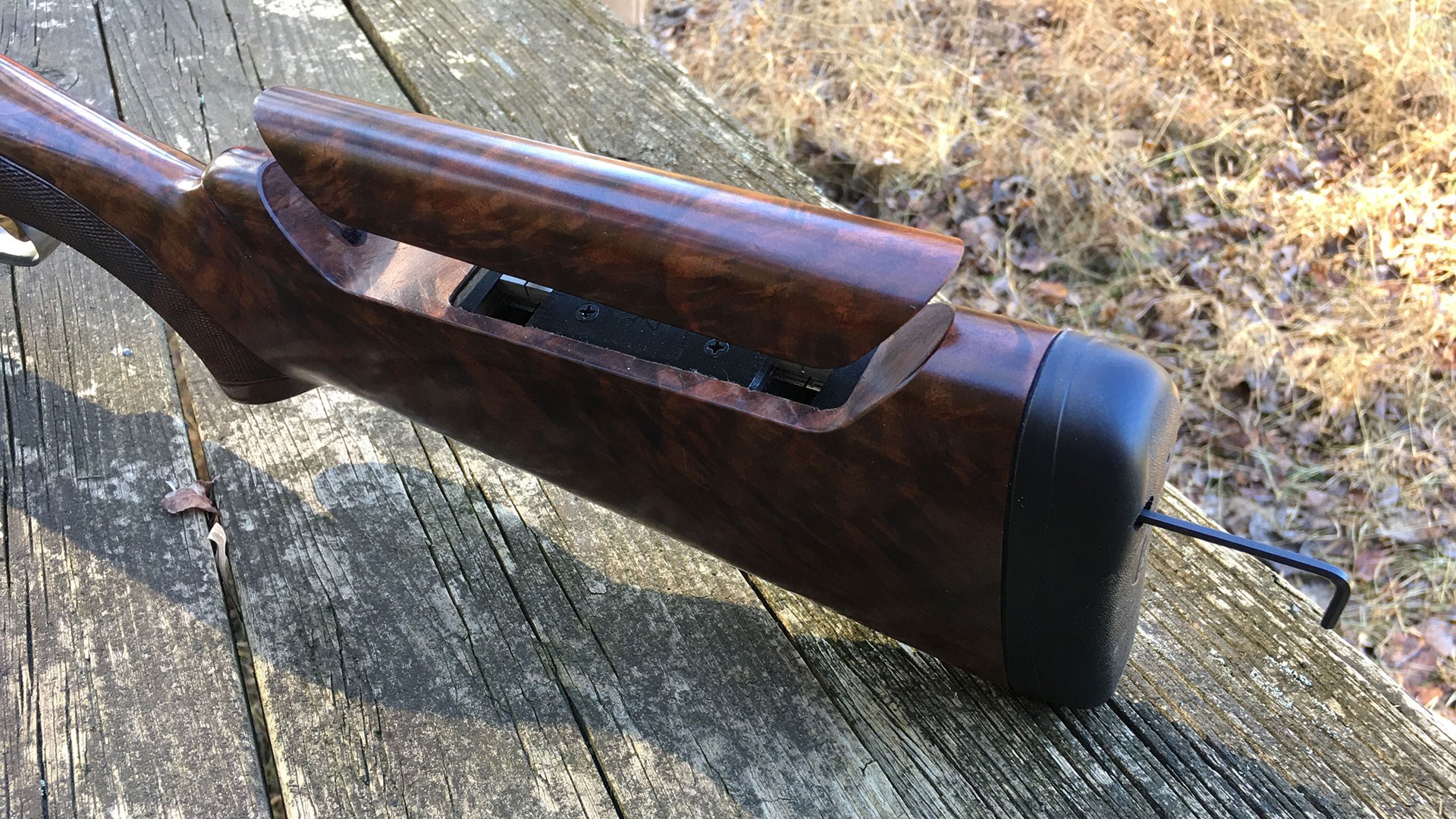 Serious shotgunners know that, to be consistently successful, the firearm must fit. Whereas "field" or "hunting" models seldom have fully adjustable (length of pull, comb height, and cast) stocks, top-tier competition offerings increasingly do. Using a single Allen wrench, the buttstock of the Citori 725 Pro Sporting with Pro Fit Adjustable Comb can be modified to fit nigh all shooters.
To correctly adjust for comb height and, especially, cast requires time at the pattern board, and the latter can be aided greatly through the assistance of a knowledgeable gun fitter. Neither are cheap, but a proper fit—including length of pull—is essential for top scores and utmost comfort. Concerning the latter, the stock's geometry must meld with your body, such as facial features and neck length. Thus, buttstocks that fit another shotgunner well won't necessarily be a good choice for you, and a poor fit invites discomfort along with poor performance.
Given the importance of stock fit, purchasing a shotgun sight unseen (or un-held) is ill-advised. If nothing else, visit a retailer and test them for fit. Better yet is visiting a range that rents shotguns, and try them on clays. At times, you can use the gun of certified instructors during formal training. In that case, you're getting the best of both worlds.
Recoil-Reduction Measures
If a stock fits, but recoil is still bothersome, there are steps that you can take to mitigate it. First, and least desirable (and aesthetic), is the addition of a slip-on recoil pad. While these lessen discomfort, they can increase length of pull by 1" or more, depending on the model. That is, unless you want to remove the existing recoil pad. Additionally, slip-on recoil pads are typically "sticky," and can hang up when mounting the shotgun from the low-gun position—not good on the range or in the field. A better choice is to have a gunsmith install a quality replacement unit from KICK-EEZ, Pachmayr (Lyman), or similar. Besides reducing recoil, it'll aid unhindered shouldering of the shotgun.
Another option is to add a mechanical or hydraulic recoil reducer on the inside of the buttstock. Some shooters swear by them, other report minimal change in perceived recoil. What is for sure is that they'll add weight to the butt of the shotgun, which will change its balance and, potentially, swing. They're costly, too. While on the topic of balance, Browning's Citori 725 Pro Sporting with Pro Fit Adjustable Comb over-under features the Pro Balance System, which enables the shooter to add, remove and move weight to achieve a smooth swing and mount.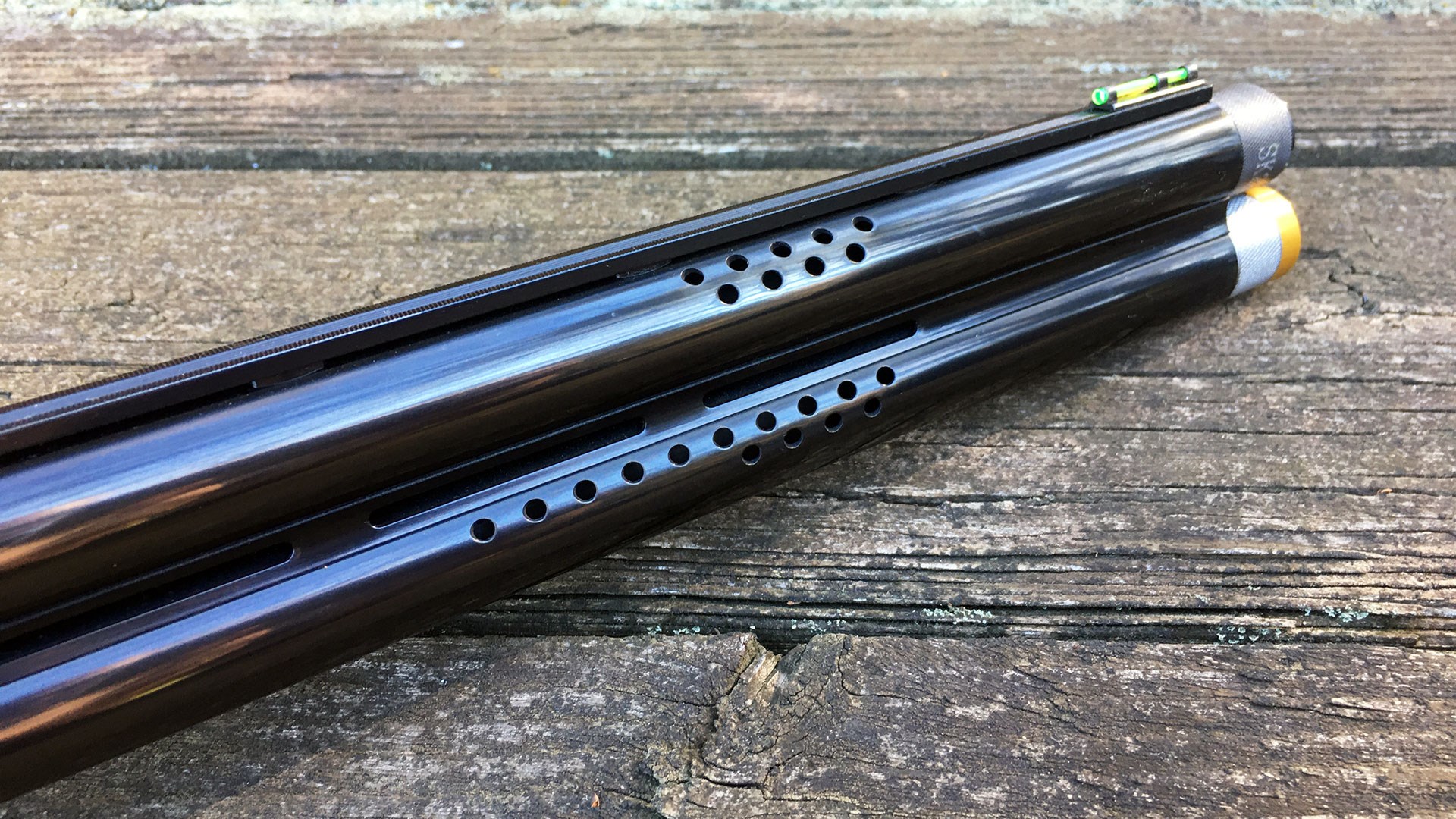 The ported barrel of the author's Browning Citori 725 Pro Sporting over-under shotgun. Barrel porting is an effective way to reduce perceived recoil. However, the primary drawback is increased report, which can be bothersome to squad mates. For models that are unavailable with porting, companies such as Mag-na-port can add it at a reasonable price.

Felt recoil can also be mitigated via barrel porting. Field models are seldom ported, but more competition-specific offerings are. If you're especially sensitive to recoil, such as post-surgery or shoot a lot, then invest in a shotgun with porting. If the model you have (or want) doesn't have it, it's an easy amenity to add. For me, Mag-na-port is the go-to provider; it's affordable, speedy, and offers several options. The company understands what guns can be ported and to what extent, so as not to affect its operation. There's no doubt that porting decreases recoil, and it reduces muzzle flip as well, which is important when multiple targets appear simultaneously.
Now for the drawbacks to porting. Expect greatly increased report and concussion. Quality hearing protection can offset the increased noise, but it won't pacify shooters around you (think clays events). It diminishes the experience for them and will lead to sneers afterward. I've witnessed this firsthand.
Improving Balance & More
While it's unlikely that you'd want extra weight on the forward portion of an over-under shotgun, you might opt for that on a semi-automatic to achieve the perfect swing. Briley Manufacturing, Inc. of Houston, Texas, has an array of clamp-on and fore-end cap weights for a wide selection of models. They are quick and easy to install and remove.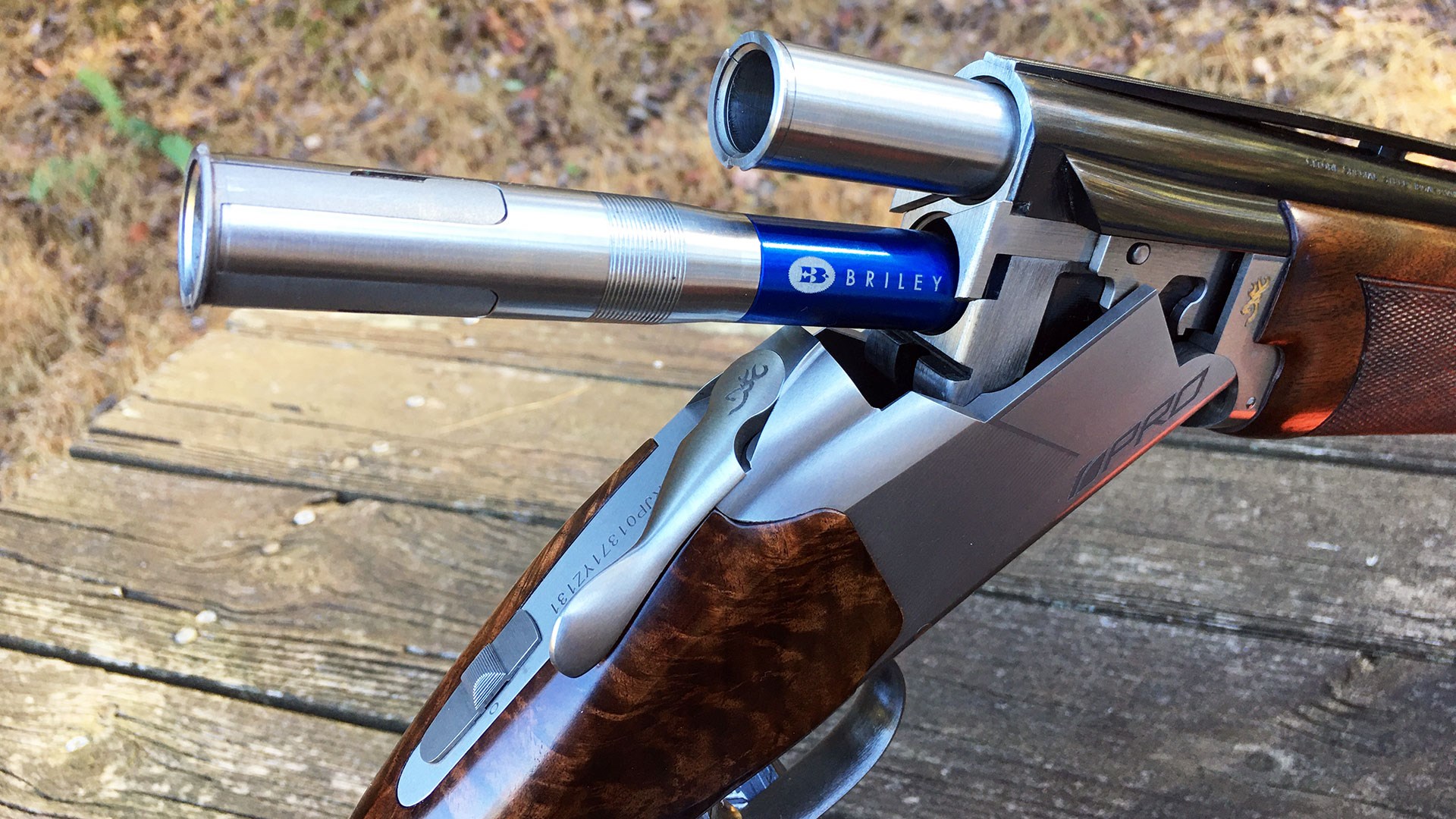 Briley Manufacturing's lightweight Side-Kick 2.0 Chamber Inserts slip into the chambers of most 12-ga. over-under and side-by-side shotguns, thereby enabling the firing of 20- or 28-ga., or .410-bore shotshells. Due to the weight of most steel-framed 12-ga. shotguns with twin tubes and the reduced payloads of sub-gauges, felt recoil is negligible.

Speaking of Briley, the company also has a unique option to reduce recoil, as well as compete in various sub-gauge events. If you have a 12-ga. over-under (excluding Benelli 828U), you can order a set of steel and aluminum Companion Drop-In Tubes or Side Kick 2.0 Chamber Inserts in 20 ga. or 28 ga., as well as .410 bore. The latter is also available for over-unders chambered in 20 ga. Though they add weight to your shotgun, the benefit is less recoil—especially in a steel-framed 12 ga. Removal of the hulls is accomplished via the shotgun's extractors.
You'd think that the difference in bore sizes would lead to poor performance downrange; however, I'm continually amazed at just effective they are. In fact, I have earned punches in NSCA-registered tournaments using them. Best of all, when 12-ga. ammo is difficult to find sub-gauge shells still line the shelves—excluding the .410 bore, of course.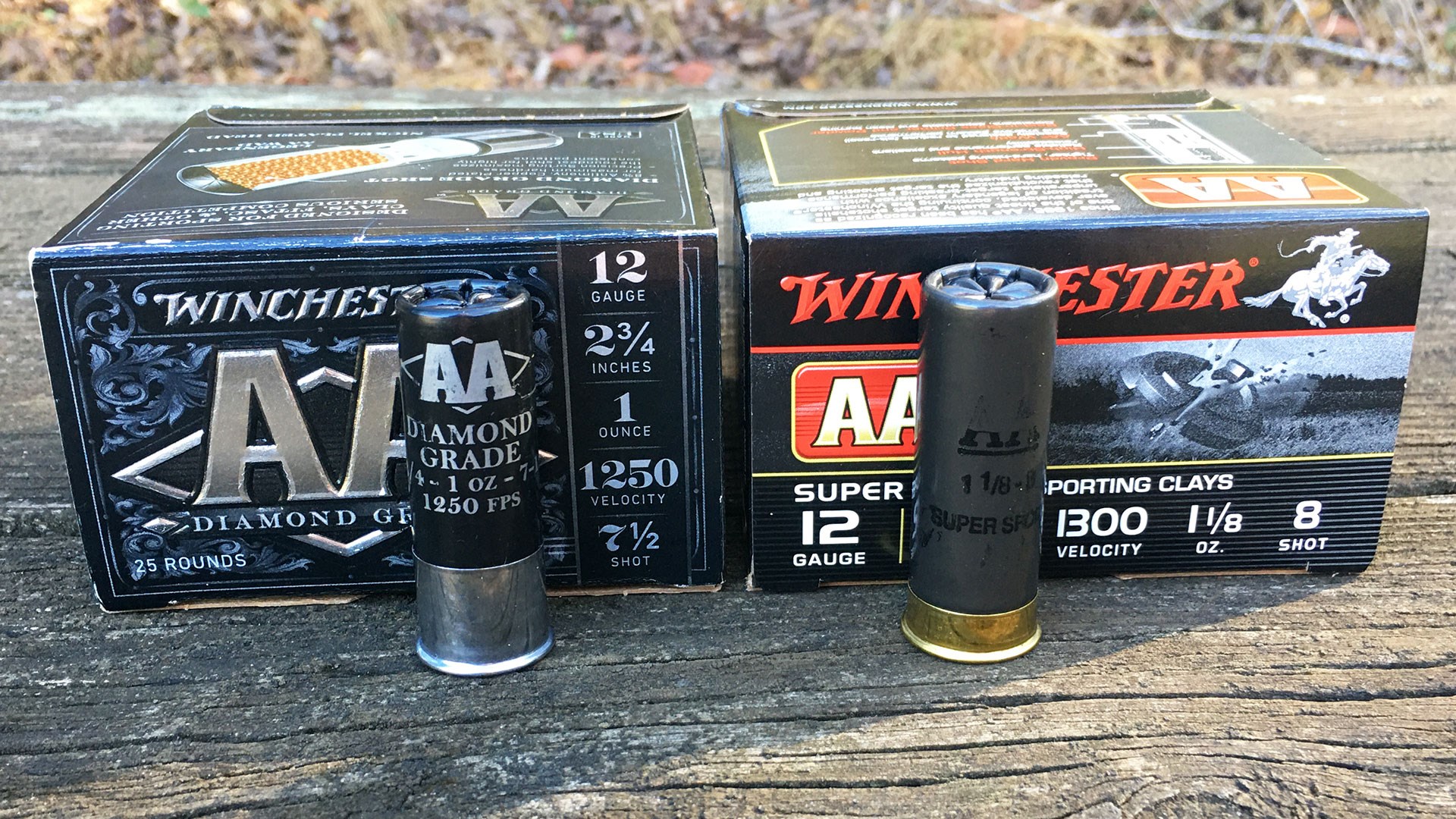 More isn't necessarily better when it comes to shotshells. By switching to a lighter payload and/or lower muzzle velocity, there will be less perceived recoil and shooter fatigue. Winchester's 12-ga., 1-oz. loaded shotshells on the left compared with its normal 1 1/8 ozs. loaded shotshells on the right.  
Beyond the shotgun itself, if you want to reduce recoil and muzzle flip, use a light load when competing. Economy 12-ga. loads often propel 1 1/8 ozs .of shot at high velocity. Since the weight of the propellant, shot, and velocity determine recoil, find something milder. One-ounce loads are equally as capable (if not better balanced) than 1 1/8-ozs. shells but generate less recoil. Better yet are 7/8-ozs. options and 3/4-ozs. handloads. For most shots on the skeet and sporting clays courses, they're equally effective. I like shells in the 1,200- to 1,250-f.p.s. range—particularly with No. 8½ shot—but those in the 1,145 f.p.s. or similar speeds work well, too
Don't assume that, because a shotgun is, well, a shotgun, it'll be easy to hit challenging targets with regularity. It won't be. Once you have the right shotgun and setup, everything else falls into place more easily.