by
posted on August 27, 2013
Support NRA American Rifleman
DONATE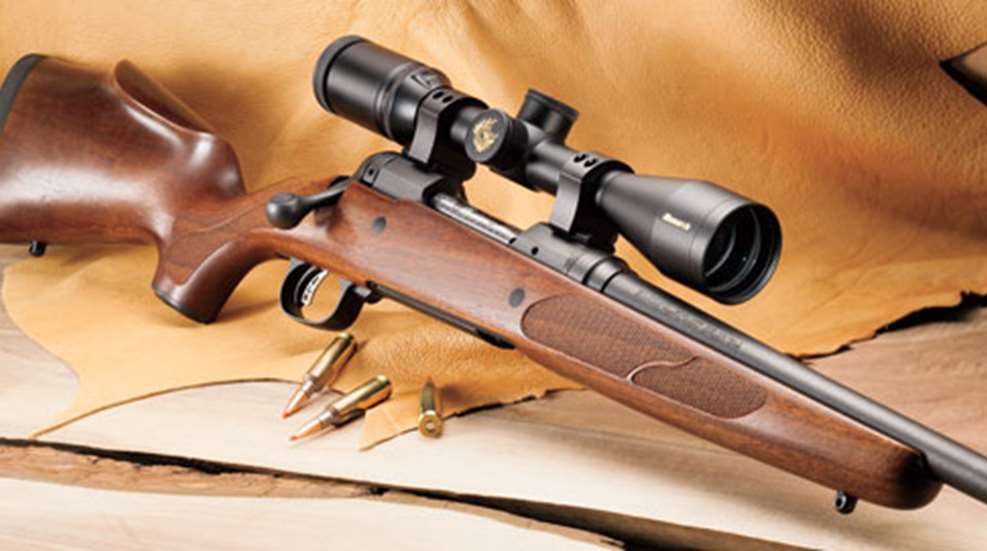 With more women participating in shooting sports these days, gun companies are stepping up to the plate with new offerings labeled as "ladies guns"; however, shaping a rifle to properly fit a woman's physique requires more than shortening the length of pull. When Savage Arms decided to release a ladies version of its bolt-action hunting rifle, the company's engineers consulted with and listened to female hunters to learn what they were looking for. Applying what they learned, Savage launched the Model 11/111 Lady Hunter in 2012 in a variety of calibers.
The Lady Hunter demonstrates a woman-specific geometry in a number of its features. A light rifle is convenient to carry for long treks, but weight distribution is equally important. A thin 20-inch barrel and reduced-size fore-end keep the weight of the rifle to the shoulder end of the stock where it can be more comfortably managed.
Regardless of your shape, size, or gender, stock design will influence shooting comfort. Women have longer necks than men, so Savage added a raised comb to the buttstock. The comb is sloped for easier target acquisition through a scope. The stock's length of pull has been reduced to 12½ inches-compared to the more common 14 inches to 14½ inches-and the grip has been thinned and angled to fit smaller hands. A thick, soft rubber buttpad helps to reduce perceived recoil.
The handsome oil-finish walnut stock features checkering with a custom-style design on the grip and fore-end. The four-round magazine is of the detachable-box variety, and the carbon steel of the barrel and receiver are treated with a matte-black finish. The thumb-operated three-position safety is located directly behind the bolt assembly, and the sliding button has the expected safety-on and safety-off positions. The middle position allows the bolt to be cycled while blocking the trigger for safer unloading.
One feature that deserves a special mention is the adjustable AccuTrigger. Although it's not unique to the Lady Hunter, the trigger pull weight can adjust from 2 pounds, 8 ounces to 6 pounds, depending on the user's preference. This is an added bonus, since tuning a trigger would be an expensive proposition if the work were done by a professional gunsmith. Even at its lightest setting, the trigger will not allow the gun to discharge if it is jarred or dropped since the articulated trigger blade must be fully depressed in order to fire. Along with its light weight and crisp break, the AccuTrigger on this model features the new teardrop safety lever, which offers an increased level of smooth and quiet operation compared to previous versions.
In order to meet a wide variety of big-game challenges and shooter preferences, the Lady Hunter is available in eight different chamberings. The rifle provided for this review was chambered for the 6.5 Creedmoor cartridge. The cartridge's light recoil, flat trajectory and terminal ballistics make it an excellent choice for the recoil-sensitive hunter who wants the ability to take the majority of North American big-game species.
Savage Arms has a reputation for providing rifles that run reliably and shoot accurately right out of the box, and the Lady Hunter certainly did not disappoint. The overall fit and finish of the rifle were excellent, with the stock carved from a piece of walnut that anyone would be proud to hold on a hunt or at the range. The bolt cycled smoothly and locked tightly. A round patch of checkering on the top of the steel bolt handle was a nice touch, making it easier to push the bolt forward quickly for a fast follow-up shot.
When testing for accuracy, the rifle was fired from a Caldwell Lead Sled Solo gun rest. A Bushnell Legend Ultra HD 3-9X 40 mm scope with a Multi-X reticle was mounted to the rifle using Millet steel scope rings. The positive qualities of the scope, the lightweight Accutrigger, and the target competition-inspired 6.5 Creedmoor cartridge worked together nicely to produce tight five-shot groups at 100 yards, ranging from ¾ inches to 1¼ inches in size. These results were impressive, especially for a lightweight 20-inch barrel. Although the three loads-all from Hornady-performed well, the Superformance 129-grain InterBond had the best average, which was 1 inch.
The Hornady loads demonstrated bullet velocities that maintained an excellent level of performance and consistency for a relatively short rifle barrel. The fastest round was the Superformance 120-grain GMX, averaging 2,967 fps. This was only an average of 83 fps slower than the published velocity of 3,050 fps. The Superformance 129-grain InterBond averaged 2,937 fps, followed by the Match 120-grain A-MAX load at 2,847 fps.
Off of the bench, this rifle and ammunition combination was comfortable to handle and produced a moderate level of felt recoil for a high-performance bolt-action. Since the extended shooting session with this rifle proved to be quite comfortable, the handful of shots usually required during a typical hunt will certainly not leave the shooter feeling battered or bruised.
Savage Arms is dedicated to producing high-quality firearms at a reasonable price. The company goes the extra mile by including additional features and rifle configuration options that are tough to find outside of a custom shop. The Model 11/111 Lady Hunter shows that the company is not only serious about taking good care of its customers, but that it wants all of its customers to have just the hunting rifle they're looking for.
Manufacturer: Savage Arms; (413) 568-7001; savagearms.com
Caliber: .223 Rem., .22-250 Rem., .243 Win., 6.5 Creedmoor (tested), .270 Win., 7 mm-08 Rem., .308 Win., .30-'06 Sprg.
Action Type: bolt-action, center-fire repeating rifle
Receiver: matte-black carbon steel
Barrel: 20", matte-black carbon steel
Rifling: six-groove, 1:8" RH twist
Magazine: four-round detachable box
Sights: none; drilled and tapped for scope bases
Trigger: AccuTrigger; 3-lb., 1-oz. pull
Stock: oil-finish American walnut: length of pull, 12½"; drop at comb, 11⁄4"; drop at heel, 11⁄2"
Overall Length: 39½"
Weight: 6 lbs.
Accessories: sling swivels, AccuTrigger adjustment tool, owner's manual, lock
Suggested Retail Price: $840