by
posted on September 22, 2016
Support NRA American Rifleman
DONATE
Sturm, Ruger & Co., Inc. has announced the highly anticipated, heavily redesigned Ruger Mark IV pistol. While the pistol maintains the same classic outward appearance as the Mark III, its simple, one-button takedown for quick and easy field-stripping will be a welcome and appreciated change for fans of this model. A recessed button in the back of the frame allows the upper receiver to tilt up and off of the grip frame without the use of tools. The bolt simply slides out of the receiver and the barrel can be properly cleaned from chamber to muzzle.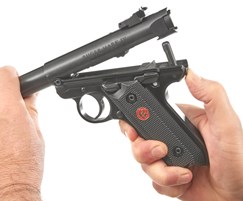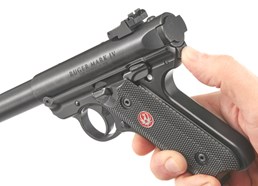 "We are thrilled to be introducing what we consider to be a monumental improvement to this iconic pistol that has been with Ruger from the start," said Ruger President and COO Chris Killoy. "This one-button takedown alleviates the headache that our Mark III owners are all too familiar with and we anticipate the Mark IV pistols being some of the cleanest rimfires at the range," Killoy concluded.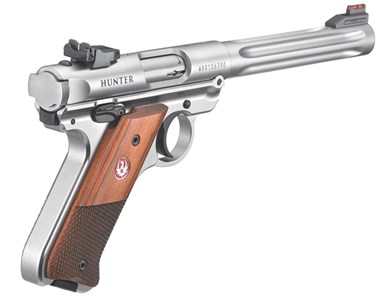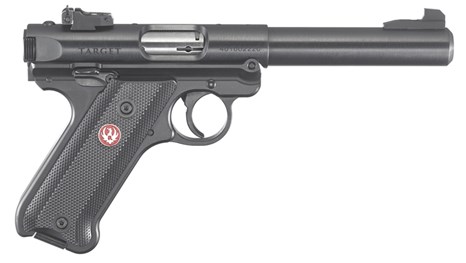 Other significant improvements include a one-piece grip frame that is precision CNC-machined from a solid piece of stainless steel or aluminum; an ambidextrous manual safety and a redesigned bolt stop for more ergonomic operation. The magazine drops free on release for faster reloads and a redesigned magazine disconnect safety prevents discharge when the magazine has been removed. Internal improvements include changes to the hammer, sear, bolt and firing pin for smoother, more reliable feeding.  
Specific features vary by model, but the legendary, one-piece barreled receiver and internal cylindrical bolt construction remain the same. The robust design ensures permanent sight-to-barrel alignment and higher accuracy potential than conventional moving-slide designs. The Mark IV is compatible with a variety of Mark III aftermarket accessories including sights, scope bases and magazines.
Ruger has long set the standard for reliable, affordable and accurate .22 LR handguns, beginning with the introduction of the Standard Pistol in 1949. Since then, the Standard Pistol has undergone a series of enhancements with the development of the Mark I, Mark II and then the Mark III in 2005.
The American-made Mark IV pistol ships with two 10-round magazines. For more, visit Ruger.com.