posted on September 10, 2019
Support NRA American Rifleman
DONATE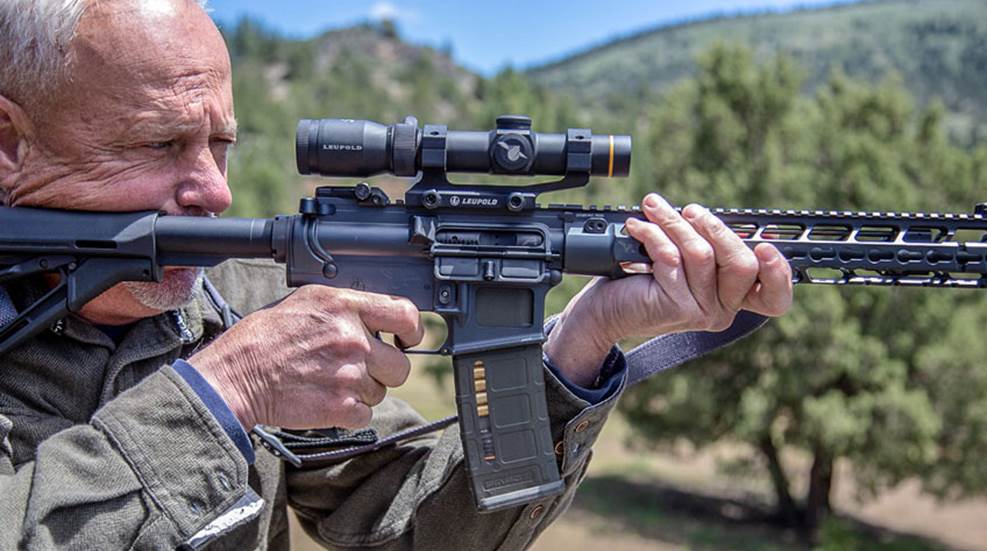 During the summer I had the opportunity to visit Clint and Heidi Smith at their Thunder Ranch training facility in Oregon for the unveiling of the Nighthawk Custom/Thunder Ranch Combat Special pistol. While I was there, I sat down with Clint to talk about his history with guns and his distinguished career in firearms training.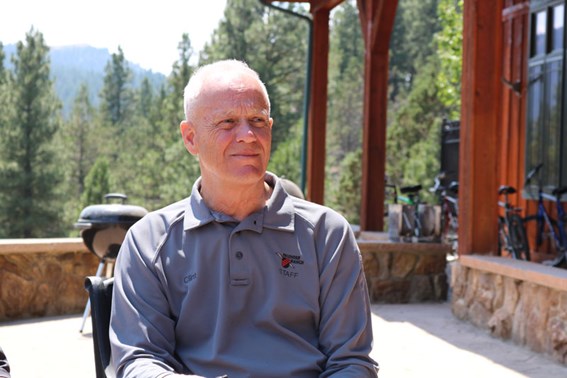 Q: To the best of your memory, what was your first experience with firearms?

A: I actually had my first firearm when I was 12 years old. My mom and I went to Sears and Roebuck and we bought a Savage single-barrel .410 shotgun, which I still have. My dad was a policeman, so growing up I went with my dad to the pistol range, so guns were not new to us. Some families, you know, don't have guns. That wasn't us, we had guns.
Q: How did you first get into training?

A: I don't think I was very good at it at the time, but my first experience training was in Vietnam. I was in the Marine Corps, but I went to the Army language institute in Monterrey [Calif.]. I took Vietnamese, a southern dialect, and I went to Vietnam. I was in infantry units to start with and then I was transferred to what are called combined-action platoons, CAPs. My CAP unit was 2-4-3. In those units there was a squad of Marines attached to a platoon of Vietnamese. We were very old guys, like 18, 19 and 20, and our Vietnamese counterparts, with the exception of their officer, were 15, 16 and 17, and as soon as they turned 18 they were automatically taken into the ARVN army (Army of the Republic of Vietnam). So we basically stayed in a village and worked with the Vietnamese soldiers. Everybody laughs at this, but we were actually winning the hearts and minds of these people. We protected them, we kept them from being kidnapped or intimidated by the North Vietnamese or Viet Cong, and we watched over them while they brought in their crops. We ran two ambushes at night and set up road blocks for identification checks, so we had a security area. We also had a tactical area of operations, the CAP units were set in a ring around Da Nang with the idea of neutralizing those villages where there was a potential [for the enemy] to launch rockets into the airbase.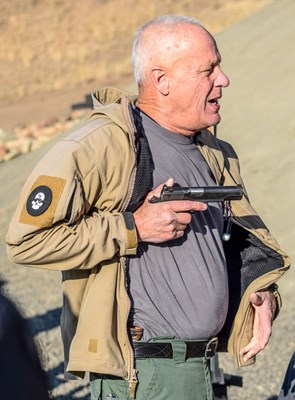 Q: How did you go from a Marine in a CAP unit in Vietnam to founding Thunder Ranch?

A: OK, so long story short, I came back from the Marine Corps and went into law enforcement. My family's business, or trade so to speak, was law enforcement—my dad, my brother, my uncle. I did that for 10 years, and in the latter two years I was a student at Gunsite with Mr. Jeff Cooper—we're talking 1978-79. I was asked at the end of '79 to become the operations manager at Gunsite, which I did for three years, '80 to '83. In '83 I started my own business, ITC, International Training Consultants, and worked on the road from 1983 to 1993, and the only exception was in 1986 worked for one year setting up the training division for HK America. While I was on the road I met someone who became my good friend and we built the facility, Thunder Ranch, in Mountain Home, Texas.
We were in Texas from 1993 to 2004. In 2004 we moved here to Oregon. Heidi's mom lives in Bend, so that brought Heidi back a little closer to home. And we wanted to have a place that was ours. We still go to Texas, we go to those ranges when the weather is inclement here—January, February—so that relationship is still glued, bonded and cemented. But this gave us the opportunity to step out on our own.
Q: Any story behind the name?

A: Thunder Ranch? We have a shotgun drill called Rolling Thunder, but Rolling Thunder is too wordy. So we kept thunder, and it was a ranch, so it became Thunder Ranch.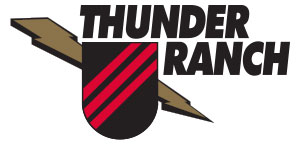 Q: What can you tell me about the logo?


A: The shield was the first logo for ITC, the black shield. If you look at English heraldry, the black shield was always construed to mean a bastard, or someone who was not politically aligned with a king or kingdom. The three red stripes are for accuracy, power and speed. They run from upper right to lower left, Bar Sinister, it's that same thing in English heraldry—non-aligned, no allegiance.
When we went to Texas to do Thunder Ranch, we wanted to keep the logo, but we wanted to add something so people would know that [Thunder Ranch] was more, and was bigger [compared to ITC]. Remember, this was before social media and all that kind of stuff. So we added the lightning bolt.
If someone comes up to me on the street and asks "What does your logo mean?" I tell them, for one, all the cool animals were taken, all the birds and dragons and everything. So the shield is defense—accuracy, power and speed. The lightning bolt is offense, as required.
Q: On your journey in firearms training, was there anyone in particular who left a lasting impression on you?

A: There are two. The first is my sheriff, who's passed now, his name was Charles Meeks and he provided me the opportunity to get training and to expand the training program that we had. He allowed me to grow, and he allowed me to grow inside something that was also growing.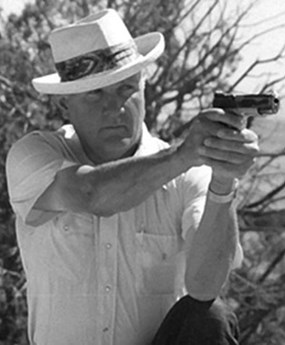 My second would be Jeff Cooper, Mr. Cooper. He was rigidly, rigidly flexible. He's a colonel of Marines, and that was box or a niche that I fit nicely into being a corporal of Marines. We could communicate and get the job done. And again, I got to grow, I was allowed to grow inside a box. When I first went to Gunsite, there was only the South Range and the Funhouse. I got to build the Firebox, the North Range, the Playhouse, the new rifle range—all those things came under my time there. The Scrambler drill, too, those are things that I contributed to. I don't mean it like I lifted every spoonful of dirt, but I was allowed to grow and be exposed to people who really wanted to be there. In law enforcement, people only attend training because they are required too, but [Gunsite] was the first environment where I saw people that really did want to learn.
That allowed for growth in me, and API, American Pistol Institute (now Gunsite), was at a stage in its life where it was growing. When I was there we started doing double classes, which was really good for growth from an organizational standpoint: How does this range work? How do I schedule so I have people in this place and that place? Now I need to think about where to transfer them tomorrow. It was just management, taking the pieces and putting them in the boxes where they fit.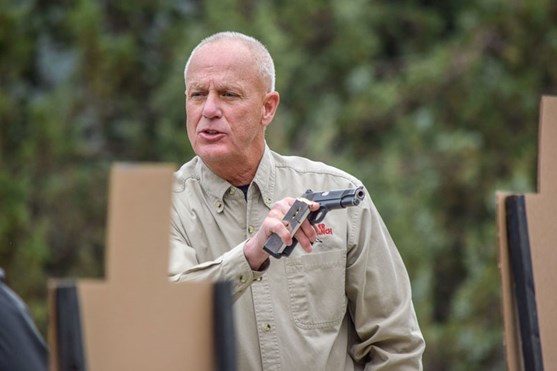 Q: You teach a lot of different kinds of courses here at Thunder Ranch, what is your favorite one to teach?

A: Urban Rifle. How to fight with a rifle inside pistol ranges, which is where most rifle fights take place. I started that class, by that name, in 1983. For the first three years it was teachable but slow. After the FBI shooting [in Miami] I've taught more Urban Rifle classes than any of the other types of classes, combined—like if you take of all of the different pistol classes we teach and put them together, I've taught more Urban Rifle classes. That's my hood ornament.
Q: Any advice for new shooters?

A: It's actually three words: practice, practice, practice.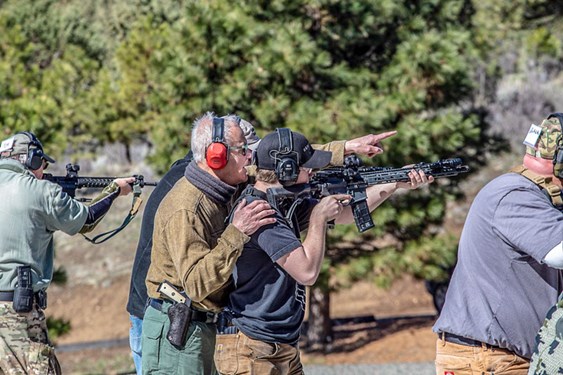 Q: What is the most common mistake that you see while training, and what is the correction?

A: Manipulation of the trigger. You need to do it consistently and repeatedly so you can do it under duress. No sight picture, and no sight is going to compensate for yanking on the trigger. Everyone wants to put a TV screen (red-dot optic) on their gun now, and I've got no problem with that, we're going to start training with them here so we can do a great job on that, but no TV screen is going to compensate for yanking on the trigger. The sight is the last visual control over the projectile, the trigger is the last physical control. They need to be managed. And management comes through practice, practice, practice.
Q: What are your goals going forward, or goals for Thunder Ranch?

A: I need to love my wife, take care of my dogs, defend my country, take care of my health and I have no foreseeable goal to retire. I want to teach a class a week after I'm dead. As long as people will have me, I want to work. I think we're providing a responsible service to responsible people. This needs to be made clear, all of our students are vetted, everyone who comes here has to prove that they have no criminal record. 

I need to love my wife, take care of my dogs, defend my country, take care of my health and I have no foreseeable goal to retire. I want to teach a class a week after I'm dead.
Q: I've got a classic question that the American Rifleman audience will appreciate: What is your favorite firearm?

A: That's easy, no brainer, the M1 Carbine. In my mind's eye, it was the last true example of American industrial might coming together for a common goal, to fight a common enemy. I'm not saying that war is great, but it was a common enemy at that time. I like the M1 because they were built by Winchester, Inland, Saginaw Gear, Rock-Ola—the jukebox people—they were built by IBM, now the computer people, and others. Everyone chipped in, in the span of four years there were more than 6 million made. People say [the M1 Carbine] is not very effective—OK, I wouldn't want to get shot by one.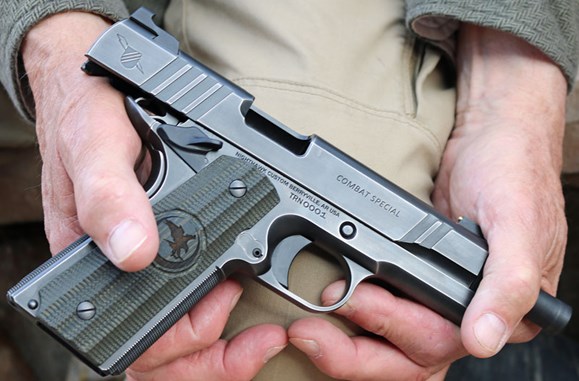 Q: In the era of the polymer pistol, why do you choose the M1911?

A: If you look in my safe I have an M14, an M1A, because I grew up with that gun. My first real pistol, in Vietnam, was a 1911. I was an M79 grenadier, so I used a 40 mm grenade launcher and was issued an M1911 pistol. That was my first pistol. I know it, I know how it works, I know how to take care of it, I'm confident in it and my ability to hit with it. I understand the quest by people for higher capacity—I get it, I sincerely do—but it doesn't matter if you're not hitting. It's just like, as you know, I don't have a stopwatch on my range. I don't need people to shoot fast, I need them to shoot well. 
When I started as a police officer, I had to go to revolvers. But our county, Allen County, Indiana, was the first county in Indiana to go to auto pistols, and that's because I took my deputy chief to Gunsite, we took off our revolvers, put on our auto pistols and took the class. On the drive home he said this (semi-automatic pistols) is what we're going to do. So then we were allowed to carry 1911s. This is 1978-79, and remember revolvers are still king until, like, 1985.
Q: And, just to set the Internet on fire, again—9 mm vs. .45, any thoughts?

A: Doesn't matter if you don't hit 'em. One of the advantages of the modern war on terror is there's been a remarkable improvement in projectiles—DPX, POW'R Ball, the Honey Badger. I think I'd prefer to be sitting next to the guy with a 9 mm that's hitting everything he's shooting at than the guy with the .44 magnum that wasn't hitting anything. I don't think the caliber is relevant, I think people need to carry a caliber that they can consistently and repeatedly hit a target with, and control. That said, I don't care that the .380 sales are up 500 percent, I wouldn't have that gun up my butt if I had room for a tugboat—I'm not betting my life on that gun.
So with the 1911, I don't feel behind the curve with that gun, and I have a couple Glocks, Glock 17s in 9 mm. But I don't plan on shooting every round from the gun, I just plan to shoot one round at a time until I solve the problem.

Additional Reading:
Nighthawk Custom Thunder Ranch 1911 Pistol