by
Mark A. Keefe, IV, Editorial Director
posted on June 18, 2015
Support NRA American Rifleman
DONATE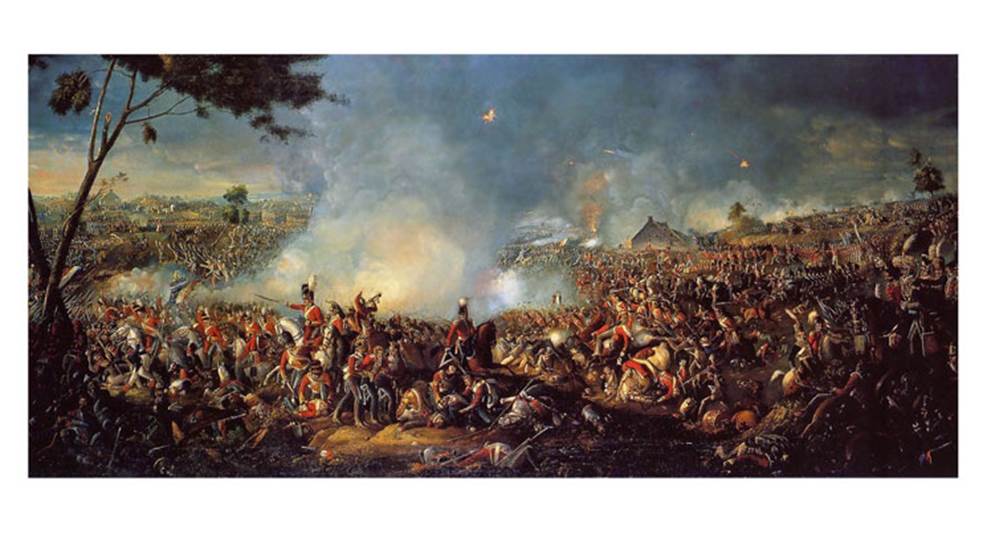 Two-hundred years ago today, Napoleon Bonaparte, literally, "met his Waterloo." The Emperor of France was defeated for the final time, ending decades of war, on a hill outside of Brussels defended by an Allied force commanded by Gen. Arthur Wellesley, better known as
Lord Wellington
. And in Wellington's army, there were riflemen. While the French did not see value in rifle-armed infantry, preferring the rapidity of firepower presented by smoothbore muskets, the British most assuredly did, and had at least four battalions of riflemen armed with the
Baker rifle
that day, although the vast majority of the troops under Lord Wellington's command at Waterloo were armed with smoothbore muskets.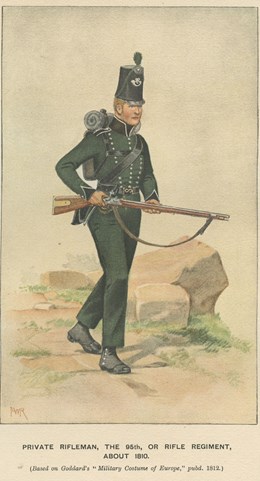 At Waterloo all three battalions of the British 95th Regiment were engaged (one battalion had been mauled at Quatre Bras), mostly in the skirmisher role, with particularly heavy fighting by the 1st Battalion at the "sandpit." As well, there was heavy fighting by the 1st Light Battalion of the King's German Legion, a unit armed, as was the 95th Regiment, with the Baker rifle. La Haye Sainte was doggedly held by the King's German Legion, but fell after the Germans ran out of rifle ammunition.
Though rifles were used by both sides in the American Revolution and there were Jaeger rifles in service with various German states, the use of rifles as military arms was not widespread during the Napoleonic Wars. The Baker rifle, named for London gunmaker Ezekiel Baker, entered British service in 1800 with what was to become the "95th or Rifle Regiment," later known as the "The Rifle Brigade." The Baker rifle is described in Col. Willoughby Verner's History & Campaigns of the Rifle Brigade as having a barrel "2 ft. 6 in. in length, seven grooved, rifled with 1/4 turn and threw a ball of 20 to the pound. It was a flint lock and weighed 9 1/2 lb." Most Bakers were .65 cal., though a .70 cal. (or "14 balls to the pound") version that could be loaded with ammunition intended for the smoothbore muskets used by the rest of the British army at the time was briefly issued. The Baker, again according to Willoughby, "was sighted for 100 yards, with a folding sight for 200 yards, but it could be used with effect up to 300 yards." Baker himself is reputed to have hit a man-sized target 32 out of 34 times with his rifle at 100 yards and 22 out of 24 at 200 yards. Quite a feat in the days of the smoothbore flintlock.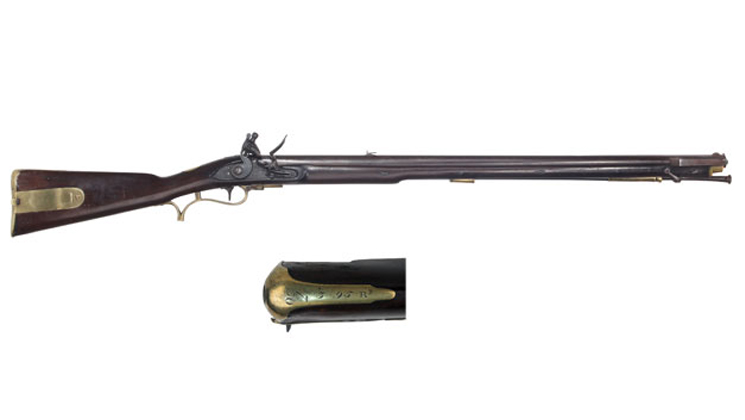 Initially, the Baker was equipped with a 23" sword bayonet that was attached to a rail on right of the rifles barrel. Later versions were manufactured to accept a socket bayonet, and some earlier rifles had their fore-ends shortened and lugs ground down to accept a socket bayonet.
Bakers were made by a number of manufacturers, and there were also a number of minor changes to them over the years, particularly to the shape of the lock, hammer and patchbox.
The Baker remained in service with rifle-armed units until replaced by the percussion-ignition Brunswick Rifle beginning in 1840. The flintlock Baker rifle got top billing in the "Sharpe's Rifles" series with actor Sean Bean, which is based upon the novels of Bernard Cornwell.