Support NRA American Rifleman
DONATE
In recent years, Springfield Armory has expanded and refreshed its lineup of M1911 pistols, and one of the new product lines is the 1911 Ronin. Currently, there are seven different offerings in the Springfield Ronin family, giving users options in 9 mm Luger, .45 ACP and with full-size or shortened slides and barrels. Watch our "American Rifleman Television" Rifleman Review segment above to learn about the construction and performance of Springfield's Ronin.
The Springfield Ronins are available with full-size, 5" slides and barrels, as well as shortened 4.25" models and compact EMP models with 3" and 4" barrels. All guns are built on stainless-steel forged frames, topped by blued carbon-steel forged slides and a forged stainless-steel barrel.
"The Ronin is a subtle but sophisticated approach to the 1911," said Brian Sheetz, American Rifleman editor in chief. "It has some extra features that you don't tend to see except for on enhanced guns. It has front slide serrations, for instance. It also has a skeletonized, lengthened, blackened trigger, which contrasts nicely with the bead-blasted area of the stainless frame. It has the cross-cannon emblem laminated stocks from Springfield, half of which are plain and half of which are checkered. There are contrasting stainless-steel Torx-head grip screws, and of course, the magazines on both models are stainless steel."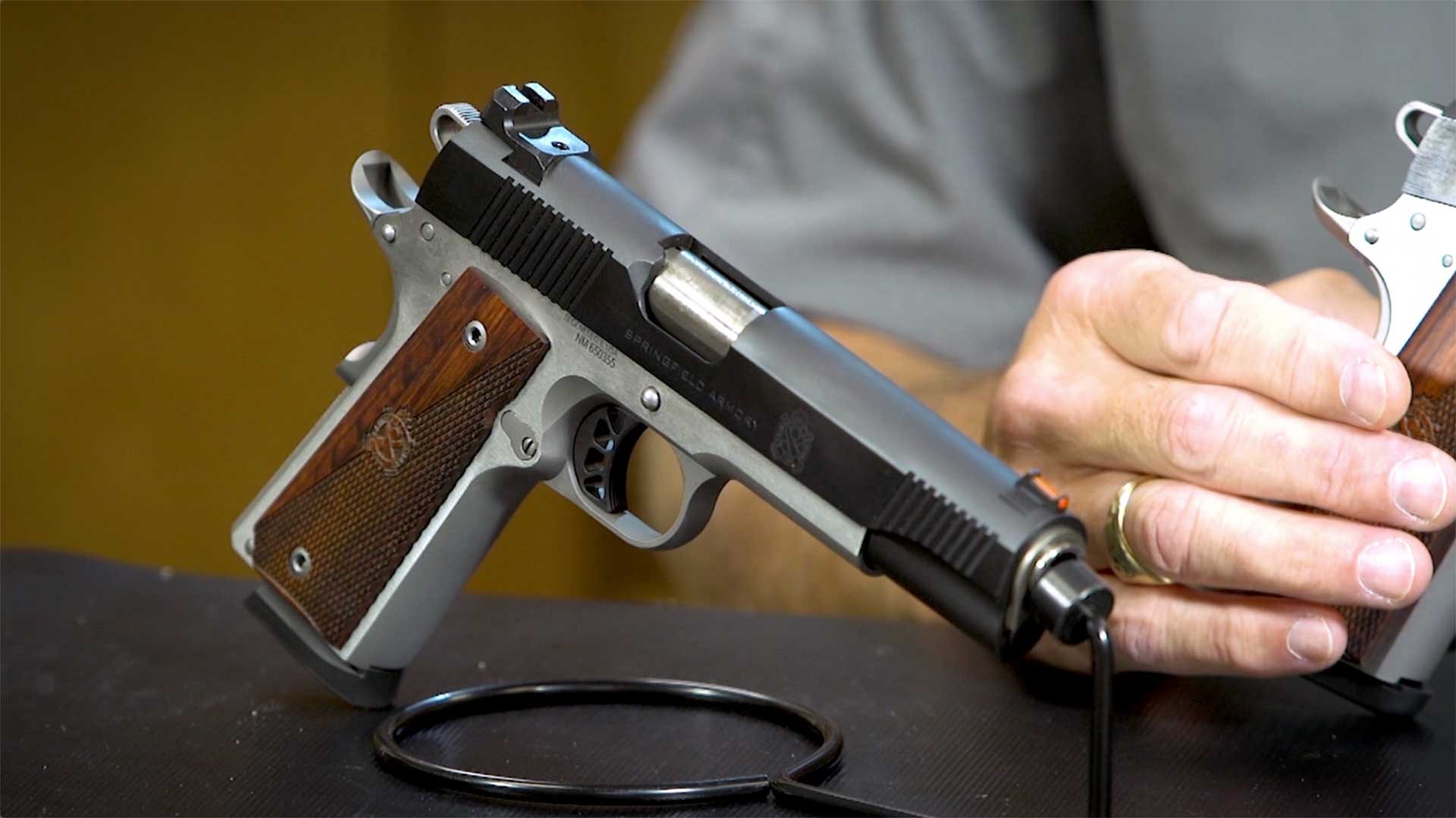 All models of the Springfield Ronin are outfitted with fiber-optic front sights, which pick up daylight easily, making for a bright, easily seen front sight. At the rear is a dovetailed sight complete with a flat edge on its front face, making it possible to rack the Ronin single-handedly off a flat ledge.
"Springfield includes some other nice touches on the Ronin that don't jump out, but they make a difference, such as the tapered magazine well and the straight, checkered mainspring housing," Sheetz said. "Controls on the Ronin are pretty traditional. The serrated mag release is pretty much standard, the slide lock is pretty much standard. The safety lever is somewhat extended and enhanced, and it's only on the left side, and the hammer has got a serrated surface, and it's skeletonized as well."
Like most modern M1911s, the Springfield Ronin is outfitted with a generous beavertail grip safety, into which the hammer recesses, so it protects a shooter's strong hand from hammer bite while also allowing for a high grip on the gun for improved control. Add to that the finely checkered mainspring housing and traditional M1911 ergonomics, and the Ronin is an easy-to-shoot package that's designed for the range.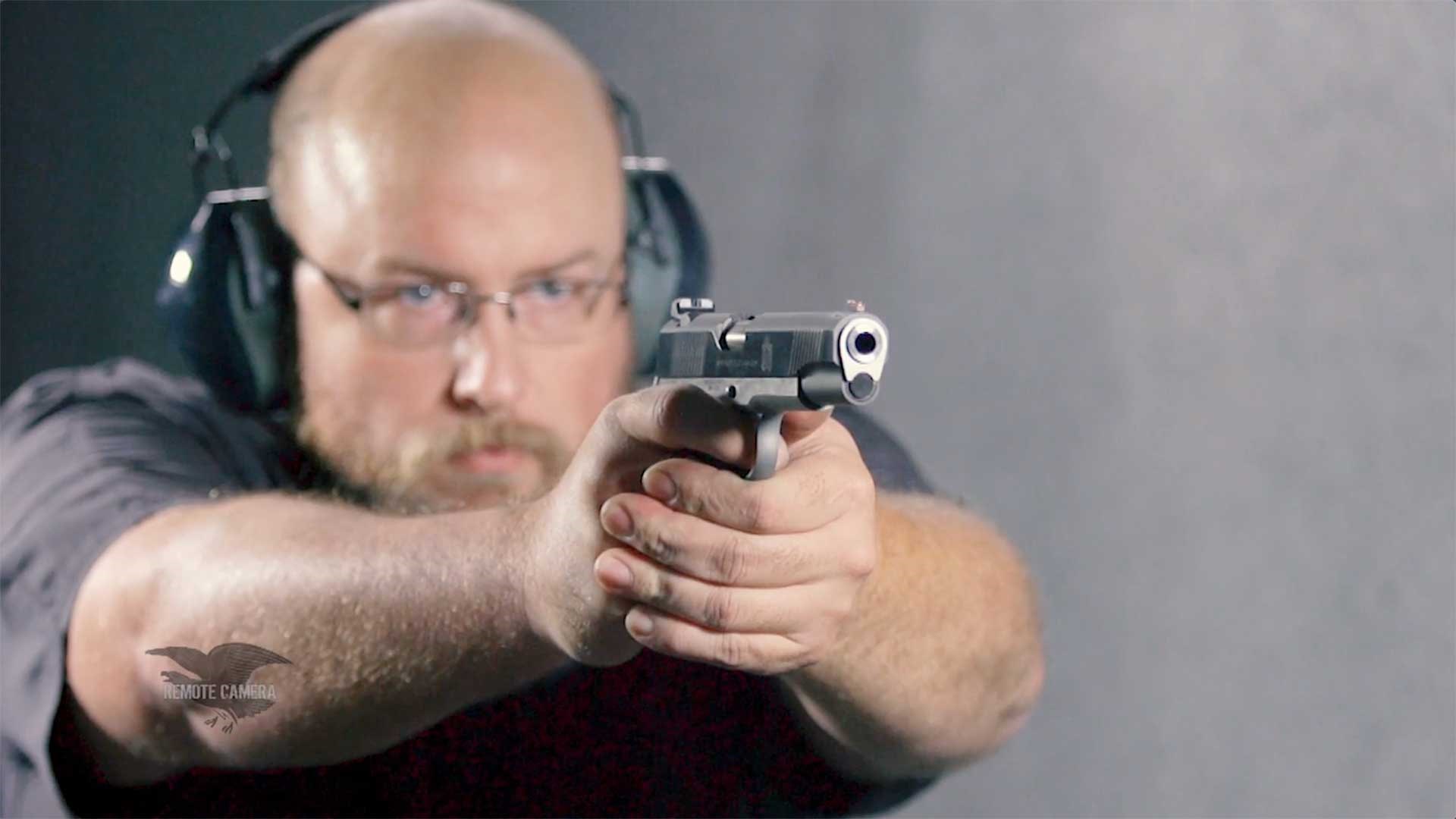 "The Ronin is just a really attractive package, and it's also a very attractive package in regard to its cost for the features that are included in the gun," Sheetz said. "Springfield knows 1911s like virtually no other maker, and I think, really, I've always told friends, I think you get just a tremendous amount of value in the quality that Springfield offers in any of its 1911s. The Ronin is, you know, almost, if you could only have one 1911, this is a really beautiful rendering of a classic, timeless gun with complete quality and complete up-to-date features. The Springfield Ronin, whether in 9 mm or .45 and whether in standard sizes or the Commander sizes, really is a nice gun at a nice value."
To watch complete segments of past episodes of American Rifleman TV, go to americanrifleman.org/artv. For all-new episodes of ARTV, tune in Wednesday nights to Outdoor Channel 8:30 p.m. and 11:30 p.m. EST. 
Springfield Armory Ronin 1911 Specifications
Manufacturer: Springfield Armory, Inc.
Action Type: recoil-operated, semi-automatic, centerfire pistol
Chambering: .45 ACP
Slide: stainless steel
Frame: blued steel
Barrel: 5"; 1:16" RH twist
Magazine: eight-round detachable box
Sights: fiber-optic front; drift-adjustable, white-dot rear
Trigger: single-action; 4-lb., 8-oz. pull
Overall Length: 8.6"
Height: 5.5"
Width: 1.19"
Weight: 40 ozs.
Accessories: owner's manual, spare fiber-optic pipes, padded case, lock
MSRP: $917