Support NRA American Rifleman
DONATE
Kimber Mfg., well-known for its finely finished M1911 handguns and extensive history with bolt-action rifles, entered a new market for the company when it released its R7 Mako in 2021. The design was not just a micro-compact handgun, it was the first polymer-frame, striker-fired, subcompact handgun ever made by the company. We took a closer look at the design in our American Rifleman Television Rifleman Review segment above.
Aside from its fairly traditional form factor, the Kimber R7 Mako incorporates a unique locking system that differs from other designs on the market. In particular, instead of using a barrel hood that locks into an open cut in the slide top, the R7 uses a lug on the top of the barrel hood that corresponds with a mirrored cutout in the underside of the gun's slide. Kimber marketed this feature as something that prevented excess debris and propellant gas from leaving the ejection port and obscuring or dirtying a mounted optic, but American Rifleman's testing revealed another possible benefit.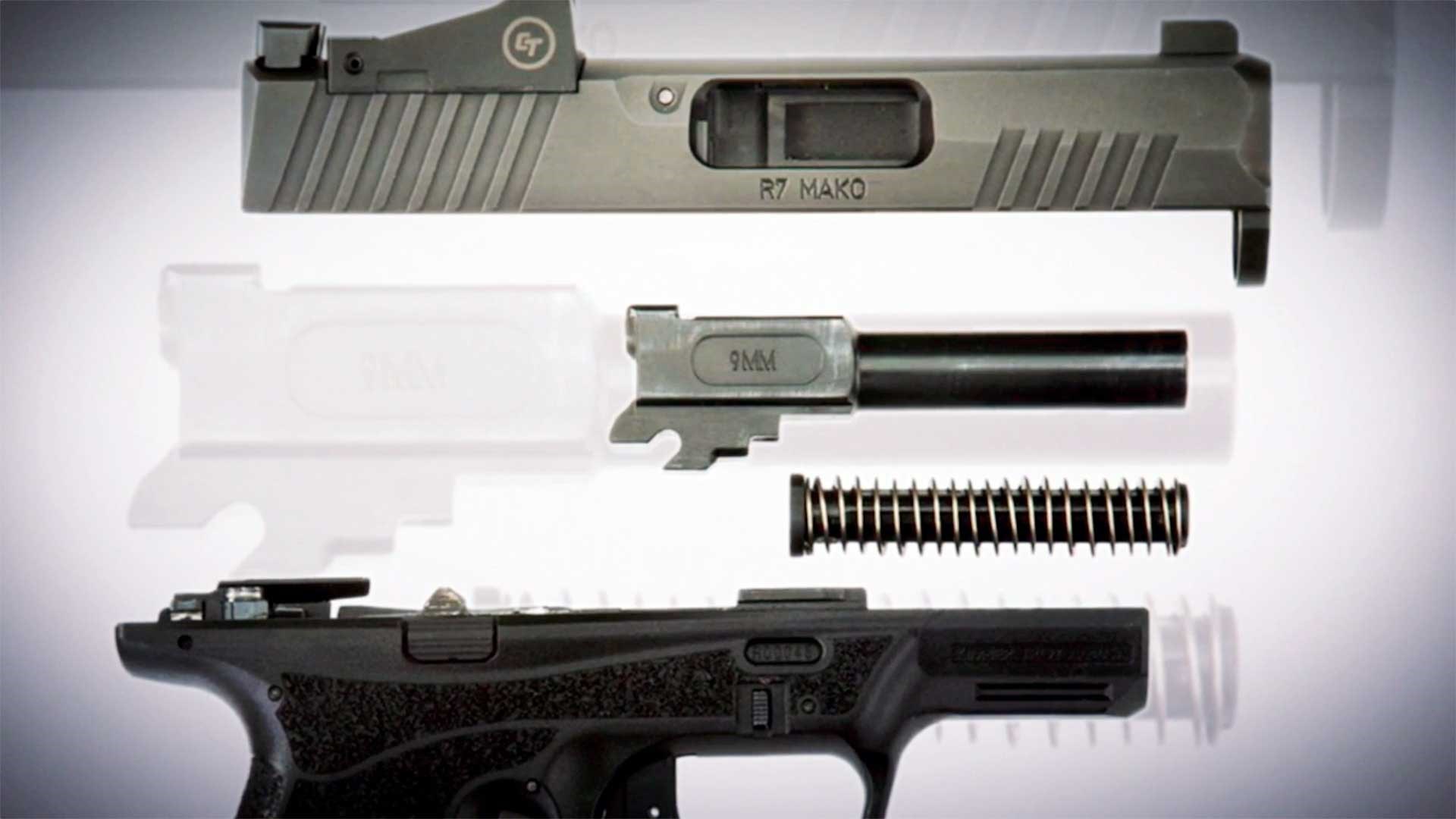 "What we've noticed in our range testing with this pistol is that it actually seems to have a pretty high degree of accuracy and precision compared to other micro compacts," said Evan Brune, American Rifleman executive editor. "One of the elements that differs in this gun versus other guns of its type is that lockup, so it's possible that because of this locking system you're able to get a greater degree of consistent lockup in this gun versus other guns of its type."
Kimber also focused on the design of the trigger in its R7 Mako, producing one of the most crisp and abrupt trigger pulls on the market. The non-adjustable pull comes from the factory with a pull weight measuring between 5 to 6.75 lbs., but thanks to the innovations Kimber's incorporated into the trigger, it certainly won't feel like a typical striker-fired trigger.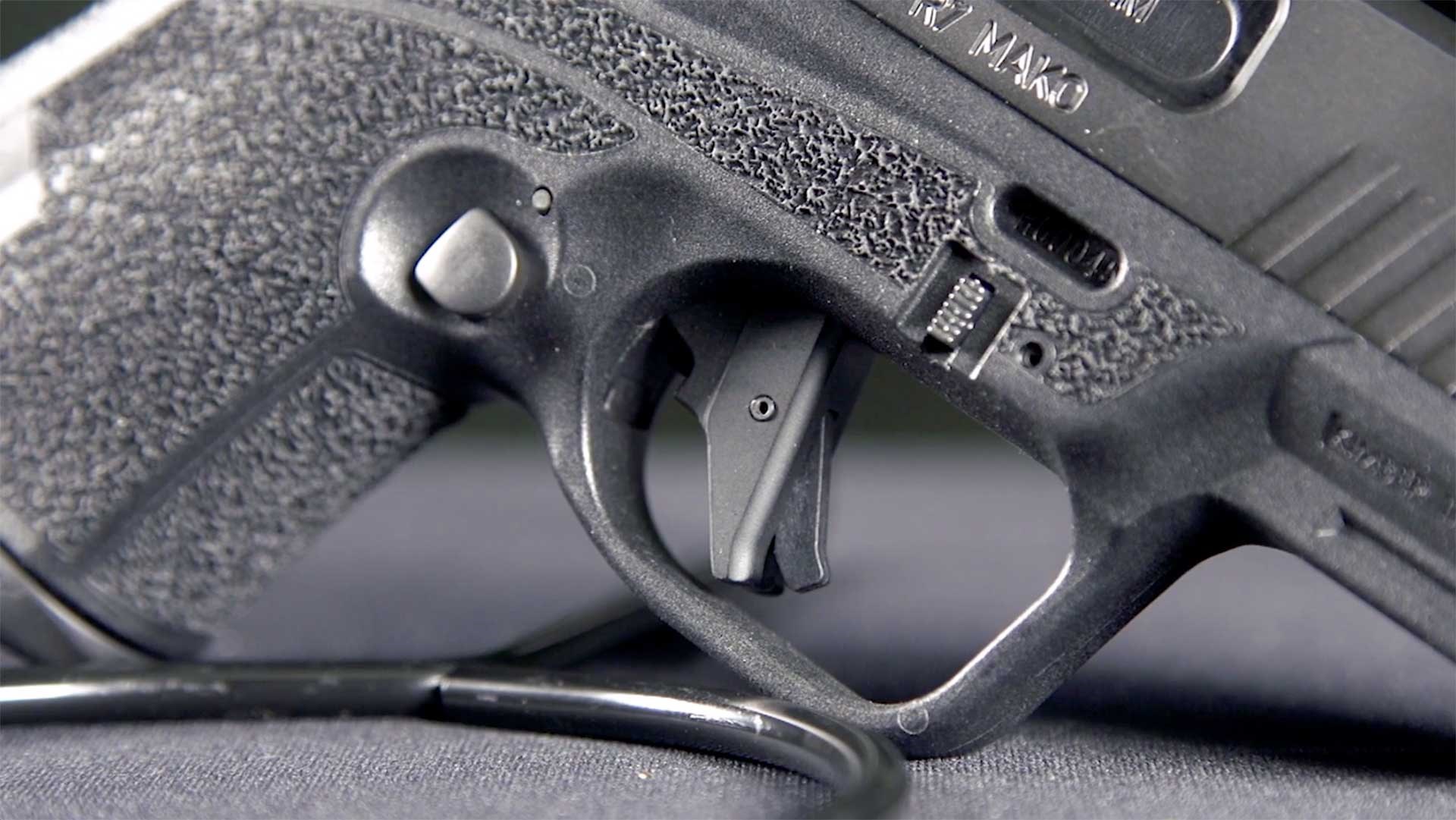 "The thing is, it feels a lot lighter than it actually is, and it's got a really abrupt break. It's crisp," Brune said. "So what that means is that you're able to find that wall, find that break, a lot easier on this gun than you can on other guns of its type, and that contributes to its overall accuracy."
What's quickly becoming a must-have feature in today's handgun market is an optics cut, and the R7 Mako doesn't disappoint on that front. The slide is milled to accept optics of the Shield RMSc footprint, and Kimber currently offers an Optics-Installed model that ships with a Crimson Trace CTS-1500 micro red-dot. A cover plate is included on models without an optic. A set of tritium night sights comes standard, and they are high enough to co-witness with a mounted optic.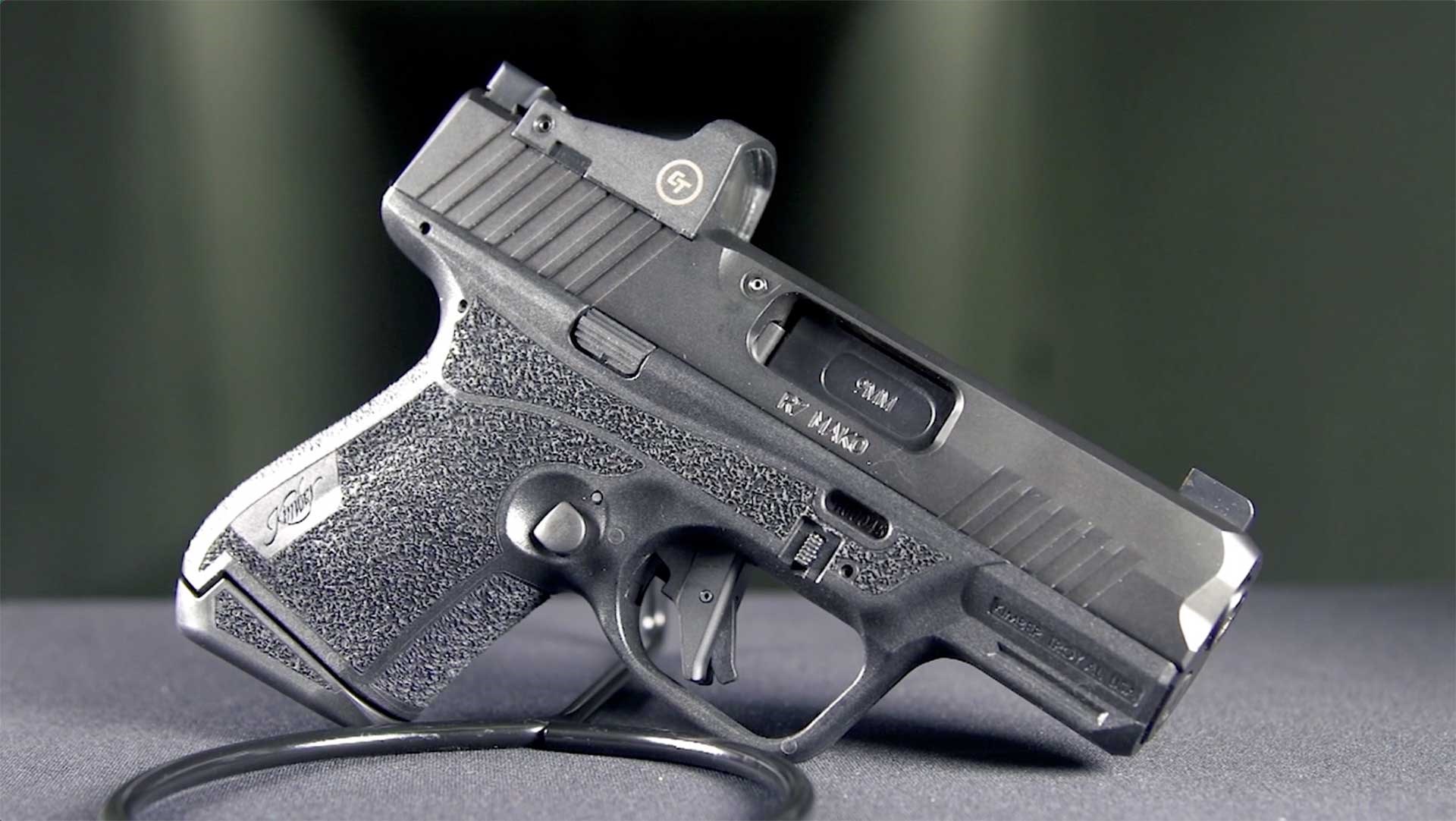 "The other thing that's really awesome about the R7 Mako, and frankly this is a feature that is missing in a lot of guns on the market, is that this is truly bilateral," Brune said. "What I mean by that is it's got magazine-release buttons on both sides. You don't have to reverse it if you're left handed, you can use them both on either side right out of the box. The other thing that's really cool about this gun is that it's also got a bilateral slide-stop lever."
In addition to its controls, the R7 Mako comes standard with an 11-round, flush-fit, detachable-box magazine, and an extended 13-round magazine is included with each gun, putting it on par with many other popular offerings in the handgun market.
"So, all in all, for Kimber's first time at bat in the micro-compact, polymer-frame, concealed-carry pistol market, the R7 Mako is a pretty solid option," Brune said. "It's a great one to consider if you're looking for your next personal-defense pistol."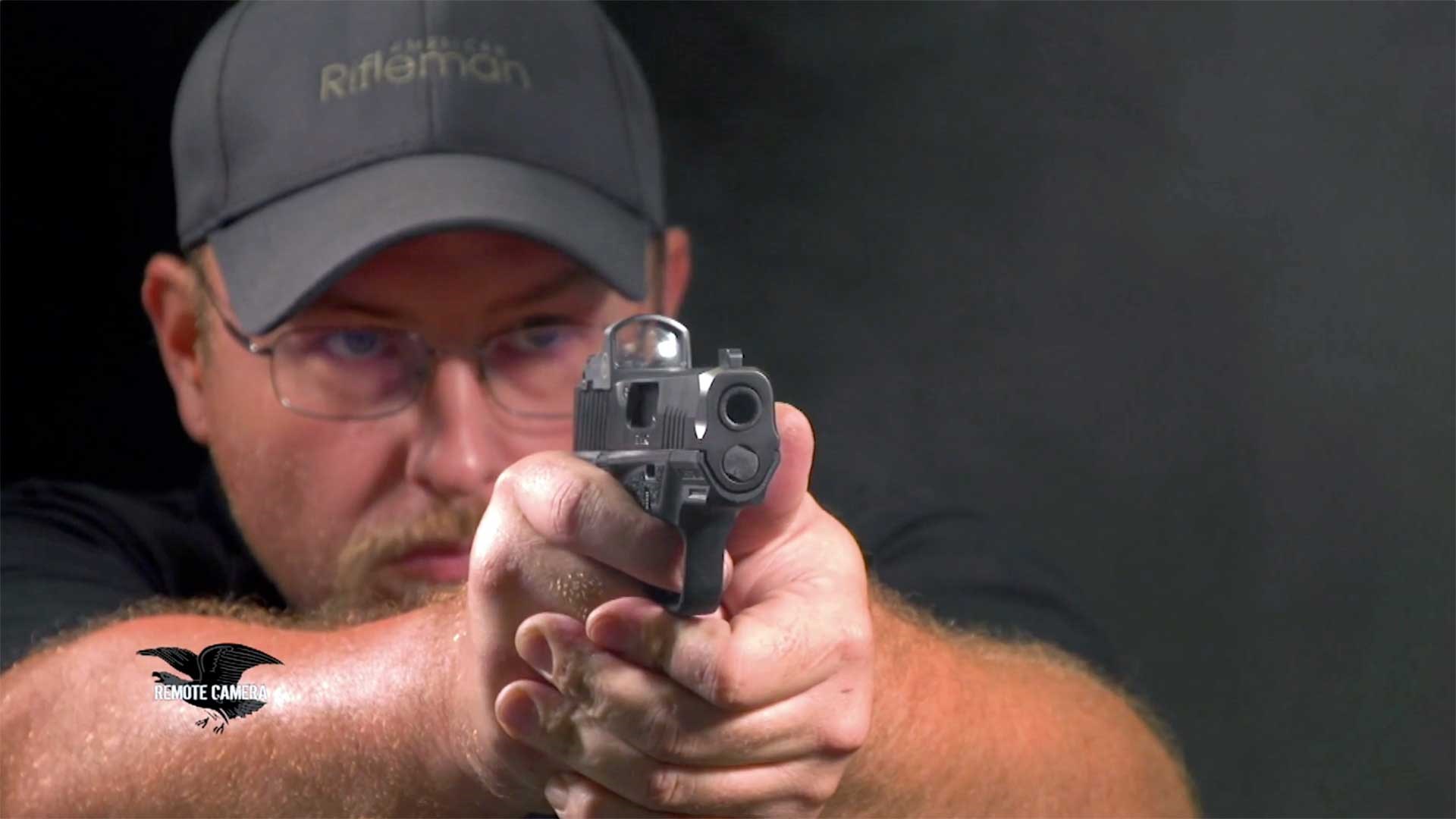 Kimber R7 Mako Specifications
Manufacturer: Kimber Mfg., Inc.
Action Type: recoil-operated, semi-automatic, centerfire pistol
Chambering: 9 mm Luger
Slide: stainless steel
Frame: glass-filled nylon
Barrel: 3:37", six-groove, 1:10" LH twist
Magazine: 11-round detachable box
Sights: steel, three-dot
Trigger: striker-fired, 5-lb., 3-oz. pull
Overall Length: 6.2"
Height: 5"
Weight: 29 ozs.
Accessories: owner's manual, 13-round magazine, lock, Crimson Trace red-dot sight
MSRP: $799
To watch complete segments of past episodes of American Rifleman TV, go to americanrifleman.org/artv. For all-new episodes of ARTV, tune in Wednesday nights to Outdoor Channel 8:30 p.m. and 11:30 p.m. ET.