Support NRA American Rifleman
DONATE
Q: Can you help confirm the manufacturing origin of a pistol I have? I believe it to be Russian-made, but other than that, I'm not sure what it is.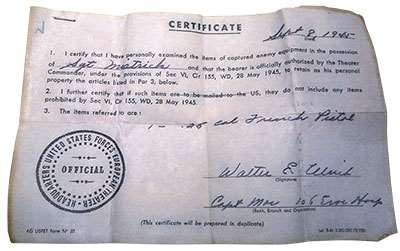 A: Your pistol is a Tula-Korovin, or TK, so named for its manufacturer and designer, respectively. The small circle on the left side of the frame, just above the front of the trigger guard, is the mark of the TO3 (pronounced TOZ) factory in Tula, Russia.

It is difficult to decipher, and I have attached a good photo of the mark. TOZ are the initials for Тула Оружные Завод (Tula Ororuzheiny Zavod), or Tula Small Arms factory.

The Tula-Korovin pistol is the first semi-automatic handgun designed and built in the Soviet Union. Sergei Aleksandrovich Korovin was an experienced engineer who had worked under John Moses Browning at the FN factory in Belgium.

In 1914, he left Belgium and returned to Russia, where he tried and failed to obtain a position at the Tula Arms Factory. Following the October Revolution and the emergence of the Soviet Union, Korovin was hired at the Tula factory and designed his first semi-automatic pistol by 1921.

The Tula-Korovin pistol was a single-action, blowback-operated handgun chambered initially in 7.65 mm Browning (.32 ACP). However, a 1923 test by the Soviet Artillery Committee determined the gun was too heavy and complex for military service.

In 1926, Korovin redesigned the gun to chamber the smaller 6.35 mm Browning (.25 ACP). This gun was still not adopted for official military service, but it saw use throughout the late 1920s and early 1930s as an officer's pistol, as well as a sidearm for agents of the infamous NKVD.

The Soviets produced the Tula-Korovin until 1935. By that point, the more powerful and well-known TT-33 had entered service.