by
posted on June 3, 2022
Support NRA American Rifleman
DONATE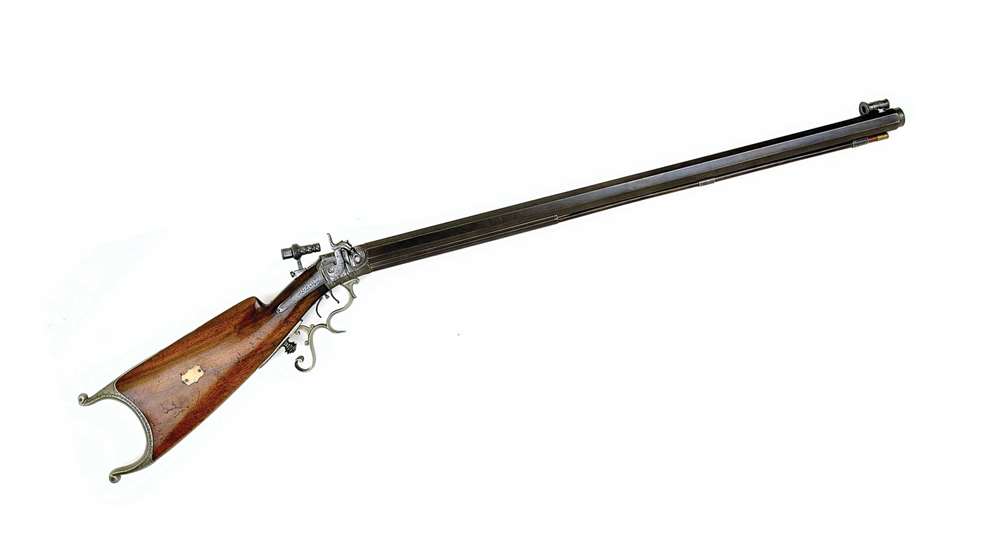 Q. I have an antique Schützen-style rife made by Frederick Nestle in Baltimore in the mid to late 1800s. The barrel is clearly stamped "F. Nestle" on the top and "Remington cast steel" on the bottom. What can you tell me about Remington barrels for Schützen rifles?
---
A. One of the best short treatises on this subject is found in Flayderman's Guide to Antique American Firearms. The most recent research indicates that while Eliphalet Remington produced his first entire rifle sometime between 1816 and 1828, he was primarily involved in the production of barrels for the numerous gunsmiths in the central New York area. According to Flayderman, "Judging by the number of 'REMINGTON' marked barrels appearing on percussion halfstock rifles of other makers, as well as reviewing census records of Remington output, their product was well received."
In the guide's section covering percussion sporting, target and plains rifles, the note is made, "'REMINGTON' (or 'P&S REMINGTON') is the name often seen marked on barrels of percussion sporting rifles, frequently on the underside. In all instances thus far recorded, the markings merely indicate Remington's manufacture of the barrel blank only. It was among the largest suppliers of such barrels to the gunsmith trade throughout the United States. Its markings are occasionally seen on locks also, again indicating Remington's sale of that prefabricated part to the trade. 'REMINGTON' markings alone, with no other names present, rarely add significantly, if at all, to the rifle's value."
—John W. Treakle
---
This "Questions & Answers" originally appeared in the September 2005 issue of American Rifleman. At time of publication, "Questions & Answers" was compiled by Staff, Ballistics Editor William C. Davis, Jr., and Contributing Editors: David Andrews, Hugh C. Birnbaum, Bruce N. Canfield, O. Reid Coffield, Charles Q. Cutshaw, Charles M. Fagg, Angus Laidlaw, Evan P. Marshall, Charles E. Petty, Robert B. Pomeranz, O.D., Jon R. Sundra, Jim Supica, A.W.F. Taylerson, John M. Taylor and John W. Treakle.
To subscribe to the magazine, visit the NRA membership page here and select American Rifleman as your member magazine.