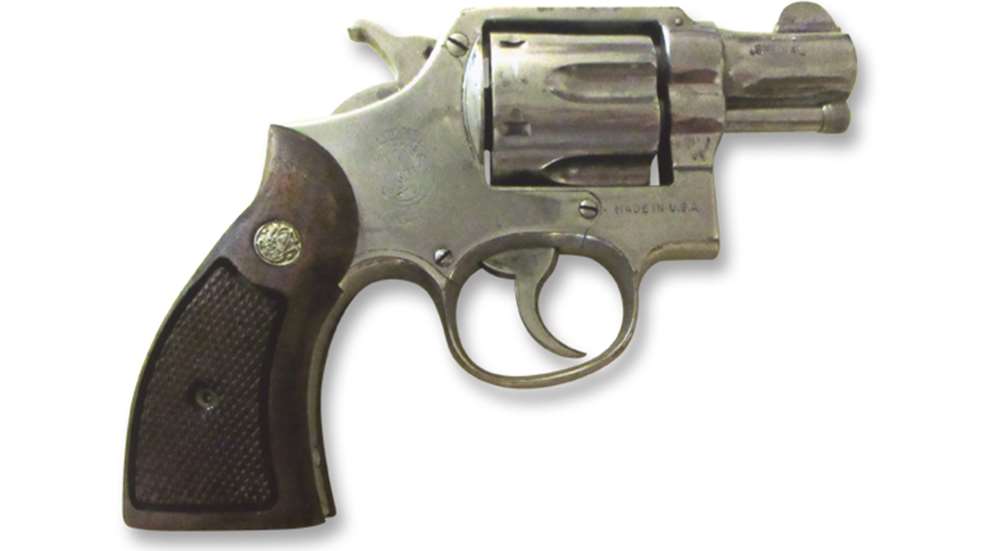 Q: Can you identify the revolver in the enclosed photos? I believe it is made on the Smith & Wesson "N" frame. It must be pre-1958 since it does not have a model number. The barrel is 2¼" long. I believe that the nickel plating is factory-applied. Any information you can provide is greatly appreciated.
A: Thank you very much for your letter and your question concerning the identity of your Smith & Wesson revolver. Without the opportunity to personally examine your revolver, I cannot be absolutely positive in my comments, but the photos you provided offer some pretty good clues.
The giveaway is the serial number and the plugged lanyard ring hole at the butt. S&Ws produced during World War II, for use primarily by American and British military services, featured a "FV" serial number prefix (signifying Victory), and were built on the standard Military and Police K-frame. That series began in 1942 at V1 and carried through to September 1944 at V769000, at which time the prefix was changed to "SV" to denote a modification in the design.
The revolvers produced for the United States were chambered for the .38 Spl. cartridge, while the British versions were .38/200, which was their version of the .38 S&W (not Special) loaded with a 200-gr. bullet. The photos do not provide enough information to determine for which cartridge your revolver was chambered. The word "Special" on the barrel was not factory-applied, and raises the suspicion that it could be one of many .38/200s that were subjected to chamber alteration by commercial businesses in order to fire the more popular .38 Spl. This alteration often results in bulged and split cases, so it is not desirable. The .38/200 bore is also oversize for .38 Spl. bullets.
The barrel has been shortened from its original 4" or 5" configuration, as it lacks the ejector rod latch stud that supports the front end. Victory models were produced with a matte blue or Parkerized finish, plus it was S&W's practice to leave the hammer and trigger unplated on its commercial nickel-plated guns. The stocks on your gun are from a later period, post-1968, or so, as they lack the diamonds in the checkering surrounding the screw heads.