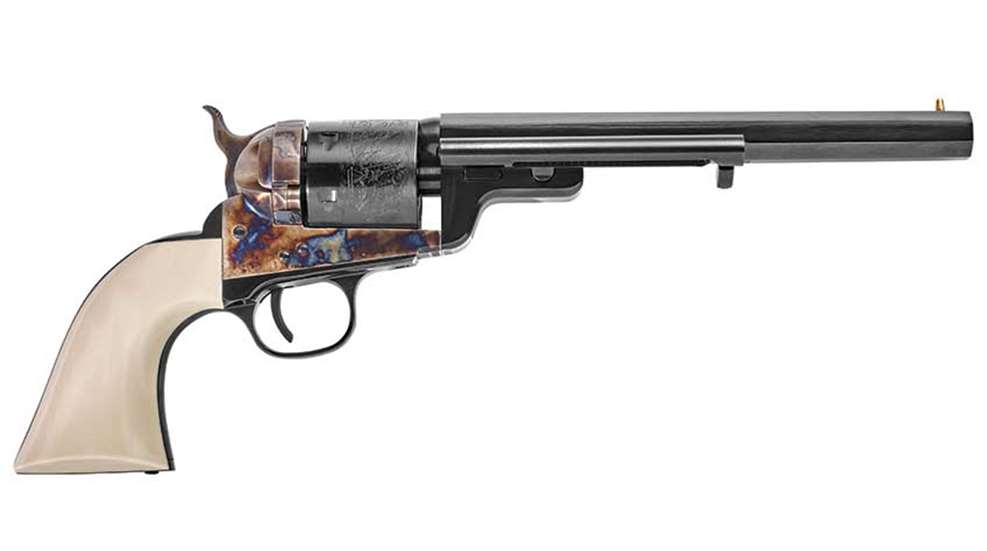 James Butler "Wild Bill" Hickok was, without a doubt, one of the Old West's most feared, revered and celebrated gunslingers. A former Civil War Union soldier, a professional hunter, a one-time lawman and finally an ill-fated gambler whose legend, both real and fabricated, towered over his already imposing 6' frame.
Although he was not averse to enhancing his own exploits, much in the manner of his contemporary frontiersman Buffalo Bill Cody, Hickok was in fact a skilled pistolero with lightening fast reflexes and had killed at least six men before his own untimely death. Unfortunately one of those was his own deputy, Mike Williams, who made the mistake of stepping up behind Hickok just after Hickok had shot and killed a Texas gunslinger named Phil Coe. Sensing someone behind him, Hickok instinctively whirled and fatally shot Williams, an impulsive accident he regretted the rest of his life.
Although he owned other guns during his career, Hickok is most noted for packing two ivory handled, nickel plated .36 caliber Colt 1851 Navy revolvers with their backstraps engraved, "J.B. Hickok–1869" which he carried butt first, cross draw-style in either a waist sash or belt. Unfortunately, on August 2, 1876, Hickok never got a chance to use any of the shots that were at his disposal, for on that date as he played poker at Nuttal & Mann's No. 10 Saloon in Deadwood, Dakota Territory, a disgruntled gambler named Jack "Crooked Nose" McCall snuck up behind Hickok. It was the first and last time Hickok sat with his back to a door and McCall shot him in the back of his head.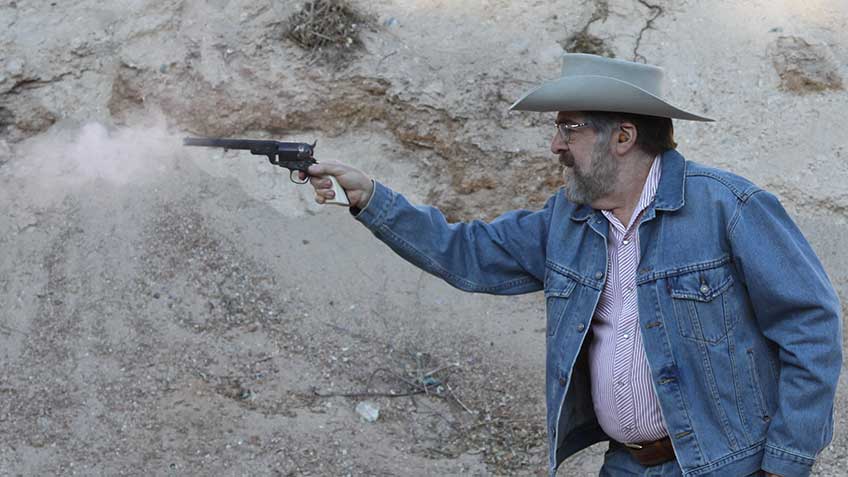 Hickok died instantly, but his legend has lived on through multiple books, movies, TV programs and even in the cards he was holding when he prematurely cashed in his chips, a pair of black aces and eights, which became known as a "Dead Man's Hand." Now adding to that legacy,
Uberti USA
has carried the legend of Wild Bill Hickok into the second decade of the 21st Century, well beyond HBO's "Deadwood" series, with one of the latest in the company's limited-edition
Outlaws & Lawmen Series:
the Wild Bill 1851 Navy Conversion. A notable improvement from Hickok's cap-and-ball 1851 Navies, the Wild Bill 1851 Navy Conversion is an excellent replica of the original cartridge-firing 1851 Richards-Mason cartridge conversion, a gun that was just being introduced around the time of Hickok's demise.
Originally designed to use a combination of Civil War surplus percussion revolver parts with newly fabricated components, the Richards-Mason guns integrated two patents owned by Colt factory employee Charles Richards, who devised a method for converting Colt 1851 and 1860 percussion revolvers into cartridge guns, and another employee William Mason. Mason improved upon Richards' patent by redesigning the cylinder, adding an ejector rod and installing a fixed firing pin on the hammer to directly strike the cartridge primer. Originally chambered in both .38 rimfire and .38 centerfire, the 1851 Richards-Mason Cartridge Conversion, along with the .44-cal. 1860 version, was an immediate success, although relatively few were produced, due to the advent of the Colt Single Action Army in 1873. In fact, Hickok owned an 1860 Army Richards-Mason conversion at the time of his death.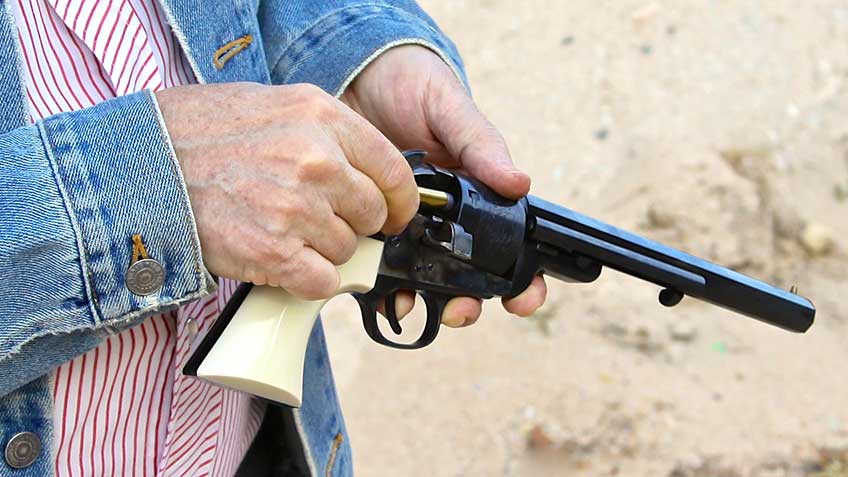 Indeed, had Hickok lived long enough, he might have very well turned in his Navies for a pair of 1851 Navy Richards-Mason conversions. Uberti's version of this gun makes a modern concession to today's shooters, as it is chambered in .38 Spl. This is a cartridge that came out in 1898 but is as close as you can get today caliber-wise to Wild Bill's .36-cal. Navies.
At $809, with its 7.5" octagon barrel and plow handled grip, it is a handsome replica of the original Richards-Mason 1851 conversion with a dash of frontier panache worthy of Hickok himself. The steel is a rich charcoal blue while the frame and hammer sport one of the most attractively vibrant case colorings I have yet to see on an Uberti revolver. All of this is set off by one-piece polymer faux ivory grips. True to the originals, the cylinder is roll-stamped with the 1851 Navy's scene that depicts the victory of the Second Texas Navy at the Battle of Campeche on May 16, 1843.
Uberti's tribute to Wild Bill Hickok was introduced at the 2019 NRA convention, but my test gun didn't arrive until much later. Weighing in at 2.7 lbs., it balances perfectly in the hand and according to my Lyman digital gauge the trigger breaks at a crisp 3.4 lbs. This means this is a gun that begs to be taken to a cowboy action shoot, yet don't try punching the center out of an Ace of Spades at 25 feet because with a thin brass cone front sight and a shallow V notch cut into the hammer to serve as a rear sight, this is not a tack driver. Nor is it meant to be. It is definitely a gun for point-shooting, rolling tin cans along the ground, which Hickok delighted in doing, and for smoking those close-range targets at
Single Action Shooting Society
(SASS) competitions.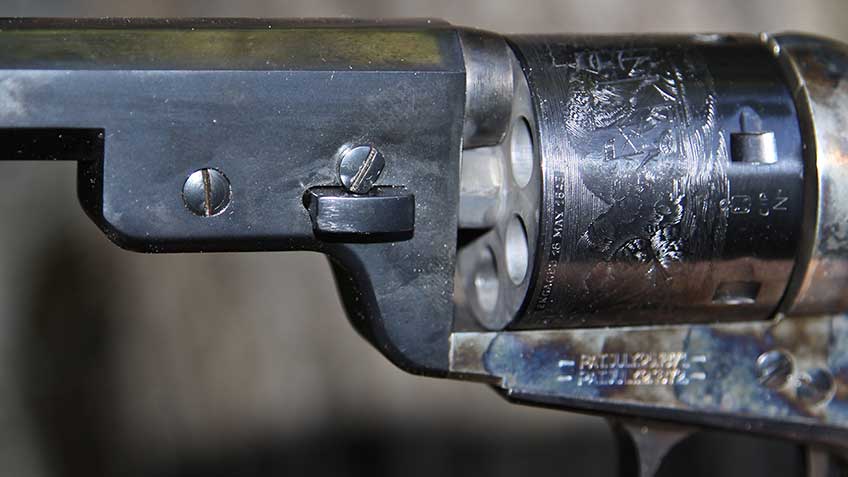 For me, the historically-correct but rudimentary sight arrangement was further compounded by my aging eyes. Interestingly, Bill Hickok suffered from glaucoma, a disease that I also share and if untreated can lead to blindness. Fortunately, I live in a time when medication can prevent this from happening. Hickok was not as fortunate and his failing eyesight was no doubt one of the reasons he preferred up-close gunfights if he was to shoot at all. So everything considered, I kept my test shots within fifteen to twenty feet – basically a little more than card table distance, which is what I assumed Hickok might have preferred.
I haven't shot a SASS match in years, but firing one-handed and cocking the hammer only using the thumb of my gun hand (SASS Duelist style), I was able to keep five rounds within a five inch circle with a variety of ammunition and I'm sure experienced SASS shooters could do better. Always have the hammer resting on an empty sixth chamber to keep the firing pin from accidentally striking a live primer and thus inadvertently firing the gun due to an accidental blow.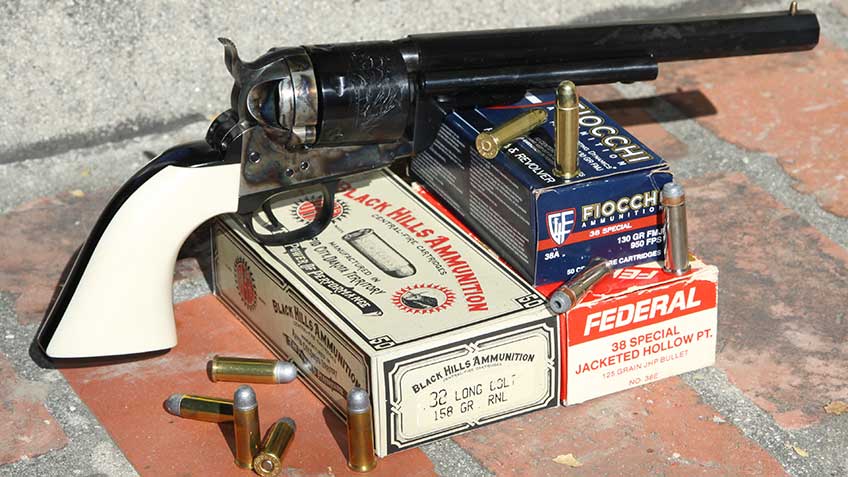 My ammo choices were a new box of
Fiocchi
130 gr. FMJ, an old box of
Federal
125 gr. JHP that I found in my safe, and some
Black Hills
.38 Long Colt 158 gr. Cowboy Loads. I used the .38 Colt ammunition since it was one of the original chamberings for the 1851 Richard Mason Conversions and the .38 Long Colt was the predecessor of the .38 Special. Best groups, such as they were, came with the Federal ammo which printed a 3.5" cluster.
The Black Hills .38 Long Colt was the most pleasant to shoot, with negligible recoil. For nostalgia's sake I also tried some cylinders of Ten-X .38 Long Colt black powder cartridges loaded with 150 gr. hollow-base flat point bullets (sadly, this product is no longer produced) but groups soon became erratic and the cylinder started to bind up due to a buildup of black powder fouling. This is probably a good place to mention that P+ ammo should never be used in these open top guns, as they are not designed to take high-pressure loads.
Cleaning and disassembly is akin to any Colt style cap and ball open top design. After making sure the revolver is unloaded, put the hammer on half cock and loosen the screw that secures the barrel wedge. This presented the only problem I encountered with the Uberti 1851 Conversion. The screw had been torqued so tightly by the factory that, in spite of my most cautious efforts, I managed to bugger it up without it ever budging.
I finally took the gun to American Gun Works in Glendale, Cal. It's one of the few remaining gun shops left in Los Angeles, where their intrepid gunsmith Willy Clark, using a variety of tools and some choice words, finally managed to loosen the screw. This, in turn, permitted the wedge to be completely removed. That enables the barrel to easily slide off of the cylinder base pin, which is attached as part of the frame. The cylinder can then be removed. This three-piece assembly makes cleaning the gun a breeze and enables you to swab the barrel from the breech end.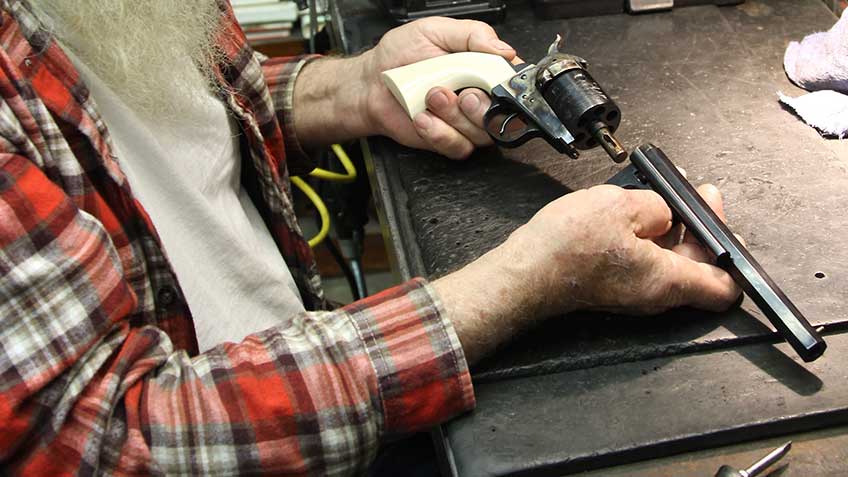 The revolver is reassembled in reverse order, but this brings up another caveat. Depending on how far in you drive the wedge that secures the barrel and ejector assembly to the frame, the barrel cylinder gap will change. And if you drive the wedge in too far, you can press the barrel so tightly against the cylinder that it will not be able to rotate and will bind up the gun. So be sure you can always see daylight between the barrel and cylinder when tapping the wedge back in.
Like all currently made Uberti firearms, the Wild Bill 1851 Richards Mason Conversion comes with a five-year warranty for parts and labor. However, as this is a limited-edition sixgun I wouldn't wait too long before snatching one up. After all, it's fairly safe to say that this would probably have been the gun Bill Hickok wished he'd had, if only he'd been facing the open doorway of that Deadwood saloon when Jack McCall walked in that fateful day. the Uberti Wild Bill 1851 Navy Conversion has a MSRP of $809. For more information, visit
uberti-usa.com
.