In recent years we have been introduced to firearms categories such as "BBQ guns" and "pajama guns," which outline guns for a certain attire or activity. While intended to be campy, it does get you thinking about protecting yourself in different environments. Taking it a step further, you might want to ask yourself if you have a "boat gun," too. If we consider the Maersk Alabama hijacking of 2009, there certainly is a clear and present danger when out to sea. Albeit unlikely, having a firearm on board could prove to be the best choice you made prior to shoving off, should you be attacked when underway.
The problem here is that the sea is one of the harshest environments that a gun can experience. Furthermore, as wielding off Somali pirates is highly unlikely, many folks can't justify the major purchase that is your typical marine shotgun. Shortly before 2022, SDS Imports realized this market gap and brought in an affordable Turkish option that looks sharp, beats salt and runs smooth as glass – meet the Tokarev TX3 12HDM.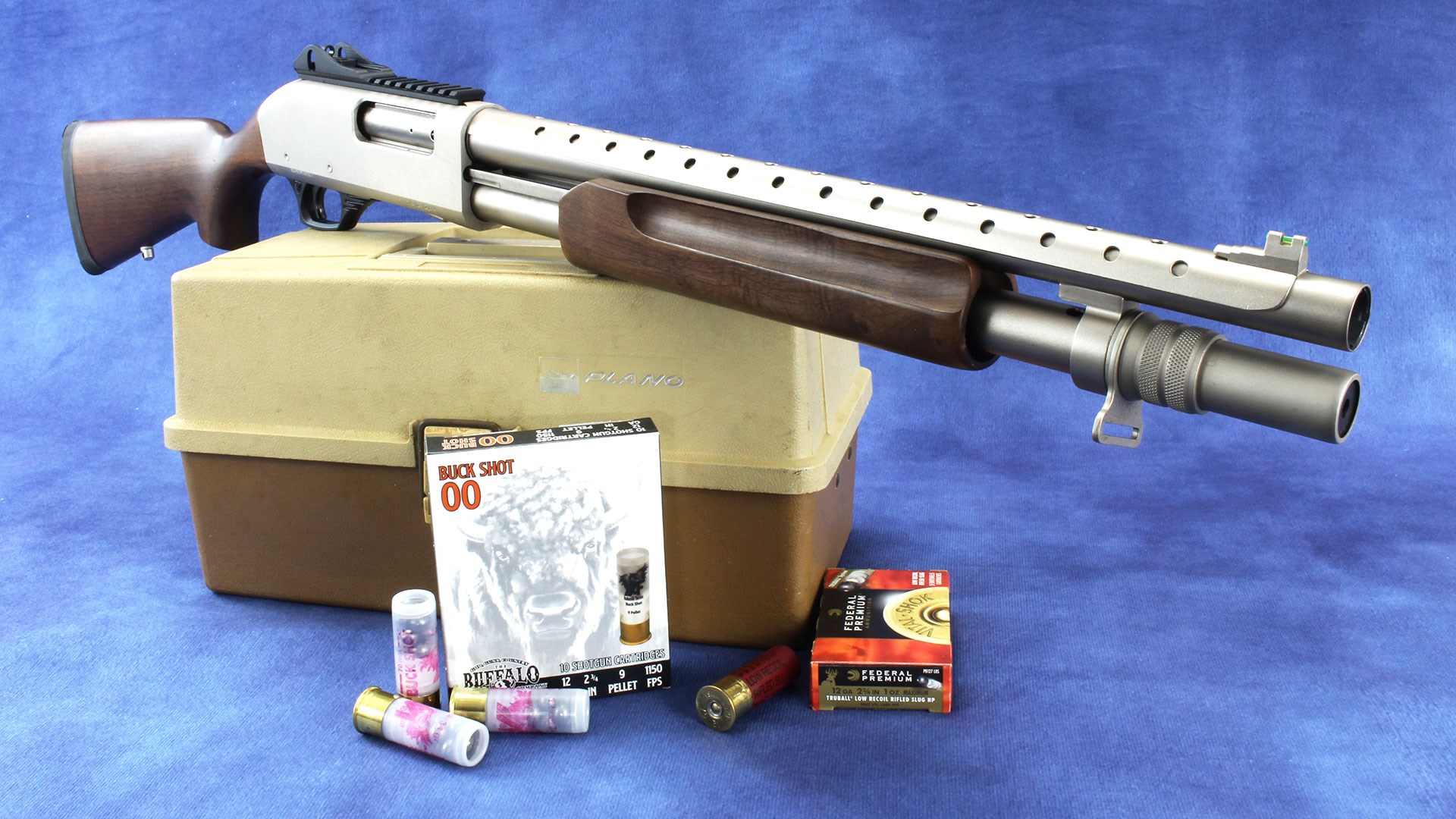 The Tokarev USA TX3 12HMD pump-action shotgun.
This pump-action 12-ga. shotgun is built to look like the riot shotguns of yesteryear while sporting a wide variety of modern features. We'll get to these features in a moment but first, we must take a moment to appreciate the materials and craftsmanship that go into this gun, which by the way only retails for $299. By mating a 4140 chromoly-steel barrel to an aluminum-alloy receiver there are zero compromises between strength and weight. These parts are then bead blasted before being finished with an electroless nickel plating, providing the rust inhibition that we speak of.
Tokarev USA applies this process to every metallic exterior part, taking it as far as the end cap and even the rear swivel. Said swivel is screwed into a lustrous Turkish walnut buttstock that matches the TX3's fore-end. You'll notice that the fore-end is devoid of any checkering, which I believe is to eliminate any crevices that might trap corrosive saltwater and lay waste to this beautiful furniture. So premium metal, finishes and even Turkish walnut for under $300? Yeah, it got my attention, too. That's why I had to get one on the range ASAP.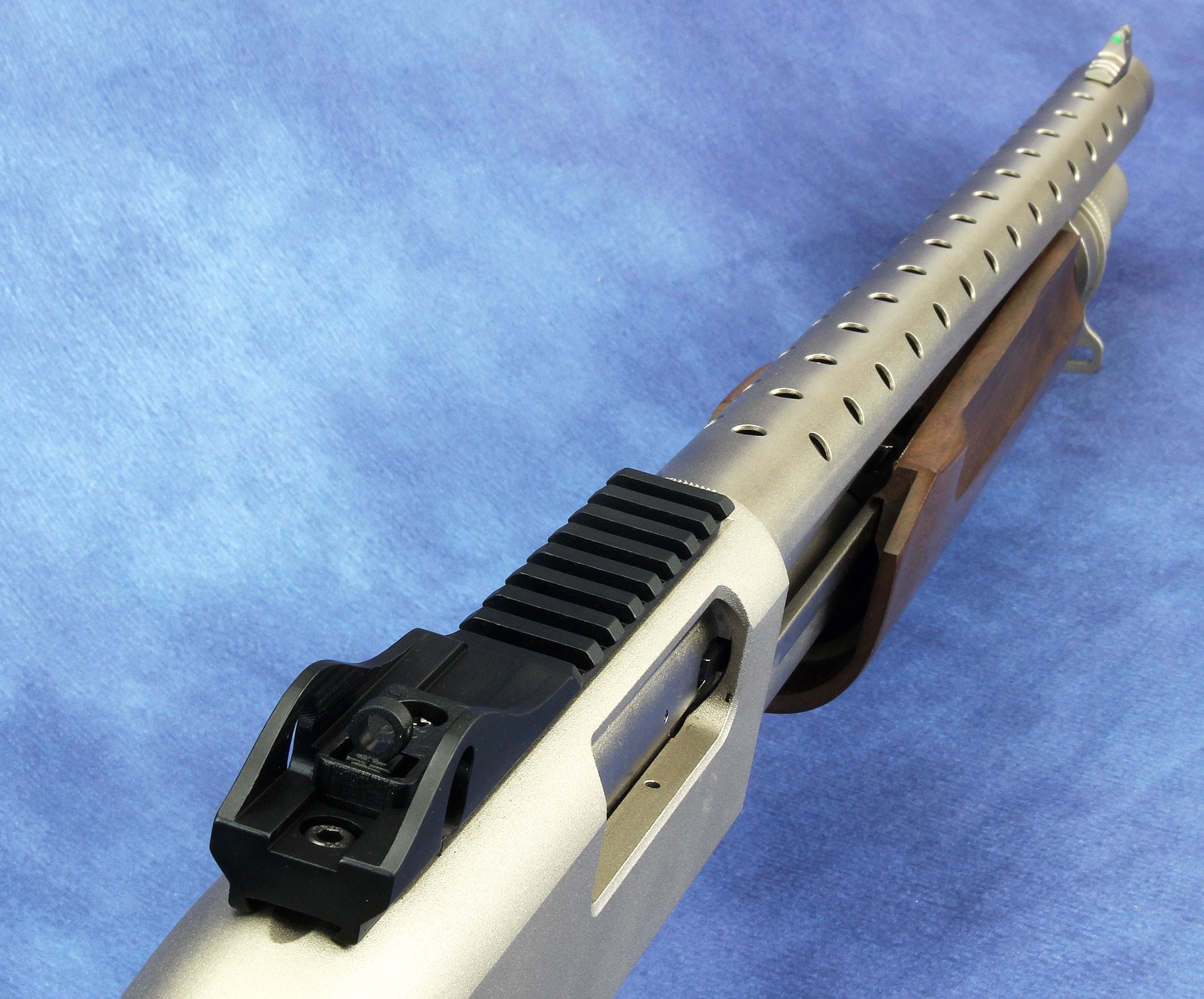 A view of the fiber-optic front sight and ghost-ring rear sight, along with receiver-mounted Picatinny rail, on the TX3 12HMD. 
When my sample arrived, it also showed up with the available magazine extension tube that I decided to take to the range for installation after function and accuracy testing. Although accuracy testing is bypassed by most for smoothbore shotguns, the TX3 series comes with a brilliant fiber-optic front sight and a fully adjustable ghost-ring rear sight, so it just seemed to make sense.
In addition to a quality set of sights right out of the box, this shotgun also includes a pre-mounted Picatinny rail, should you decide that you want to add a holographic or red dot optic. Theoretically, you could mount a scope in this space but eye relief could be an issue, leaving you looking like a pirate yourself. Also in the box was a set of Benelli Mobil pattern choke tubes which the TX3 is threaded to take, making it safe for slugs and steel shot with nothing more to do.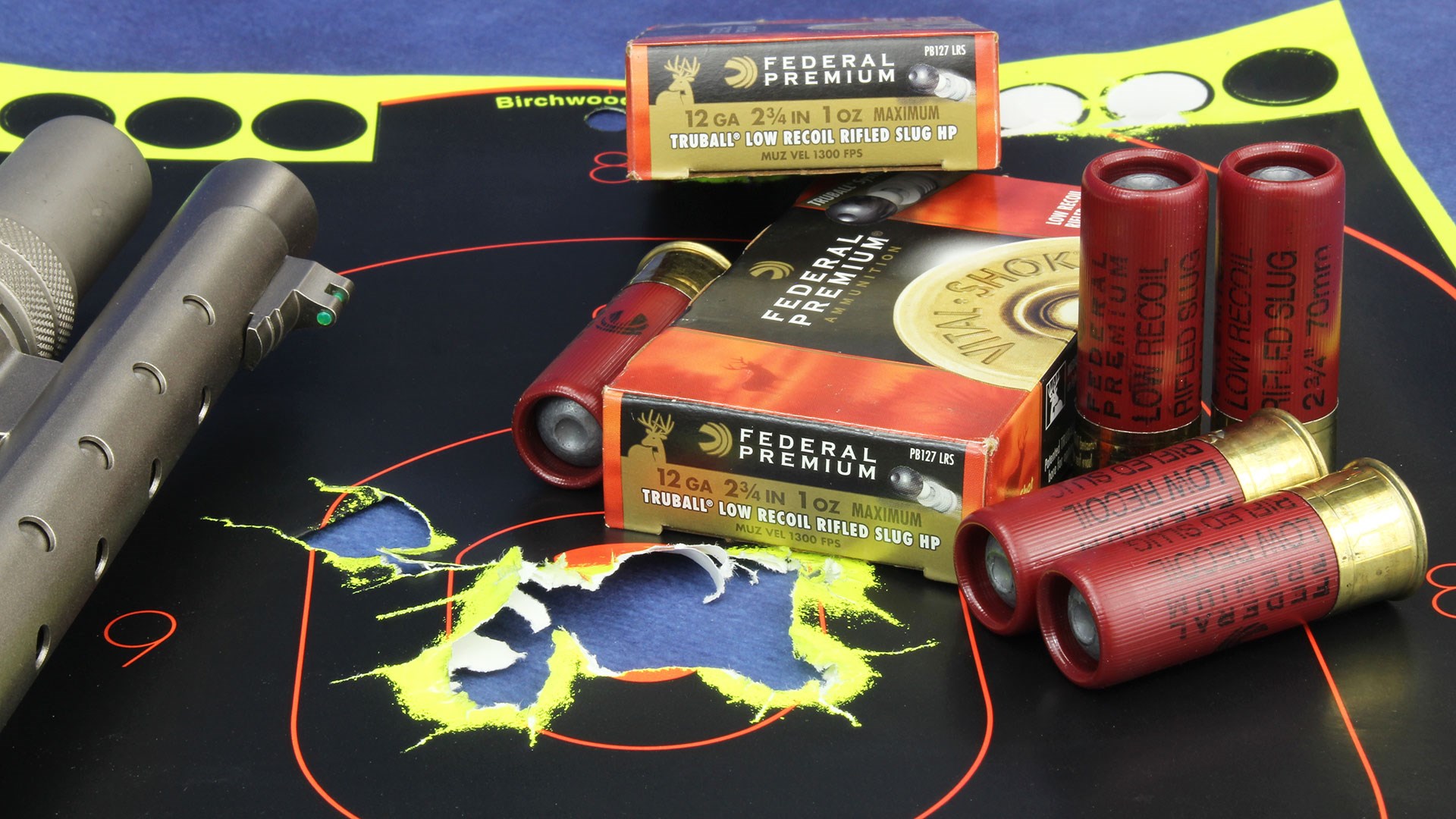 The results from testing Federal's Managed Recoil Slugs at a distance of 25 yards.
My range day started with an accuracy test using Federal's Managed Recoil Slugs at a distance of 25 yards. As advertised, the recoil was manageable, but out of the lightweight pump, you certainly knew that you were shooting them. My first impacts were about 8" high on our Birchwood Casey Shoot-N-C target. In an attempt to remedy the situation, I dialed the rear sight down as far as it would go, which wasn't very much. Our next shots still proved to be a few inches high, so I put the appropriate hold on the target and began the standard testing protocol of shooting five groups of five.
The consistency was impressive with groups measuring as small as 3.18" and an overall average of the five coming in at 4.58", making this more than accurate enough for defensive purposes and maybe even a dense woods deer hunt too. Moving into 15 yards, I patterned some Buffalo Cartridge Company 00 buckshot onto a Dirty Bird Silhouette and really got to see this gun shine. Even with the improved cylinder choke screwed in wouldn't produce any groups larger than 6", and every pellet was accounted for in the center mass of the target. This is important to me should I consider a shotgun to protect my dwelling, as I want to ensure every projectile stops inside of the threat.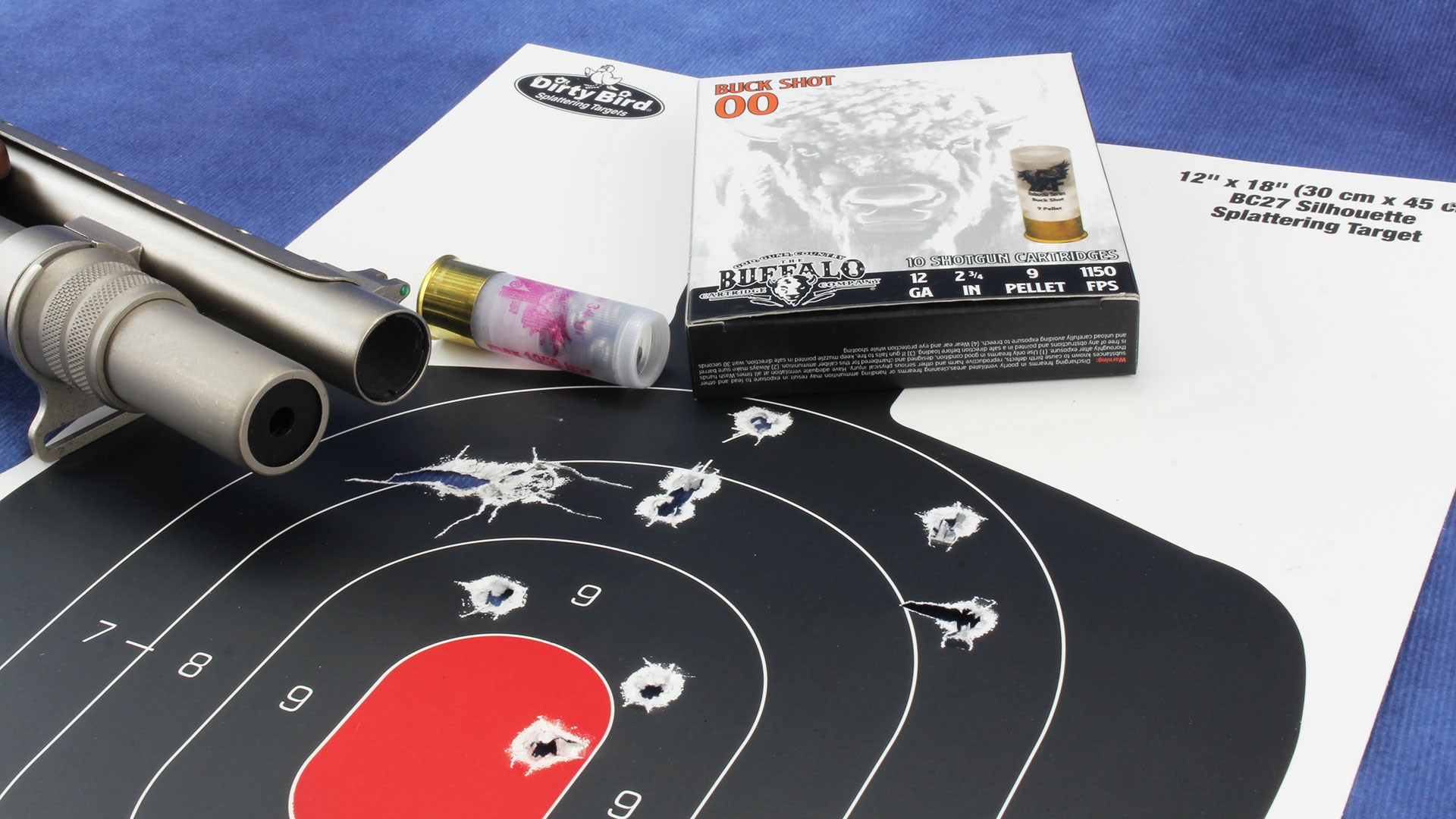 The results from testing Buffalo Cartridge Company 00 buckshot at 15 yards.
I finished the day by installing the magazine extension with the intention of expediting the biodegrading process of our paper targets. During this portion of the experience, I noticed something interesting regarding how many shells the gun truly holds. Tokarev USA lists capacity as 4+1 but as I stuffed 2-3/4" ammunition into the tube it surpassed that count by one. Being that I had 3" turkey loads on hand for another test later that day, I experimented and found that they arrived at that capacity with shells of this length as opposed to the more common 2 3/4" variety. I also gathered that the extension will add +1 of either length shell so don't buy this accessory expecting a further capacity enhancement than what is advertised.
The standard magazine tube cap taken off the TX3 12HMD and replaced with an extension.
With rounds aplenty, I ran the gun hard while cycling it as aggressively as possible. The goal was to induce some sort of failure, which I myself failed at. It ran without a hiccup and didn't even seem to exhibit any sort of "break-in" period, which I typically find in low-dollar pump-action shotguns. It was also during this period when I also gained an appreciation for the ventilated barrel shroud, as the gun heated up rather quickly and this kept me from getting burned when I rolled it over to reload.
Turkish guns have been impressing me since I picked up my first nearly a decade ago and the TX3 12HDM is certainly one that falls into that category. To round out my review I will mention that the included rear ring could use a little work but only if you intend on using it for a more precise application, like standard-distance slug hunting. I didn't like that I couldn't dial it down far enough for my 25-yard target but being that I was able to put five slugs more or less through the bulls-eye, this might not be a valid critique.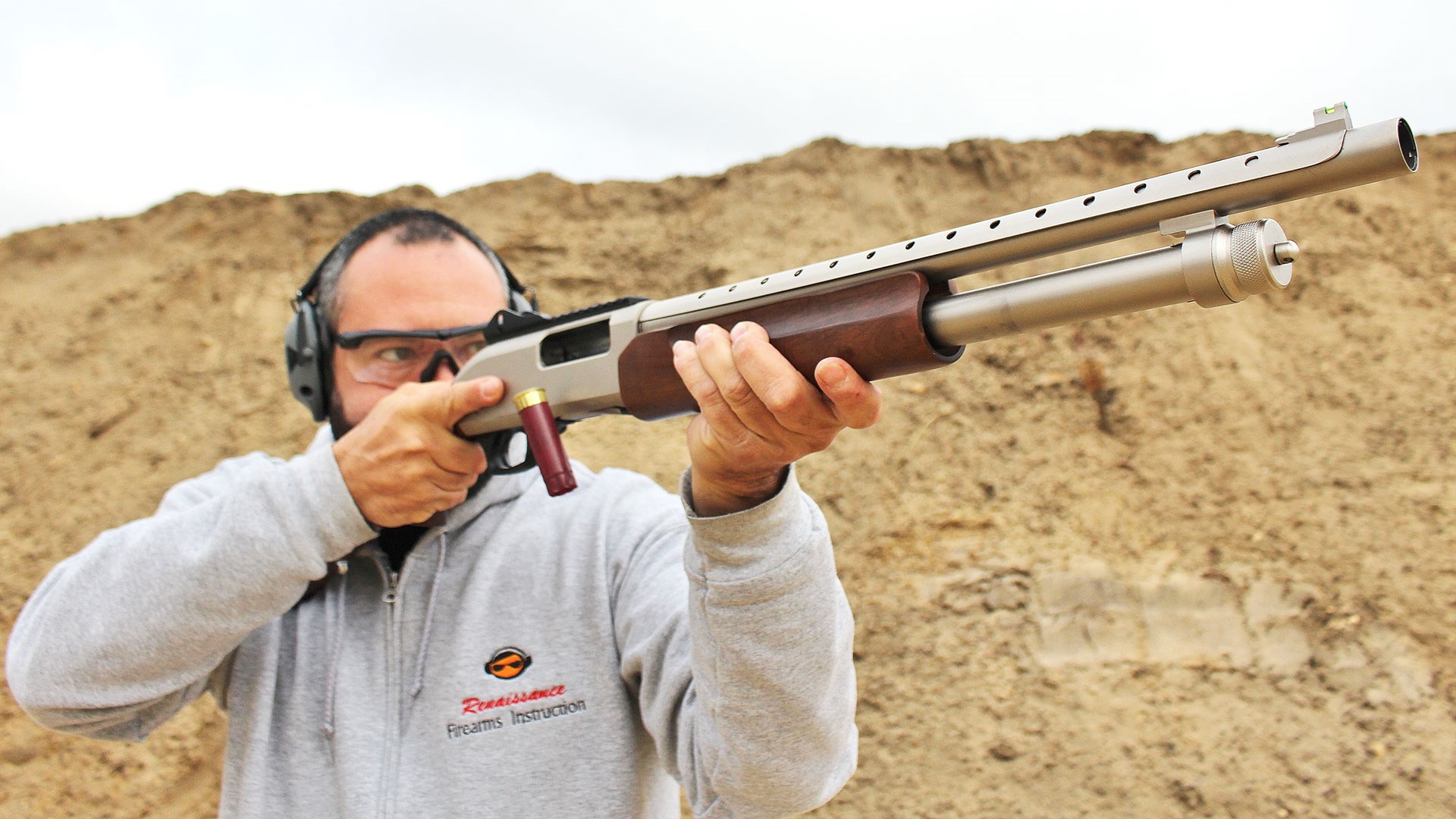 Testing out the TX3 12HMD on the range.
After spending time with this gun, I can certainly conclude it to be seaworthy and would go so far as to say that I would like to see it in other configurations of this model in the future. A longer duck version would be swell, as a gun that can beat the elements is always in demand for those conditions. Something with a synthetic stock would be nice too, as the walnut is just too good looking to drag into a blind or up into a tree. Then again, for $299 beating it to death and just buying another one isn't completely out of the question. To get more information or to order dealer direct, visit tokarevusa.com.
Specifications:
Manufacturer: Tokarev USA; tokarevusa.com
Gauge: 12, 3"
Action Type: pump-action shotgun
Stock: Turkish walnut
Receiver: aluminum alloy, nickel finish
Barrel: 18.5", 4140 chromoly-steel
Capacity: 4+1 3" shells; 5+1 2-3/4" shells
Sights: fiber-optic front, fully-adjustable ghost-ring rear
Trigger: single-stage, 8-lb., 1-oz. pull
Width: 1.91"
Height: 8.44"
Weight: 6 lbs., 14 ozs.
Overall Length: 38.25"
Length of Pull: 13.5"
Drop at Comb: 1.37"
Drop at Heel: 2.0"
MSRP: $299