by
posted on April 30, 2022
Support NRA American Rifleman
DONATE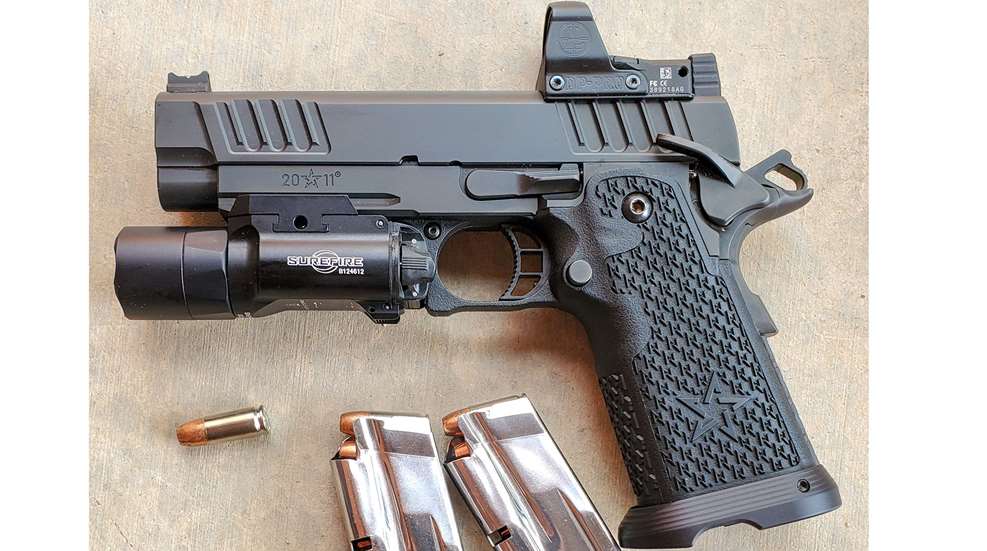 The revolver was the primary sidearm for American law enforcement for most of the 20th century, but the Model of 1911 served well here, too. Officers who chose to carry something other than a wheelgun in .38 Spl. or .357 Mag. often patrolled the streets with a M1911. With a round of .45 ACP in the chamber and a magazine containing seven or eight more, the M1911 offered outstanding service capability for the time. 
Not all was perfect, however. The 1911's single-action "cocked and locked" trigger was viewed by some police commanders as dangerous. As a result, 1911s were sometimes considered to be more of a specialist's firearm and were issued to SWAT units, with the belief that advanced training was necessary to safely carry one. As departments moved away from the revolver en masse, firearms companies used marketing terms like "safe action" to play into the minds of administrators who were concerned about the 1911's safety. 
In the commercial market, the 1911 continued to reign as America's handgun with an appeal that rivals baseball, apple pie and Chevrolet. The pistol spawned several generations of custom pistolsmiths, who made a living modifying and tuning guns to meet carry or competition needs. As the demand for civilian 1911s grew, so did companies making pistols. Looking back, it was only logical that manufacturers would eventually cut out the middleman and offer pistols that had most of the features previously added by custom gunsmiths.
Upswept beavertail grip safeties, extended thumb safeties and more usable sights all became standard items across the industry. It was also logical that someone would eventually convert the 1911's single-column magazine into a staggered column. These "double-stack" designs retained the legacy slide and barrel, but mated them to frames that offered twice the ammunition capacity. A number of companies have made higher-capacity 1911s over the years, with a prominent design, known as the Staccato 2011, originally developed and patented by Strayer-Tripp International. 
What sets the 2011 apart from other higher-capacity 1911s is the frame. To keep the frame's width to a comfortable and usable size, STI deleted the grip panels and grip screw bushings and incorporated grip texture directly into a polymer frame extension. This frame extension attaches to a machined steel upper section via screws. In essence, this gives the STI frame a measure of modularity in that the lower polymer grip section can be replaced with a grip of a different color or with a different texture. The STI's steel frame section is machined to include slide rails and pin holes for the hammer, sear, disconnector and safeties. It is serialized and is considered a firearm.
The Staccato 2011 P Optic Ready's included DPO plate with rear sight, should the user want to use iron sights instead.
STI started as the brainchild of two men, Sandy Strayer and Virgil Tripp. As time went on, Tripp and Strayer parted ways and the STI brand was sold off. With the change in ownership, the brand grew to include complete pistols as well as parts and accessories for custom gunsmiths. Then the company changed hands again, with the name being changed to Staccato. Along with the change in name, the company has changed its marketing strategy. Gunsmith frames, slides and other parts are no longer available. The focus is now on making complete factory pistols for law enforcement.
Staccato's duty handgun is called the Staccato 2011 P. The "P" stands for professional, and follows the company's marketing strategy of advertising the P sub-model as a prime choice for law enforcement. Advertising materials and Staccato promotional videos show law enforcement officers practicing on the range with Staccato pistols. These same officers are seen later responding to some type of call with these pistols front and center. Advertising is paying off, and the Staccato P is either issued by or approved for use with at least 500 departments at the time of this writing. 
The Staccato P is chambered in 9 mm Luger. It is what many people would refer to as commander size. This means the pistol has a full-size grip frame and a barrel that is less than 5" long. But, unlike a traditional commander that has a slightly shorter slide travel, the Staccato P has the same slide travel as a 5" pistol. This extra slide travel gives the magazine spring more time to push cartridges up in the magazine tube, making for a more reliable pistol. The barrel is heavy in profile and mates directly to the slide without the use of a removable barrel bushing and uses an integral feed ramp. The recoil spring guide rod features Staccato's tool-less takedown system. This allows the owner to field strip the pistol without needing a bent paper clip or small piece of wire required with some other guide rods.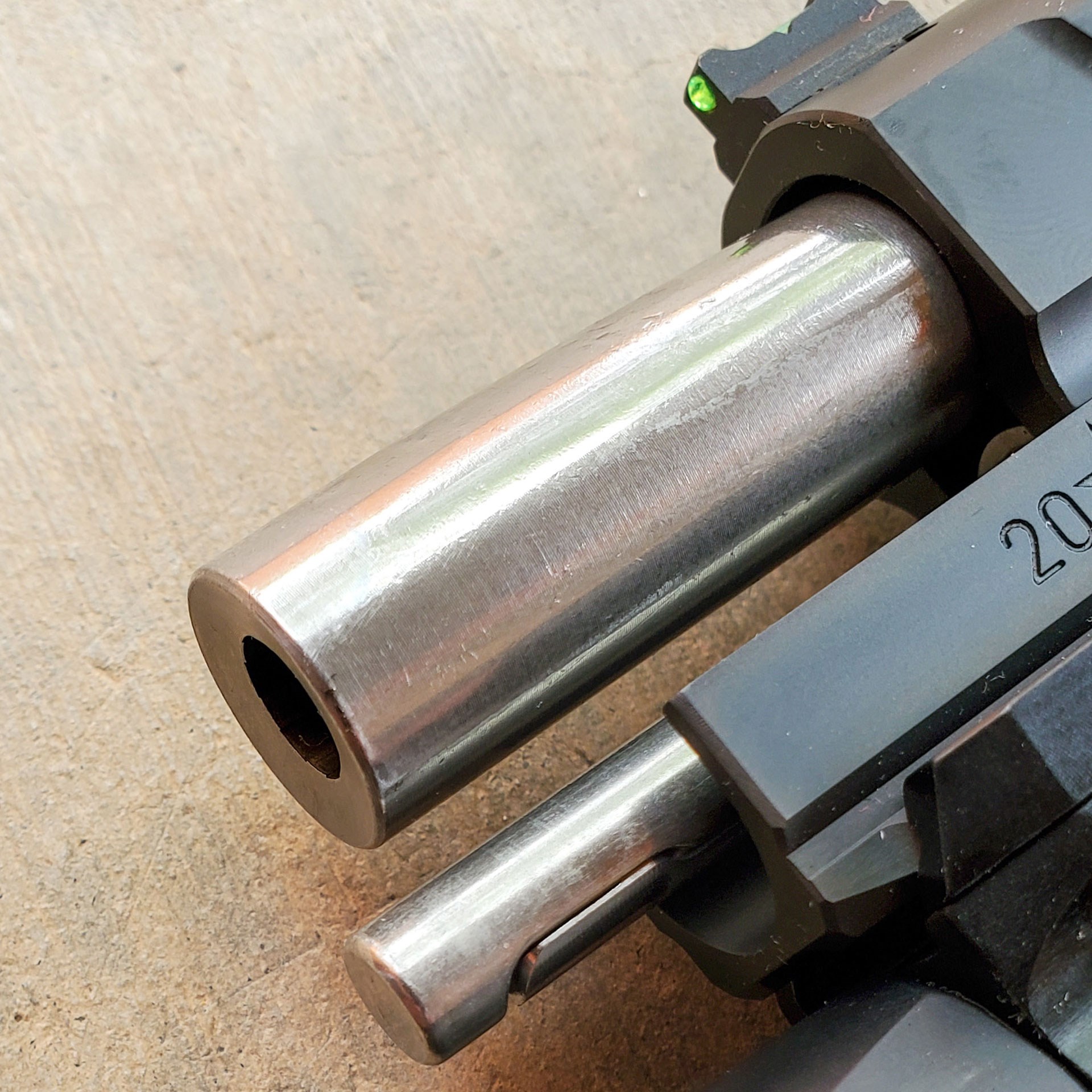 A closer Look at the Staccato 2011 P's bull barrel and full-length, recoil-spring guide rod. 
The slide comes in two versions. The standard 2011 P is topped with an adjustable target-style rear sight milled and deep set into the slide. The 2011 P Optic Ready ships with a fixed rear sight that is mounted in its own plate attached to the slide. The plate and rear sight is removable so that various slide-mounted optics can be used. Adapter plates are made by Dawson Precision and CHPWS, available for purchase from Staccato's website. Between these companies, a plate should be available for just about any slide mounted optic on the current market. For the purposes of this review, we used the Staccato 2011 P Optic Ready with the Leupold DeltaPoint Pro as well as the Holosun HE509T-RD. Swapping one optic for another was straightforward and easily accomplished with simple hand tools.
As with the original STI, the Staccato 2011 frame is still two separate pieces. The frame's steel dust cover is now machined with a rail for mounting a flashlight. The frame's controls are located in the common 1911 locations and the 2011 ships with an ambidextrous thumb safety. Staccato has redesigned the magazine for reliable function with 9 mm Luger and changed the magazine catch in the frame. Legacy STI magazines are not interchangeable. Texturing on the frame's gripping surface is quite good from the factory but some users may want something more aggressive. Grip tape can easily be applied or the polymer grip housing can be removed and textured by someone competent in re-texturing polymer frames.
Range and accuracy tests were conducted using a mix of aluminum, brass and steel cased ammo. There were no surprises. Anyone who's familiar with the 1911 or the STI 2011 should have zero issues with the Staccato. Our test sample had a trigger that broke at a consistent 4.25 lbs. with just the slightest amount of creep about halfway through. This tiny glitch is completely unnoticeable when shooting fast and in no way seems to hinder functionality or accuracy. Accuracy was, frankly, outstanding and the Staccato P is likely one of the most accurate handguns of its type. 
| | | | |
| --- | --- | --- | --- |
| Staccato P DPO Accuracy Results: | Muzzle Velocity Average: | Muzzle Energy: | Groups Size at 25 Yards |
| Speer 147 grain TMJ FN Blazer | 948 f.p.s. | 293 ft.-lbs. | Best 1.16", Worst 3.09", Average 1.70" |
| Hornady 124 grain Steel Match | 1,069 f.p.s. | 315 ft.-lbs. | Best 0.95", Worst 1.51", Average 1.20" |
| ASYM Precision 115 grain Action Match | 1,110 f.p.s. | 314 ft.-lbs. | Best 0.83", Worst 3.66", Average 1.76" |
Velocity measurements are an average of 10 shots taken fifteen feet from the muzzle using a Caldwell G2 chronograph.
However, there are downsides. The Staccato P is a custom pistol that is assembled using high quality parts. It is quite expensive, but the tight tolerances equate to essentially a match-grade pistol. The pistol is also heavy. With a full magazine, slide mounted optic and flashlight attached, the Staccato P tips the scales at over 3 lbs. For comparison a Glock 17 with light, optic and full magazine is a good 12 ozs. lighter. Staccato has just started offering an aluminum frame version that should shave off some weight. 
The Staccato 2011 P Optic Ready stowed in a Blackhawk T-Series duty holster.
It turns out the 1911 may not be as dangerous as previously thought. Trigger-finger discipline and the judicious use of the thumb safety make the 1911 and 2011 as negligent discharge proof as anything else. Proper training and a good understanding of the Four Safety Rules are likely far more important for preventing unintended discharges than is handicapping officers with a heavy trigger. Law enforcement officers interested in carrying a Staccato P in a duty capacity have a number of holster options. These include products from Safariland, Blackhawk and U.S. Duty Gear. All three companies offer holster options that will accommodate the pistol with both a slide mounted optic and weapon light attached. 
Just now passing its 110th year in production, the 1911 still retains a loyal fan base. Staccato is set to continue what Strayer-Tripp started with STI; building a modern version of the time-tested workhorse. Staccato may be moving in a law enforcement-centric direction, but the company has not abandoned the civilian nor competition markets. The company currently offers two pistols for concealed carry and two for competition use. These are the Staccato C, C2, XC and XL. More information on these pistols can be found at staccato2011.com. 
Staccato 2011 P Specifications:
Caliber: 9 mm Luger.
Capacity: 17 rounds standard, 20 round extended magazine available.
Barrel: 4.4" Bull 1:16" twist.
Finish: Diamond Like Carbon, black.
Trigger Pull: 4 lbs. 
Safety: Ambidextrous with extended levers. Frame mounted grip safety blocks trigger's rearward movement when not depressed.
Grip: 2011 G2.
Frame: Machined from billet with 1913 accessory rail.
Total Weight: 33 ozs. without magazine. 
Retail Price: $2,399 to $2,699 depending on barrel selection.