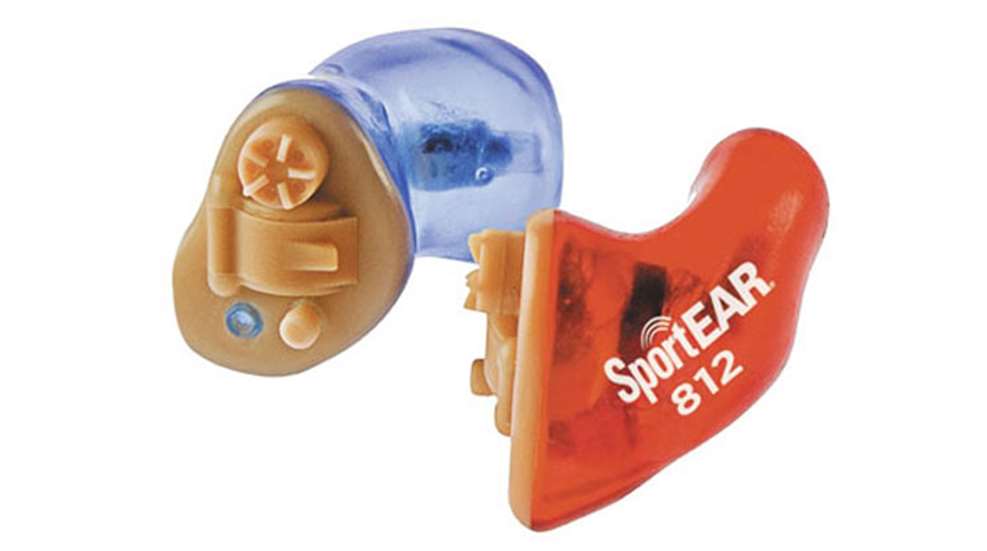 Of all the gear we hall to and from the gun range, proper hearing protection is among the most important. Repeated exposure to sounds louder than 90 decibels (dB) can cause permanent hearing loss. Since the average gun blast often exceeds 140dB, using hearing protection at each and every shooting event is a good idea.

Simple hearing protection, including foam earplugs and noise dampening earmuffs, do a great job of keeping the noise out. But they can also block out sounds we want to hear like range officer commands and conversation with our friends. This is especially true if the person wearing it already has some degree of hearing loss.

A great solution to the problem is the use of electronically enhanced hearing protection devices like those provided by SportEar of Draper, Utah. Founded in 2002, the members of the company combined their professional outdoor, industrial, military and hearing aid backgrounds to develop their first line of products featuring hearing enhancement with automatic hearing protection. The product line has continued to grow and gain recognition ever since.

SportEar products include earmuffs (XT2 and XT4), ready-to-wear electronic earplugs (GhostStryke) and Custom Edge personalized hearing protection. All of these devices feature micro processors that compress dangerously loud noises (gun blasts) while allowing safe levels of sound (speech, ambient sound) to pass through to the ear. They can also amplify environmental sounds, which is especially helpful to those who have already sustained some degree of hearing loss.

I first met the members of the SportEar team at SHOT Show in Las Vegas. The company travels to events all over the country meeting with their customers and providing key services right on the showroom floor. The products that caught my attention were those in the Custom Edge line. These devices look and operate much like in-the-ear hearing aids which makes them unobtrusive and comfortable to wear for extended periods of time. When I expressed an interest in learning more, I was invited to stop by the company headquarters for a tour and consultation. It was too good of an offer to pass up.

At the SportEar's headquarters, I learned that the first step in getting fitted for Custom Edge hearing protection is a hearing test. The test results are used to determine which device will best fit your needs. Customers with normal levels of hearing can save money by purchasing devices with less gain while those who do have hearing loss can invest in more powerful models.

I received the same hearing test that customers are given at the trade show booths. It was simple, painless, and took just a few minutes. Out of curiosity, I went that same day to an Audiologist and received what seemed like a much more comprehensive test. When the two Audiograms (hearing test results) were compared side-by-side, the results were the same.

With the hearing test completed, it was time to make ear molds, which are castes of an individual's ear canals. At the laboratory, where the devices are assembled, the molds are used to form the outer hulls. After inspecting my ears, a small foam plug was pressed into the canal to protect the ear drum. Then a soft synthetic compound was injected into each ear and allowed to harden into what felt like a stiff foam rubber. The whole process took about 15 minutes.

With the Custom Edge model and features clearly defined, a copy of the Audiogram and ear molds all in hand, SportEar was ready to create my personalized hearing protection devices.

The units that landed on my door step a few weeks later were loaded with useful features. The exterior hulls are different colors, red for the right ear and blue for the left. The end plates were available in either a flesh tone color, to reduce their visibility, or a bright hunter orange to increase their visibility. I opted for the bright orange so that range masters and other shooters can clearly see when I've got my ears on and when I don't.

The devices tested for this review contain electronics that provide four different channels, or settings, that can be cycled through by pressing a small button on the end plate. Each channel is clearly identified with an audible series of beeps, one beep for channel 1, two beeps for channel 2, and so on. Three of the channels can be customized. I opted for an all-purpose, every day setting for channel 1, followed by a 5dB increase on channel 2, and a 5dB decrease on channel 3. The fourth channel is the one to use when shooting. This setting allows environmental sounds and conversation to pass through to the ear. But when a shot is fired, a sound compression circuit kicks in to reduce the noise to a safe level. The pop of a gun going off momentarily causes everything to go quiet, and then sound levels return to normal until the next shot.

In addition to the channel button, there is a twisting volume adjustment knob. For those who have not worn in-the-ear devices like these, these controls might seem small or hard to work with at first. But once you get the hang of it, these controls allow the devices to be quickly adjusted to a variety of environments.

One of the best features of the Custom Edge units is that they are compatible with most types of simple and electronic earmuffs. Since I'm determined to protect my ears as much as possible, I usually double up on hearing protection at the range. This means installing a set of foam plugs before slapping on a set of muffs. If simple muffs are worn, the Custom Edge plugs will allow you to hear through them but will still automatically protect your ears when the noise gets too loud. If electronic muffs are donned, then the Custom Edge plugs will work in tandem with the muffs sound amplification in most cases (some electronic muffs may be incompatible, resulting in feedback). The result of pairing quality amplified muffs with these electronic plugs is amazing. It provides all of the ear protection of doubling up with the ability to hear everything around you as if no hearing protection was in place at all.

With all of the functionality these devices offer, they provide an excellent level of flexibility. I have a hereditary level of hearing loss that calls for the use of hearing aids in most situations. More than once I've found myself in the process of taking off the aids to transition to hearing protection at the range and getting hit by a deafening blast during those few moments when my ears were exposed.

Using the Cutting Edge units, I can start protecting my ears before even leaving the house. I can put them on instead of my usual hearing aids since they provide the same level of clarity and amplification I need to converse with the family. Before I get out of the car at the outdoor range I prefer to work at, the devices are switched to channel 4. From the car, to the range master's office, to the bench my ears are protected and I can understand what folks are saying along the way. At the shooting bench, a set of muffs go on for added noise dampening, but I can understand what is being said without having to lift the muffs off of one ear, or pulling out a foam plug, at the risk of losing more hearing. It really makes the whole experience of going to the range much more enjoyable.

I've been using the SportEar Custom Edge hearing protection for about six months now and I couldn't be happier. The devices work as advertised and they are comfortable to wear. In-the-ear hearing protection is not for everyone. But if you find yourself regularly spending time exposed to high levels of noise, such as shooting, motor sports, or industrial work environments, then devices like these are well worth the investment. Remember, once your hearing is gone, it's gone for good.