Support NRA American Rifleman
DONATE
It isn't often that I get to sample the top-tier luxuries of the world. I've never driven a Bentley, and I've never eaten caviar. The closest thing to a getaway in Aspen that I've ever experienced was snow tubing in the Poconos. So, when the opportunity to evaluate the J.P. Sauer & Sohn 404 Synchro XTC came my way, I took full advantage. With a street price that eclipses many vehicles that I've owned, I was excited to see what a rifle of this level had in store.

Sauer's Synchro XTC is an extension of the popular 404 line, which is best known for its caliber-conversion capability. Through the use of just two bolt heads and up to 14 barrels, this series can fire more than a dozen different cartridges from .243 Win. to .404 Jeffery. Of course, all of that coin gets you far more than flexibility. It also gets you exquisite German craftsmanship and features that are simply reserved for the finest quality hunting rifles. 

So, what is different about the XTC variant? Well, the "C" in XTC refers to the hand-laid, carbon-fiber stock set. The buttstock features an ergonomic thumb hole that allows for better trigger finger alignment and overall comfort through the use of thoughtful angles and a proper palm swell. As a left-handed shooter, I found it to be ambidextrous, which was a relief because quite often these are only built to accommodate right-hand users.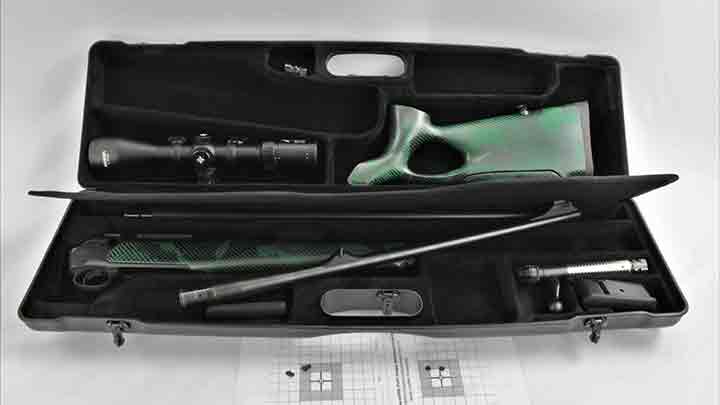 Even if you don't identify as a southpaw, this is an important feature in case you need to shoot off your weak side or are just looking to retain the best possible resale market. The new carbon-fiber stock also contains an adjustable comb, which will allow you to tailor it to your unique facial features and optic choice. As previously mentioned, the stock and fore-end are two separate pieces that better facilitate barrel swaps.

Both also have respective QD sling point and are finished in a slick-looking digicam. During the initial inspection, I found the rifle to be lighter than expected. At a little more than 6 lbs. it was certainly impressive and unique, but I was far more interested in the cartridge-conversion process. After spending about 15 minutes looking over the stock for some sort of release, I came up empty handed.

While there was a tool required to disassemble the rifle, I didn't find it in any of the places where I would expect. To my surprise, the front-sling swivel sat far deeper than it appeared into the fore-end and doubled as the sole Allen wrench needed to swap a barrel. Once I popped it out, I was able to insert it into the aforementioned hole, give it a quarter turn and then slip the fore-end off towards the muzzle.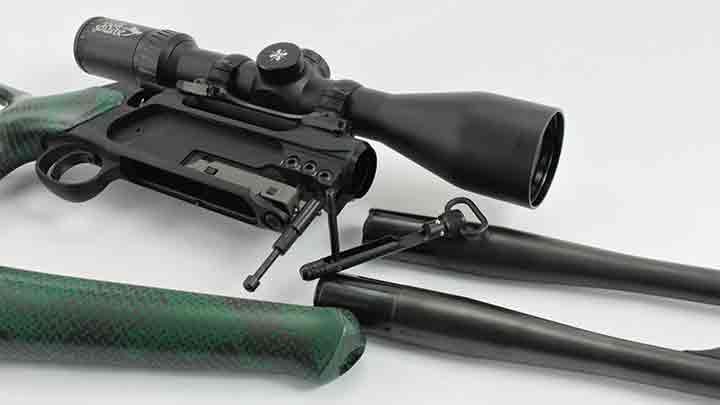 This exposed the tensioning lever that is held in place by three hex screws. Once those screws were loosened, I was able to rotate the lever down, slide out the barrel and either store it or swap it with another chambering. My test rifle came with two barrels, .300 Win. Mag. and .308 Win. Each 404 is sold a-la-carte, so you aren't bound to any predetermined pair of barrels, which I found very unique as manufacturers typically stuff specific pairings down your throat.

I changed into the .308 Win. barrel and completed the conversion by swapping out the bolt head, which was as simple as depressing a spring-loaded latch and slipping it off of the bolt body. Removing the fore-end also exposed the four-position adjustable trigger, so I decided to crank it down to the 1.2-lbs. setting. The trigger position is also adjustable if you want to move it forward or backward a bit, and you may even adjust the cant to match the natural angle that your hand might create when gripping the stock. 

Before hitting the range, the rifle needed some glass, so I paired it with an Axeon 4-16X Dog Soldier scope. The receiver of the Sauer 404 has a scope rail machined directly into it, eliminating screws that are notorious for getting loose. However, Sauer lost points with me for using a proprietary rail, which limits the user to its mounting hardware. Nonetheless, this rail system was extremely secure and far less invasive than a Picatinny rail, so this certainly helped for an ultra-lightweight rifle.



After clicking on the 30 mm mount, leveling the scope and torqueing down all of the screws, I set out to see what $9,000 worth of German engineering could do. I was blessed with a near-perfect range day for rifle testing. The air was a crisp 39 degrees Fahrenheit and wind conditions were unusually still for this particular range. I started my testing by zeroing the .308 Win. configuration using Berger's new factory loaded ammo, topped with its 168-gr. Classic Hunter bullet.

From a Caldwell Rock BR Rest, I fired five groups of five rounds each at a 100-yd. target and dialed in a rough zero. The results were more than satisfactory for a thin hunting barrel launching ammo that is designed for lethality over pinpoint precision. Every group was inside of 1.5" with the best sitting right on the 1" mark. After swapping over to the .300 Win. Mag. barrel, I had an opportunity to see this rifle shine.

Not only did the action feed the long-action cartridges as flawlessly as it did the short-action, its design and balance made for an extraordinarily comfortable shooting experience. Shooting a magnum cartridge out of a lightweight rifle without a brake is not for the squeamish. However, even just six days out from a significant nasal surgery, I had no problem sending more than 60 rounds downrange.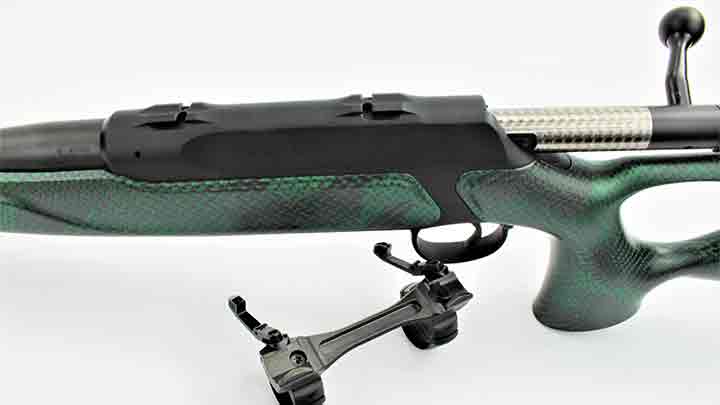 These consisted of the 200-gr. Hornady Precision Hunter and Federal's 185-gr. load with a Berger hunting bullet. Both rounds would do the trick on large game, but the Federal slightly edged out the Hornady for the best five-shot group at 1.78". So, we have a rifle that is capable of MOA accuracy and is light and fun to shoot. That in itself doesn't justify a nearly $9,000 price tag.

What does that pile of cash really get you? Well, the answer came when we took the gun completely apart and reassembled it in its .308 Win. configuration. Here we dialed our scope back to where we left off and witnessed a nearly perfect return to zero. Elevation was within a half m.o.a and windage within one m.o.a. Arguably this was caused by the slight breeze that developed as the air warmed up, but even a jackrabbit isn't going to notice less than 1" worth of drift at 100 yds.

To achieve this type of modularity and repeatability, it takes superior hands and a level of quality control that ends with a scrap heap of rejected parts because they don't meet freakishly precise standards. It's the same type of engineering that leads to de-cocker style safeties instead of mere cross-bolt and magazine releases that can be locked in place to ensure they don't accidentally get depressed when tromping through the woods.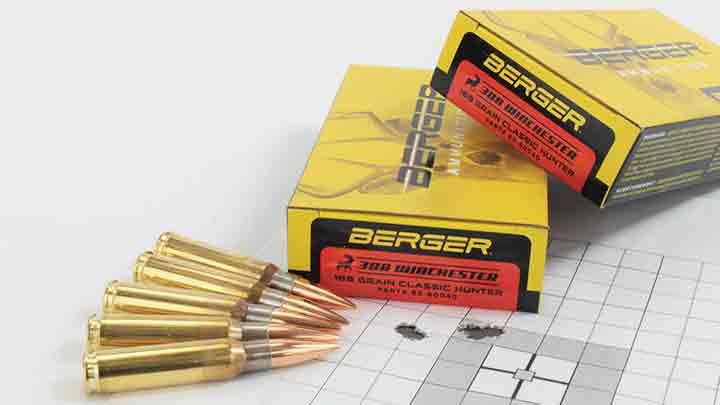 Lastly, there is no way to describe how smooth every single manipulation of the rifle was. It's just what you would expect from something that costs so much. There is no grit, no rubbing and barely any noise; just smooth parts that feel as if they aren't contacting at all. Although the investment in a Sauer 404 XTC is significant, it very well could be the only rifle you ever need to own.

The interchangeable barrel system gives you room to grow, should you pick up a new quarry and also future-proofs you a bit for when that hot new caliber is introduced. Being able to switch barrel designs also saves you money on secondary accessories like optics, further offsetting the money you tie up into just one rifle. If nothing more, all of this well-thought-out engineering ensures that your rifle will work just as it should when it arrives at your hunting destination, and ensures that the hunt of a lifetime goes off without a hitch is priceless. For more information on the J.P. Sauer & Sohn 404 Synchro XTC visit jpsauer-usa.com.