by
posted on October 31, 2020
Support NRA American Rifleman
DONATE
Bolt-action rimfire rifles have made a strong comeback in the past few years with CZ USA's lineup of 14 models, the most prolific of any maker. Many of the newer models from CZ and others, however, are not field rifles for plinking or small-game hunting, but are heavy-barrel varmint types intended for Practical Rimfire Competition (PRC). PRC is a new class of competitive shooting that involves engaging targets up to 400 yds.

There is also the Extreme Long Range Rimfire competition which is up to 600 yds., sometimes more. PRC is centered around the .22 LR cartridge. One brand, the SK Long Range Match, intended for PRC even advertises itself as made for targets beyond 100 yds. Like Precision Rifle Competition for centerfire rifles from which it emanates, PRC is often shot in the field instead of a square range.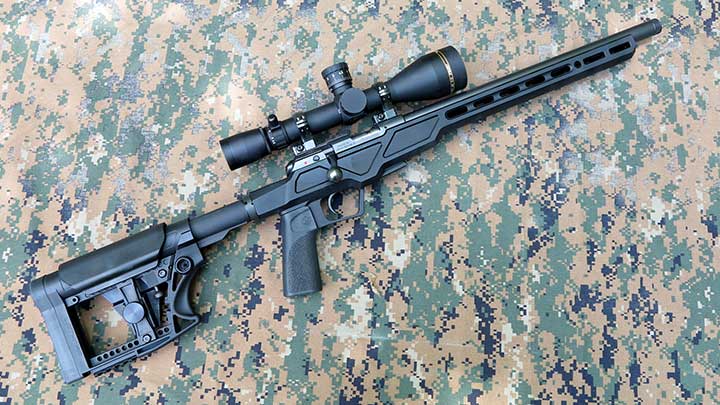 It can involve shooting from challenging and occasionally contrived positions such as crouched inside a culvert pipe or rested off a vehicle. Targets are arrayed at known and unknown distances, and the shooter may need to move and engage them under time constraints. CZ's new Varmint Precision Chassis rifle seems best suited for this challenging shooting sport, competing against the likes of the Bergara B-14R Trainer, Savage MK II TRR-SR and Ruger Precision Rimfire.
This CZ 457 weighs 7 lbs. with its 16.5" heavy profile barrel and is .65 lbs. more if you go with the 24" barrel. The length is variable, depending on the buttstock setting. Feeding is from a detachable five-round plastic magazine.
This rifle shares the same barreled action as three other 457 models including the ProVarmint, Varmint Precision Trainer and Varmint AT-ONE but distinguishes itself with its aluminum chassis stock. Chassis stocks on bolt-action production rifles first appeared on centerfires about 12 years ago, but are now making inroads on rimfires. They cost more than traditional stocks, in this case adding $411 to the MSRP of the ProVarmint, which is equipped with a painted, laminated-wood stock.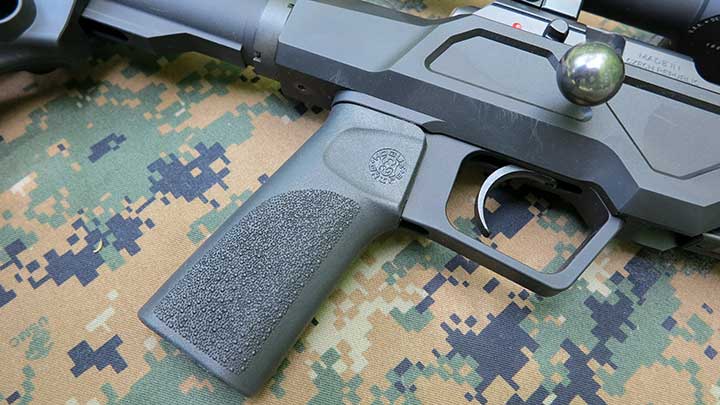 However, a chassis stock typically has a pistol grip, adjustable buttstock and a slotted fore-end for mounting bipods and accessories, which counters the increased expense with added versatility. The chassis stock on this particular rifle also has a grip and buttstock that interchange with AR-15 variants, affording lots of possible customization. Moreover, because the rifle's receiver is mounted directly to a rigid aluminum chassis, you avoid accuracy issues that can arise with other types of stocks.

Yet some of these problems, such as stock flexing under heavy recoil, really don't apply to rimfires. Though a chassis stock is a nice upgrade for some shooters, this rifle's outstanding trigger and a much improved action over CZ's preceding 452 and 455 models are its most noteworthy features. The 457's trigger is reminiscent of the renowned "Micro-Motion" trigger used by Winchester on some of its Model 52 rifles.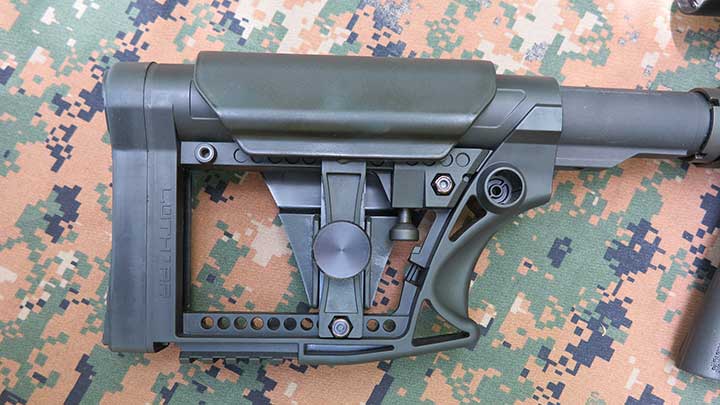 Like the original Micro Motion, the 457's trigger is adjustable for weight of pull, overtravel and take-up. Adjustable take-up and pullweight are not uncommon in bolt actions, but overtravel adjustment is a rare and valuable feature for target shooters, because it can eliminate movement, however slight, of the rifle caused by the trigger's movement following the break. Changing the pull weight and overtravel requires removing the stock to access two set screws, while take-up is adjusted using a setscrew at the front of the trigger shoe. The 457 has a specified range of 1.8 lbs. to 3.4 lbs. of trigger-pull weight.
With respect to the action, the 457 also offers significantly improved ergonomics. The safety is now on the right side of the receiver, making it more accessible than mounted to the rear of the bolt. When engaged, it locks the trigger but allows the bolt to operate to clear the chamber. The bolt also has a red-cocking indicator at its rear and its throw was shortened from 90 to 60 degrees, making it quicker to manipulate while allowing scopes with larger ocular bells to be mounted without interference.


The 457's steel receiver has an integral 11 mm dovetail for a scope mount and is partially drilled in four places to index set screws on a CZ Picatinny rail used on some models. This rail is likely to be sold as an accessory in the future.  The receiver is secured to the chassis with two screws one of which also secures the aluminum trigger guard/grip frame.
The one piece bolt cocks upon opening and locks at the rear. For added reliability during extraction, it has a left side hook that CZ calls the "holder" that functions both as a tensioner to keep the cartridge's rim against the right side extractor and to assist extraction. The barrel is free-floating from the chassis and is attached to the receiver with two Allen-head set screws for easy removal should you wish to change to .17 HMR caliber, for which CZ sells a magazine and barrel kit on its web store. The barrel has cold-hammer-forged 6-groove rifling with a 1:16" right-hand twist and is lapped.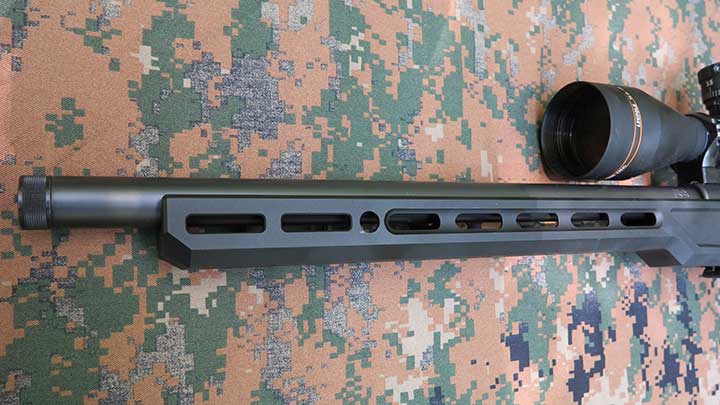 The muzzle is threaded ½ X 28 TPI and has a plain crown. The barreled action has a nitride finish. The stock's aluminum fore-end has multiple M-LOK slots and non-rotational QD sling sockets near its front positioned at 3:00 and 9:00. At its rear is a telescoping Luth buttstock, with a length of pull of 11.5" to 14" and an adjustable height comb to align your eye with the center of your optic. The narrow, hard plastic grip is made by Hogue. Non-rotational QD sling sockets on both sides and a small Picatinny rail on the bottom for attaching a monopod complete the Luth package.
I tested the 457 Precision Chassis for accuracy by mounting a Leupold VX-3i LRP 4.5-14X scope and firing at 50 yds. from a Caldwell Precision Turret rest. The factory trigger pull weight that measured 3 lbs. 8 oz. using a Lyman electronic scale and was not adjusted.
I selected ammunition that was available and affordable, before the current wave of scarcity and price gouging, instead of premium target rounds because that's what most people will shoot. These loads included CCI Standard velocity 40-gr. round nose which I found to be a good benchmark load because of how well it shot for me in a Tikka T1x and a CZ 457 Precision Varmint rifle which shares the same barreled action as the test rifle but uses a different stock.
Firing was conducted over several sessions because the groups initially shot were disappointing with a smallest and average group using my benchmark load of .75" and .90".  That's not what this rifle should deliver based on my prior experience, nor what a 5-shot, 50 m. (54.7 yd.) factory test target that measured .628" using an unspecified grade of RWS 40 gr. ammo seemed to indicate. So after firing approximately 160 accuracy eluding rounds, I thoroughly cleaned the bore and tried again. Now, the results met my expectations with CCI's Standard Velocity load giving a best and average group of .310" and .660".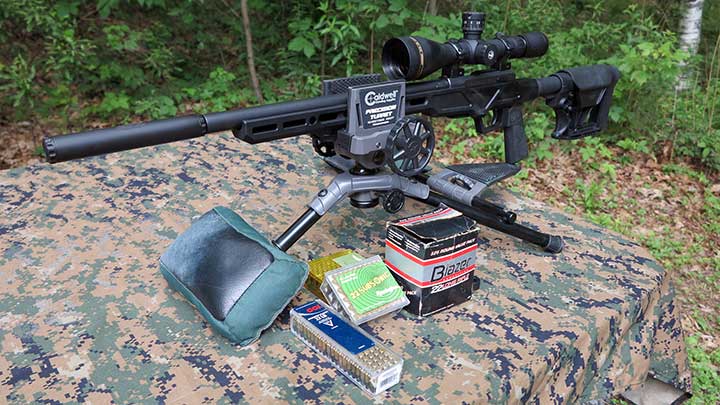 Surprisingly, bulk packed CCI Blaser shot even better with .248" and .520" groups while a 20-year-old batch of Remington Target ammo produced .531" and .720".  That's not a bad performance at all, and there's potential upside if you use premium ammo and adjust your trigger pull downward. The moral of this story is obvious: if your rifle doesn't group well out of the box, clean the bore!
Functioning was perfect, but this Model 457 did not work well for me personally because the Hogue grip is far too narrow with an awkward angle and there was a minor, yet vexing, amount of wobble between the collapsible buttstock and its mounting tube. The better choice for me is CZ's Varmint AT-ONE  because it uses the same barreled action as the Chassis model but is mated to a laminated stock with length of pull and comb height adjustments. It also costs $339 less, a welcome bonus to spend on ammo to practice for your next PRC match. The suggested retail price of the CZ 457 Varmint Precision Chassis rifle is $999. For more information on the CZ 457, please visit cz-usa.com. 

Specifications:
Caliber: .22 LR
Barrel Length: 16.5"
Overall Length: Variable
Weight: 7 lbs.
Sights: N/A
Stock: Chassis with adjustable buttstock
Action: Bolt
Magazine Capacity: 5+1
MSRP: $999.00

Accuracy Results
CCI Blaser 40-gr. LRN

Smallest

.248"

Largest

.639"

Average

.520"

CCI Standard Velocity 40-gr. LRN

.310"

.933"

.660"

Remington Target 40-gr. LRN

.531"

.894"

.720"
Size in inches of five, 5 shot groups shot at 50 yds. from a Caldwell Precision Turret rest and measured center to center.
 
Velocity Results
CCI Blaser 40-gr. LRN

Mean Velocity

1,237 f.p.s.

CCI Standard Velocity 40-gr. LRN


1,070 f.p.s.

Remington Target 40-gr. LRN


1,143 f.p.s.
 Velocity measured 15' from the muzzle with an Oehler 35 chronograph.