by
posted on March 30, 2021
Support NRA American Rifleman
DONATE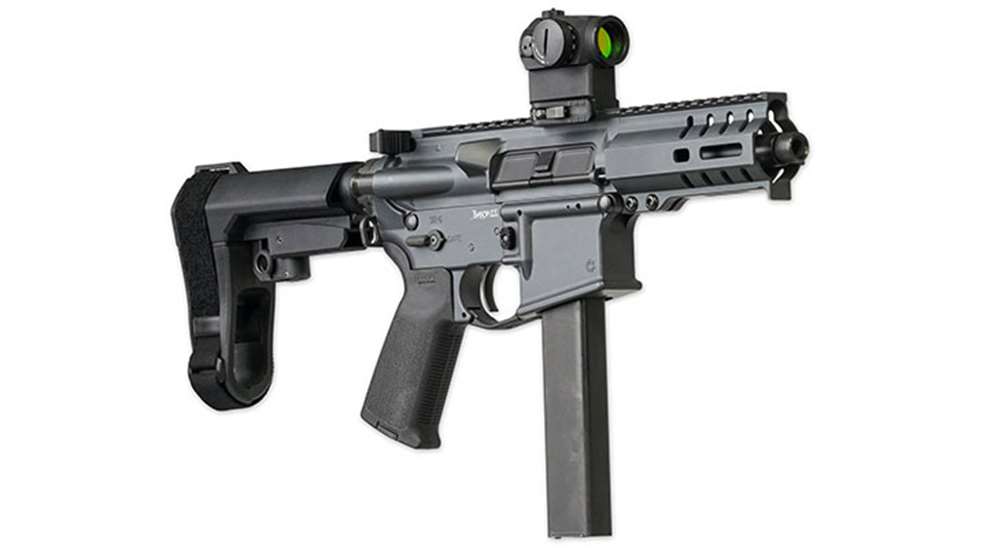 CMMG Inc. is an American AR-15 manufacturer dedicated to breaking the black-rifle mold by taking the platform in fresh and unexpected directions. While their catalog includes familiar configurations, you'll also find in-house innovations that are unavailable anywhere else. Those models which are unique to CMMG still incorporate a high percentage of standard AR-15 components which preserve the modularity that makes the AR-15 such a popular platform. 
The company's oldest 9 mm pistol-caliber platform, the Mk9, has just been brought in line with other Banshee and Resolute options with CMMG's patented Radial Delayed Blowback (RDB) operating system. This latest model launch completes the transition to this interesting and effective action. .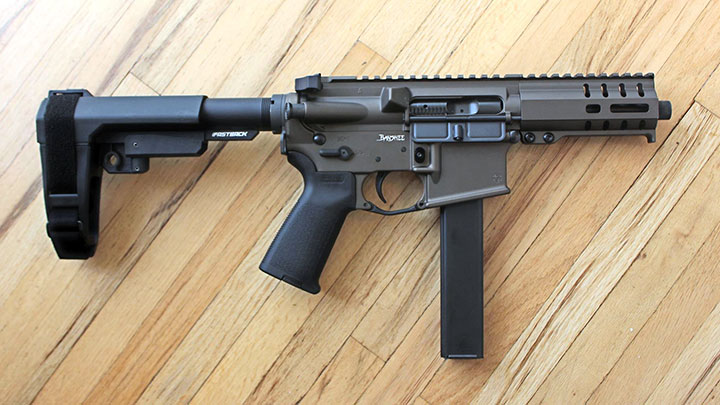 For those who are less familiar with this company's catalog, a bit of product line decoding can be helpful before looking into this latest pistol. CMMG breaks up its offerings into three lines. The Endeavor models are set up for precision and long-range shooting, while the Resolute series are general-purpose models chambered in rifle and pistol calibers. The Banshee line is made up of purely pistols, in both pistol and rifle calibers.
Within each line, there are numeric designations that work much like the 'field grade' and 'premier grade' rankings used by other companies. The 100 series guns are the entry-level models intended to be more affordably priced, the 200 series models are mid-grade options, and the 300 series is at the top and get better components, furniture and finishes.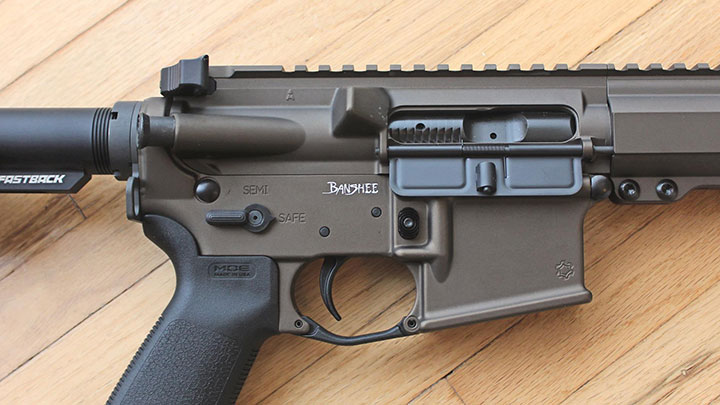 Finally, there are designations to indicate which types of magazines a particular gun will accept. For the models chambered in 9 mm, there are the MkG models that have dedicated Glock-compatible magazine wells, and the Mk9 models that accept Colt SMG-type stick magazines.
Like other RDB models, the Banshee 300 Mk9 I worked with is technically a blow-back operated pistol. It relies on the pressure produced by the cartridge to drive back the bolt carrier group (BCG) instead of a gas-impingement or piston system found on other AR-platforms.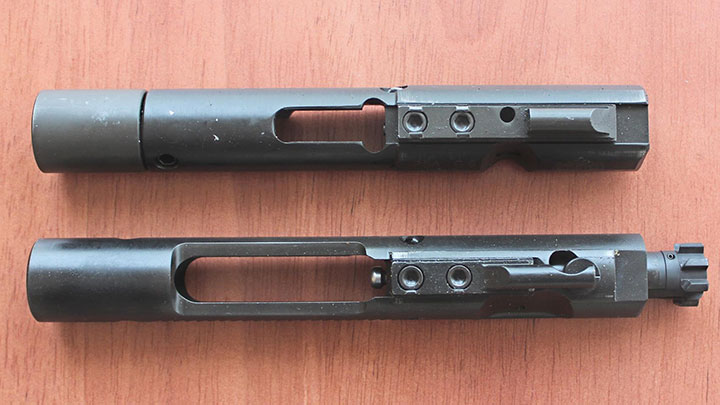 But the RDB bolt carrier operates differently than typical pistol-caliber AR-15s. The majority of 9 mm options use a flat-faced assembly that does not have a rotating bolt with locking lugs. Instead, the firing pin and an extractor are located in what would usually be the bolt housing. The RDB bolt carrier has what appears to be, at first glance, a rotating bolt head like those found in the standard AR-platform rifles and pistols.
However, a closer look at the RDB bolt reveals a modified series of locking lugs. Instead of a typical rectangular shape, the back each lug is cut at an angle or chamfered along their base. Instead of the bolt moving freely inside the carrier, it's spring-loaded. This spring-loaded and chamfered bolt works in tandem with other internal modifications and the barrel extension to delay the action cycling.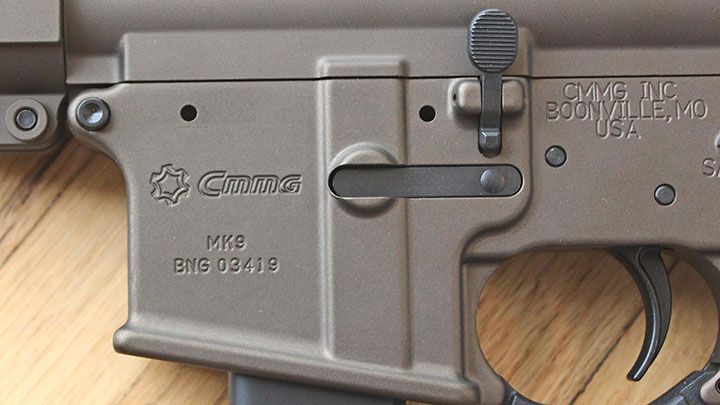 With the Mk9's action closed on a loaded chamber, the rotating bolt head locks into the barrel extension, securing the cartridge in place. When the pistol is fired, the ignited cartridge generates rearward pressure against the bolt. The chamfered bolt lugs interact with the barrel extension lugs, forcing the bolt to rotate and unlock from the barrel extension. Once the bolt is fully unlocked from the barrel extension, the BCG is free to cycle rearward.

This all might sound like a blow-back action with extra steps, and it is. Yet these extra steps have a purpose. Like other delayed blow-back systems, the RDB approach uses up some of the energy generated by the cartridge to cycle. However, some of this energy is used up unlocking the bolt from the barrel extension.  This, in turn, reduces the energy exerted on the BCG and slows its rearward movement. As a result, less carrier mass is required to slow the bolt's rearward movement. A lighter BCG contributes to less felt recoil and better muzzle control.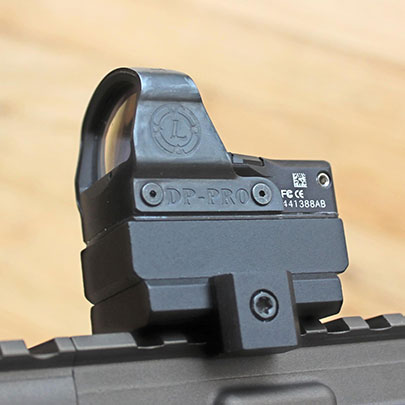 In some cases, added BCG mass can be a plus, such as when shooting the pistol with a suppressor attached or using +P ammunition on a regular basis. The back end of the RDB carrier is hollow with a pair of pin ports on either side. This allows for the use of CMMG's action-tuning kits (sold separately), which include different sizes of weights and a cross pin so that the BCG weight can be adjusted.
The Mk9's upper receiver is forged from 7075-T6 aluminum and features a flat top with a Picatinny rail. It's outfitted with a CMMG RML4 4" M-LOK handguard that includes a Picatinny top rail and an unobtrusive, but effective, handstop at the business end. The medium-taper 5" barrel is made from 4140CM SBN steel with a muzzle threaded for ½ X 28 TPI. A knurled thread protector comes attached. The upper receiver also features a dust cover, forward-assist button and CMMG's oversized ambidextrous charging handle installed.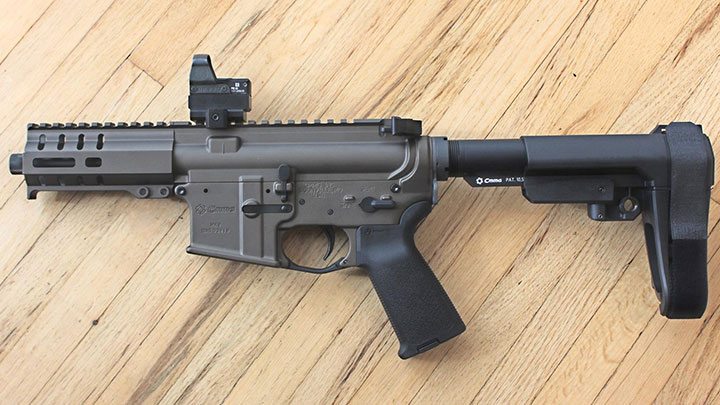 The lower receiver features a dedicated Colt SMG magazine well, which will accommodate 10-, 20- and 32-round magazines that lock the bolt open after the last shot is fired. The bolt catch, magazine release, trigger group and ambidextrous safety are of the typical AR-15 pattern. Both the polymer trigger guard and removable pistol grip are also of the standard AR pattern, with both being Magpul MOE components. The plain buffer tube of the 100 series has been replaced with CMMG's adjustable Micro RipBrace and FastBack tube. The typical flush-fit end plate has been traded out for an ambidextrous hook-type sling mount.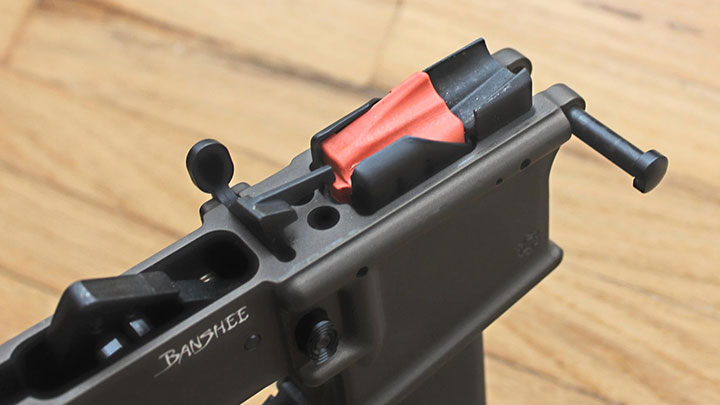 As has been the case with other CMMG products I've shot, this Mk9 exhibited a top-grade fit and finish throughout. All of the controls had a smooth, clean feel and the single-stage trigger is what I like to call "better-than mil-spec." With a trigger pull of 5 lbs. 9 oz., it doesn't qualify as a competition trigger, but it has a short, crisp break that is a tangible step up from the heavy, gritty pull of some off-the-rack AR trigger groups.
This pistol arrived with one 32-round, stainless-steel Colt SMG Duramag, which is made by C-Products. For range testing, I added two other 32-round magazines, including an Ammo Storage Components (ASC) stainless steel option and Brownells' heat-treated steel model with a Xylan Coating. I was a bit worried which would work at first, because all three magazines had different follower designs, but CMMG's winged feed ramp accommodates them all without any issues.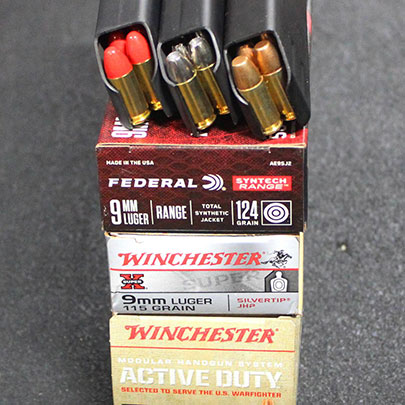 One of the things I like about Colt SMG magazines is that they drive straight up into the magazine well, just like standard 5.56x45 mm NATO magazines. Even though the 9 mm magazines have a skinnier profile, the loading process has the same feel as other AR platforms. At the shooting range, the pistol was topped off with a 2.5 m.o.a. Leupold Delta Point Pro red-dot optic using its proprietary AR-mounting system. The pistol worked its way through a variety of loads without any hiccups, hang-ups or mechanical issues.

It was reliable with all of the magazines and ammunition from the first to last shot fired. Formal bench rest accuracy testing included Federal Syntech, Winchester Active Duty and Winchester Silver Tip loads. The 5" barrel gave the ammunition a bit of a velocity boost, and the Mk9 tapped out satisfying five-shot groups. The range results are shown in the following table.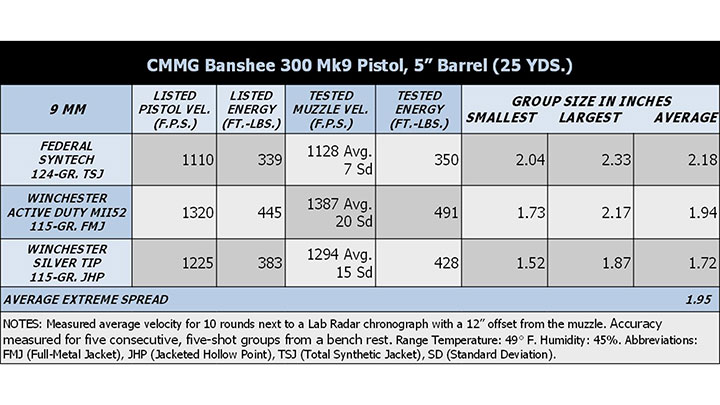 As a fan of both pistol-caliber carbines and AR-pattern pistols, I found CMMG's Radial Delayed Blowback system to be quite enjoyable. Some 9 mm AR pistols produce a combination of muzzle flip and felt recoil that results in a rolling motion, almost like being astride a horse. They're not uncomfortable or intense to work with, but greater effort is needed to hold steady on target for follow-up shots.
The Banshee 300 Mk9 is just about as short as an AR pistol can be, which means there's a full-size BCG moving backwards with less barrel assembly out front to counter it. Nevertheless, the RDB system lives up to the company hype and successfully keeps muzzle rise to a minimum with a straight-back recoil impulse, even when using hotter loads. Add to this the Banshee's reliability, features and finish options, and you have a pistol-caliber AR pistol well worth consideration.
Specifications:
Manufacturer: CMMG Inc.
Model: Banshee 300 Mk9, Burnt Bronze Cerakote Finish (91A17F5-MB)
Action: Radial Delayed Blowback Semi-Automatic
Caliber: 9 mm
Upper Receiver: M4, Forged 7075-T6 Aluminum, Cerakote Finish
Ejection Port Cover: Yes
Forward Assist: Yes
Charging Handle: CMMG Over Sized Ambidextrous
Bolt Carrier Group (BCG): Radial Delayed Blowback for Colt Magazines
Barrel:  Medium Taper 4140CM SBN steel
Rifling: 1:10" RH
Barrel Length: 5"
Grooves: 6
Muzzle Threading: 1/2 X 28 TPI
Muzzle Device: Knurled Thread Protector
Handguard: CMMG RML4 4", Picatinny Optics Rail, Cerakote Finish
Handguard Slots: M-Lok
Lower Receiver: AR-15, Colt Pattern Magazine Well, Cerakote Finish
Trigger Guard: Magpull Polymer MOE, Oversized
Lower Parts: Mil-Spec