Support NRA American Rifleman
DONATE
Scales and stocks made from G10 have become very popular options for knives and firearms, proving strong enough to retain their shape and structure even when pared down to slim dimensions. Trimming width from the grip frame area can change the feel and handling qualities of even the enduring M1911, and VZ Grips takes full advantage through its Slim Line series of 1911 stocks. The panels measure only about 0.20" thick, whereas the standard width for a single wood panel is around 0.27". 
I first tried VZ's Slim Line Stocks at a media shoot that included Springfield Armory's RO Elite M1911s. The Illinois gunmaker chose to outfit that entire family of upgraded 9 mm Luger and .45 ACP pistols with blue/black slant-pattern Slims, and I quickly understood why. I have medium-size hands, and definitely noticed that the slim stocks shrank the overall frame circumference on the Springfields and allowed me to get a better purchase on the gun. This led to better recoil control and generally better shooting. Other attendees, male and female with various hand sizes, also commented on the improved performance. I decided right then to refit my go-to project pistol—a much-loved Kimber Super Carry Pro—with a set of Slim Lines.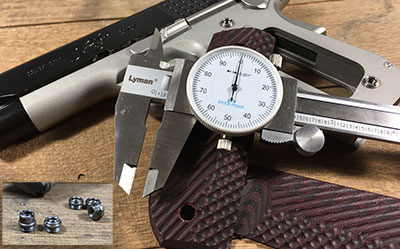 I selected VZ's Operator II Black Cherry G10 stocks with a round heel ($70) to match the Super Carry Pro's frame profile. And while installation is very straightforward—two screws per side—there are certainly a few considerations to keep in mind. First, you need to have the correct bushings for the slim stocks. Some manufacturers already use trim or universal bushings, but the taller, standard-width components are far more common, and these will not secure Slim Line stocks. VZ Grips sells packs of four universal bushings, good for standard-width or slim stocks, for $12. In addition to the correct-size bushings, VZ recommends adding O-rings ($2 for four) between the screw head and the stock panel for the best fit. I'd wager the O-rings also protect the thin G10 panels from being marred or cracked by the metal screws in the event of over-tightening.
For most, VZ's Slim Lines can be installed with just a few turns of the wrench, however, the Kimber held one more surprising twist to overcome. You see, it was an evaluation sample that had been tested by several other gunwriters before I acquired it. And, along the way, the original stock panels must have come loose or exhibited some undesirable movement. The common cause of such a symptom is worn or stripped threading in the frame—particularly with "softer" aluminum alloy frames. The remedy is to remove all four bushings, for consistency, and have a gunsmith or service center enlarge and re-thread the frame to accept oversize bushings. In so doing, standard stocks and screws are still viable, the only component that is changed are the bushings themselves. This process had indeed been carried out on my Kimber, and prevented the use of VZ's universal bushings. Luckily, though, a quick call to Kimber's customer service resulted in a set of oversize slim bushings being sent, posthaste. Had Kimber not had the appropriate part on hand, my next stop would have been Brownells, which carries a good assortment of M1911 stock bushings.
Once all the parts arrived, installation was quick and simple, and the results on the range were satisfying. So for those who feel a standard M1911 is a bit large in hand, or who just want to get a bit more grip, VZ's Slim Line stocks provide an affordable user-level modification—which feature nearly the full range of color and texture options from VZ's catalog—that make a big difference by trimming just a little width.