Support NRA American Rifleman
DONATE
The See All Open Sight is a non-powered sight that can be used on virtually any firearm with a Picatinny rail. The low-profile See All produces its reticle through the combined use of a block of fiber-optic, edge glow material that has a small triangle bisecting a line printed on the top- center of its trailing edge, and a patented rectifying element that magnifies the printed sight for the shooter.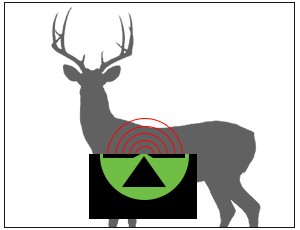 As a result, when the block's line is aligned with the top of the magnified lens, the upper-most vertex of the triangle points directly where the bullet will strike and appears perfectly in-focus. This removes the requirement for precise eye position—as the bullet will strike where the crosshair is centered regardless of the position of the shooter's eye.
Tested on a variety of rail-equipped guns, use of the See All Open Sight was intuitive, simple and allowed for very quick target acquisition—although similar to iron sights, the See All does obscure the bottom half of the target. Due to the fiber-optic construction of the See All, it does collect available light to help illuminate the sight, however, it does not produce any light itself, and therefore its reticle is not visible in zero-light conditions. To mount, just slide the unit onto the gun's rail until the desired position is reached, then lift the unit slightly with one hand to center it on the rail and tighten the pair of set screws on top to secure it in place. Windage and elevation can be adjusted via the use of two included Allen wrenches. For reference, 1/16 of a turn alters shot placement by 1" at 100 yds. Price: $100.
Contact See All Open Sight,
seeallopensight.com