Think American craftsmanship no longer exists? Ask yourself that question after taking a close look at this limited-edition NRA Cascade fixed-blade knife, made in the USA by Silver Stag Knives. Available only at NRAStore.com, this exclusive knife epitomizes the best of the craft. At Silver Stag's Pacific Northwest factory, knifemakers ensure that each and every knife blade is hollow ground, assembled, shaped, polished and sharpened "free-hand." While no two finished knives will ever look exactly alike, all share the same features that make them extraordinary field tools.
Each blade is manufactured with top-quality, domestically produced, high-carbon D2 steel—known for its hardness and resistance to abrasion. The blade is hollow ground, polished and hand sharpened. Intricate, free-hand file work on the blade's spine and belly gives this knife a jewel-like gleam.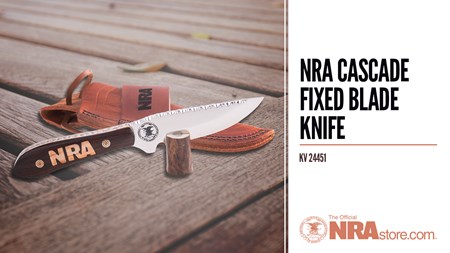 Artisanal knife makers meticulously shape the NRA logo from maple wood, and inlay it into the rich cocobolo handle. Fine mosaic handle pins add a touch of elegance to this rustically refined knife. The knife comes with a USA-made leather sheath and a genuine antler display stand.

For more unique items like this knife, visit NRAStore.com.