by
posted on November 7, 2021
Support NRA American Rifleman
DONATE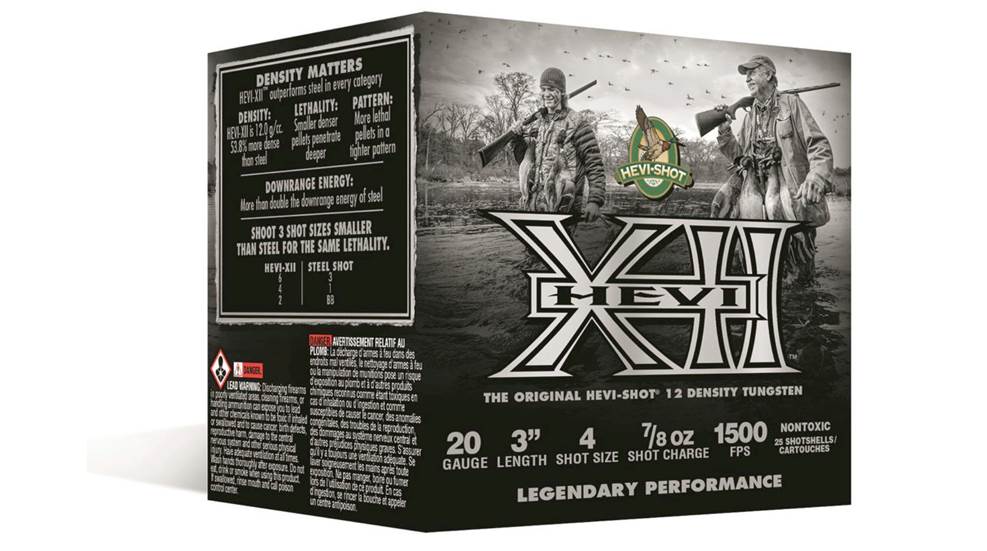 For 20 years, HEVI-Shot has offered heavy-weighted and wetland-safe shotshells for the discerning sportsman that requires top-tier performance in extreme conditions. This isn't a clay-target ammunition company, HEVI-Shot designs and builds shotshells for heavy-duty tasks whether it be coyote depredation management, turkey and teal hunting or home defense. The difference is the shot.
Now HEVI-Shot offers HEVI-XII, a tungsten-based payload for waterfowl hunting available for shotguns capable of operating 3" hulls. Gauge offerings are limited to 12, 20 & 28, with shot sizes ranging from No. 2 to No. 6 and velocities spreading 1,500 to 1,350 f.p.s., respectively. HEVI-Shot pellet density comes to 12 grams/cc, a 53.8-percent increase over steel shot, which allows for more shot per payload and equates to increased downrange performance. HEVI-XII loads are available in ⅞-ounce, 1-ounce, 1⅛-ounce and 1¼-ounce payloads depending on shot and gauge size.
HEVI-XII is engineered to produce dense shot patterns with lethal terminal performance on winged critters while providing a non-toxic alternative to lead without sacrifice.
HEVI-Shot markets its HEVI-XII 25-count boxes for $50 each and its 250-round-count cases for $500. To learn more about HEVI-XII and other available load options from HEVI-Shot, please visit hevishot.com.