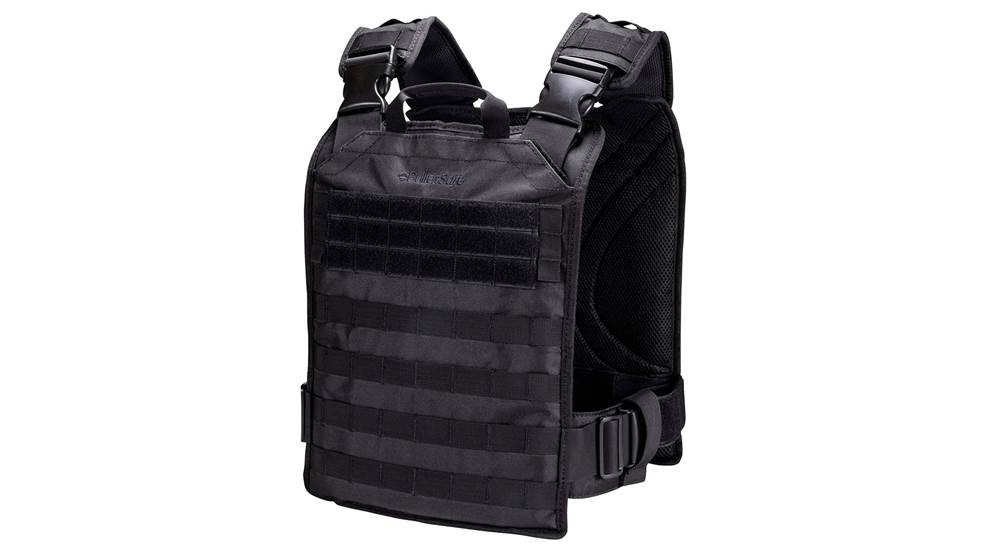 BulletSafe, a personal protection company founded in 2013 and based in Mansfield, Texas, has introduced a new addition to its line of body armor systems with the BulletSafe Tactical Plate Carrier. Made from 600-denier polyester and neoprene, this carrier is designed to offer comfort for the user while also housing robust protective plates.
Utilizing a chest and back plate section, the Tactical Plate Carrier is compatible with BulletSafe's NIJ-certified Level IV Armed Plates, which measure 10" by 12" and weigh 7.5 lbs. each. Plates can slide into both the font and back panels of the carrier through built-in sealable pockets, comfortably securing the plates within the sections. Its construction also provides breathability and comfort with a padded interior, non-slip shoulder pads and adjustable, padded waist straps. On the top of the back plate section, a drag handle is included for easy transport of the carrier or for emergency extractions.
The Tactical Plate Carrier is a one-size-fits-most design that features hook-in-loop areas for easy adjustment. Buckles allow the carrier to be put on and taken off with ease as well. There are also MOLLE strap sections provided on the front and back sections for adding additional pockets or accessories, and there are also hook-and-loop fabric sections at the top of each for attaching patches and identification tags.
The BulletSafe Tactical Plate Carrier has a retail price of $95 without the plates, and $539 for a bundle with two included Level IV plates. For more information on the Tactical Plate Carrier, along with BulletSafe's other personal protection products, visit bulletsafe.com.