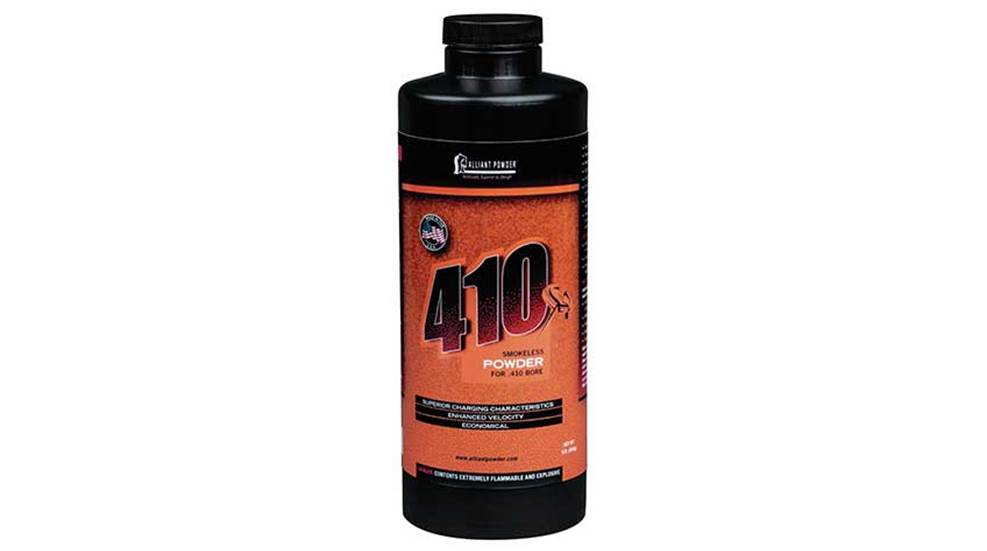 The latest release from
Alliant Powder
is perfectly positioned to take advantage of two growing segments in separate markets. With the company's all-new 410 propellant, a growing number of handloaders and .410-Bore shotgunners can take advantage of the new properties offered by this incredibly useful propellant.
.410-Bore shotshells have come a long way in recent years, with new loads making these lightweight, easy-shooting shotguns more capable than ever before. Loads like Federal Premium's Heavyweight TSS shotshells increase velocity, energy and range, making turkey hunts more successful with a .410-Bore shotgun than they have ever been. Now, with Alliant 410, shotgunners can load their own rounds to save money and fine-tune performance for their particular guns.
In addition, 2020 has seen an unprecedented number of handloaders entering the hobby, all attempting to either save money or develop optimized loads. Alliant's 410 powder features flake granulation that provides the charging characteristics that today's handloaders are looking for, and the flakes minimize bar leakage.
This Alliant 410 powder is specifically designed for use in .410-Bore skeet and field loads, and it's the only powder on the market that's specific to those particular loads, making it valuable for today's shotshell reloaders. Thanks to the ease and consistency of loading, this powder encourages perfect patterning, as well as consistent performance in all weather conditions.
Alliant 410 propellant is available in 8-, 4-, and 1-lb. canisters. For more information, as well as load data for this new powder, visit
alliantpowder.com
.