Support NRA American Rifleman
DONATE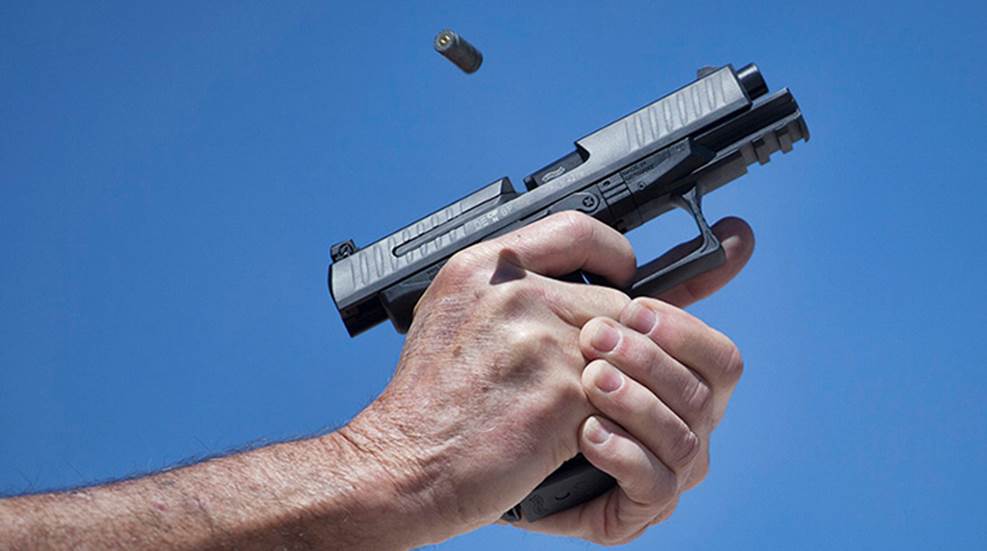 images copyright Guy Sagi

The National Shooting Sports Foundation held the second of its new Shooting Sports Fantasy Camps in Las Vegas, Nev., April 20-23, 2017, and this time 3-guns skills were the focus, not just handguns. It only takes a few seconds at one them to discover the events are about much more than simply firearm training, though.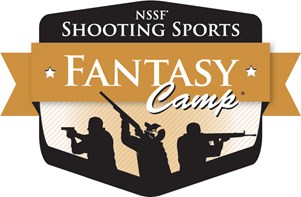 The steel poppers weathered my 9 mm barrage unfazed—proud, tall and unmoving in Nevada's sun. I stood motionless at the sight, the same paralysis I suffered on the trip when I turned a corner in the airport bathroom and discovered a man furiously scrubbing his foot in the sink, with a luffa.
"Never seen that before," I thought at the spectacle. Shooting pro Tommy Thacker probably felt the same way when my handgun prowess—or lack thereof—went on display the first day of the National Shooting Sports Foundation (NSSF) Shooting Sports Fantasy Camp. Who's going to clean up that mess?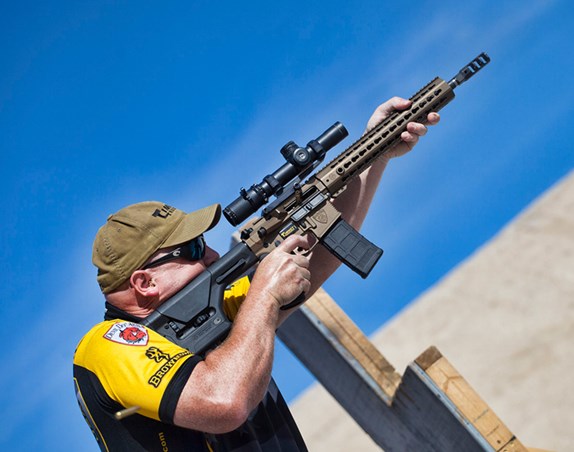 Shooting pro Tommy Thacker shows how it's done from the standing position with an AR-15, engaging steel at 100 yards. (image copyright Guy Sagi)
My pistol skills had expired and were sorely in need of polish. Thankfully, shooters of all levels are welcome, and the only prerequisites are a knowledge of basic firearm handling/safety and a willingness to get out of your comfort zone long enough to learn.
My squad crowded around to hear Thacker's solutions to my situation and a few even related similar experiences. Questions began to flow as I took multiple turns at the firing line and, thankfully, the reloading gremlins started stuffing fewer blanks in my magazines. The incident broke the ice, got the squad talking (not in a bad way, either) and kicked off a habit of everyone listening to nearly every tip from pros, even if it wasn't their turn on the trigger.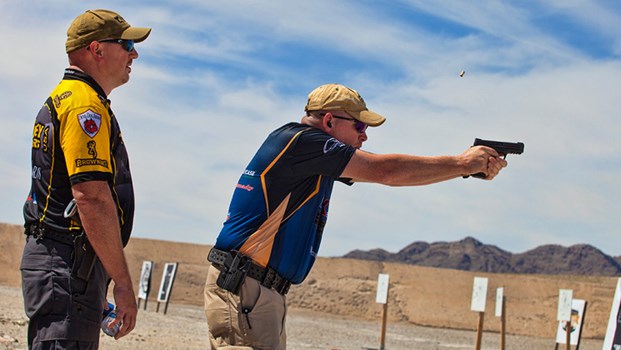 Instructor Tommy Thacker watches carefully as Scott Braun engages steel during the Shooting Sports Fantasy Camp in Las Vegas. With six other pro shooters on hand, five of them also teaching, there was no shortage of tips and tricks to help each camper get more efficient with their three guns. (image copyright Guy Sagi)
The rotating group therapy employed by NSSF is a lot more fun than any firearm training I've experienced. Strangers I just met became fast friends, and there was no finger pointing or heckling. Broken down into teams of five or six is very effective, according to Houston, Texas-based professional shooter Randi Rogers. "One on one is great, but I don't think it's that effective," she said. "You need to watch someone learn what you're learning."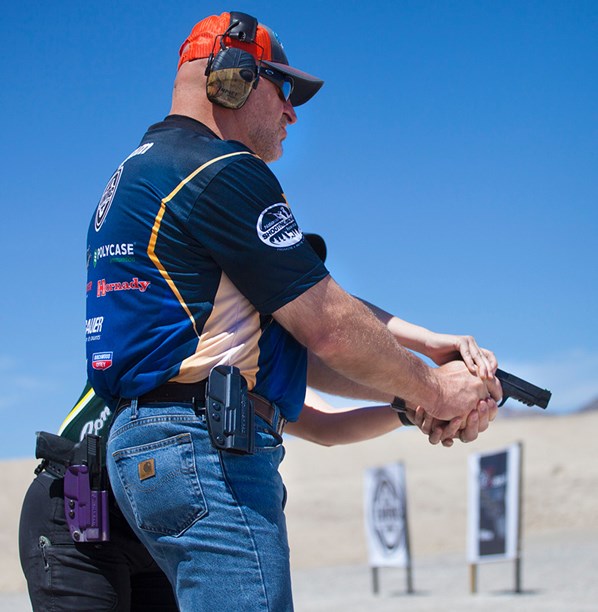 The camp is a good opportunity to learn slightly different grips, and techniques under the watchful eyes of professional shooters. Here Daryl Ingram has his hold adjusted slightly by Randi Rogers. (image copyright Guy Sagi)
Trip of a lifetime
There are good reasons the word "Fantasy" is in the title. For one thing, who wouldn't like to hang out and learn from the likes of Chris Cheng, Dianna Muller, Ryan Muller, B.J. Norris, Rogers, Thacker and Robert Vogel. Different pro instructors sometimes change from event to event, as their schedules dictate, but there's never a shortage of credentials or championships in the resumes.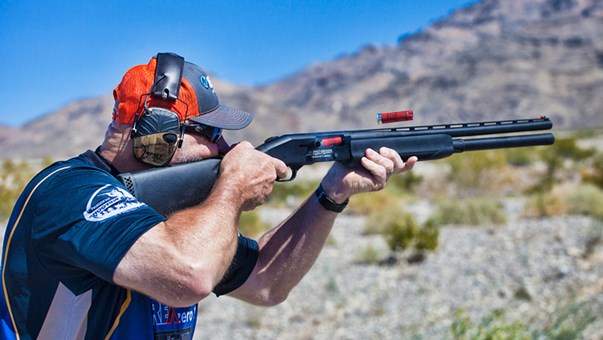 Daryl Ingram has already knocked down the first steel target on a shotgun stage, and his gun's nearly got that next shotshell chambered to shatter the clay it threw. (image copyright Guy Sagi)
It sounds like a logistical nightmare, but NSSF corrals the biggest names, convinces them to teach for a couple days, arranges the venue, books the accommodations, provides transportation, all meals and even ammo for campers. Loaner guns to minimize travel headaches are usually available and sponsors bring their latest and greatest for trigger tickling during breaks. The only thing missing at the 3-gun event I attended was a short guy in a white suit screaming, "zee pang, zee ping" the times I managed to ring steel.
The event was planned and executed with the precision of a SOCOM raid, allowing students to focus on improving their skills and have fun. The fact that seven of the 29 participants in April attended last year's inaugural fantasy camp says a lot about NSSF's attention to detail and dedication to making each a once-in-a-lifetime experience. Arizonan Richard Yokley said afterward, "I'm just blown away at how it turned out. I'm impressed." Returning camper from Pennsylvania, Kim Hartley, put it more bluntly. "NSSF treats us like royalty," she said. "Everyone was doing a phenomenal job," according to Scott Braun, who traveled from Ohio to attend.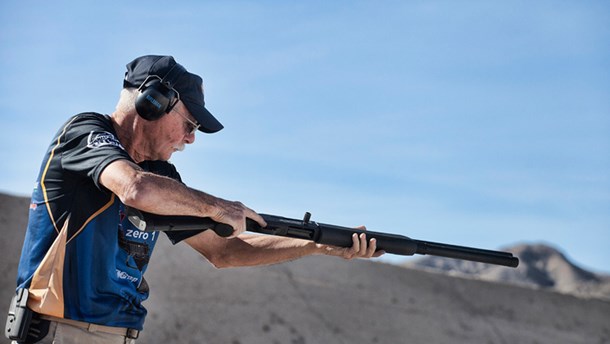 Despite the fact fun was job one at the camp, safety was always first and foremost. Here Richard Yokley throws the safety on his shotgun before he could move on to the next targets with another gun. (image copyright Guy Sagi)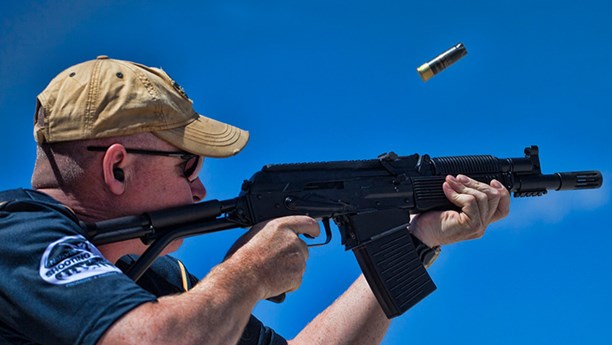 Camper Scott Braun got behind the trigger of a FIME Group Vepr 12 during a break in the action. One of the attractions during the event was a chance to try new guns made available by sponsors for test drives. (image copyright Guy Sagi)
It may have been only the second Shooting Sports Fantasy Camp organized by the NSSF, but its reputation had already grown. Dave Sassie, from Pennsylvania, had heart surgery in 2011 and has been methodically working on his bucket list. The April event was one of them. He took care of another by extending his stay in Vegas for hot laps behind the wheel of an exotic car.
Unusual format
Training under the watchful eyes of pro shooters is the primary attraction, but the format is far from typical. Campers are paired in five- or six-person squads the first day of practice. An instructor is stationed at one of the six 3-gun stages and groups rotate to each at regular intervals, learning tips and different approaches from each world-class shooter during the day. Naturally the "therapist" demonstrates the right way to attack each target array for the groups, but there's plenty of time for questions, practice, fine-tuning and discussion.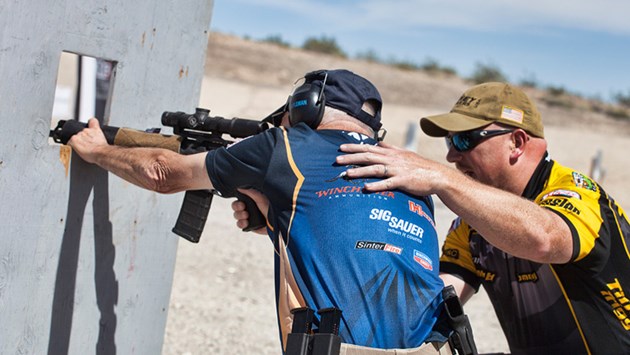 The NSSF Shooting Sports Fantasy Camp is a chance to have the pros adjust and slightly tweak technique to maximize accuracy and minimize time. Shooters could always go back to their familiar form, but they were encouraged to try different things during the event. (image copyright Guy Sagi)
The next day campers are divided into teams and assigned to a single professional shooter (coach). After a morning of practice, an informal competition is held in a head-to-head format. It's exciting and the contagious laughter alleviates any perceived pressure. The top team claims bragging rights and plaques, but every camper goes home with a prize that won't be relegated to wall guard duty during the last night's banquet—everyone's a winner in the end.
That theme starts early at the events. Tisma Juett, assistant camp director, reminded everyone during the initial briefing, "Learn, have fun, and don't stress." The message sunk in, because Hartley was right when she warned me, "You'll see nothing but smiles tomorrow." Safety was first and foremost, though, and I never saw a single violation of the rules the entire camp—not a single one—despite two shooters who arrived with little or no handgun experience.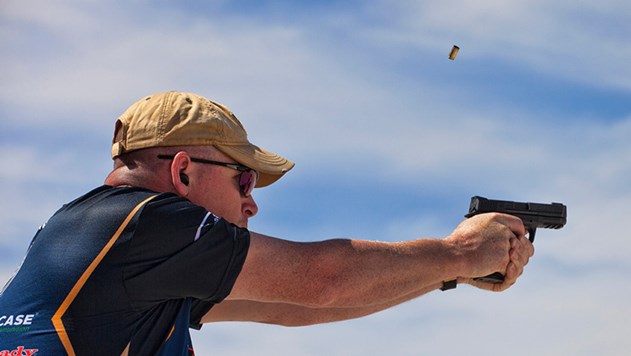 The target arrays included plenty of steel for handgun practice and Scott Braun, obviously, is no newcomer to pistols. He did, however, get plenty of tips from the pros and by the time Fantasy Camp was over, his times and scores improved noticeably. (image copyright Guy Sagi)
Worth it?
Tim Humes, from Michigan found the camp, "...thoroughly fun and would recommend it." Part of the reason, he admitted, is because, "The instructors brought it to life for us."
Rick Bandy, from South Dakota, appreciated the demeanor of the instructors. "The pros are so approachable and friendly," he said. "They're good at what they do and sharing what they know."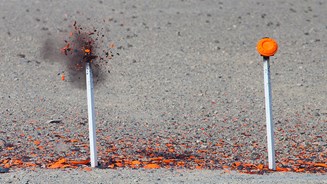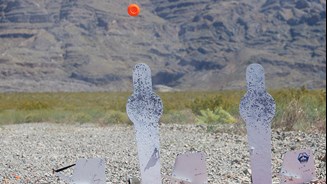 images copyright Guy Sagi
"The great thing about this event is you get time with six different professionals," Rogers explained. "If they [the camper] get the explanation in a different style it helps them make the connection. You also have 30 other students...the opportunity to be coached and watched, and getting to see it done right."
When asked if he would recommend the Shooting Sports Fantasy Camp to other enthusiasts, Yokley said, "Don't hesitate. I hesitated...If you learn only one thing it's worth it, but you're going to learn more than one thing."
"Whether you're at the top in the club in 3-gun or just got your first handgun, this event is for you," Braun said. "They're [the instructors] able to coach at all levels during this event.Registration is currently open for the fall 2017 camp, which runs October 26 to29 in Vegas. Visit the Shooting Sports Fantasy Camp website for full details.