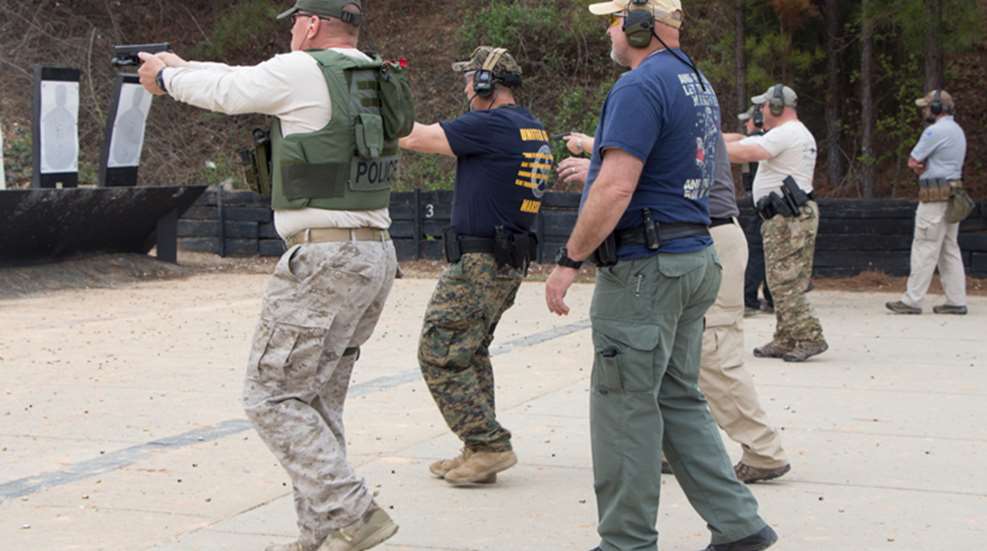 Editor's Note: The author attended the NRA Law Enforcement Division's Tactical Shooting Instructor course, one of several classes offered to help train police in firearm tactics and marksmanship, with the objective of giving police departments and potential students more insight into the type of training the courses provide. This one week-long class is an example of the curriculum and similar structure for each course.

Two of the most dreaded words a police officer or sheriff's deputy wants to hear are "officer down," but that call went out over police radios all too frequently in 2016. The National Law Enforcement Officers Memorial Fund reported that 64 law enforcement officers were shot and killed in the line of duty last year—a 56 percent increase from 2015's 41 reported deaths, and the highest number of firearm-related killings of police since 2011.
Such sobering numbers underscore the importance of training, and the NRA's Law Enforcement Division (LE) offers programs that can improve the chances of police officers staying safe—both on and off duty. Although the tuition is the least expensive in the field, it still requires an initial outlay of money, NRA LE Division Director Glen Hoyer says the investment pays off. "We realize that when the economy declines, tax revenues decrease, which in turn affects the budgets of law enforcement agencies," he said. "But training should never be compromised and should be one of the last things that is cut in a budget because the bottom line is this: training saves lives."
Communication 
For law enforcement agents who have ever responded to an emergency that requires officers from multiple jurisdictions, the challenges of doing the job are intensified. Take an active shooter situation, for example. Not only do the officers have the stress of trying to keep innocent bystanders safe while tracking down the offender, but communication can be confusing because each unit uses its own terminology for commands in crisis situations.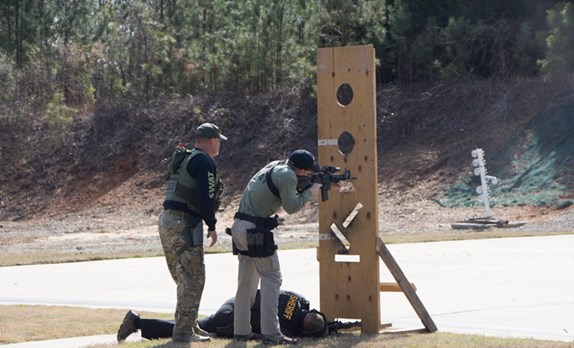 Because the NRA LE courses draw participants from various units, the students get hands-on experience tackling that type of situation. During one concealment-and-cover drill, for example, NRA Instructor Jody Long broke his class into small groups and ran them through such a scenario. As the officers move from one cover to another, one is responsible for watching the other's back or laying down cover fire as needed, so the student instructors must learn to get past the different verbal cues and still stay safe. It's a strategy that works, because each subsequent run through the drill got smoother as the students overcame the challenges.
Does it pay off in the real world? You bet. A perpetrator who opened fire at Umpqua Community College in late 2015 was taken out of commission by an officer who went through the NRA's Handgun Instructor course. The officer wrote to the NRA afterward about how the training saved lives.
The Roseburg, Ore., police officer said he and his partner responded to the active shooter call with nothing more than their handguns. But the two officers got off three rounds in less than a second, aiming only at a muzzle flash and partial silhouette of the suspect through an open door. This was live fire under duress: 15 to 20 yards away, shooting while on the move. They hit the target, disabling him and keeping him from switching to a rifle, which might have allowed the bad guy to inflict more damage. (The suspect killed himself after he was shot by police.)
Shooting under such real-life stressful circumstances is part of the curriculum at the NRA courses. Indeed, Long says that is one aspect of the course that most students demand. "I have noticed a higher interest from the students attending the classes in conducting more scenario and real-world decision-based training to enhance their officers and operators ability in real-world situations," he said. "This interest appears to be driven by the realities our students are facing on the street and other mission arenas."
Shooting Under Stress 
One of the guiding principles for the NRA's police training focuses on ensuring that the officers can make the right decisions under stress, so several exercises put that to the test. In some live-fire drills, for example, geometrical shapes or numbers are painted on the targets, mimicking a situation in which an active shooter might be behind innocent bystanders or hostages. The students break up into small teams, and on each team one of the students acts as a coach. With multiple targets downrange, the coach will call out numbers or shapes that the shooters have to focus on. The objective of this drill is to instill the ability to respond quickly and fire at the correct target.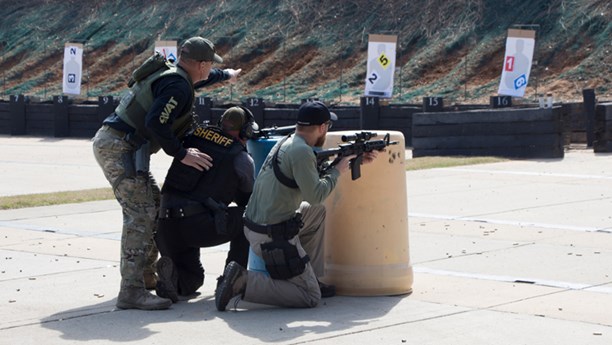 The coach/student set-up gives all participants the opportunity to get hands-on experience instructing, which is another of the objectives. This philosophy brings several advantages to the participants. First it is economical. The NRA realizes that most police units have limited training funds, so the concept of teaching an officer or two from one department how to be instructors offers a cost-effective approach to improving core competencies across a police force.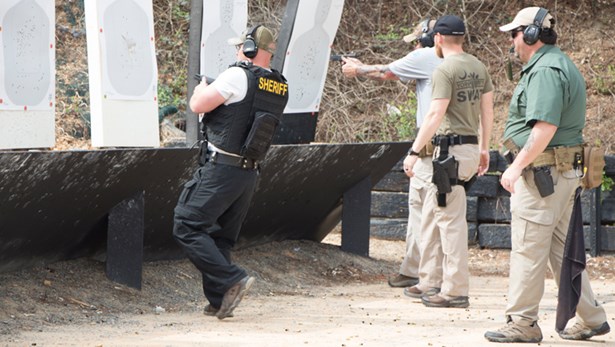 A second edge is what Hoyer refers to as the "supermarket methodology." This allows the student instructors to be able to tailor their offerings at their department to what is needed. "It's much like when you go to a supermarket and see thousands of items, but you only need a dozen or two, so you purchase what you need," Hoyer said. "That's the same philosophy we use with our training. We provide many different ways to do a technique and the new instructor takes all of them back to their department and uses what he needs in his training, as what works for one person, may not work for another."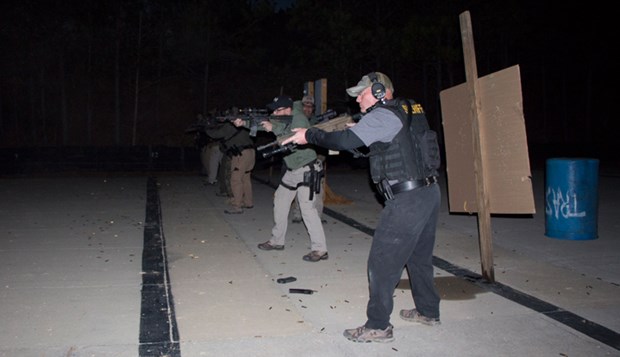 That approach was well-demonstrated in one night-duty training segment, where the course participants were taught about half a dozen methods for how to effectively use their flashlights when shooting. Long not only demonstrated the options, but he discussed the pros and cons of each. The traditional Harries method (where the support hand holding the flashlight comes under and on the outside of the shooting hand), for example, is one of the basic strategies that many police academies teach, but it might not be practical if you're behind cover. Similarly, if an officer's natural tendency is to bring his flashlight in toward his neck and shoulder area if he reacts under fire, that could backlight the officer, giving a criminal a better target.
One of the students said such a tactic adds value to the NRA courses. As one SWAT officer said, being familiar with various options to accomplish the same task is key because then unit-based training can be adjusted to best meet each officer's individual skill set.
More Than Hitting a Target 
The courses, though designed for sworn law enforcement officers, do not skimp on safety, which is always at the fore of any NRA-sponsored training. Every NRA course includes range safety instruction and the basics, such as keeping the muzzle in a safety circle.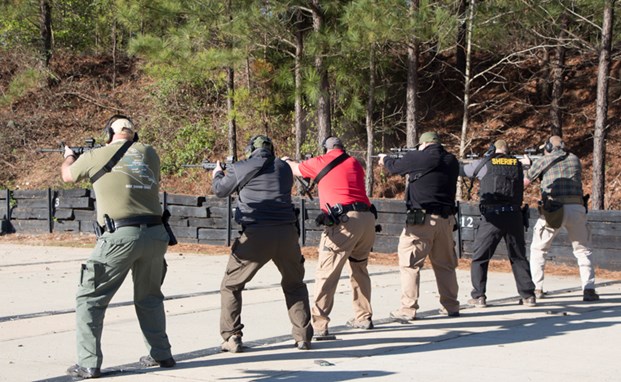 While that might not seem necessary for law enforcement officers who have already proven themselves as capable shooters, it is still one of the foundations of firearm safety. And the instructors are aware that once they get back to their departments, they might be teaching colleagues who are less aware of the need for safety first, under all conditions.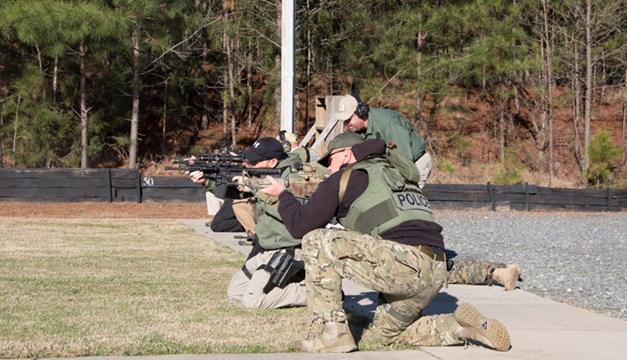 Police academy training typically includes anywhere from a couple of days to a week or so of firearm training. And, of course, all officers have to qualify by shooting at a target from a stationary position. But the job requires the things NRA LE training teaches: shooting on the move, shooting from different positions, shooting with weak hand, and handling firearms if you've been shot and lost the use of your strong-side arm.
And, as one of the tactical shooting students said, a police officer needs to know not only that he can shoot, but that his fellow officers can handle a gun well, too.
Additional information: 
The NRA offers LE instructor training in seven disciplines:
Handgun Instructor
Handgun/Shotgun Instructor
Tactical Shooting Instructor
Tactical Shotgun Instructor
Patrol Rifle Instructor
Select-Fire Instructor
Precision Rifle Instructor
Cost: $645 (minimal range fees are sometimes extra)
If budget dollars are tight, your agency can save some money by partnering with the NRA to host courses. Your department handles some administrative duties, arranges for range time and classroom space. In exchange for that, the host unit receives one or two complimentary spots (depending on total enrollment) for the course. Typically, about 80 to 90 departments share hosting responsibilities for the approximately 125 instructor course sessions a year.
For more information, go to le.nra.org