by
posted on February 7, 2020
Support NRA American Rifleman
DONATE
Taurus USA's
large-frame Raging Hunter double-action revolver provides shooters and hunters with a lightweight and optic-ready platform chambered for magnum-charged cartridges—.357 Mag., .44 Mag. and .454 Casull.
To enhance the hunting and shooting experience of the Raging Hunter revolver, Taurus used select materials and designs, such as a lightweight, stainless-steel barrel, which is ported and shrouded with aluminum alloy. Furthering the user experience, Taurus outfitted its Raging Hunter with an ergonomically-sound and cushioned one-piece rubber stock. To ensure rigidity and security of firing that chambered magnum cartridges, this DA revolver features non-convention lockup, a secondary cylinder-lockup point where the crane meets the frame. As part of the revolver's lightweight design geared toward hunters, a Picatinny rail flows seamlessly across the shroud's topside allowing use of optics, whether red-dot or magnified varieties are desired. Additionally, fully adjustable, target-style sights accompany the revolver in factory form.
In the "Hardware" review published by NRA's
American Hunter
, Adam Heggenstaller said it best, "Despite the gun's name, I'm anything but angry about the performance of the Raging Hunter. Most handgun hunters should be happy to carry this latest offering from Taurus into the field." This sentiment is exceptionally true about the Taurus Ranging Hunter revolver, so much so, the .44-mag.-chambered six-shooter garnered the coveted Golden Bullseye Award from American Hunter for Hunting Handgun of the Year. To learn more about the Taurus USA Raging Hunter revolver, watch our
NRA Gun of the Week
video above.
Taurus
Raging
Hunter
SpecificationsManufacturer
: Taurus (Brazil)
Importer
:
Taurus Int'l Mfg. Inc
.
Chambering
: .44 Mag.
Action
Type
: double-action center-fire revolver
Barrel
: 8 3/8" stainless steel
Frame
: stainless steel
Capacity
: six rounds
Sights
: fully-adjustable rear, fixed front blade; Picatinny rail
Trigger
: double-action, 12-lb., 7 oz. pull; single-action; 4-lb., 8-oz. pull
Finish
: matte black and stainless
Width
: 1.80"
Weight
: 55 ozs.
MSRP
: $919
Additional
Reading
:
Review: Taurus Raging Hunter
Shooting Granddad's Rifle: Reloading "Big Bore" Rimfires
Is the .45-70 Gov't. Cartridge Still Relevant?
Tested: Taurus´ TX22 & G3 Pistols
Cutting Big-Bore AR Recoil
Taurus 856UL Ultra-Lite 6-Shot .38 Special Revolver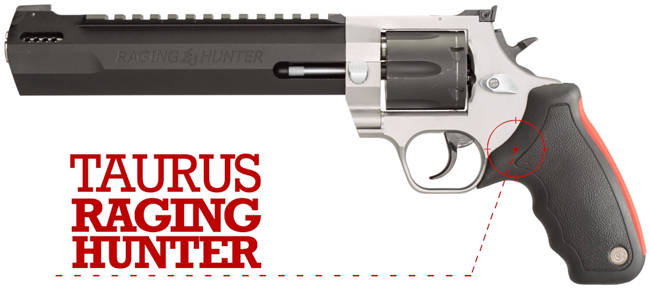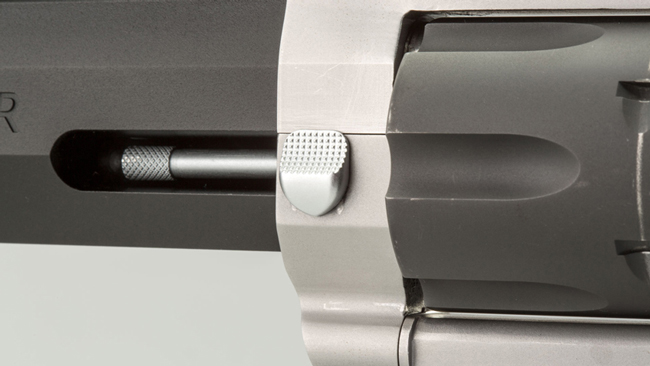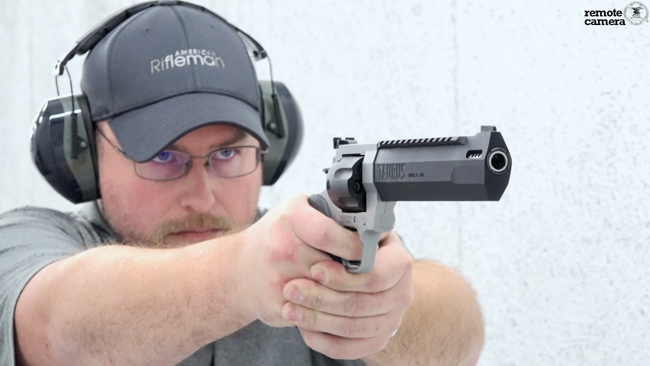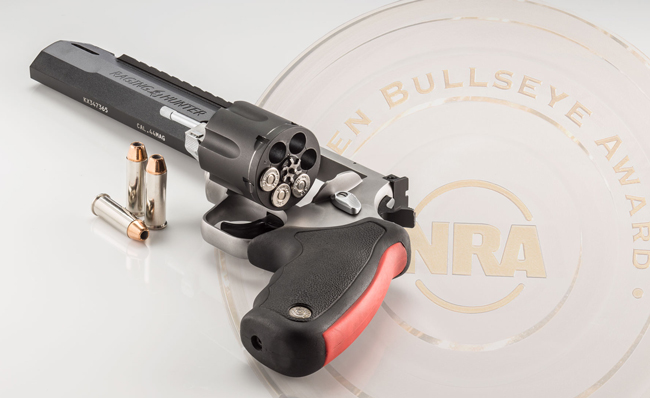 Extras
:
Firing the Taurus G3 9 mm Pistol
NRA Gun of the Week: Taurus 1911 Commander
NRA Gun of the Week: Taurus Judge Pistol
Reloading "Big Bore" Rimfires