by
posted on September 22, 2016
Support NRA American Rifleman
DONATE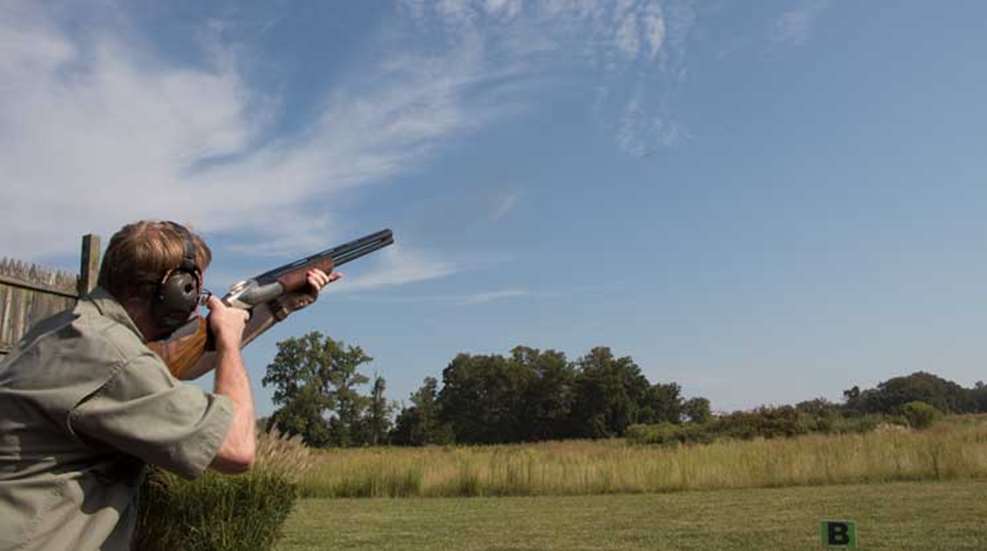 Top: American Rifleman Editor-in-Chief opted to shoot a Benelli 828U over-under for the event.

NRA Publications Editors were among the 214 sporting clays shooters from within the outdoor industry who "pulled!" their weight at the Second Annual Benelli USA Invitational Shoot, helping to raise more than $31,000 for Freedom Hunters, an organization that supports outdoor opportunities for active duty and combat veterans. 

The shoot, which took place Sept. 9, 2016, at The Point at Pintail in Queenstown, Md., consisted of teams made up of active-duty and veteran members of the military; Freedom Hunters participants from Walter Reed National Military Medical Center, and others shotgunners from the region. Following the event, which was open to the public, competitors enjoyed an Eastern Shore lunch, and participated in both a live and silent auction, whose proceeds also went to Freedom Hunters.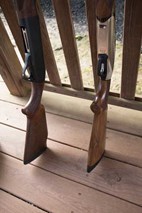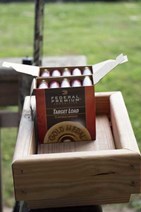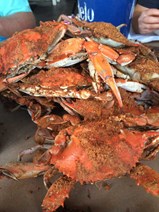 I
Shooters who did not bring a personal shotgun were able to select from a choice of guns available at each station, along with a supply of Federal Premium shotshells. Full disclosure: The jumbo Maryland blue crabs were not part of the official luncheon, but were in fact heartily consumed the previous evening by Team NRA Publications in a classic Maryland-style crab feast.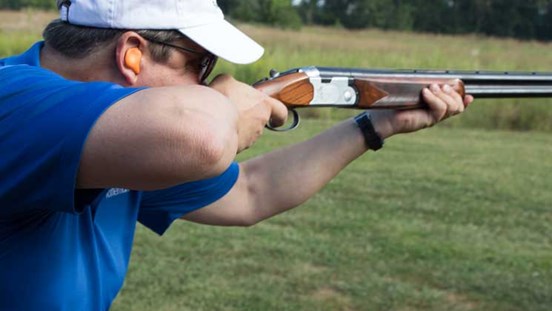 NRA Publications' Eastern Sales Manager Tony Morrison relied on his Beretta 687 Silver Pigeon in leading Team NRA Publications to a respectable showing.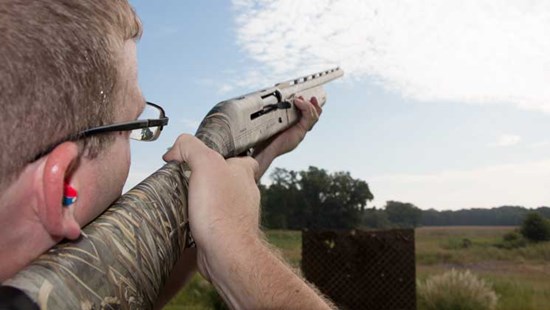 The Franchi Intensity autoloader served American Hunter's Shawn Skipper, an avid waterfowler, equally well on the clays range.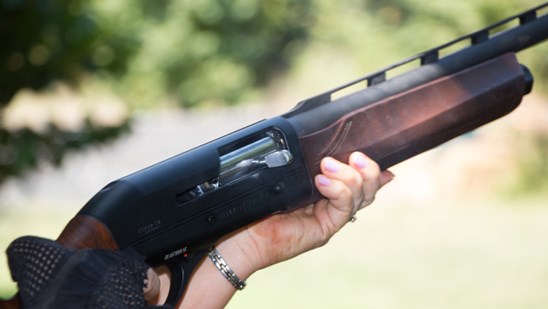 Franchi's new shotgun designed especially for women, the Catalyst, was introduced early in 2016 as both an over-under model—the Instinct, and an autoloader, the Affinity, shown here.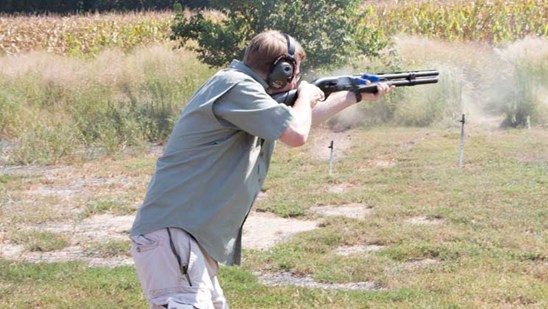 For a chance to win a Benelli sweatshirt, shooters were offered an opportunity to test their tactical shotgun skills against a Benelli pro-staffer. Mark Keefe would have to be satisfied going home with the shirt on his back.
Benelli USA Executive Team General Manager Tom DeBolt, Vice President of Sales Bill Pugh, Chief Financial Officer Phyllis Blacknall Jones, Vice President of Brand Marketing Tim Joseph and Chief Logistics Officer Dan Boyle presented a check for $31,000 raised from entry fees and silent auction bids to Freedom Hunters.
"Benelli USA is proud to partner with Freedom Hunters to accomplish the ultimate goal of getting active duty and retired service men and women out hunting and shooting," said DeBolt. "It is important for us all to play our part in supporting these incredible individuals and Benelli USA is honored to contribute over $31,000 to Freedom Hunters from the proceeds of our second annual Invitational Shoot."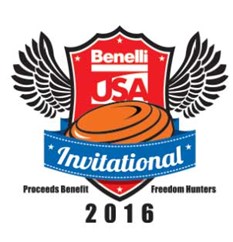 Freedom Hunters is a military outreach program whose mission is to convey the outdoor community's appreciation for the dedication of and sacrifices made by the men and woman of the Armed Forces. Through the support of numerous groups and companies, including Benelli USA and others within the outdoor industry, Freedom Hunters arranges outdoor adventures and opportunities for active duty and combat veterans, as well as families of fallen heroes and children of deployed.

"Not only is this a challenging clays shoot that demonstrates Benelli's commitment to those who have served, but there were guys there who sacrificed themselves and were wounded on the battlefield for our freedom," said American Rifleman Editor-in-Chief Mark Keefe. "When you get a fist bump, when you are there when a guy like that cleans his first station, when you see his smile and see his pride, you get a glimpse of what Freedom Hunters is all about."
Individual high scores for the event include Oz Khan (score 92) with the highest overall individual score, and runner-up Robert Crow (score 89). The team of Brandon Geweke, Marty Geweke, Joe Kukla Sr. and Joe Kukla Jr. won the overall team competition with a combined score of 327.