by
posted on April 12, 2023
Support NRA American Rifleman
DONATE
Few firearms have the utility of a .22 Long Rifle-chambered single-action revolver. From introducing a new shooter to handguns to working a trap line, the simplicity, affordability and Old West nostalgia of a rimfire revolver is hard to beat. Ruger brought single-actions back into the mainstream when it rode the 1950s cowboy craze with its Single Six, a rimfire six-shooter that was followed up two years later with the company's Blackhawk centerfire line.
Over the years, the cost of the Ruger rimfire has climbed from its original MSRP of $57.50. In 2019, Ruger introduced the Wrangler, a no-nonsense, single-action .22 that had all the features you needed and none that you didn't, returning to the original Single Six's place in the affordable category. For 2023, Ruger is expanding its Wrangler line-up with the Super Wrangler.
The popularity of the Wrangler has led to an ever-expanding choice of models. The original Wrangler was quickly followed by a birdshead grip model and additional barrel length and finish options. The Super Wrangler brings additional features to Ruger's budget handgun plinker. The "Super" moniker adds two big upgrades to the Wrangler—adjustable sights and an extra convertible .22 WMR cylinder.
The extra cylinder means an easy swap to a more powerful chambering, while still allowing for the use of budget-friendly .22 LR. The rear sight, which is adjustable for windage and elevation, means that the revolver can be precisely tuned across a wide spectrum of .22 Short, Long, Long Rifle and Magnum cartridges and is paired with a ramped front sight.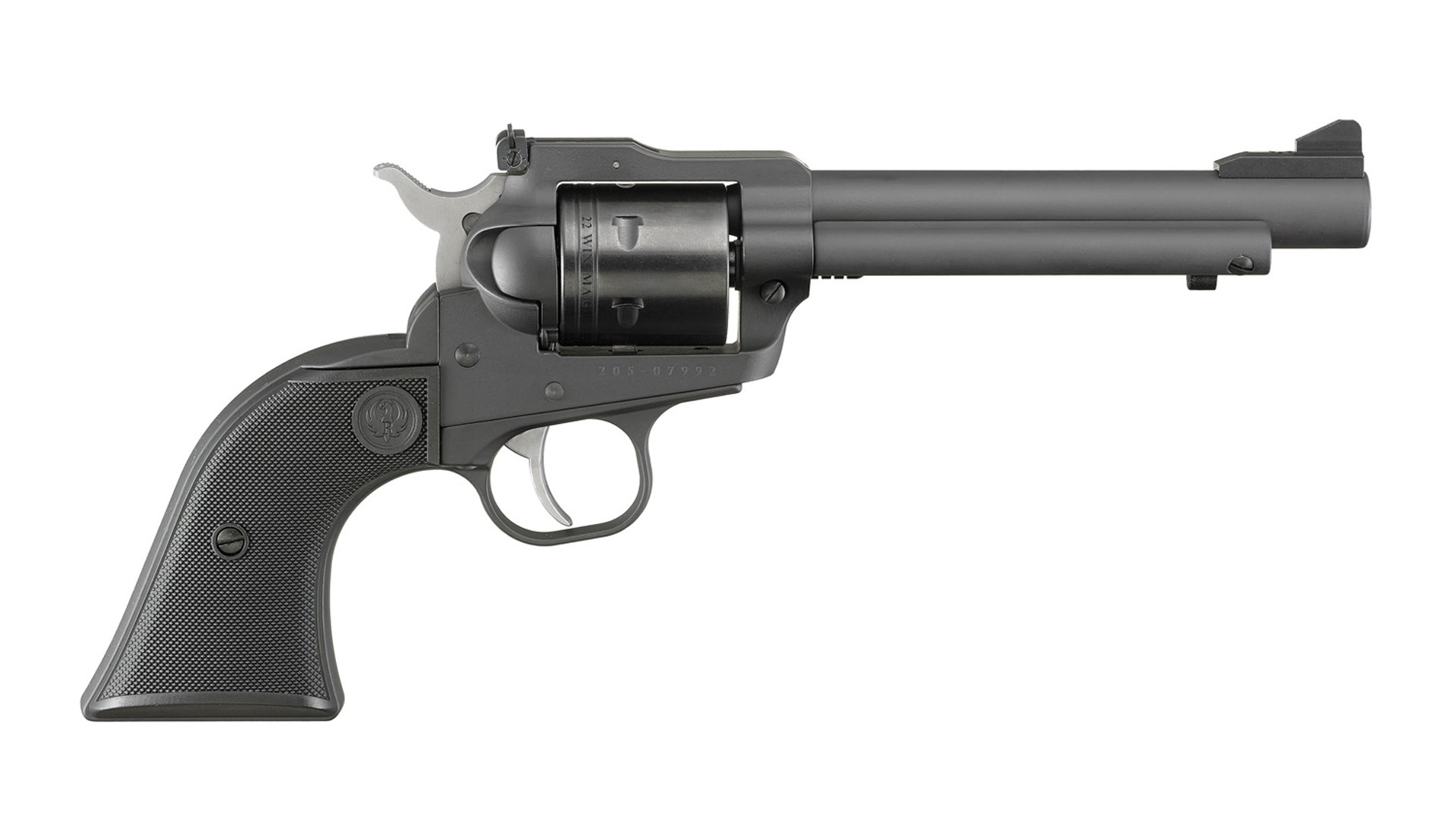 The Super Wrangler will initially be offered in three Cerakote finishes with a 5.5" barrel. Image courtesy of Sturm, Ruger & Co.
Apart from those changes, the new revolver is pure Wrangler. The revolver is constructed with a steel frame, steel cylinder and cold-hammer forged steel barrel. Grips are checkered polymer. For safety, the Super Wrangler uses Ruger's transfer-bar system and a loading gate interlock that disables the firing mechanism when the revolver is being loaded or unloaded. Like the original Wrangler, the Super Wrangler is initially being offered in three finishes (black, silver and bronze Cerakote) and one barrel length (5.5").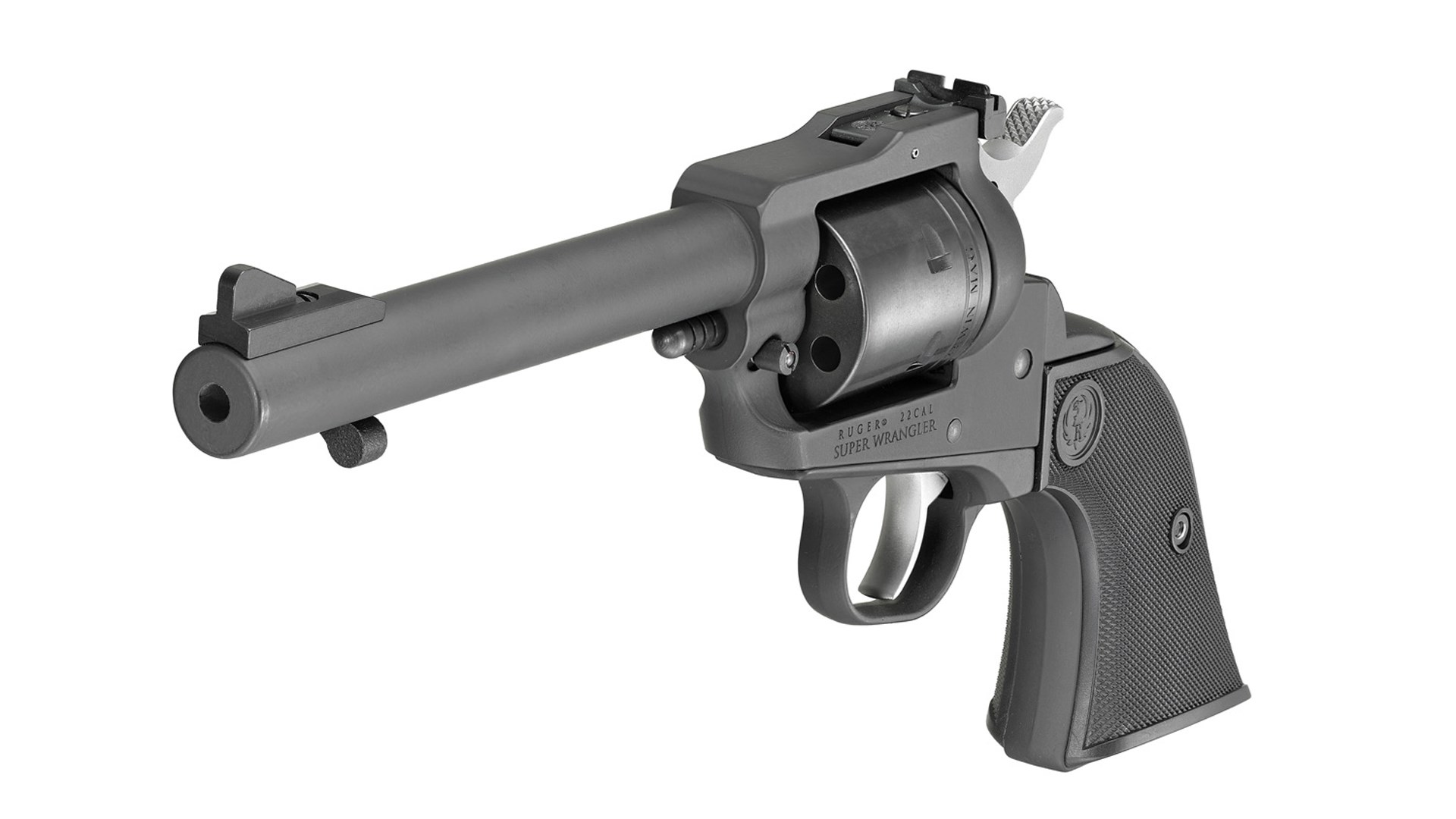 With a rear sight adjustable for windage and elevation, the Super Wrangler is adaptable to the wide variety of .22 LR and WMR cartridges. Image courtesy of Sturm, Ruger & Co.
The MSRP of the Ruger Super Wrangler is $329, or less than half the price of the company's blued Single Six convertible. For more information, visit ruger.com.
Editor's note: An earlier version of this article stated that the Ruger Super Wrangler's frame was built with a zinc-alloy casting. The article has been updated to indicate that the frame is actually made using a steel alloy.