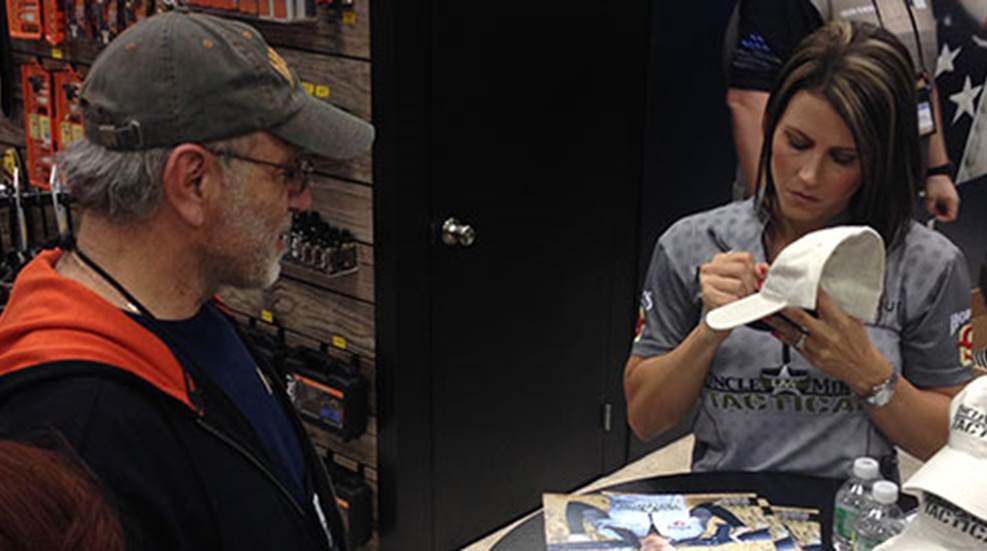 NRA members attending the first day of the 143rd NRA Annual Meetings & Exhibits had the chance to meet top competitive shooter Jessie Duff at the Hoppe's and Uncle Mike's section of the Bushnell booth. Duff greeted fans and talked guns with the growing crowd on the floor of the Indiana Convention Center in Indianapolis.
"I love being here with NRA people," she said. "They're like my family."
As a member of the Hoppe's and Uncle Mike's team, Duff competes in five shooting disciplines. In 2013 she was the first woman ever to earn the title of Grand Master, the highest ranking awarded by the United States Practical Shooting Association. Besides representing Hoppe's and Uncle Mike's at shooting competitions, she also works on developing new competitive and concealed carry gear and accessories.
"As a professional shooter, I hold my gear to the highest standards because I rely on it to perform at the highest level," she said. "I'm excited to work with the team at Uncle Mike's to develop field-tested competitive gear and concealed carry and shooting accessories."
Duff, who with her husband Matt hosts "NRA All Access" on Outdoor Channel, had some advice for new shooters at NRA Annual Meetings & Exhibits.
"Above all, be safe," she said. "That means becoming educated about the firearms you shoot. And have fun."
Duff will again appear at the Hoppe's and Uncle Mike's display Saturday, April 26, at 11 a.m. and Sunday, April 27, at 11:30 a.m.