Support NRA American Rifleman
DONATE
As I closed my fully packed, somewhat aged and well-traveled
SKB
gun case, I reached for the key that hangs on a lanyard on a peg at my house. It wasn't there. Not good. I was flying in less than 18 hours. I ripped my house apart. Still no key. I called around to all the local gun stores and golf shops (my case is often mistaken for golf clubs). No luck. As an older case, no one stocks them near me. You can order a key online, but even with
Amazon Prime
, there was no way it would arrive in time.
I resorted to a little redneck engineering and wrapped my case tight through the handle with a steel cable and secured the ungainly arrangement with a hardware store padlock. No one was getting that case open more than a crack. No way my rifle could be removed without destroying the case. Off to the airport.
When you fly with guns, you have to declare them when you check in, sign a declaration, put it in the case and then re-lock it before handing it over to TSA. There was a dove hunter headed for Texas in line ahead of me with a
Pelican case
and single padlock. He wasn't in line ahead of me for long. The agent told him one padlock was not enough. There had to be one in each hole extant on the case. "If you can get a screwdriver in there, you can't fly." He went to the gift shop to buy three more cheesy padlocks more suited for a make up bag than a gun case.
I checked in. My case was swabbed by TSA and passed through the scanner. It disappeared on the conveyor belt on its journey to Salt Lake City. No problem. But as I flew, it ate at me. It would be impossible to get anything out of the case, but could a screwdriver blade fit through a gap if all four internal locks were open? The idea of being stuck in an airport with my rifle, unable to board, or be able to get my rifle home without a lot of expense and trouble after a five-day elk hunt, was not appealing.
So, upon landing, I checked the SKB website and found that three
Sportsman's Warehouse
locations in Salt Lake City carried SKB cases. It is a mostly Western chain of stores, and I had never set foot in one. My friend Matt French has worked for the company for some time and is somewhat of a senior guy there, and I knew from him how great the gun counter is in the company's stores. So I called the Midvale, Utah, store from baggage claim.
In the gun department, a young man named Ty listened to my obscure request for a key for a case no one sells anymore. I texted him a screen capture of what it looked like. He told me he would call me back. I checked the store's location and realized it would only be a slight detour. As I picked up my rental car, I heard from him. After considerable digging, he found one and told me it was in an envelope with my name on it at the store's front desk. I drove down, and sure enough, there was the key. No charge
and
good luck. Then I was crestfallen. It was close, but not a match. I went back into the store and another kind man at the gun counter named Allan let me know Ty wasn't there—his shift had ended as I was en route.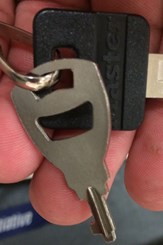 I told Allan about my problem and that Ty had found the little key in a box full of little keys. Allan rummaged around behind a very impressive gun counter and found a plastic
MTM case
with the words "safe keys" scrawled on the side in black Sharpie. We rooted though several generations of little keys that an archaeologist interested in 20th and 21st century firearms storage will really enjoy one day, and we came up with not one, but three. I only needed the one. I tried to pay for it, but he would not let me.
My hunt was back on track, and if my rifle didn't arrive home with me it would be via the usual vagaries of the baggage handling lottery, but not because my gun could not fly. So the next time someone cuts me off in traffic or jumps in line at the airport, I'm going to remember there are still guys like Ty and Allan out there, willing to go out of their way for others, even for folks they may never see again. And they could not have been nicer through the entire process. To those guys, I was just an out-of-towner, a hunter who needed a key. I never mentioned
NRA
or
American Rifleman
until I was later asked what kind of work I did. Thanks, guys. And if Sportsman's Warehouse opens a store in northern Virginia, I will be the first in line on opening day.