Support NRA American Rifleman
DONATE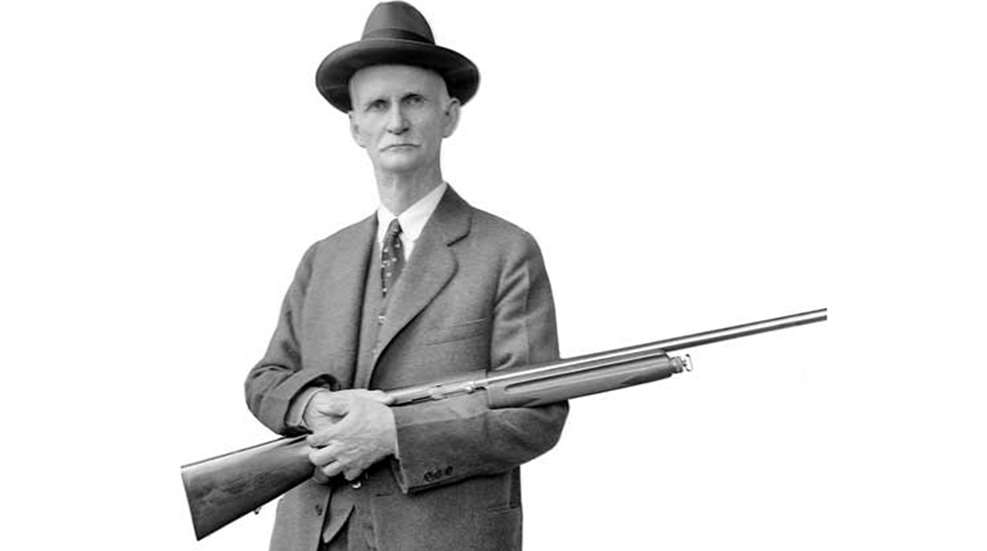 So, what was John Moses Browning really like? America's greatest gun designer's inventions speak for themselves, but what kind of man was he? It was 90 years ago that he died while at work at Fabrique Nationale in Liege, Belgium, so no one living today really knew him well enough to tell us.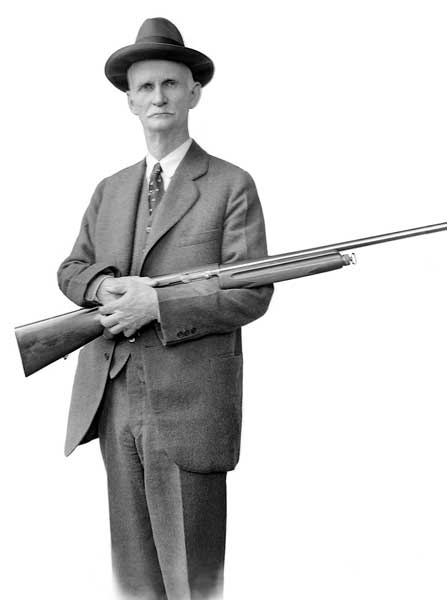 As humans, we are taught early on to asses and evaluate people and our environment. Consciously and unconsciously we analyze people's moods, we judge and categorize their attire, behavior, tone of voice, facial expressions, etc. We do the same with two dimensional media, such as film, television and photographs. So when we look at period photos of John Moses Browning, we automatically build up an image of what his personality and character may have been. But looks can be deceiving.
For years, I have been intrigued about the man behind the photographs, but I have been fortunate enough to meet and interview two relatives who knew John Browning personally. That experience, combined with reading period documents from Fabrique Nationale and other sources, have provided me an understanding of his personality and his character.
When looking over numerous photos of him, one could summarize John Browning's expressions, demeanor and stance as stark, stoic or stern. As a result of that one could conclude that he must have been serious, hard and, maybe, even unfriendly. But those expressions were nothing more than typical period poses that photographers of the time insisted upon. Even children were told to pose without emotion. Smiling was frowned upon in photographs, and expressions such as laughter were totally unacceptable.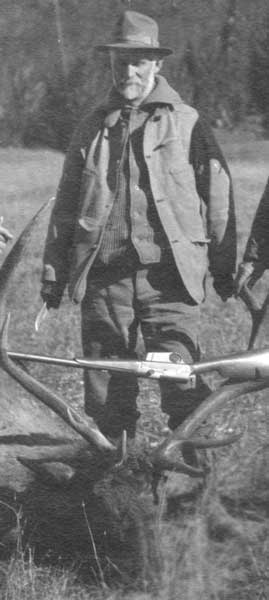 A Jovial Man
In contrast with what we perceive in photographs of the man, relatives said that John Browning was a jovial man with a great sense of humor. And he enjoyed laughing and an occasional good joke.
A Modest Man
Throughout his life, John Browning was modest—even when he became successful. Indeed, he was one of the wealthiest men in Utah, but he never boasted of his accomplishments or wealth. One day, he and his family helped some stranded motorists and gave them a ride. When the passengers learned that their name was Browning, they asked if they knew of the inventor or if they were related. John Browning never revealed that he himself was the inventor and just downplayed the conversation. Despite his many accomplishments, he disliked drawing attention to himself.
A Proud and Disciplined Man
It should come as no surprise that Browning had an impeccable work ethic and was self-disciplined. Work was always a priority.
While John Browning was modest in his dealings with others, he was a proud man. He enjoyed selling his designs in his stores—he was just not interested in manufacturing. It is this author's belief that it was John Browning's pride that led him to go into business with Fabrique Nationale in Belgium. John Browning had sold several pistol patents to Colt's in the 1890s, yet none had materialized into a production pistol. Frustration and pride were most likely the leading factors that led John Browning to negotiate with Hart O. Berg and Fabrique Nationale. John Browning wanted the pistols for sale in his stores. He was not satisfied with just selling the patents. Browning took great personal satisfaction in seeing his prototypes become fine firearms made by the best manufacturers in the world. Even while he still alive, he was referred to at FN as "le Maitre" (the Master). It is not known how John Browning reacted to such a title, also there is the connotation in French that often refers to teacher, a title with which he most likely would have been more comfortable. Today, he is appropriately often called a genius.
A Businessman and Man of the World
The book John M. Browning American Gunmaker is a tremendous asset and gives us more than a glimpse at the Browning Brothers' biographies, but it has also propelled an inaccurate perception. From the Browning Brothers modest beginnings in Utah Territory, many believe that they were simple frontiersmen who, by sheer coincidence and luck, were introduced to manufacturing and business deals with large industrialized companies. Nothing could be further from the truth. Their beginnings as young men were indeed modest, but their ascension into the business world was inspiring. In fact, John Browning and his brother Matt--as well as his son Val--are great American success stories. While John may not have had much of a traditional education, his ability to learn and avoid mistakes was remarkable. Within a few years of dealing with Winchester, the Brownings had a keen sense of how the business world operated, not only in the United Sates but overseas, too.
John Browning's attention to detail and observation were phenomenal. He protected his work by obtaining patents worldwide—long before he delegated this task to FN. Unassuming, he quickly adapted to European customs and quickly learned French in order to be able to converse with even the most novice apprentice on the FN factory floor. Unrestricted from any class pretensions or social standing, John Browning was comfortable dealing with laborers and management alike. His modesty, openness and friendliness gained him the respect of all.
Many collectors assume that every Browning design innovation was totally original. Like any smart inventor, he studied other designs as well as the latest developments. For example, FN's management gave him a Borshardt pistol not long after it was introduced. Some of these design influences can be seen again in some prototypes, such as the Auto-5. He was also inspired by the over-under shotguns he saw in Europe (leading to his own Superposed). John Browning never copied systems, but some of the existing designs may have inspired him on how to improve or solve mechanical problems. The fact that John Browning explored existing designs should never be seen as a negative.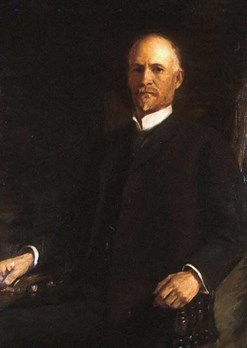 A Sharp Dresser 
In order to understand more about the man, I asked a relative what John Browning's favorite color was and what he liked to wear. She believed it was the color yellow, and she said that she never saw him wearing anything but a business suit, usually a gray three piece suit and a colorful tie. That is the way he is also portrayed by George Henry Taggert in an oil painting at the National Portrait Gallery in Washington. D.C. 
John Browning's hunting attire became an issue in 1984 when the Browning Collectors Association and Browning Museum in Ogden commissioned a bronze statue with renowned sculptor Blair Buswell. Luckily, Val Browning was able to correct some unfortunate assumptions made early on. Photographs show that even on hunting trips he wore the best sporting attire of the day—vest, comfortable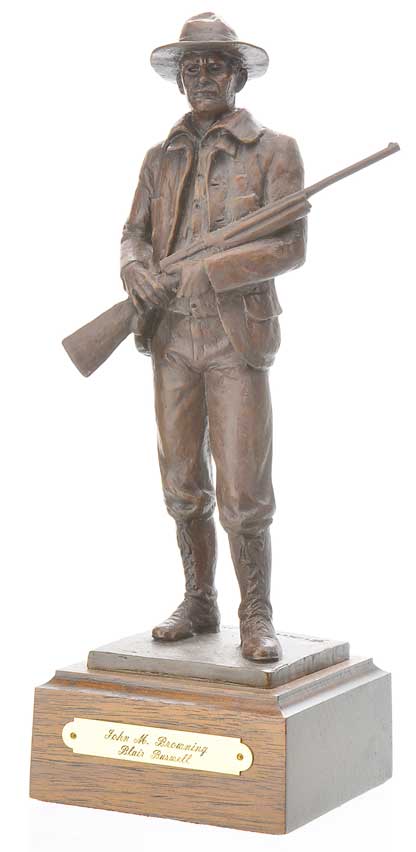 pants, laced-up tall boots and a wide brimmed hat. With the Browning stores offering a wide selection of sporting goods, John Browning easily had access to the best equipment and clothing.
John Browning's contributions to firearms designs, to our military and to our country are remarkable. He may not be recognized as such, but he is truly one of the great men of the 20th century. This year will mark the 90th anniversary of his passing.
To learn more about John Browning and see many of his inventions and prototypes, a visit to the John M. Browning Firearms Museum in Ogden, Utah is a must.
The author would like to thank Browning family members and the John M. Browning Firearms Museum for years of collaboration in research on various projects.
Photos courtesy author.