by
posted on December 12, 2019
Support NRA American Rifleman
DONATE
If someone had told us 30 years ago that the Glock would become one of the most popular handguns in the world, we would have been skeptical. What started out as an unusual combination of plastic and steel has now become an industry standard. As is often the case with success, numerous companies have followed Glock's lead and have started producing similar pistols. A consumer nowadays has to look long and hard to find a modern pistol that's not influenced, at least in part, by Glock.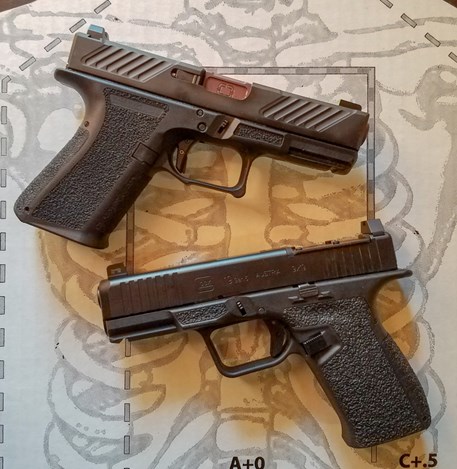 Even so, Glock's design isn't perfect for everyone. Shooters with large hands or those who obtain a very high grip have probably experienced "slide bite" at one time or another. This occurs when a portion of the hand comes in contact with the bottom edges of the slide as the slide reciprocates in recoil. This can result in an annoyance in minor cases to a bleeding hand in extreme cases. Also, some shooters find the factory Glock grip texture a bit lacking, especially when hands are sweaty. Finally, some people who've spent a good amount of time using some other designs can find the Glock grip angle a bit unnatural. Many of these shooters have either learned to live with these issues or have sent their pistols off to gunsmiths such as Boresight Solutions or Bowie Tactical Concepts for custom grip work.  

Before we get too far along, allow me to indulge in a bit of 1911 market history. Colt produced its 1911 Government Model for years with little or no variation. A consumer wanting combat sights or a beavertail grip safety made these additions with aid of a gunsmith. Then a few companies started offering factory 1911-style pistols with features many wanted but couldn't get as factory from Colt. The trend caught on and an entire industry introduced 1911-style handguns with the ergonomic and cosmetic features that had previously only been available via a custom gunsmith. In a similar fashion, Glock-style pistols are now available from companies other than Glock and incorporate many features only previously available via custom work. Two such companies are Nomad Defense in Arizona, and Shadow Systems in Texas. Nomad Defense manufactures a frame assembled by the DIY purchaser using parts of his choosing. Conversely, the Shadow Systems is a factory complete pistol ready to run right out of the box.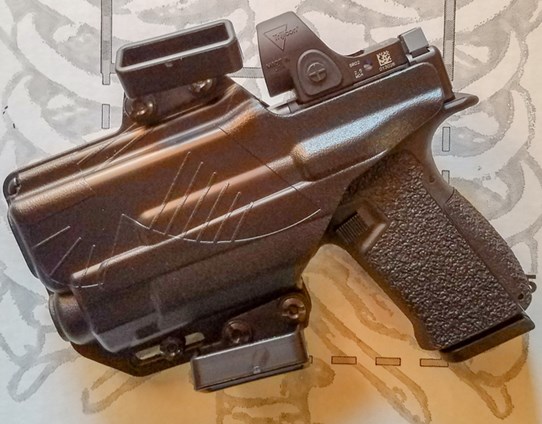 Raven Concealment Perun holster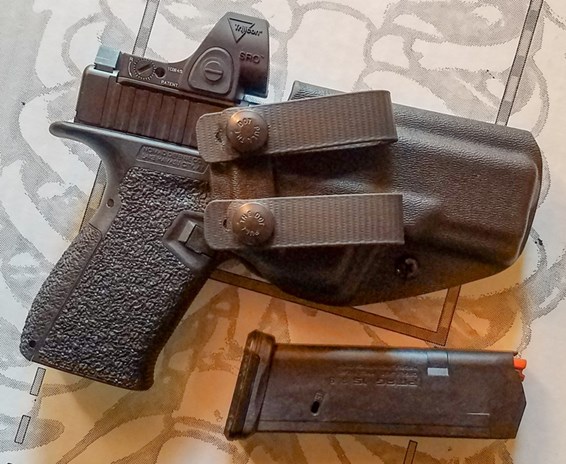 JM Custom IWB holster

Nomad Defense
The Nomad Defense frame is comparable to aftermarket frames from similar companies, and can be assembled into working pistols using factory or aftermarket Glock parts, or a combination thereof. Blandly named the Nomad 9, this builder's kit includes a basic frame, three interchangeable grip inserts, a trigger housing pin and backstrap retention pin. The frame is built on the Glock 19 Gen4 pattern and uses a Gen4 magazine release and trigger housing. To test the Nomad frame's compatibility with factory parts, I assembled the frame using a complete parts set taken from a Gen5 Glock 19 MOS.  I also used the Nomad frame with a G19 Gen4 pattern slide from Brownell's. The first frame supplied by Nomad, which was a very early production sample, had a fractionally oversized hole for the trigger housing pin. The frame was exchanged for a current production unit with a slightly tighter tolerance in this area. All parts fit the replacement frame without drama or issue and the pistol proved as reliable and accurate as it had been on its parent frame.   
The Nomad 9 frame offers a number of ergonomic features that are not factory standard from Glock. First is the enlarged trigger guard. This should appeal to those with beefy trigger fingers, those who wear gloves, or who otherwise find the Glock trigger guard too small internally. Another feature standard to the Nomad 9 is a slightly elongated beavertail. This provides shooters who experience slide bite with some relief by keeping the web of the hand out of the slide's path. Lastly, the Nomad 9 frame includes three size of removable grip inserts. These inserts are dovetailed onto the rear of the frame and are held in place by a small pin. Once the pin is removed the inserts can be exchanged to accommodate the user's hand. The Nomad 9 frame is molded from a material with a somewhat rubbery feel and compares to the factory Glock frame in this regard. Grip texturing could be more aggressive but the frame provides comfort and ergonomics that otherwise might not be available without a Dremel tool, a soldering iron and some automotive body putty.  
Is there a downside? Yes. The Nomad 9 frame is different enough in size and shape that a pistol so assembled may not fit in all holsters. I had no issue using the Nomad pistol in a well-worn Bianchi IWB leather holster but the same pistol would not fit into a molded Kydex holster from Galco. That being said, those who prefer using a pistol with a light attached will likely find that a holster made to accept a Glock 19 with light attached should work properly with the Nomad. Shooters who don't want to use a light can avail themselves to JM Custom Kydex in Sparks, Nev. I used a model IWB 3 inside the waistband holster during testing and it fit the Nomad 9 frame with Glock 19 slide perfectly.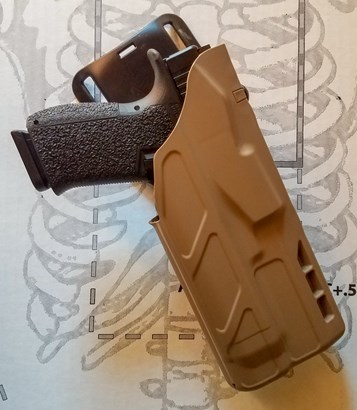 Safariland ALS holster

One final note on the Nomad 9 frame: This is a complete frame that's ready to assemble and is not an un-serialized 80-percent lower. Purchase will require a Form 4473.  

Shadow Systems
Now for the complete pistol from Shadow Systems, called the MR918. This might best be compared to a higher-end production 1911 such as a Kimber because it is a factory pistol with many popular custom features built in. Shadow Systems started out making Glock barrels, slides and small parts as well as offering custom work to existing Glock pistols. Using the experience gained from making parts and modifying frames, Shadow Systems is making a complete firearm that looks, handles and feels like a complete custom job. It is very much a G19 in shape, size and appearance but incorporates such features as a tritium front sight with luminescent ring, aggressive but not overly sharp front and rear cocking serrations, an aggressive grip texture and an integral frame beavertail. Like the Nomad 9 frame, the Shadow Systems pistol uses a system of interchangeable grip inserts to change the size and overall feel of the grip. Unlike the Nomad 9, the MR918 retains Glock trigger guard dimensions and should fit in nearly all Glock 19 holsters on the market. The MR918 is built on the Gen4 Glock pattern and parts will interchange between the Shadow Systems and the factory original. The MR918 is available in several different frame colors and with or without a slide that is machined to accept a red-dot optic that uses the Trijicon RMR mounting footprint.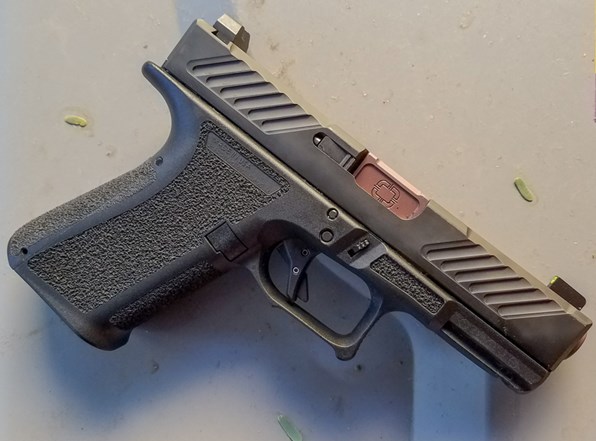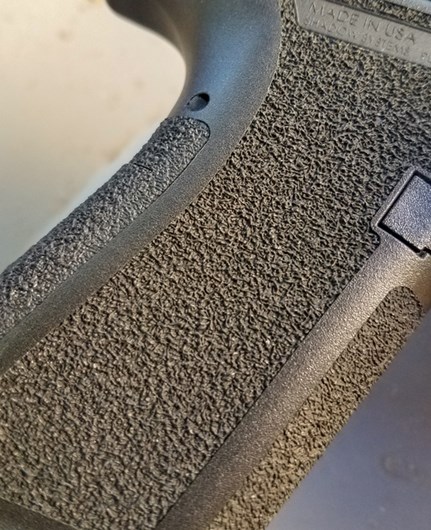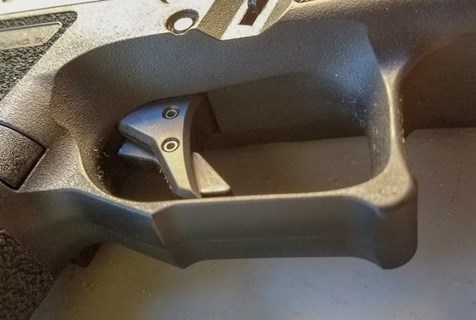 The MR918 frame is constructed from a rigid polymer material that has very little give or flex and is not as rubbery or spongy as the factory Glock frame. The trigger guard is scalloped and undercut, allowing for a slightly higher grip. Frame texture is very finely grained but effective and provides good traction. The slide is machined from stainless steel and is nitride treated. The barrel is also cut from stainless and is conventionally rifled so it is safe to use with cast or swaged lead bullets. The pistol comes in a black zippered pouch that includes two Magpul magazines, an owner's manual and the three grip inserts. The pistol also comes with an add-on magazine well that's held in place via the grip insert mounting pin. The enlarged mag well adds little additional length to the pistol and pairs nicely with the base pad used by Magpul on the GL9 15-round magazine.  
MSRP for the MR918 is a bit steep but it actually represents a good value. Purchasing a base gun, paying for grip re-texture, adding a tritium front sight and an optic cut, plus refinishing, would quickly eclipse the MR918's retail price.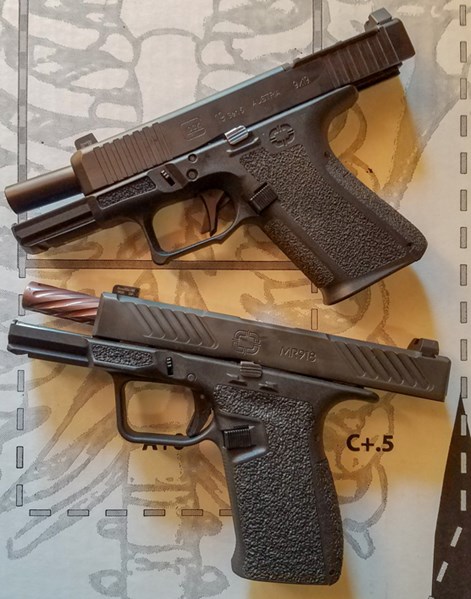 I used the Shadow Systems MR918 and the Nomad 9 frame with Glock parts extensively over the summer to include attending some fairly high round count pistol classes. I ran both pistols with and without a weaponlight attached. Sometimes the added weight of a light can be an issue in terms of reliability, but I had no issues with either pistol. Neither pistol bit me, thanks to their built-in beavertails, and both performed perfectly during class and ran fine on a mix of steel, brass and aluminum cased ammo. However, there was one exception. During accuracy testing, the MR918 failed to eject once using the Winchester USA Forged ammo. Both pistols worked with a variety of factory Glock 19 magazines of various vintages as well as with the magazines made by Magpul. By the way, the MR918 uses the Glock light rail interface while the Nomad 9's light mounting rail is the more common 1913 pattern.  
Have we reached the point where the Glock has become the universal handgun? Just as the Ruger 10/22 and the Colt AR-15 have become designs that are widely copied, the Glock pattern seems poised to finally unseat the 1911 as the handgun of choice for many in the firearms community. Funny how things change.