by
posted on November 15, 2017
Support NRA American Rifleman
DONATE
Since its 2016 introduction as a website version, the state-of-the-art Hornady 4DOF (4 Degrees of Freedom) Ballistic Calculator has become a go-to resource for those seeking more accurate trajectories, especially at extreme ranges. Now the 4DOF is available as a free Ballistic Calculator App, which features the 4DOF as well as a standard BC (ballistic coefficient) calculator.
The calculator provides trajectory solutions based on Doppler radar, making it more accurate for long-range hits than using BC-based systems or custom drag curves based on limited data collection points. The calculator comes pre-populated with certain Hornady bullet files, including ELD-X and ELD Match bullets along with appropriate BTHP bullets. In addition, popular long-range projectiles from other companies like Sierra, Berger and more are included. Users can enter their own G1 or G7 BC, or choose from the entire lineup of Hornady bullets and ammunition in easily filtered pre-populated lists. 

"Current ballistic calculators provide three degrees of freedom in their approach; windage, elevation and range, but treat the projectile as an inanimate lump flying through the air," said Dave Emary, Hornady chief ballistician. "This program incorporates the projectile's movement in the standard 3 degrees but also adds its movement about its center of gravity and subsequent angle relative to its line of flight, which is the fourth degree of freedom."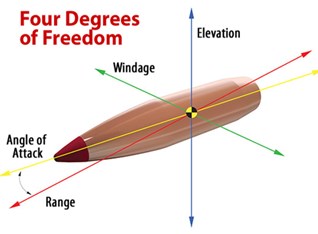 The app is available on both the Apple and Android app stores and allows users to calculate trajectories in areas without wireless connectivity.The Hornady Ballistic Calculator App is Bluetooth enabled and will toggle with select wind meters. The App also allows users the ability to create "favorites" (rifle/scope/ammunition combinations) and save them for repeated use.

For more information visit hornady.com