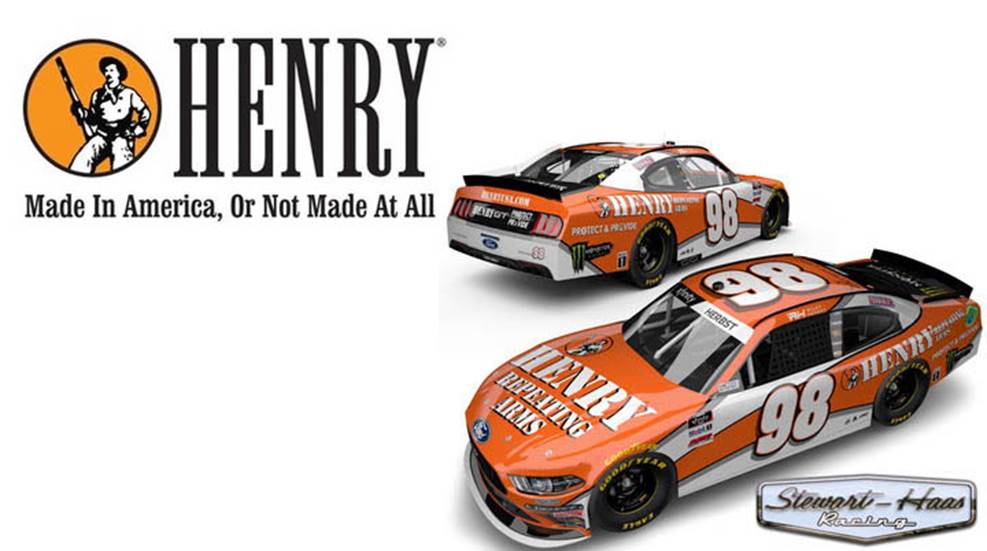 Firearm enthusiasts with a passion for NASCAR will want to tune into this Saturday's NASCAR Xfinity Series race at Darlington, S.C., Raceway. The race, on one of the circuit's most classic venues, launches the third partnership season between Henry Repeating Arms and Stewart-Haas Racing (SHR).

May 8 also begins NASCAR's official "Throwback Weekend," a fitting time for legendary lever-action rifle manufacturer Henry Repeating Arms to be the primary sponsor of driver Riley Herbst and his No. 98 Ford Mustang. The car will sport a throwback paint scheme tribute to SHR co-owner Tony Stewart.

Stewart, a member of the NASCAR Hall of Fame, earned three NASCAR Cup Series championships and won 69 races across the Cup, Xfinity and NASCAR Camping World Truck Series. The first three of those victories came in 1999 when Stewart was a Cup Series rookie. The paint scheme Herbst will run at Darlington mimics the design of Stewart's orange-and-white car during that incredible season where Stewart ran away with the rookie-of-the-year title.

"I can't wait to drive this throwback scheme for Henry Repeating Arms at Darlington," said 22-year-old Herbst. "Tony had a lot of success with this design during his rookie season, and if just a little bit of that success can rub off on we'll take it. Darlington is a tough track where any little bit helps."

"We can't wait to see what this young gun can do behind the wheel of the Henry Repeating Arms Ford with the full support of the Henry family cheering him on," said Anthony Imperato, president and owner of Henry Repeating Arms. "For fans of our firearms or motorsports in general, this is going to be an exciting weekend."

Darlington opened in 1950, and is considered NASCAR's first super-speedway. The venerable track is in its 72nd season, but it's a lineage that pales in comparison to that of Henry Repeating Arms. The company is named in honor of Benjamin Tyler Henry, who invented and patented the Henry rifle in 1860. It was the first repeating lever-action rifle and one of America's unique contributions to international firearm design.