Support NRA American Rifleman
DONATE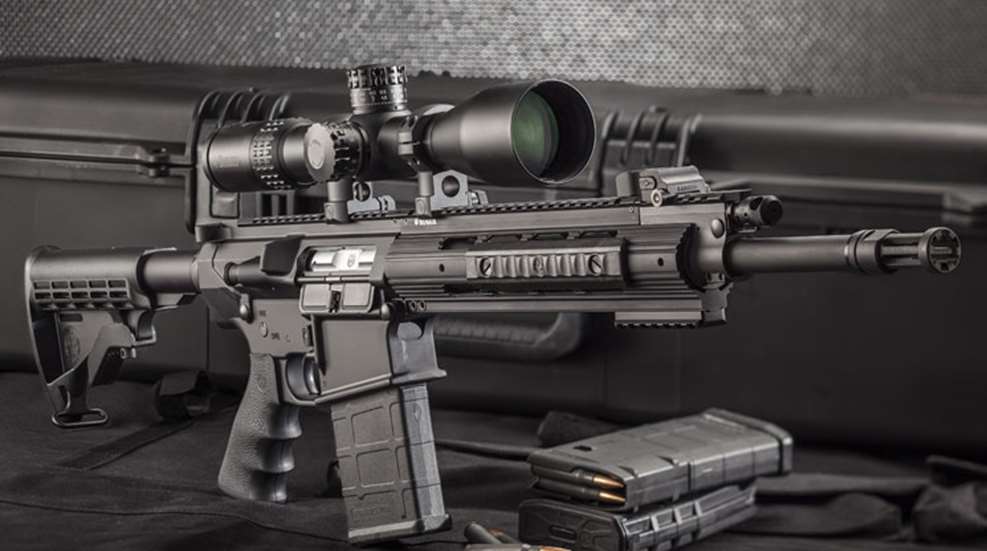 Breathe in. Breath out. Squeeze, squeeze, squee-bang! I rode the recoil back onto the target just in time to catch the contrail from my bullet making a steep right curve toward it and then vanishing, leaving only a gray splatter on the red steel gong. The target was hidden halfway up the face of the opposing hill, across a ravine and 10 to 15 degrees below my position. After what seemed like minutes, the distinct "thud" sound reached my ears, confirming what I had already witnessed: a first-round hit at 800 yds.
I considered that no small achievement for a 16"-barreled piston-driven semi-automatic rifle-even if it was chambered in 7.62x51 mm NATO/.308 Win. Just days earlier it would have seemed a daunting task, but now it was the expected result of sound marksmanship fundamentals, the use of a range card trued out to 500 yds. and a correct wind call-all the product of skills, tools and techniques developed and improved during the precision shooting course I was attending at FTW Ranch in the Hill Country of Texas. The lessons learned from the hundreds of rounds fired in the previous days seemed to coalesce and transform that seemingly tiny red plate-actually 12" in diameter but not visible without the use of optics-from an impossible target to a challenging but attainable objective. "Good shot," called my spotter, also one of the instructors at FTW and a former Navy SEAL. "Now go for the smaller one."
Besides being Sturm, Ruger & Co.'s first entry into the bustling AR-15 market, the SR-556 continued the long-standing tradition of innovation that has been a hallmark of the firm. It made clear that if Ruger were going to jump into the field of modern sporters, it would do so on its own terms. In this case, the innovation took the form of an elegantly designed piston and a less-elegant, though entirely functional, four-position gas regulator.
Developed to make AR-style rifles run cleaner and cooler, piston-driven operating systems have found an enthusiastic audience, and new entries have generally received warm welcome. Most examples of these systems have lived up to expectations-sort of. The piston system prevents gas, and associated fouling, from entering the action as in direct-impingement guns. Instead, the gas interfaces with a piston that in turn drives a transfer rod to cycle the bolt. This does keep the bolt carrier group much cleaner, but all the fouling does not just disappear. Instead, it collects in the gas block/regulator area, around and in front of the piston; components and recessed areas that are, generally speaking, just as tricky to clean as any bolt or star chamber. As to the claim of running cooler, the same redirection of gas keeps the action cooler, however, in my experience a hot barrel will affect accuracy far more than a warm bolt.
So call me a doubting Thomas, but taking into consideration my military and civilian experiences with direct-gas guns, I have never seen the advantage of a piston system. Do they work? Absolutely. Are they better? Really, they are just different.
There was one more claim made by Ruger about its piston, and that was that the two-stage design actually mitigated perceived recoil. When the SR-556 was introduced I saw this as another feature of questionable consequence. How much perceived recoil does a .223-chambered AR really produce? I had never been "beat up" by my M4 or any similar rifle, nor did I know anyone who had. It's not like these AR-15/M16 clones were producing the "kick" of, say, a .30-cal. rifle. Speaking of .30-cals., such guns make a valid case for recoil-mitigation features, especially semi-automatic variants intended for use in extended shooting sessions.
Enter the SR-762.
With dimensions and weight marginally exceeding those of .223-cal. ARs, Ruger's SR-762 was designed to compete with such rifles in terms of handiness and versatility, and yet outclass them in range and power by utilizing the 7.62x51 mm NATO/.308 Win. chambering. From its introduction, I expressed my belief that the platform would truly harness the potential of the two-stage piston and deliver real advantage to users. And, as I began an extensive round of testing that encompassed two weeks and three states, my prediction was quickly borne out.
The piston Ruger designed has, in essence, two heads with different diameters. The first, smaller head interfaces directly with the gas regulator. Gas bled from the barrel is channeled through the regulator into a small compartment and sealed in by that piston head. As the pressure in that space grows, the piston is forced back, out of interface with the regulator, thus allowing the gasses to fill the larger piston cylinder and apply pressure to the second, larger piston head. By using such a two-stage system, the force of the gas pressure is controlled and gated by the two heads, and the result is smooth operation and a noticeable decrease in felt recoil, especially compared to direct-gas .308s in which the full force of the pressurized gas is directed back through the stock toward the shooter.
Operation of the SR-762 can be further tuned with the four-position gas regulator. Despite being locked in place, and position, by a somewhat flimsy-looking spring-steel clip, the regulator functioned well in all positions, and the detent gave audible and tactile confirmation whenever the unit was rotated and locked into a new position. The regulator uses three gas ports of increasing size to control how much gas is siphoned off to run the gun, and each of the four positions have their appropriate functions: Position "0" admits no gas, the rifle will function as a rear-charging bolt-action; "1" is the smallest port, good for curtailing the higher pressures associated with "hot" ammunition or the use of a suppressor; "2" is the "base" position, good for most ammunition; and finally "3" has the largest gas port and will help the system cycle even with low-pressure loads.
Before discussing the evaluation phase, a closer look at the rest of the SR-762 is in order. The gun was designed to fill the all-purpose or personal rifle role, that is, to be relatively lightweight, accessory-ready and in a chambering that would meet the needs of armed citizens, hunters and recreational shooters, alike. It has a 16" fluted, chrome-lined barrel that, while perhaps not long enough to wring out the cartridge's full potential, was selected for both functionality and weight considerations. A welcome feature is the 5/8"-24 thread at the muzzle that accepts many flash hiders (Ruger's proprietary Mini-14-style flash suppressor is included), muzzle brakes and suppressors.
Enshrouding the barrel is a round, smooth handguard designed with weight-saving cutouts. It is drilled and tapped to accept Picatinny rail segments or finger-grooved railcovers, several of which are included with each rifle. A full-length of rail tops both the handguard and the upper receiver and, in conjunction with the screw-on segments, provides ample space for optics and accessories. Included with the SR-762 are Ruger's flip-up iron sights, consisting of an elevation-adjustable front post and a windage-adjustable, dual-aperture rear peep.
The bolt assembly is configured similarly to a standard AR, though enlarged to accommodate the 7.62x51 mm NATO cartridge. All of the components are chrome-plated for added lubricity and, therefore, smoother cycling. One problem sometimes encountered with piston-driven guns is bolt carrier tilt, which can occur when, as the bolt cycles, the bolt carrier cants slightly and rubs against surfaces not designed to support its travel, such as the lower lip of the buffer tube. It can happen because most buffer tubes are of a larger diameter than the bolt carrier. Force from the transfer bar, above and in front of the bolt carrier, causes the rear of the carrier to cant downward, and dimensional allowances encourage it. Ruger engineers eliminated the problem altogether by more closely matching the dimensions of the buffer tube to the bolt carrier's rear diameter.
Users won't find any revolutionary changes in the SR-762's lower receiver, but the gun does score points for versatility in that area. Virtually all components, including the fire-control group, are made to AR-15/M16/M4 specifications. What that means is that any of the myriad triggers, safeties, stocks and grips available for 5.56-chambered ARs can be used on the SR-762. Speaking of stocks and grips, the SR-762 comes with a six-position M4-style stock and a Hogue Monogrip pistol grip. Ruger chose to feed the SR-762 from SR25/M110 pattern magazines, which are available in economical form as polymer units from Magpul Industries. Three such 20-round magazines are included with each rifle.
I mentioned that my testing of the SR-762 was quite extensive, probably more so than any other firearm I've reviewed. Typically a couple hundred rounds are used for evaluation, by no means an endurance test, but a sufficient volume to get the feel of the gun and collect all pertinent data. In testing the SR-762, I used two different rifles and shot close to 1,000 rounds.
My first stop, as alluded to earlier, was FTW Ranch in Barksdale, Texas. Using the SR-762 topped with a Burris XTR II 4-20X 50 mm scope and Hornady 168-gr. A-Max .308 Win. ammunition, I took part in a four-day SAAM Precision (Sportsman's All-Weather All-Terrain Marksmanship) course. Here the rifle was tested at ranges from
25 yds. to 1,000 yds. on warm sunny days (85° F), and cool rainy days (50° F), and shooting through winds that at times required holds and adjustments of more than 50".
Accuracy testing was conducted on a 100-yd. range at 340 Defense near Charles Town, W. Va. A second SR-762 was used and it, too, was topped with an XTR II, this one in the 3-15X 50 mm configuration. As the table on p. 49 shows, ammunition from Barnes, Hornady and Norma USA was selected for testing. The day of testing was clear with temperatures in the low 60s.
Finally, velocity was measured with the same gun and ammunition as was tested for accuracy at an indoor, climate-controlled 50-yd. range with an Oehler Model 36 chronograph.
My time in Texas was an excellent opportunity to wring out the SR-762. The climate varied throughout the course, and shooting was conducted from the prone, as well as field shooting positions. The rifle was a current-production example with about a 6-lb. trigger. Throughout the course it performed flawlessly, even being exposed to dust and dirt and enduring bumpy Jeep rides between ranges. The scope and rifle never lost zero, and the accuracy of turret adjustments in the Burris made me a firm believer in not only the XTRII optics, but also the dial-for-range technique. Groups shot on 100-yd. paper targets averaged right around 1", and good engagements on steel targets out to 600 yds. were consistent and repeatable. At 800 yds. and beyond the challenge increased, but this is to be expected given a 16" barrel and the .308 Win. cartridge. Frankly, given those considerations and adding the broken terrain and gusting winds, any long range hits would have seemed miraculous; the fact that I rang steel time and time again, therefore, is a real testament to the gun, ammunition and the FTW instructors.
T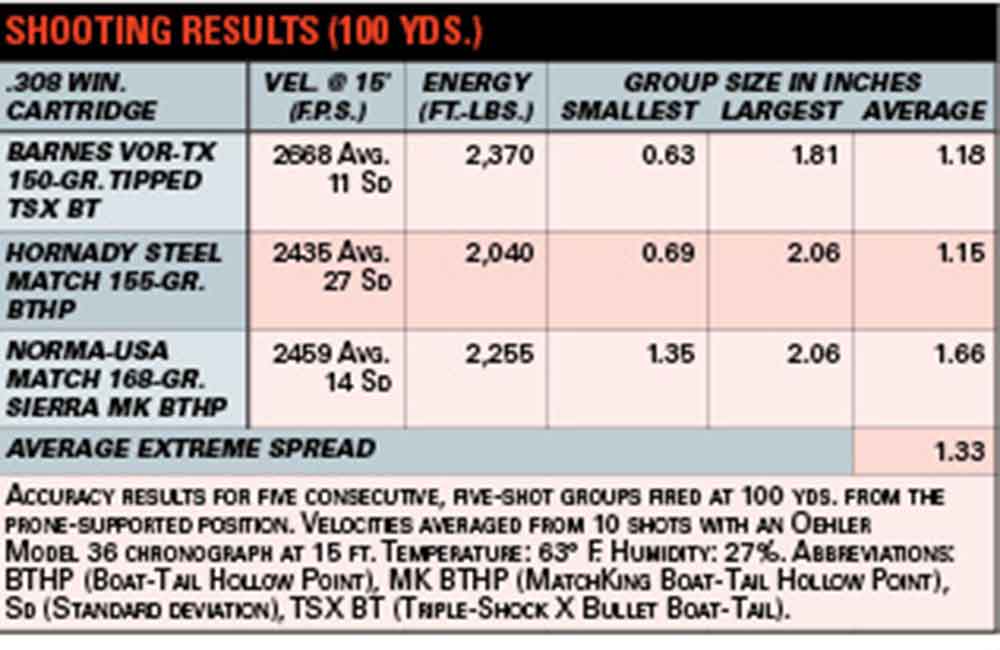 he evaluation range sessions were conducted with a second rifle, already on-hand at NRA HQ, and I suspect it was built during one of the earliest production runs. It too functioned well, but the trigger pull was rough and required nearly
9 lbs. of force-not ideal for accuracy testing and I believe groups suffered slightly because of it. Testing was performed from the prone-supported position and, despite the trigger, five-shot group sizes were very respectable, though they usually exhibited one "flyer," which led to inflated averages. Velocities were, on average, 150 to 200 f.p.s. slower than advertised, most likely due to the 16" barrel. Full results are published on p. 49, but the Hornady and Barnes loads performed the best, both producing sub-1" groups, and averages just larger than 1". The NormaUSA load also performed well with an average well below 2", but of the loads tested this ammunition was not the best fit for the rifle.

In the end, I found the SR-762 to be that all-purpose, versatile rifle that Ruger set out to build. It performed in all the conditions and environments to which I exposed it, and would be a sound choice for any pursuit from hunting to home defense. Perhaps best of all, throughout all the days of shooting I never once endured a sore shoulder. Ruger's piston system did its job and really came into its own in the larger caliber, demonstrating functional utility as a firearm operating system and delivering measurable value to its users.
Manufacturer: Sturm, Ruger & Co., Inc., 411 Sunapee St., Newport, NH 03773; (603) 865-2442; Ruger.com
Caliber: 7.62x51 mm NATO, (.308 Win.)
Action Type: two-stage, piston-operated semi-automatic rifle
Receivers: 775-T6 forged aluminum (upper and lower)
Barrel: 16" 41V45 chrome-moly-vanadium steel; fluted and chrome-lined
Rifling: six-groove, 1:10" RH twist
Magazine: 20-round-capacity detachable box
Sights: Ruger folding backup iron sights: elevation-adjustable post front; windage-adjustable dual-aperture rear
Trigger: single-stage, non-adjustable; 8-lb., 14-oz. pull
Overall Length: 34¾" to 38"
Weight: 8 lbs., 10 ozs.
Accessories: owner's manual, soft case, two spare 20-round polymer Magpul magazines, three finger-groove rail covers
Suggested Retail Price: $2,195