by
posted on July 7, 2023
Support NRA American Rifleman
DONATE
While the .22 WMR, or .22 Magnum, cartridge has been around since the mid-20th century, it's largely been chambered in bolt-action rifles or revolvers. Because of the varied loadings available in .22 WMR, plus its long, rimmed design, building a reliable semi-automatic pistol chambered for the round is an engineering challenge. Walther decided to tackle the concept, and the WMP is built to be the most reliable .22 Mag. semi-auto pistol on the market. Watch the video above to learn all about Walther's WMP.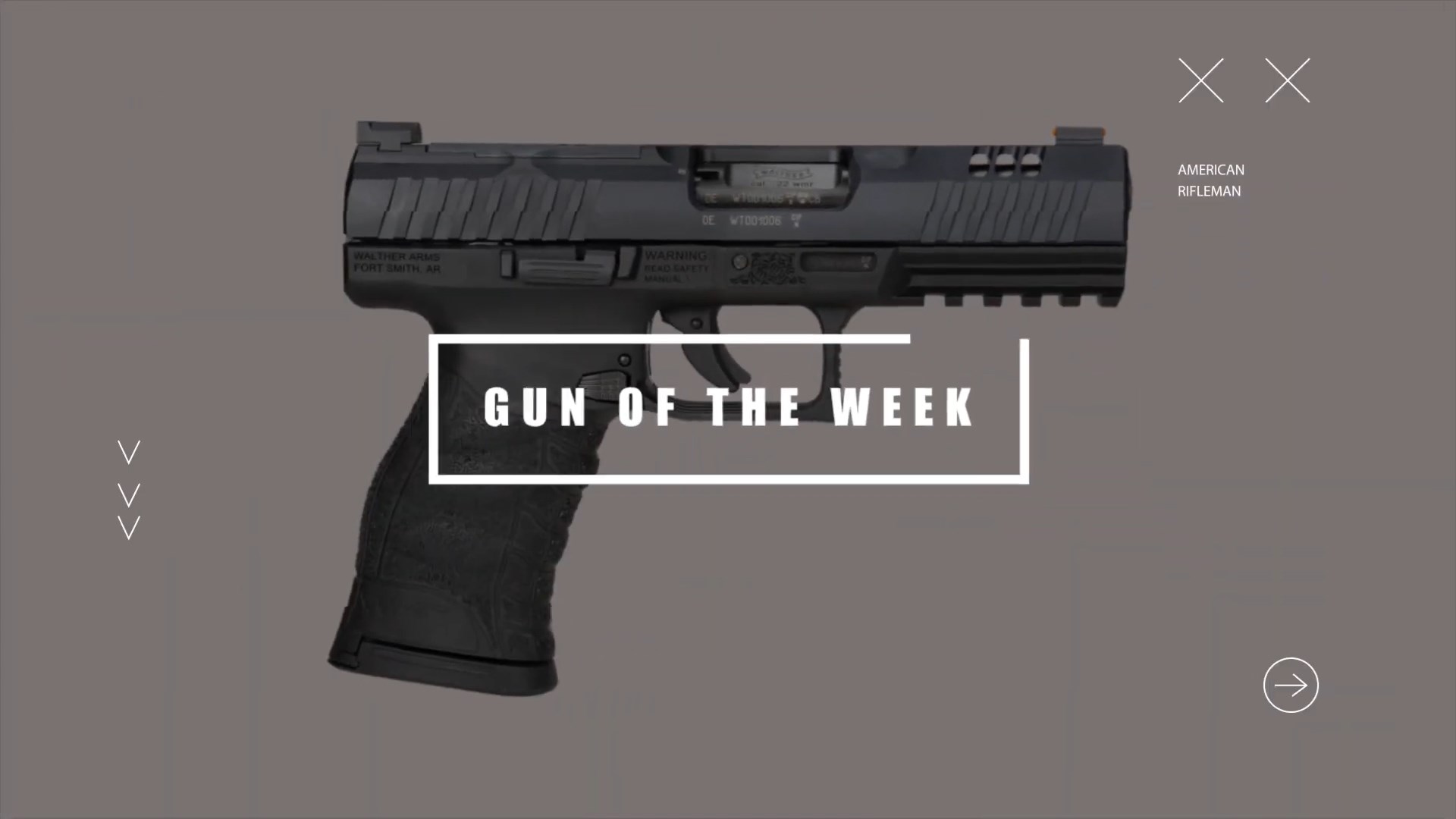 Designed as a field-ready "kit" gun, the Walther WMP is a hammer-fired handgun, and the shrouded hammer is visible from the back, though the pistol has no hammer spur and cannot be manually cocked. It's built on a polymer frame, which features signature Walther ergonomic cues, texturing and styling, including careful contouring around the grip frame designed to promote a comfortable hold. Despite its relatively diminutive chambering, this is a full-size pistol, measuring just over 5.5" tall, 8" long and almost 1.5" wide. The gun features a 4.5" barrel.
At the top of the WMP, the drift-adjustable iron sights span almost the full length of the 8.2" slide, providing users with a generous sight radius. A fiber-optic front sight is easy to pick up in daylight, while the serrated face of the rear sight prevents glare. The rear portion of the slide just ahead of the rear-sight dovetail is milled to accommodate a red-dot optic, and the gun ships with two adapter plates that work with many of today's common MRD footprints.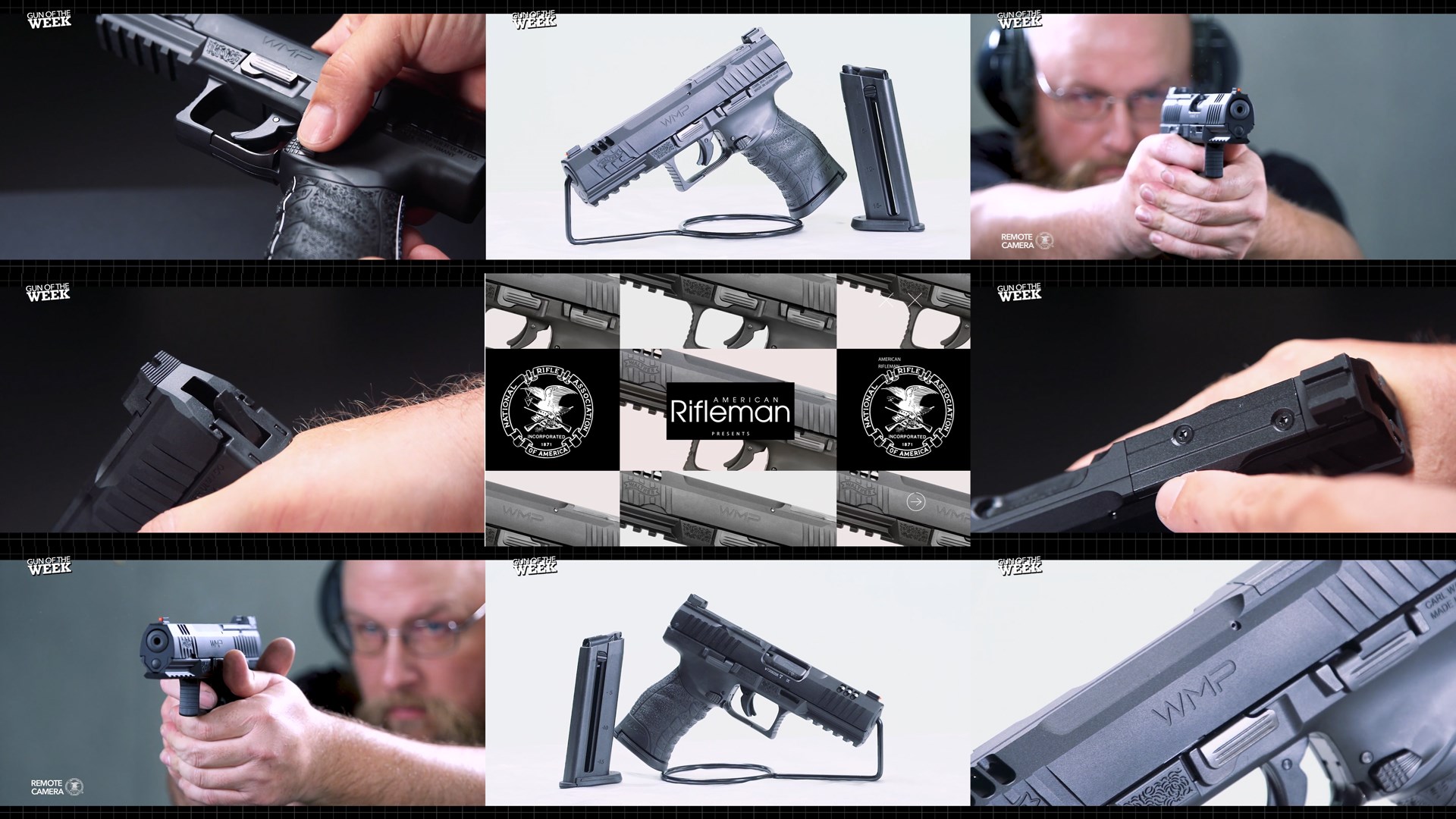 There are some unique control elements on the Walther WMP, and the standout is the Walther Quad Release mechanism, which provides four different ways to release the magazine. A push-button magazine release is located on both sides of the grip frame, and there are also two paddles located on either side at the bottom of the trigger guard, so whether you prefer a button or a paddle, you can do it all on the WMP. There's also an oversize slide-stop lever located on both sides of the gun, so the pistol is lefty-friendly in every aspect.
On the range, the Walther WMP really shines as a great option for range or field use. To ensure reliable function, Walther provides owners with a list of tested and approved loads for the WMP. Our selected loads ran without issue, and we loved the almost-nonexistent recoil that accompanied shooting a fairly low-power round out of a full-size pistol, and having 15 rounds on tap was especially enjoyable. Controls were easy to access, and the pistol was comfortable to hold, thanks to Walther's signature ergonomics. For the recoil-averse or for those looking for an easy-to-shoot range gun, the Walther WMP is worth a look.
Walther WMP Specifications
Importer: Walther Arms
Action Type: hammer-fired, double-action, semi-automatic, rimfire pistol
Chambering: .22 WMR
Barrel: 4.5" stainless steel
Slide: aluminum
Frame: black polymer
Sights: drift-adjustable square-notch rear; fixed, post front
Magazine: 15-round detachable box
Overall Length: 8.2"
Height: 5.66"
Weight: 27.8 ozs.
MSRP: $549