Gallery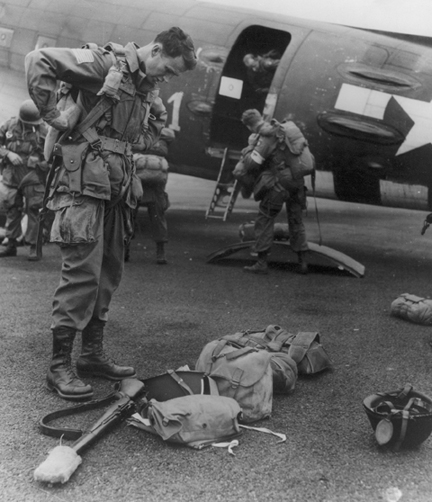 Maj. Gen. James M. Gavin, 82nd Airborne
Maj. Gen. James M. Gavin, shown here suiting up for the Operation MARKET GARDEN jump on the morning of Sept. 17, 1944, was armed with an M1 Garand rifle and a M1911A1 .45 ACP pistol. The commanding general of the 82nd Airborne Division, Gavin preferred the punch of the M1 rifle to that of the M1 and M1A1 carbines. (Photo courtesy of the 82nd Airborne Museum via Phil Nordyke)

M1 Garand
The semi-automatic, gas-operated, eight-shot M1 rifle, popularly known as the "Garand" after its inventor, John C. Garand, was the primary American service rifle of World War II. Developed at the venerable government-owned Springfield Armory and adopted in 1936, the M1 rifle was chambered for the standard .30 caliber cartridge (.30-'06 Sprg.). It had a 24" barrel and weighed 9.5 lbs. When the war ended in August 1945, more than 4 million M1 rifles had been produced. (Photo courtesy of the Bruce N. Canfield collection)

M1A1 Thompson Submachine Gun
Some American paratroopers also jumped into Holland armed with the .45 ACP M1A1 Thompson submachine gun.

M1A1 Carbine
The M1A1 carbine, chambered in .30 Carbine, was developed as a lighter, more compact infantry arm specifically for use by airborne troops.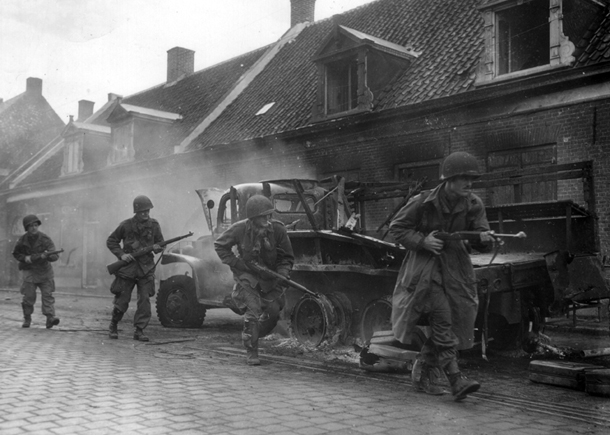 101st Airborne in Eindhoven
American troops from the 101st Airborne Division, armed with M1 rifles and an M1A1 carbine (front), move through Eindhoven during Operation Market Garden. (National Archives photo)

kar.98k Mauser
The Germans facing the Allied airborne assault were armed with a typical mix of that nation's small arms, including the kar.98k Mauser. Despite the fact that the kar.98k was not designed for use with scopes, more than 130,000 were ultimately retrofitted with various scope-mounting systems during the war, such as the late-war JP Sauer Turret mount shown here.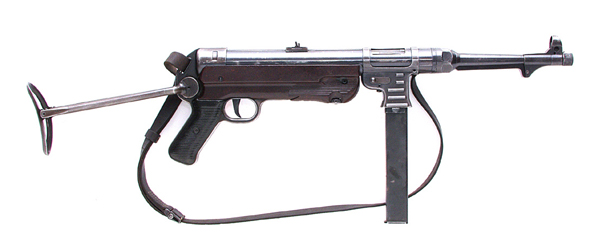 MP40 Submachine Gun
German infantry units in Holland brought other examples of the country's highly mobile firepower to bear against the Allies, including the MP40 submachine gun.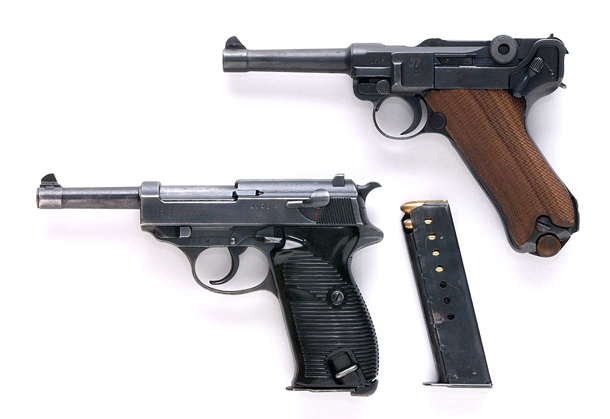 Luger P.08 and Walther P38
German troops still carried the Luger P.08 (top) in 1944, despite the fact that it had been supplanted by the Walther P38 as the Wehrmacht's standard service pistol in 1938.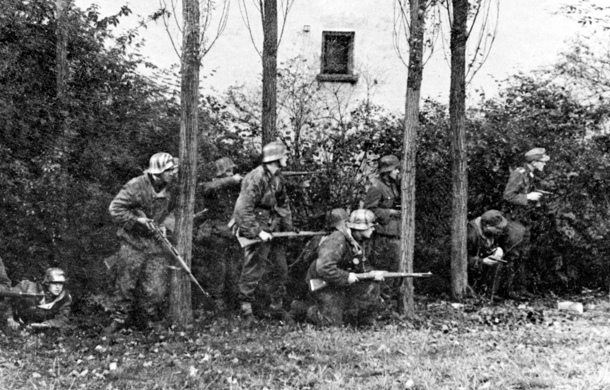 German Infantry in Arnhem
German infantry, many armed with kar.98k Mausers, on alert as they search the suburbs of Arnhem for Allied troops. (German photograph)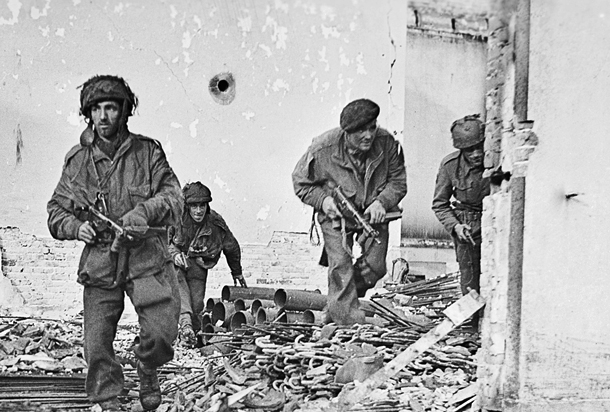 British Paratroopers in Oosterbeek
Four British paratroopers moving through a shell-damaged house in Oosterbeek to which they had retreated after being driven out of Arnhem. They are armed with a pair of Sten Mk V submachine guns, a Colt Government Model .45 and an Enfield No. 2 .38/200-cal. revolver.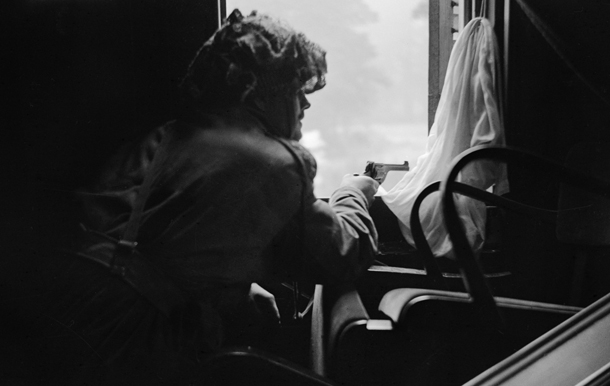 Enfield No. 2 Mk I Revolver
A British staff captain fires his Enfield No. 2 Mk I* revolver from the 1st Airborne Division's headquarters in the Hartenstein Hotel at Oosterbeek during the battle for Arnhem. (Imperial War Museum photo)
British Troops with a German Prisoner in Arnhem
British troopers from the 89th Field Security Section pose with a German prisoner in Arnhem. Note their Sten Mk V submachine guns and the Lee-Enfield No. 4 Mk I rifle at far left. (Imperial War Museum photo)