Support NRA American Rifleman
DONATE
Gallery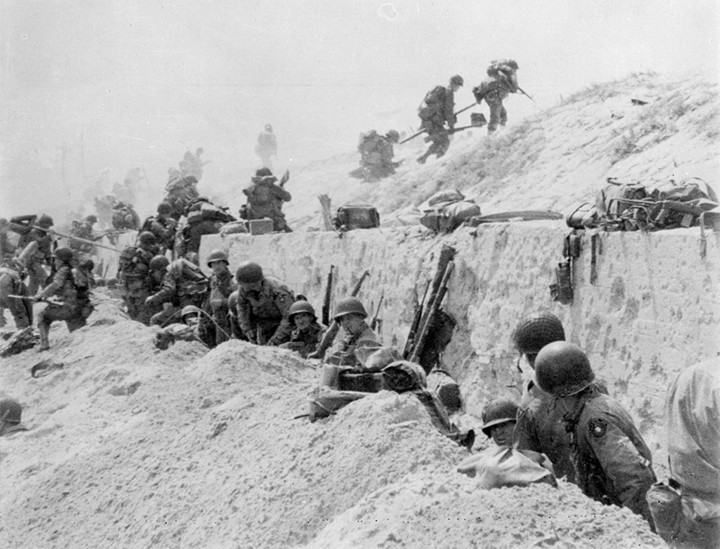 4th Infantry Division, Utah Beach
U.S. Army VII Corps soldiers from the 4th Infantry Division crossing the seawall and sand dunes at Utah Beach. The men in the foreground are from the 101st Airborne Division's 327th Glider Infantry Regiment, which landed amphibiously rather than by glider. Note the M1A1 Carbine on top of the seawall at far right.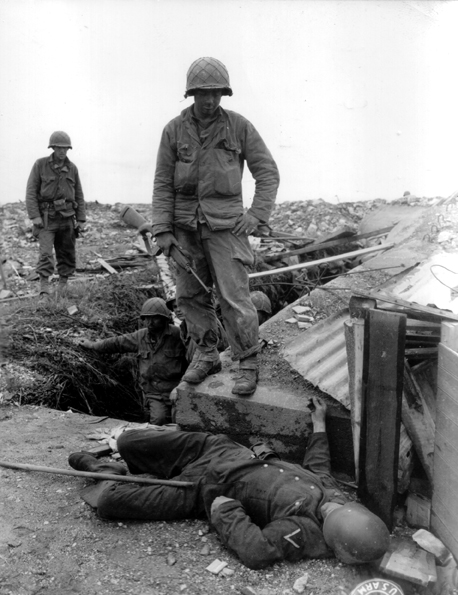 Battle for Cherbourg
Staff Sergeant Jack Scarborough of Bossier City, La., examines the body of a dead German Gefreiter (corporal) among the fighting positions at Fort du Roule in the defenses of Cherbourg on June 26, 1944. An NCO in the 314th Infantry Regiment, 79th Infantry Division, S/Sgt. Scarborough is wearing the M42 HBT Fatigue uniform, and he is armed with an M1 Carbine.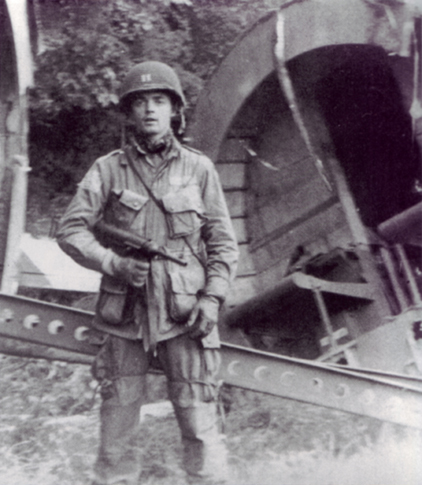 Guide Lamp "Grease Gun" M3 Submachine Gun
Captain Bob Piper of G Company, 505th Parachute Infantry Regiment, 82nd Airborne Division, poses in Normandy in front of the wreckage of a Horsa glider. He is armed with the Guide Lamp "Grease Gun" M3 submachine gun.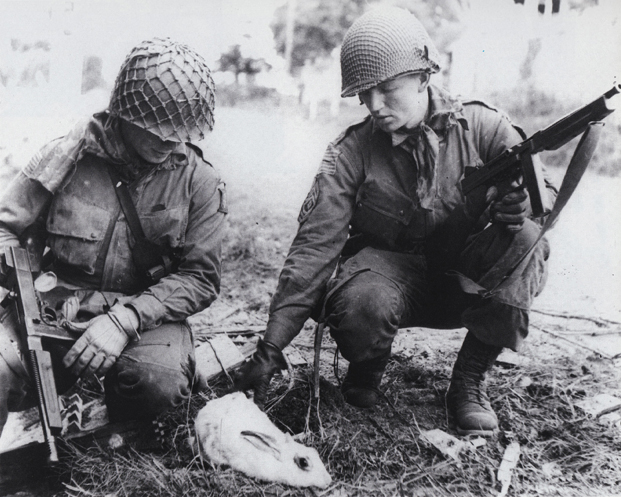 M1A1 Thompson and M1928A1 Thompson
An 82nd Airborne Division Lieutenant (r.) and 1st Sergeant pause to pet a rabbit in Normandy. Note that the 1st Sergeant is armed with an M1A1 Thompson submachine gun and the officer is armed with the earlier M1928A1 Thompson.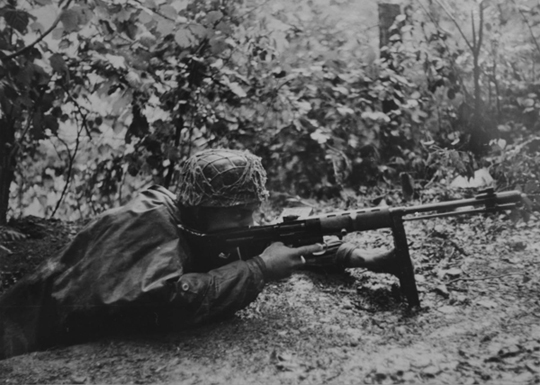 German Fallschirmjäger
A German Fallschirmjäger (paratrooper) is seen here in Normandy with a late model Ausführung "E" (Type I) FG42.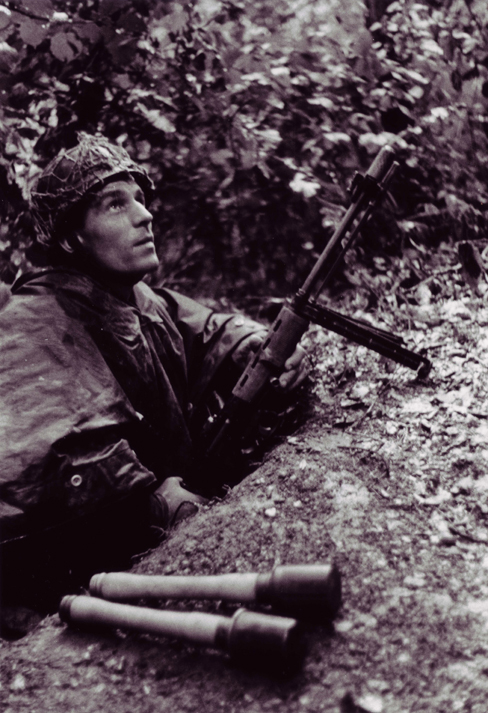 German FG42
A German Fallschirmjäger (paratrooper) is seen here in Normandy with a late model Ausführung "E" (Type I) FG42 automatic rifle and two stick grenades. The FG42's folding bipod is extended.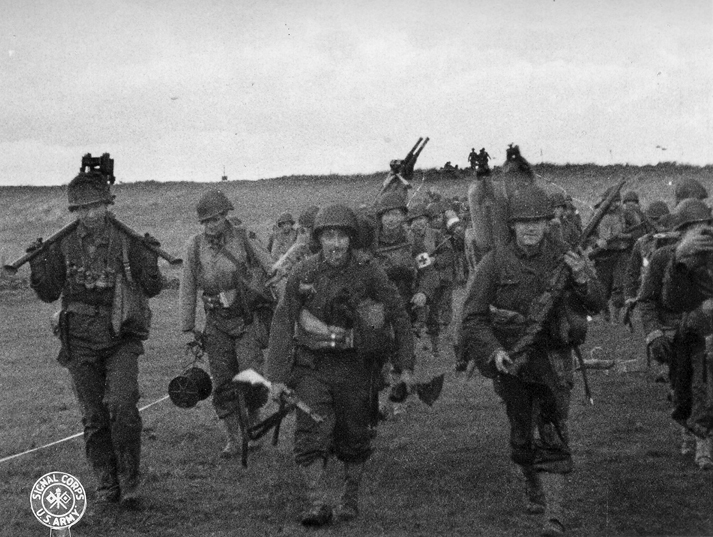 4th Infantry Division Advancing Inland
Soldiers of the 4th Infantry Division advancing inland across an area that has been swept for landmines and marked clear by the white strips of tape that can be seen going up and over the dunes in the background. The man at far left is carrying the tripod for the M1917A1 .30-cal., water-cooled heavy machine gun and four Mk. II fragmentation hand grenades suspended around his neck by string. The man at right is carrying an M1 Garand rifle that is still wrapped in a Pliofilm bag and a medic behind him is carrying a stretcher and wearing an M5 Assault Gas Mask Bag.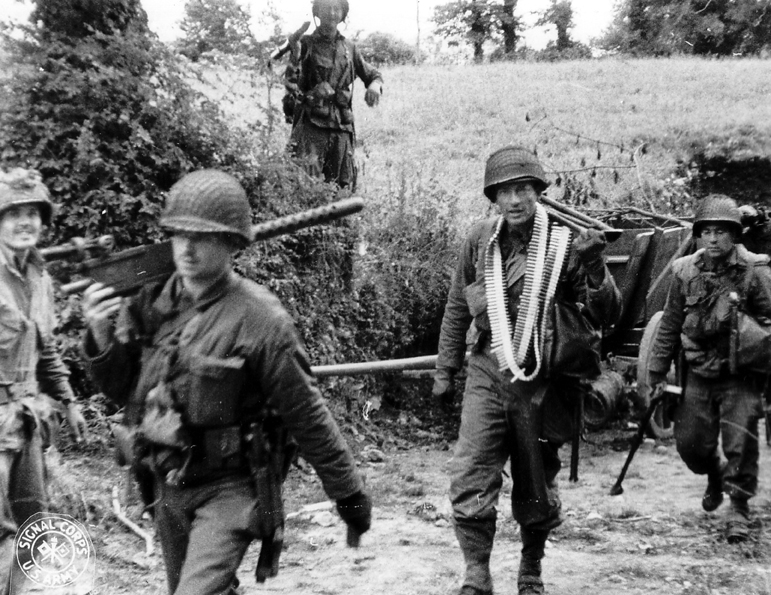 M1919A4 Machine Gun
A light machine gun section of a weapons platoon from the 1st Battalion, 22nd Infantry Regiment, 4th Infantry Division, moves down a sunken lane near the Marmion Farm just south of Ravenoville on June 6. The first soldier carries the 33-lb. M1919A4 machine gun with traverse and elevation mechanism attached to it, and the assistant gunner behind him carries the weapon's M2 Tripod, along with a belt of .30-cal. ammunition. They are passing a German Army issue Heeresfahrzeug.6/Feldwagen 43 horse drawn cart as well as two 101st Airborne Division paratroopers.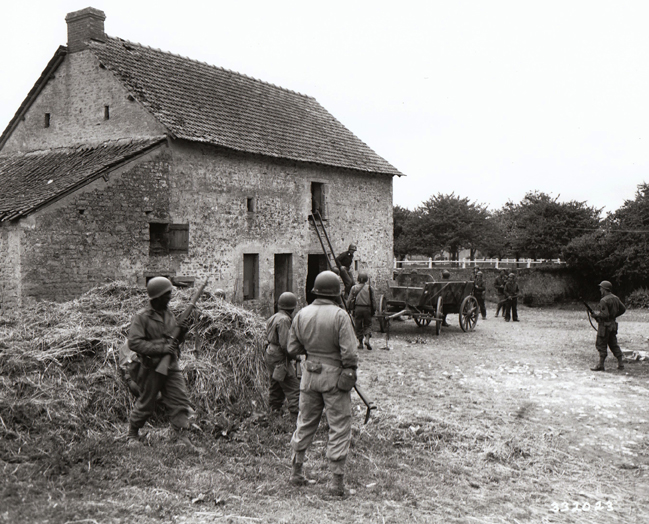 The Hunt for a German Sniper
African-American soldiers from the 320th Barrage Balloon Battalion are joined by five white soldiers during the hunt for a German sniper in Saint- Laurent-sur-Mer on June 10. Captain Broussard, with M1911A1 Pistol in hand, is coming down a ladder after searching the barn's hayloft. Next to the barn is parked a camouflaged German Army–issue Heeresfahrzeug 6/Feldwagen 43 horse-drawn cart. The soldier at far left is armed with an M1903A3 rifle.
Fallen Hero, Omaha Beach
The body of a young U.S. soldier lies face down in the sand at the base of an obstacle on Omaha Beach. He was killed during the intense fighting in front of Vierville-sur-Mer on D-Day, and the tide carried his body to the Dog White sector overnight, where this photograph was taken during the morning low tide on Wednesday, June 7, 1944. The fact that he is wearing M1942 HBT trousers and an M1941 Field Jacket suggests that he was a Ranger either from the 2nd or 5th Battalion. He still wears his M1926 Inflatable Lifebelt, and two weapons lay at his feet: an M1 Garand and an M1903 Springfield.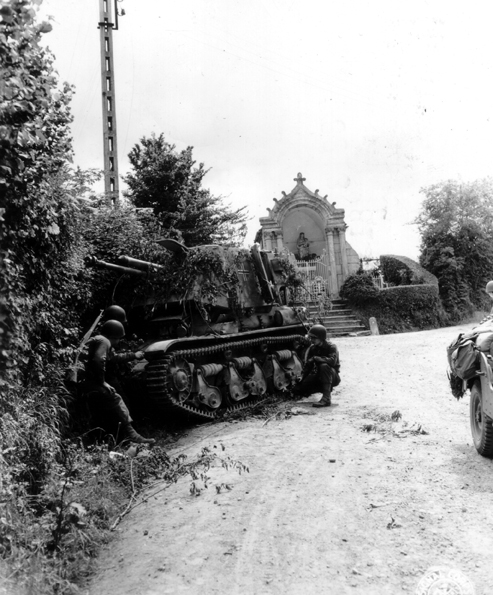 Panzerkampfwagen 35R(f)
Just 8 ½ miles southwest of Bayeux and 1,500 ft. east of the town of Littry, a Panzerkampfwagen 35R(f) from 3.Kompanie/Schnelle-Abteilung.517 sits knocked out in front of a roadside Oratoire (religious edifice) at the intersection of La Boissellerie and Avenue de la Chasse (the present day D189) on June 20, 1944. This type vehicle combined the chassis of a captured French Renault R-35 light tank with a Czech-made 4.7-cm anti-tank gun to create a hard-hitting self-propelled tank destroyer.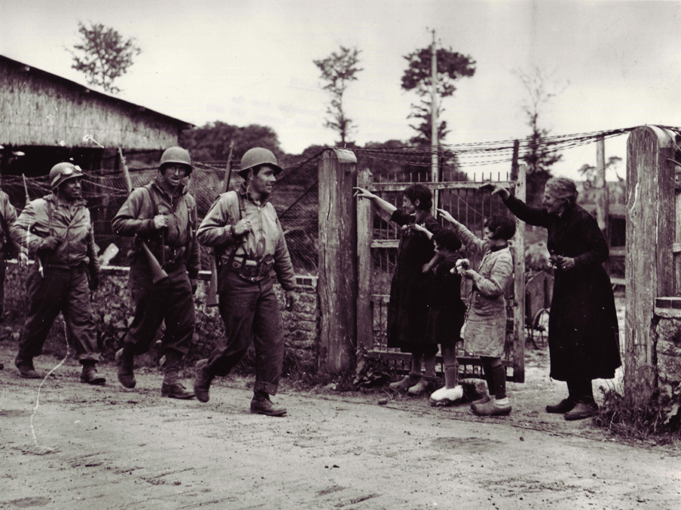 The Road from Pointe Du Hoc
Four female members of a Norman family stand by the gate of their farm to greet passing U.S. soldiers on June 7, 1944. This photograph was taken in the tiny hamlet of Le Guay just 500 ft. east of the road leading out to Pointe Du Hoc and the soldiers are marching on what is now known as the D514 in the direction of Grandcamp-Maisy. The first two men both wear Winter Combat Jackets (also known as the "Tanker Jacket") and carry M1903 rifles.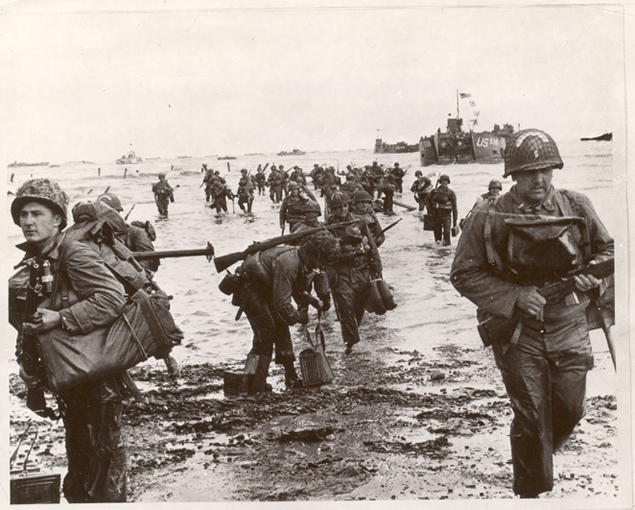 Coming Ashore, Omaha Beach, June 6, 1944
Combat Engineers of the 5th Engineer Special Brigade come ashore on Omaha Beach at mid-day on June 6, 1944 from LCT-538. The man bending over is armed with an M1 Garand that is equipped with the M7 Rifle Grenade Launcher.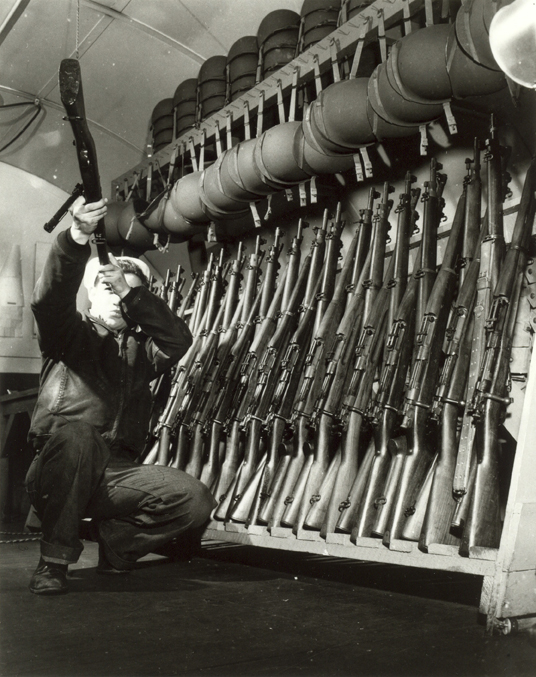 M1903 Springfield
A U.S. Navy sailor inspects the bore of an M1903 rifle in a guard room in England in early 1944.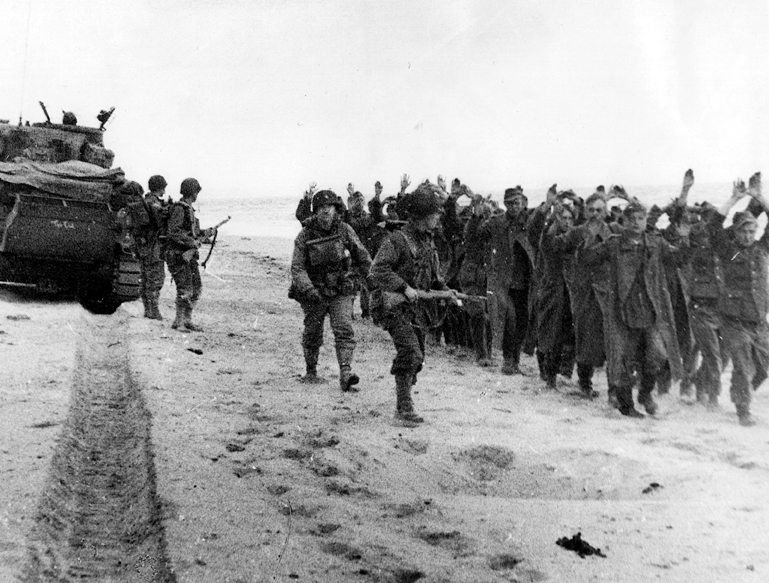 German Prisoners, Utah Beach
A Sherman tank from the 70th Tank Battalion cuts tracks in the sands of La Madeleine while soldiers of the 8th Infantry Regiment, 4th Infantry Division escort German prisoners of war to an enclosure on Utah Beach. The 4th Division spearheaded the VII Corps landings on the Cotentin Peninsula on D-Day, and the 8th Infantry Regiment spearheaded the divisional assault.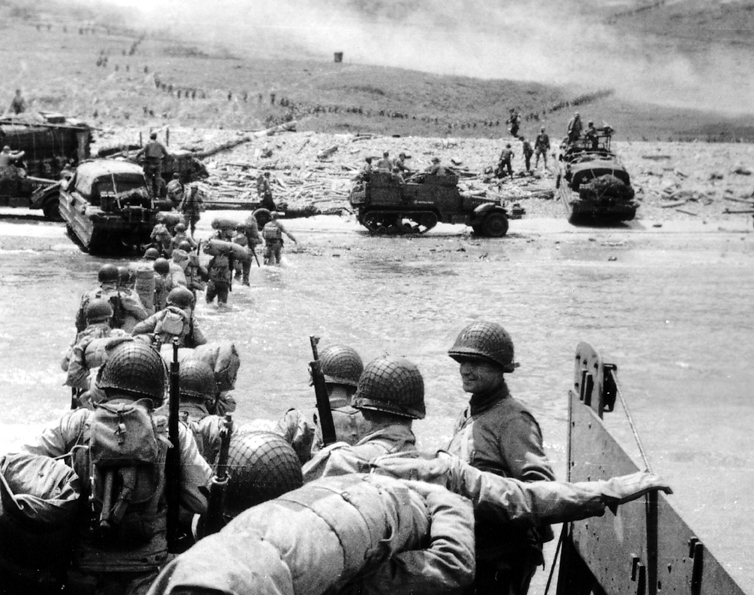 Omaha Beach, June 7, 1944
Soldiers from Company A, 175th Infantry Regiment, 29th Infantry Division landing on Omaha Beach on June 7, 1944. Note the two M1903 rifles in the photograph.