by
John Zent, Editor Emeritus
posted on October 2, 2022
Support NRA American Rifleman
DONATE
In July, I was privileged to attend a gala, by-invitation-only celebration of the 100th anniversary of Federal Cartridge Corp. Largely what got me in the gates was an assignment to write an American Rifleman feature article about the Minnesota company's big milestone, which you can read here. But in covering product and corporate news from the world's largest ammunition company for NRA Publications over the past four decades, it's also been my good fortune to strike up lasting friendships. Combining work and pleasure, I wangled a breakfast meeting with two long-time employees, Drew Goodlin and Rick Stoeckel. Despite their relative youth, their collective Federal tenure spans 60 years, so they've been present for the slew of remarkable new Federal products that have impacted nearly every active gun owner, regardless of your shooting interest.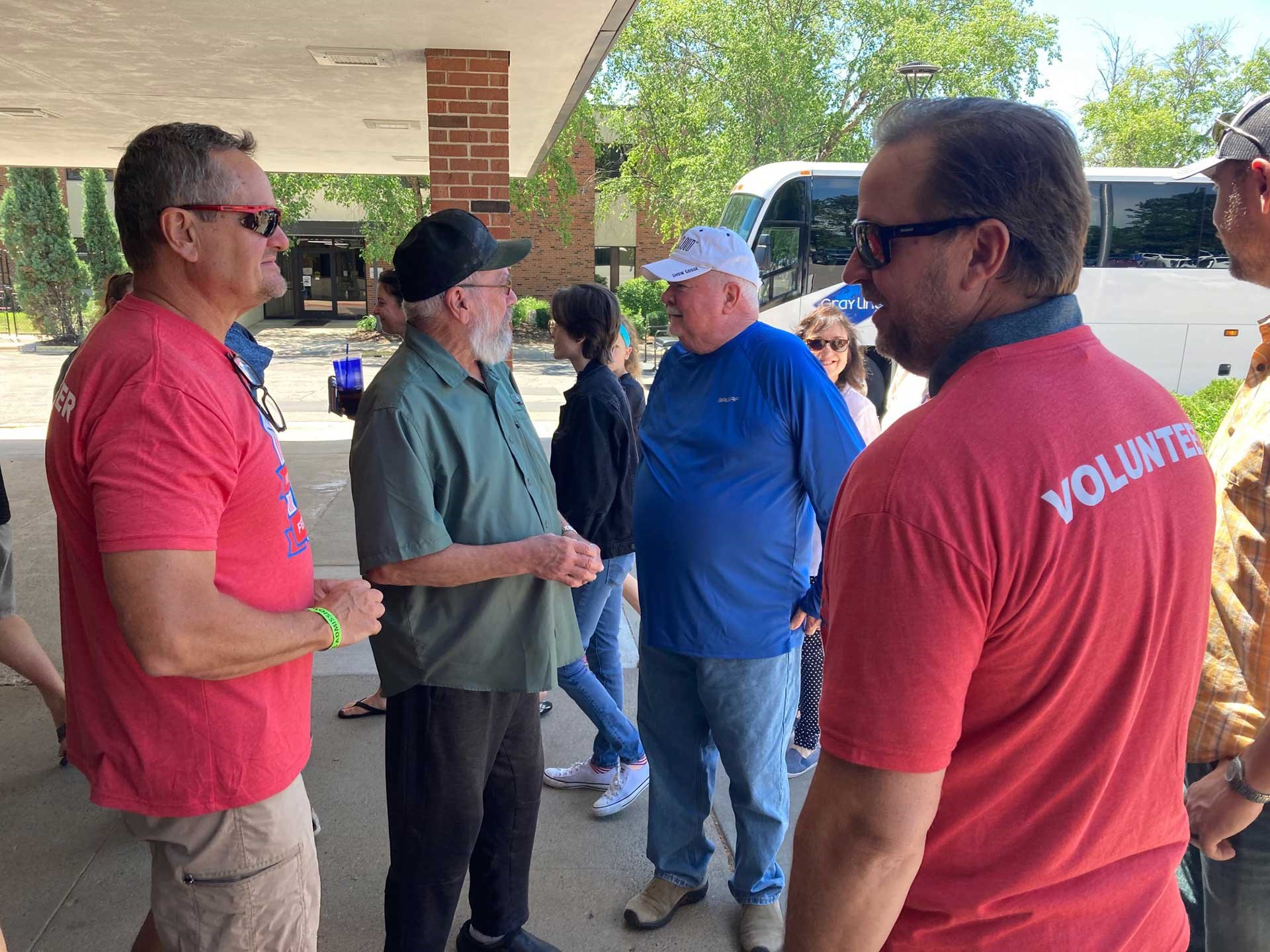 Rick Stoeckel (l.) and Drew Goodlin greet guests at Federal Ammunition's 100th anniversary celebration.
It would've been unfair to grill them on company history going back a century—and unnecessary given the brilliant, comprehensive archive assembled by the Federal Marketing Department with help from the Anoka County Historical Society. Nonetheless, I hoped to uncover a few new nuggets in our conversation. And if cyclical irony counts, I think I succeeded.
From the start Drew has been in engineering and product development, while Rick worked in a couple of departments, though always in roles with strong customer interface. Today, they lead their respective departments, but take it from someone who knows, they're regular Joes in every way that counts, the kind of guys you want in hunting camp. In hindsight, it seems fated that they'd end up where they did, despite traveling different paths.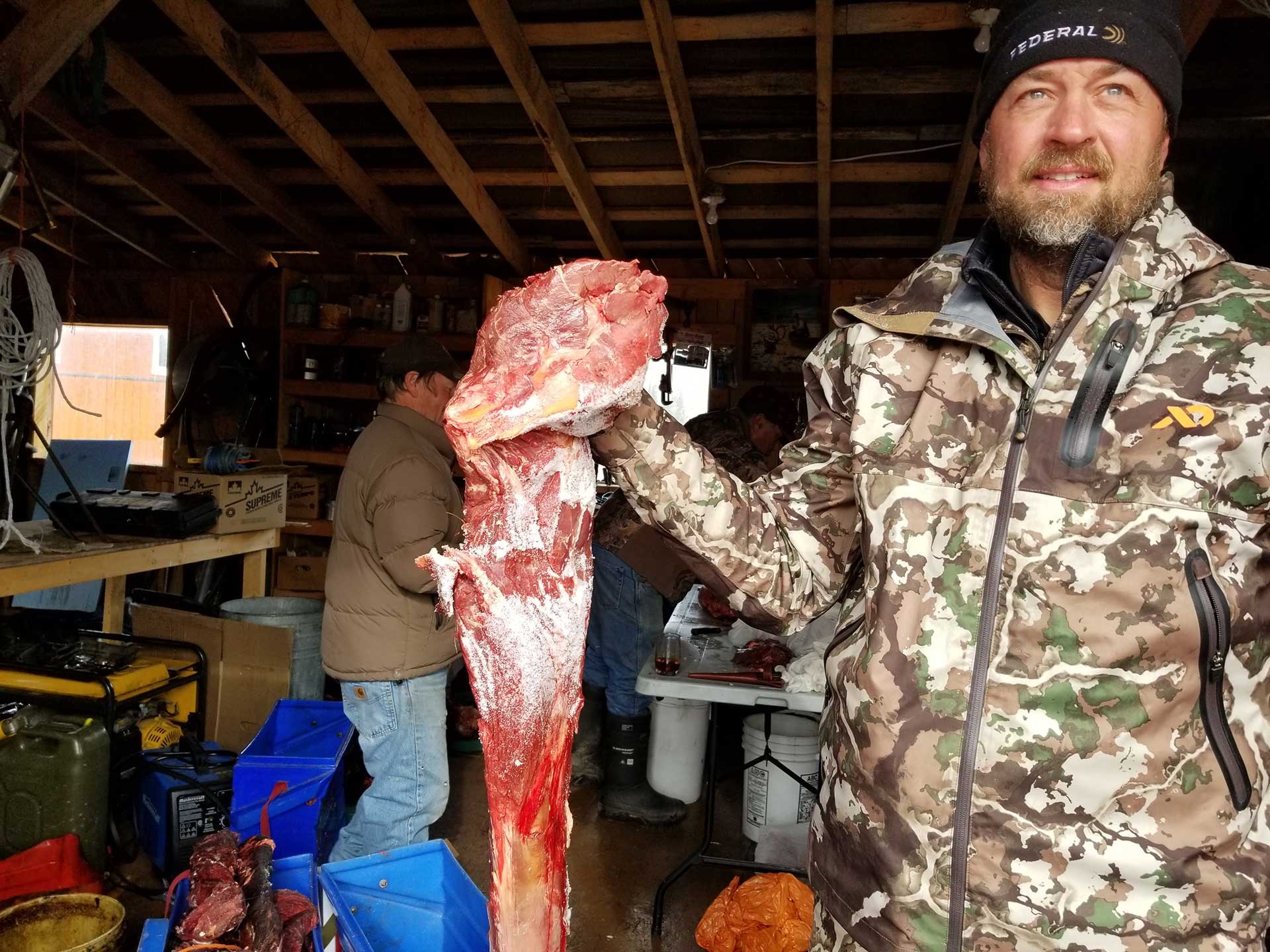 Drew Goodlin, above, is a Federal engineer capable of computational modeling or carving up game in a hunting camp.
Drew left another engineering firm after being assigned to assist Federal with computational modeling of bullet flight. "Growing up in Pennsylvania, hunting was a huge tradition in our family. I loved guns and ammo. I decided this was the industry for me, and so I sent Federal my resume and was on a plane in a couple of days. Soon I moved my family here."
It was different for local-boy Rick, who grew up watching his dairy-farmer dad and neighbors carpool into town to work a shift at the Federal plant before hustling home for the afternoon milking. "Just the way it was in our area. One generation following another. So I knew the company well. In those days, they hired farmers for the plant. Hard workers, go-getters, and importantly, guys who could fix machinery."
Fresh out of college, Rick tried selling copiers door-to-door ("a tough gig") before landing a spot as Federal's Minnesota-Wisconsin sales rep, a job that kept him on the road servicing retail accounts and cold-calling prospects, while also waving the Federal banner at every gun and outdoor show, trapshoots and anywhere else shooters congregated. "I was the man," he joked, "but my old car could barely make it. Good thing I grew up on the farm."
"Tell him the car story," Drew insisted.
"Yeah, it's a good one," Rick chuckled. "[After a while] our sales manager took me over to a dealership in St. Paul and walked me up to a brand-new Caprice Classic four-door—a monster! I drove it back to work, loaded the trunk full of shells, then headed home and took my mom and dad out to dinner in it. They were so pumped!"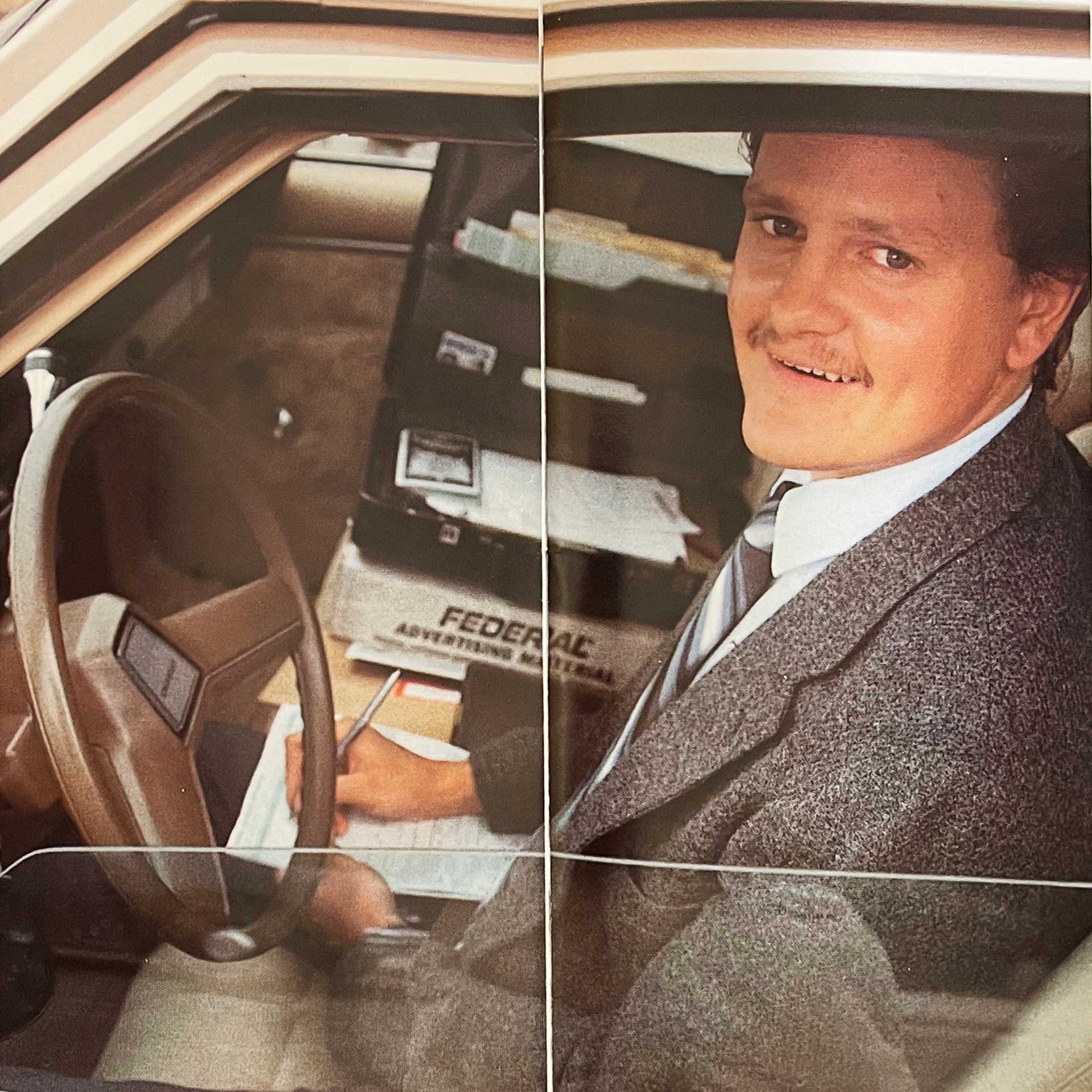 Rick Stoeckel, above, worked as a sales representative in his early years at Federal, performing much of his work in a company-supplied, four-door Chevrolet Caprice Classic.
Unmentioned was how Rick's early success sort of echoed another car story that looms large in Federal lore. In the struggling start-up years, founder Charles Horn also plied Midwestern byways, driving his Dodge touring car from town to town in order to visit hardware stores, barber shops, pool halls, and even local doctors and dentists, determined to persuade any and all to stock his company's shotshells. Bigger ammo brands were doing everything they could to block competition, but thanks to Horn's upbringing on an Iowa farm, he deduced novel ways to reach hunters and trapshooters.  
Though working in different departments, my friends teamed up shortly after Drew hired on at Federal in 2002. Big changes were in the works then as a new owner settled in. ATK was a high-profile defense contractor that specialized in making missiles and high-tech systems. Though short on experience in consumer goods, aggressive new management didn't wait to shake things up.
Drew recalled, "Engineering had been gutted and R&D practically didn't exist. We were in a rebuild. The remaining engineers were very smart guys, but they were either process-based or analytical, as opposed to being product guys. That was missing, and as a result they soon made me manager of product engineering.
"We were slow in getting new products to market," said Drew. "Fortunately Rick was in product management and he was a guy we could go to talk about ideas."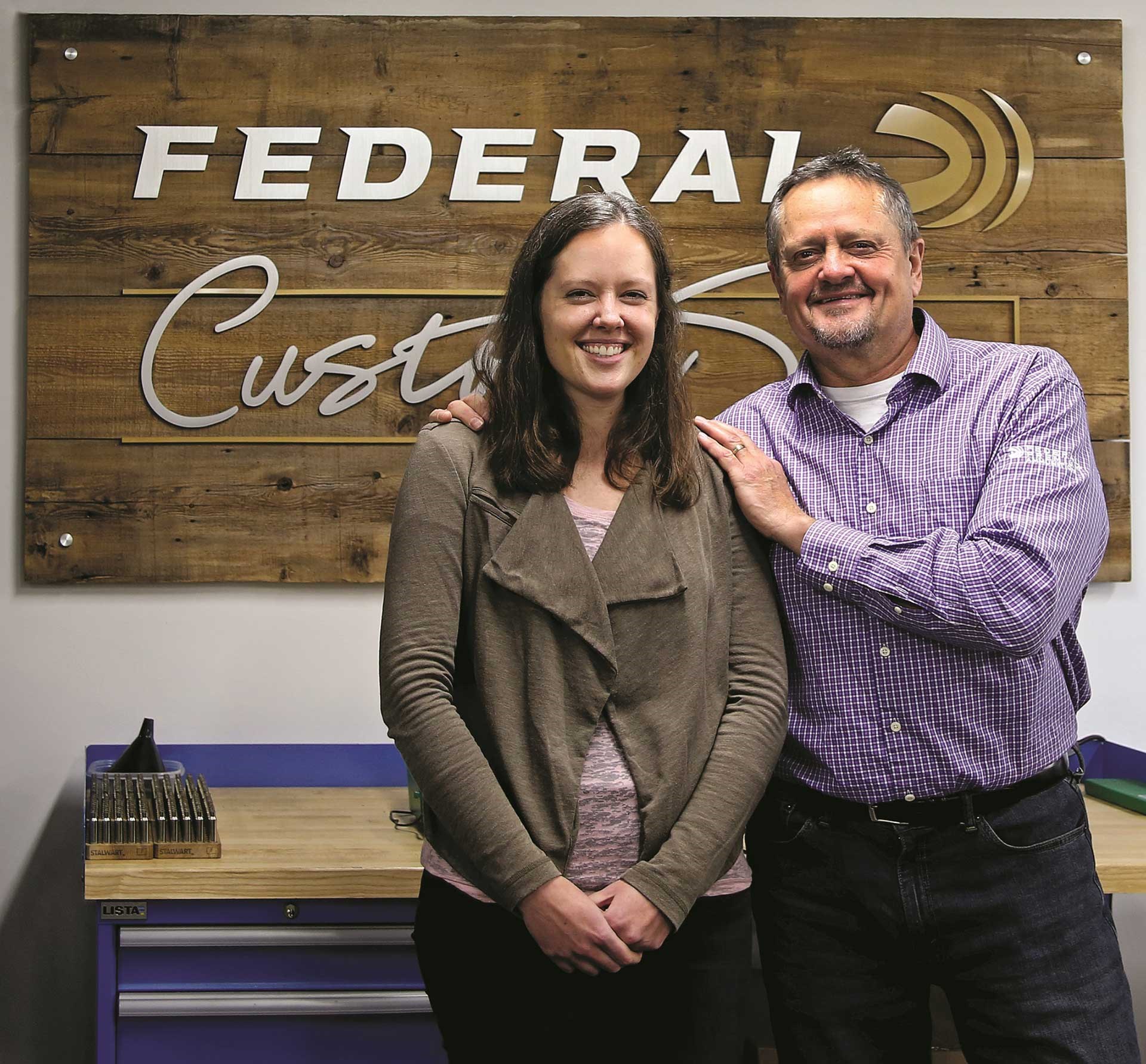 Brittany (Stoeckel) Revolte stands next to her father, Rick, and is the family's third generation working at Federal Ammunition. Brittany interned at the company and eventually came to work in Federal's supply-chain department.
"Before then," Rick chimed in, "engineering came right to sales: 'Here's the new stuff.' It was usually good stuff, but really wasn't as good as it could or should be. And then I was put in as the company's first brand manager, though none of us really knew what that job was. It was sort of a marketing role. Protect the brand. The way I played it was as a go-between from engineering to sales. I looked hard at what the market really needed, trying to define how a new technology could put products on the shelves that offered customers real solutions."
"And that," Drew said, "helped to separate our company from our competition. It was like Rick and the brand managers were working back-to-back with my team. Those guys would bring in info about what shooters want and need, very much looking outside the company. We, product development engineers, looked inside the company to devise concepts and products we could manufacture to meet those needs."
The track record, not just Drew's and Rick's, but the big-picture one created through the smarts and efforts of all Federal operations and employees, is studded with hits literally in every ammunition category. And they just keep coming. As an example I'll point to Edge TLR, a new, high-performing big game bullet introduced in 2018. I got acquainted with it hunting moose and caribou in Canada. The way it hammered those big beasts at long and short ranges made me think it was at least as good as anything out there. But not for long, because an even better do-everything hunting bullet came two years later—Federal Terminal Ascent.
Or consider how Hydra-Shok, a consensus law-enforcement favorite, has spawned HST and Hydra-Shok Deep. Another mind-bender is Black Cloud, waterfowl shells which initially clicked as a load combining two types of steel shot. But don't blink, because now there's a deluxe Black Cloud line featuring Tungsten Super Shot that's drawing raves from the duck blinds.
As we finished our coffee and prepared to head over to the celebration, I inquired about the latest brainstorms. They took turns rattling some off, then made me aware of a new product that's kind of an old product. An echo from Federal's earliest days.
Drew revealed just how deep the roots go. "Mr Horn first came to Anoka to a defunct plant looking for machinery to make paper tubes for air rifle shot. In my office I have one, Federal's original product, P1 [made before the current company incorporated].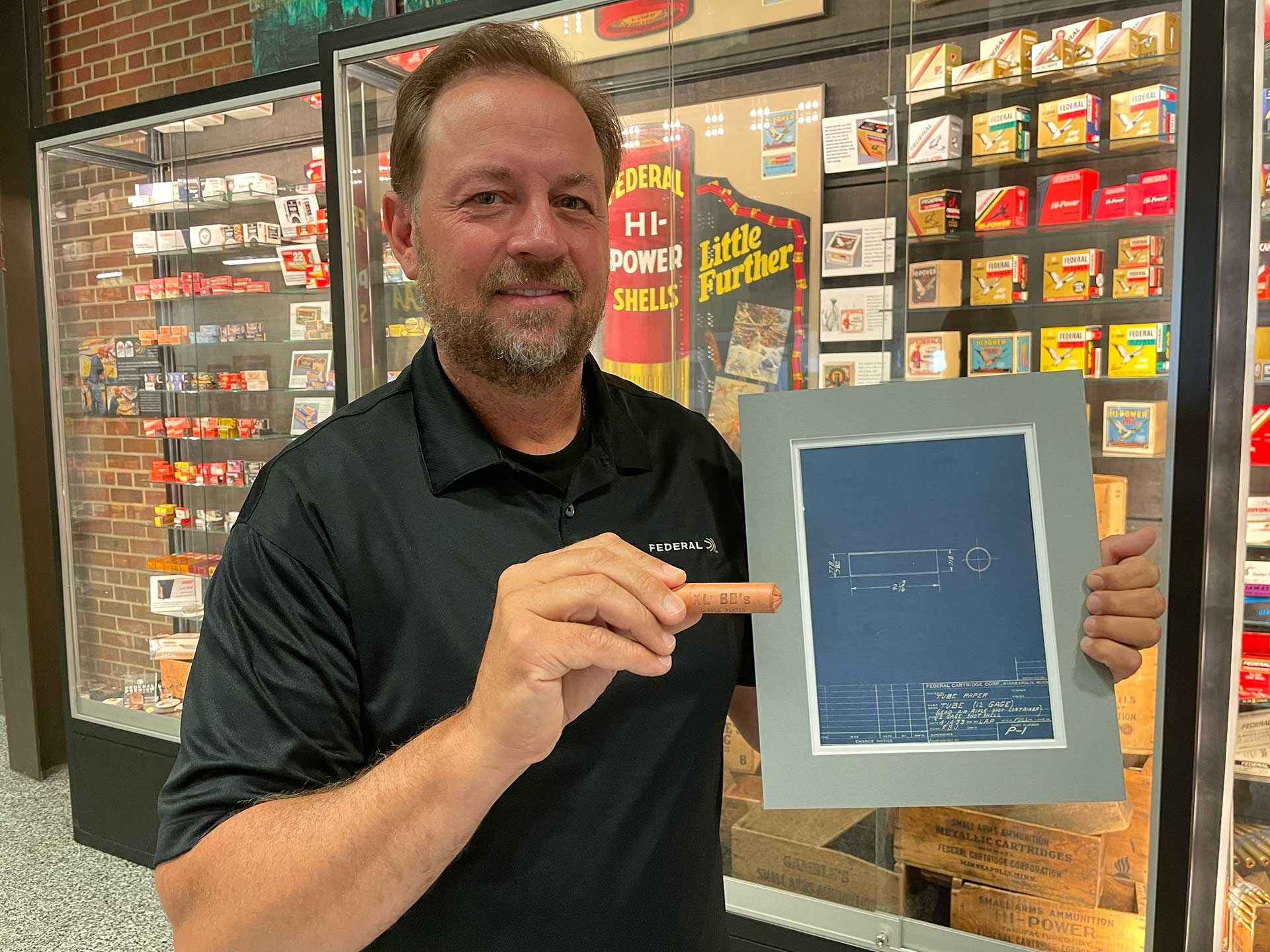 Goodlin displays an original example of Federal's first product, the P1, a paper tube that held shot for air rifles.
"Those very machines are running today making our paper-hulled Gold Medal shells, the best target shell you can buy. And now, a brand-new, paper wad offered in the Top Gun line is made in a very similar way. Technology more than 100 years old." 
"Again we listened to our customers. People who run trap and skeet clubs have been asking for shells that wouldn't leave so much plastic behind," Rick said. "We found the answer in our past, a cellulose-fiber overpowder wad plus an exclusive paper shot cup. We think it could catch on with target shooters."
I followed my friends over to the Federal grounds where the first guests were trickling in for the big celebration. Rick and Drew changed into red "Volunteer" shirts and got busy as greeters. It looked like they knew just about everyone. Eventually more than 4,000 employees and family members, retirees and friends filed through to tour the 700,000 sq.-ft. manufacturing space, and then enjoy a catered outdoor lunch on a fine summer day. On a grand stage fitting of the event, Federal CEO Jason Vanderbrink introduced two Medal of Honor recipients Sammy Lee Davis and Clint Romesha, emceed an auction that raised big bucks for local charities, and brought out headline musicians Nick Hoffman, Lee Greenwood and Ted Nugent.
How things had changed since the day in March 1922 when Charles Horn first ventured to the site by streetcar and had to slog through deep snow to a building deserted except for the solitary caretaker awaiting his arrival. I'm sure he would have enjoyed the celebration and I bet he'd appreciate how echoes from his time are still helping the cause.