Backup outside linebacker Connor Brewer was the only Millikan University player in attendance when the national anthem played before his football team beat Augustana College on Oct. 15. His coaches and teammates were in the locker room, and that lonely stance in front of thousands of fans on an Illinois gridiron didn't go unnoticed by one fallen Marine's mother.  
Divisive emotions stirred nationwide when San Francisco quarterback Colin Kaepernick sat for the national anthem a few weeks ago—a protest that has subsequently mutated into contagious kneeling. The millionaires-turned-social-activists knew captive television audiences would fuel the flames on social media, but Brewer plays for a college team most of us never heard of, and apparently wants the notoriety to  disappear because he's not granting interviews (even to Fox News network).
But, the image of him standing alone on his team's sideline—then rushing in to join his teammates in the locker room after the song—touched Debi Daniels enough to send a note to the reporter. "Reading your article about Connor broke my heart," she wrote. "It was the loneliness—that he had to be there by himself." Daniels is a Gold Star Mother, a title unfortunately earned by those who have lost a child while serving this great nation in uniform.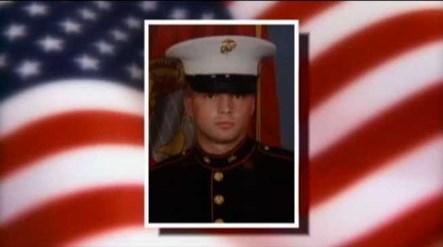 Her son, Nickolas Daniels, was a star athlete on the St. Patrick High School football team in Chicago. He went on to play for Millikan in 2004—on both sides of the ball—but ultimately went back to his old school to help coach the freshman team. His ultimate goal, though, was to become a police officer and when he joined the U.S. Marine Corps in January of 2010 he hoped it would look good on his resume. (images from nbcchicago.com)
He was assigned to the 3rd Combat Engineer Battalion, 1st Marine Division. Just before his September 2011 deployment to Afghanistan he confided to his parents that when he returned he would marry his girlfriend. During his service, he received a Purple Heart, Combat Action Ribbon, National Defense Service Medal, Global War on Terrorism Service Medal and Sea Service Deployment Ribbon.
On Nov. 5, 2011, Lance Cpl. Daniels was killed in combat, and is listed among the more than 100 Marines who died in the Battle of Sangin—considered the bloodiest long-term engagement in the Sand Box by U.S. and British forces. He is survived by his parents, two brothers and a sister.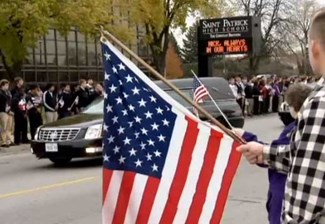 Funeral services were befitting a local hero and included a procession of more than 200 squad cars and 500 vehicles. His parents purchased a local bar later to honor one of Nickolas' last requests.

None of it can mend a mother's broken heart, though. She remained silent on the national anthem controversy until the school her son attended decided the team should hide in the locker room—well, all but one of them. She didn't indict the right to free speech, just the timing and wanted to make sure Brewer knew he isn't the only one who feels strongly about the issue.   
Brewer is only a freshman, but he did get some playing time according to the box score.