by
posted on August 3, 2016
Support NRA American Rifleman
DONATE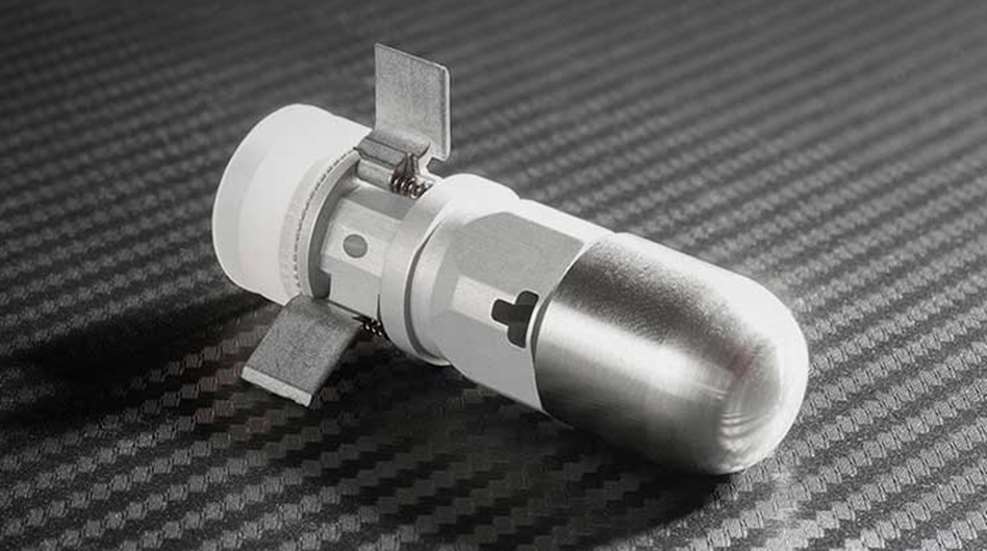 It's not often you get a chance for an up-close-and-personal inspection of gear designed for the military or silver screen, so when Frag12 asked me to take catalog photos of its shotshell—that explodes on contact with its target—I jumped at the chance, even though BATFE rules required I'd be working with an inert version.
Before you ask, I know even jokingly putting a single match head in the thing would break so many laws that they wouldn't bother making a key for my jail cell. In fact, anyone from SOCOM who wants to take a close look is welcome to give it a new research home. I'd need official ID, and expect a signed receipt we can get notarized, though.  
Call me paranoid, but there's good reason. Here's the company's look at what a live version does and a snippet of Discovery Channel's coverage earlier this year.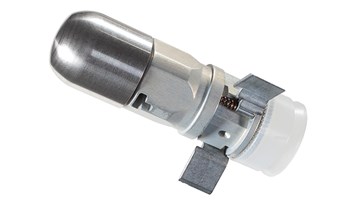 I received the guts—the most interesting part, anyway—of the company's 3-inch, 12 gauge shotshell, which sheds its chamber-friendly polymer skin upon firing. The manufacturer, Frag12, has tested the load extensively in Benelli shotguns and it's been in at least one movie.
Spring-loaded fins deploy once it ditches the hull to stabilize flight. Effective at up to 200 meters (video), it should help those who go in harm's way maintain a safer distance when breaching doors, disabling vehicles or temporarily stunning their adversary. The explosive arms 3 meters from the muzzle.
Payload is 3.4 grams of RDX, European nomenclature for the active ingredient in C4. Ignition starts with a standard 209 primer and muzzle velocity is 900 fps. In-flight weight is 42 grams, although mine weighs less (did I mention this thing on my desk is inert?). Here's the complete Frag12HE shotshell specs.
The warhead—their term, not mine, please no 2 a.m. raids—is thin and light, so there's not much shrapnel produced, making it obvious it isn't designed to replace the M203 grenade launcher. It's a breaching tool and makes cool explosions, at distance, safely.
I'd love to test working versions, but there's that BATFE thing. Of course, if someone from Delta picks this up—not that the unit really exists, although I am close enough to Fort Mackall that grenades and automatic fire lull me to sleep most nights, hint, hint—and decides real testing is needed, I'd love to be there. In fact, I'm going to include a clause in that receipt, notarized, with witnesses, by the way.