Champion Range and Target recently awarded $2,500 Tom Knapp Memorial Scholarships to a pair of 4-H Shooting Sports Ambassadors. The program was created to honor legendary exhibition shooter Tom Knapp, who died in 2013, and although the winners are announced annually during the summer, it underscores the industry's generosity at a time when debate over increasing student loan debt dominates headlines.
Winners this year are Christina Green, from Enterprise, Ala., and Hunter Todd, from Centerview, Mo. Maintenance of a 3.0 or higher grade point average and enrollment in an accredited college or university is required to qualify for consideration. Status as a 4-H Shooting Sports Ambassador is also mandatory.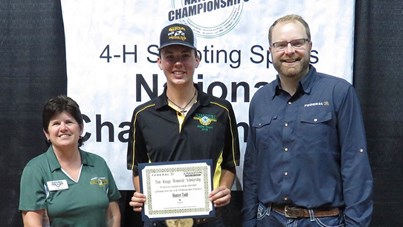 Champion teamed with the National 4-H Shooting Sports Committee to create the Tom Knapp Memorial Scholarship. Knapp was a long-time ambassador for both Champion and Federal Premium Ammunition, and was included in licensed products from Champion. With the support of Knapp's wife, Colleen, Champion extended his licensed products program to fund an endowed scholarship that awards $2,500 to a pair of deserving recipients per year.
"We are thrilled that these young people are interested in carrying on the tradition of shooting sports in Mr. Knapp's memory," said Jon Zinnel, Education and Conversation Outreach for Champion. "We look forward to following Christina and Hunter, and watching the future impact they will have on this industry."
A Washington Post article on June 25 reported student loan debt in the United States currently stands at $1.6 trillion and the average student who graduated with the bachelor's degree this spring owed $30,000. Cost per year for attending a public or private higher education institutions were $8,200 and $21, 200, respectively, according to the article.