Support NRA American Rifleman
DONATE
The Bureau of Alcohol, Tobacco, Firearms and Explosives (BATFE) recently released its "Firearms Commerce in the United States, Annual Statistical Update 2019." The abbreviated report doesn't include total information or manufacturer-specific numbers for 2018, but it does provide somewhat timely information on Federal Firearms Licenses (FFLs) and National Firearms Act (NFA) tax stamp numbers. FFLs nationwide declined from 136,081 (2017) to 134,191 (2018). The total number of NFA items registered, as of May 2019, was 6,058,390.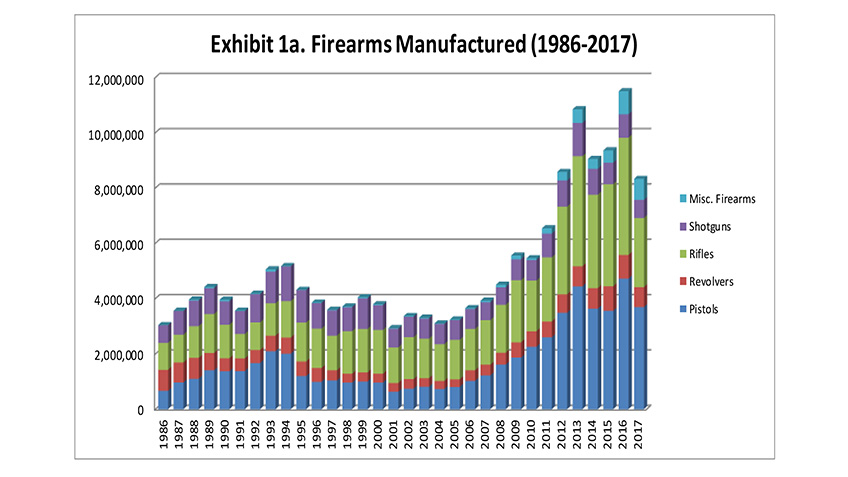 Here's a look at the states with the top-10 numbers of FFLs and NFA-registered items from the report.
Top 10 States in FFL numbers (2018)
4,032—Michigan
4,109—Massachusetts
4,588—Missouri
4,589—North Carolina
4,646—Ohio
5,326—Illinois
6,250—Pennsylvania
7,170—Florida
7,925—California
10,733—Texas
Top 10 States with NFA-Registered Items (May 2019)
175,819—Ohio
175,819—New York
181,209—North Carolina
204,817—Arizona
225,993—Georgia
271,427—Pennsylvania
356,963—Virginia
376,666—California
432,581—Florida
725,368—Texas
On a more serious note, the BATFE figures indicate the volume of firearms manufactured in the United States during 2017 dropped by more than three million when compared to 2016. The numbers were 8,327,792 versus 11,497,441. Pistols made in 2017 totaled 3,691,010; rifles came in at 2,504,092; shotguns 653,139 and revolvers 720,917.