by
posted on September 27, 2015
Support NRA American Rifleman
DONATE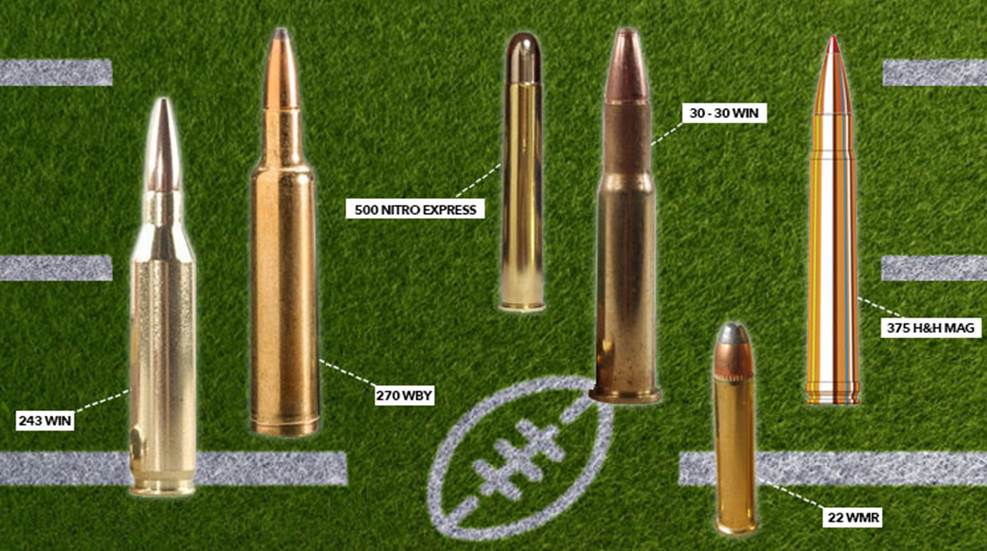 Here are the first 10 teams, but I'd like to apologize in advance if you find any inaccuracies in this installment. There were several problems during my research, including four flat tires at Gillette Stadium and a rather nasty spill at Lucas Oil Stadium.  
.204 Ruger—Cincinnati Bengals. The team brought the high-velocity, no huddle offense to the NFL and it's still speedy, although somewhat small-caliber.
.218 Bee—Tampa Bay Buccaneers. Mosquitoes and bees also hibernate in the fall.
.22 Short—New York Giants. As legend has it, Jimmy Hoffa was buried in the rarely visited Meadowlands end zone and this fodder is every bit as elusive.
.22 WMR—Carolina Panthers. Bark's bigger than the bite.
.220 Swift—Miami Dolphins. It's not that you shoot this cartridge much, it's just a safety reminder that if a tornado hits during a home game you should head to the end zone, fast, where there's never a touchdown.
.22-250 Rem.—Buffalo Bills. Varmint-getting cartridge, often used for opossum, which also plays dead at home and dies on the road.
.243 Win.—Cleveland Browns. No Super Bowl–victory glory and the town has never hosted one, but everyone knows if the right person is pulling the trigger the job can get done.  
.26 Nosler—St. Louis Rams. New cartridge, youngest roster in the NFL and a spouse who lives out of luggage, "just in case" you're looking for another high-performance youngster.   
6.5 Creedmore—San Francisco 49ers. Joe Montana, Jerry Rice, precision hits on target and all those non-gridiron college years you wiled away in the chem lab and on the debate squad without a date.
6.5x54 mm (not the 6.5x55 mm)—Kansas City Chiefs. Slippery footballs, untimely fumbles and the cartridge Greece adopted for its military in 1903.
7 mm Rem. Mag.—Chicago Bears. Pure "Sweetness" if you're looking for steady and predictable yardage, but when things don't quite work out, there's always the "Fridge." 
.270 Why.—New York Jets. "Hollywood" Joe Namath and Roy Weatherby were more than marketing hype, although your wife still wonders about the pair of collector's-edition Beautymist Panty Hose in the back of your closet.
.270 WSM—Detroit Lions. Who needs cheerleaders or, for that matter, curvaceous cartridges you're willing to be seen with in public?  
.30-30 Win.—Indianapolis Colts. Glamorous history, the introduction of cheerleaders to the NFL and, as luck would have it, projectiles prone to losing "air" downrange.  
.300 Rem. SAUM—Baltimore Ravens. The team's named for a poem, mascots are Edgar, Allen and Poe, and when you ask at the gun shop about new guns in your pet chambering the answer is, "Nevermore, Nevermore."
.303 British—Houston Texans. Throw your season tickets or an empty ammo box on the dash and you're OK to park in the handicapped spot.
.375 H&H Mag.—Green Bay Packers. The only community-owned major league sports franchise in the United States and a cartridge with enough offspring to qualify as a city in rural Wyoming.  
.408 Chey Tac—San Diego Chargers. The number of footballs Dan Fouts and Air Coryell filled the air with never showed up on military radar, either.  
.500 S&W Mag.—Pittsburg Steelers. Whether it "plays" in a lever-action rifle or handgun, it's offensive on both ends of the field. (*Hat tip to Wiley Clapp on this one, although I must note the team performs with particular relish when it's at home on Heinz Field)
.500 Jeffery—Atlanta Falcons. Quit your whining, it was your pick. 
.500 Nitro Express—Seattle Seahawks. Team owner Paul Allen (co-founder of Microsoft) and the manner in which Windows users also spontaneously curse, flinch, howl and cry.   
.577 Tyrannosaur—Jacksonville Jaguars. Somewhere there's a brain looking for its body.