by
Kelly Young, Senior Executive Editor
posted on October 9, 2015
Support NRA American Rifleman
DONATE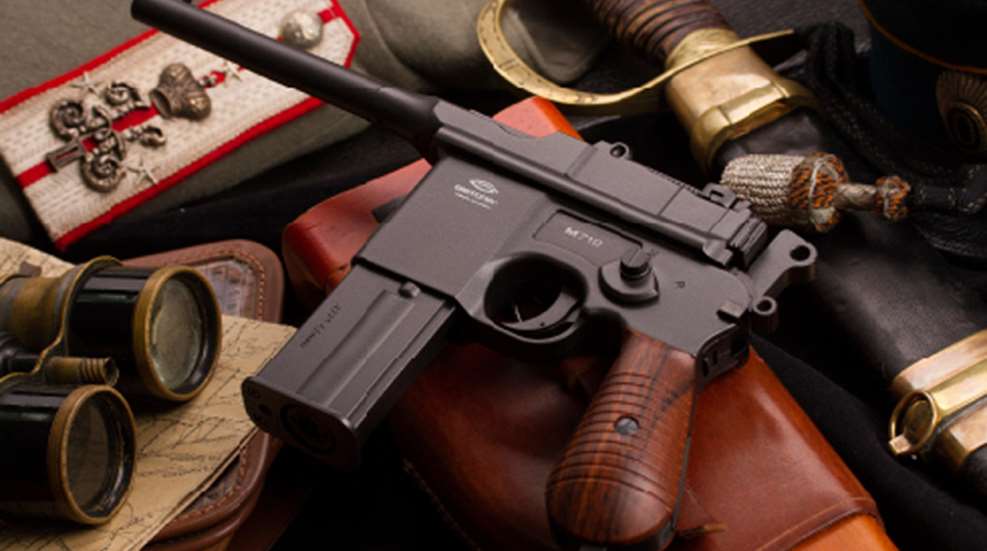 Gletcher, a company known for producing meticulously detailed pneumatic replicas of real firearms, has extended its product line to include the M712—a reproduction of the
Mauser C96
Broomhandle's M712 variant. A CO2-powered facsimile of the genuine article, Gletcher's M712 offers shooters an alternative to the Mauser that is pennies to the dollar of the real thing.
Accurately reflecting the size and weight of the original, Gletcher's attention to detail in designing this airgun is impressive. Like its forebear, the M712 airgun is selective-fire, loads via a detachable box magazine and is charged by drawing back the gun's straight-line bolt. Gletcher even included a slot in the rear of the handgun's broom-handle-shaped grip—where the famous holster/buttstock of the original would be affixed.
Using a 12-gram CO
2
cylinder for power, which is concealed entirely within the 18-shot-capacity box magazine, the M712 fires .177-cal. steel BBs at an average velocity of 361 f.p.s. The gun also features what Gletcher calls its "Blowback System," which uses a small portion of the gas to actuate the bolt, simulating the reciprocation and recoil of its progenitor.
The M712 states right on the side of the receiver that it is "not a toy," and you'll likely have to remind yourself of that fact several times during a range session. Full-automatic fire is an awful lot of fun—even when you're just shooting BBs. Shooters who have fired a full-automatic-capable gun know how difficult it can be to keep them loaded—and this gun's entire magazine payload can be fired in less than three seconds. Several Gletcher products are available for purchase at
pyramydair.com
. Price: $180. Contact Sport Manufacturing Group; (877) 969-0909;
gletcherguns.com
.