Support NRA American Rifleman
DONATE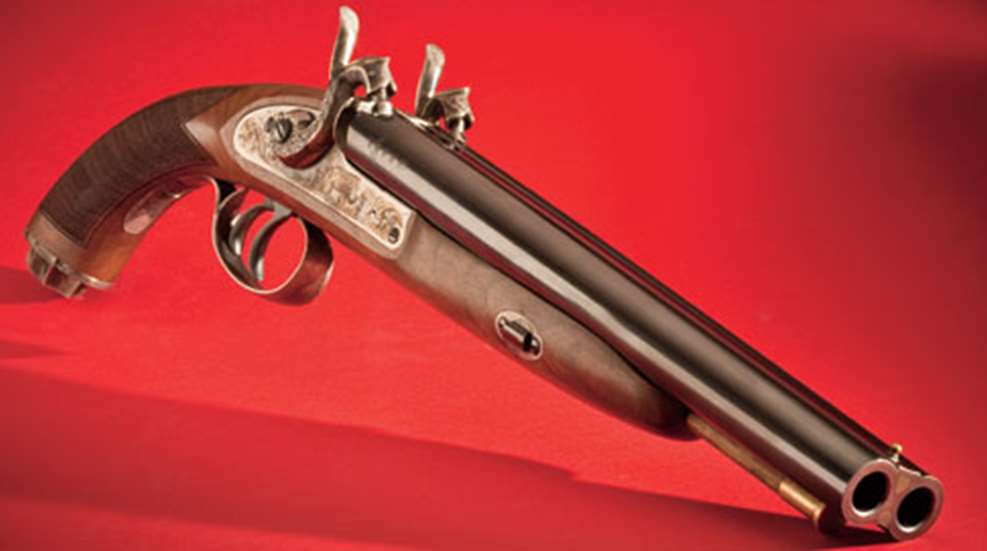 The term "Howdah pistol" came about in the early 19th century, describing the backup firearm employed while hunting from the security of a basket—or "howdah"—strapped atop a pachyderm. The gun's use as the last line of defense against an attacking tiger invariably leads to visions of heart-pounding and gut-wrenching deeds of daring from big-game hunting legends such as Peter Hathaway Capstick, Theodore Roosevelt, Basie Maartens and Jim Corbett. Even though those last-ditch attempts to bring down a deadly and enraged beast were rarely successful, and then only by a select few, the romance of the Howdah pistol has inspired present-day, working-class hunters to daydream about facing down dangerous game on safari.
After English aristocrats and British military officers popularized the sport of tiger hunting in British India, creating a large-bore, fast-handling, snatch-and-shoot backup firearm fell upon the English gunmakers. Purdy, Manton, Bland and Braendlin Armory, among others, led the way, developing multi-barreled, well-balanced sidearms. The gun evolved from percussion muzzleloading systems of operation to breechloading actions that fired fixed, metallic cartridges. Among the latter, calibers ranged from .380 to .570.
Now gun enthusiasts can own a slice of history with the "Howdah Hunter" recreation from Davide Pedersoli & Co. as imported by Dixie Gunworks. This finely crafted, percussion, side-by-side double-barreled muzzleloading handgun is offered in four different configurations: 20 gauge and 20 gauge; 20 gauge and .50-cal.; .58 cal. and .58 cal.; and .50 cal. and .50 cal. The latter is evaluated here. Its features include a European walnut, three-quarter stock in a satin finish with fine-line checkering on the pistol grip. The tapered 11 1/4-inch barrels are a deep blue, and they are 0.985-inches wide at the breech and 0.825 inches at the muzzle. The broach rifling is 0.005-inches deep, featuring a 1:18-inch twist rate (12 lands for the .500 and 12 grooves in .510).
The front sight is a brass bead and works well alongside the color-casehardened steel furniture that includes locks, buttcap, wedge plates, triggerplate, trigger guard and tang. The engraved lockplates have a warthog and scroll on one side, a leopard and scroll on the other, and scroll engraving on the hook breech tang and triggerplate. It uses 1/4x28 nipples with No. 11 percussion caps. The recommended load is 25 grains of 2F blackpowder.
The gun was simply a joy to shoot. At just over 5 pounds, it is a bit heavy for standing, one-handed firing, but it was no problem when seated, using both hands from a bag. It was a surprise that there was little perceived recoil. We expected a wallop, but received a tap that felt more like the recoil of a .38 Spl. + P round. The trigger pull had a clean and consistent release that averaged 7.1 pounds for the right barrel and 8.6 pounds for the left. The scalloped, all-steel gripcap makes a nice counter balance for the 18 1/2-inch overall length, adding to the gun's pointability.
Loading was easy, and our shooters encountered no problems or malfunctions as we fired 200 rounds through the gun. By the end of a full day of shooting, our primary test shooter was able to fire and reload both barrels in just more than a minute.
The brass front bead was simple to keep on target for a fast follow-up shot, although we would like to see a model offered with a blade front and adjustable rear sight so we can see the Howdah's true accuracy potential. Trying to shoot tight groups at 25 yards with a brass bead for a front sight was, to say the least, challenging.
For accuracy testing, we chose loose Pyrodex 3F and American Pioneer 2F blackpowder substitute and 3F Goex blackpowder as well as 245-grain Buffalo Bullet Ball-et, 245-grain PowerBelt and 320-grain T/C Maxi-Ball projectiles. The accuracy was as expected when shooting a gun made for up-close-and-personal shots at no more than 10 to 15 feet instead of 25 yards, as tested. Our average five-shot group spanned about 4 to 8 1/4 inches, with the occasional flyer, which was not too bad, and we had no problem keeping all shots fired on the target. For fun, we also fired a series of groups at 50 yards. With no adjustable rear sight we had to rely on guesswork, and we managed to place only one shot in the bullseye. Most shots at 50 yards covered the span of the bottom of the target.
We doubt there is a blackpowder enthusiast today who wouldn't love a chance to shoot a gun as uncommon—and fun—as the Howda. Also, those who wish to buy a kit can finish the gun themselves and save around $150. Dixie's Howda is in keeping with the look, feel and spirit of the original guns, so they are sure to offer a lot of shooting enjoyment and spirited discussion.
Dixie Howda Hunter Handgun:
Manufacturer: Davide Pedersoli & Co.; Davide-perdersoli.com
Importer: Dixie Gun Works, Inc.; (800) 238-6785; Dixiegunworks.com
Caliber: .50 (tested), 20 ga., .58
Action Type: Side-by-side, percussion muzzleloading handgun
Barrel: 11 1/4
Rifling: 1:18" twist
Sights: Brass bead front, no rear sight
Trigger Pull: Double triggers: 7 lbs., 1 oz. right barrel; 8 lbs., 6 ozs. left barrel
Overall Length: 18"
Width: 2 1/4"
Height: 5"
Stock: European walnut
Weight: 5 lbs., 1 oz.
Suggested Retail Price: $675