by
posted on December 1, 2014
Support NRA American Rifleman
DONATE
CMMG Inc. has released the Mk47 Mutant, a new rifle platform in 7.62x39 mm caliber that combines characteristics of both AR and AK-47 rifles. (see CMMG video below)
Engineered from 7075-T6 aircraft-grade billet aluminum, the Mk47 Mutant features a uniquely designed upper and lower receiver built to manage the dimensions and pressures of the 7.62x39 mm tapered cartridge-while keeping the weight of the rifle to a little more than seven pounds (unloaded).
The Mk47 Mutant utilizes a unique bolt carrier group derived from the AR-10 group which, aside from a shortened 8" length, retains all of the material on the bolt face for added durability and strength.
The lower receiver is designed to accept existing AK magazines; and a standard ambidextrous hook-and-latch system allows for fast and intuitive reloading. The rifle comes with one Magpul PMAG 30-round AK/AKM MOE 7.62x39 magazine.
The Mk47 also features a full-length Picatinny rail for easy mounting of sight or optic. A lightweight CMMG RKM KeyMod Hand Guard allows for a wide array of accessories using the KeyMod slots found in the 3, 6 and 9 o'clock positions. For accessories that are not yet KeyMod compatible, CMMG offers 5-slot accessory rails.
The Mk47 sports a 16.1" free-floated barrel with a 1:10" twist and runs on a carbine-length direct impingement gas system. By maximizing accuracy and harnessing the knock-down power of the 7.62x39 mm, the Mk47 is ideally suited for both sporting and defense applications.
The Mk47 Mutant is available in three different configurations: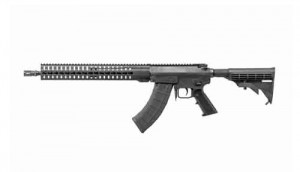 CMMG Mk47 MUTANT T
Caliber: 7.62x39 mm
Barrel: 16.1" medium taper profile
Muzzle: A2 compensator
Hand Guard: CMMG RKM15 KeyMod
Upper Receiver: 7075-T6
Lower Receiver: 7075-T6
Trigger: CMMG Single Stage
Furniture: A4 6-Position Collapsible Stock, A2 Pistol Grip
Weight: 7 lbs. (unloaded)
Length: 32.75" (stock collapsed)
Magazine: Magpul PMAG 30 AK/AKM MOE
MSRP: $1,499.95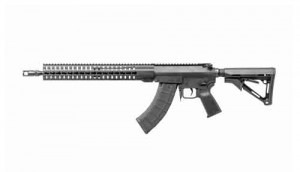 CMMG Mk47 MUTANT AKM
Caliber: 7.62x39 mm
Barrel: 16.1" medium taper profile
Muzzle: CMMG SV Brake
Hand Guard: CMMG RKM15 KeyMod
Upper Receiver: 7075-T6
Lower Receiver: 7075-T6
Trigger: CMMG Single Stage
Furniture: Magpul CTR Butt Stock, MOE Pistol Grip
Weight: 7.2 lbss (unloaded)
Length: 33.5" (stock collapsed)
Magazine: Magpul PMAG 30 AK/AKM MOE
MSRP: $1,649.95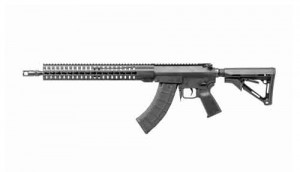 CMMG Mk47 MUTANT AKM2
Caliber: 7.62x39 mm
Barrel: 16.1" medium taper profile
Muzzle: CMMG SV Brake
Hand Guard: CMMG RKM15 KeyMod
Upper Receiver: 7075-T6
Lower Receiver: 7075-T6
Trigger: Geissele SSA Two-Stage Trigger
Furniture: Magpul CTR Butt Stock, MOE Pistol Grip
Weight: 7.2 pounds (unloaded)
Length: 33.5" (stock collapsed)
Magazine: Magpul PMAG 30 AK/AKM MOE
MSRP: $1,849.95