by
posted on March 6, 2014
Support NRA American Rifleman
DONATE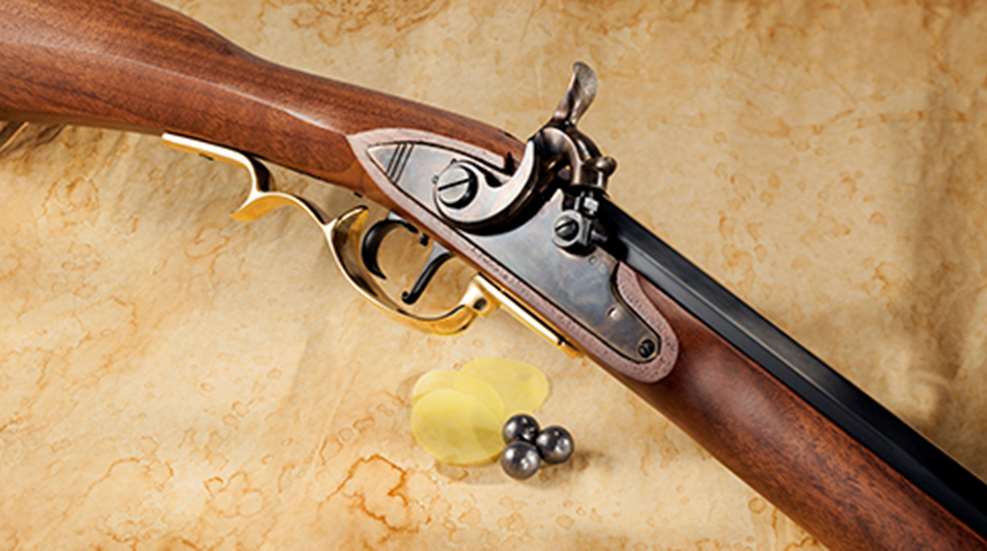 Few firearm designs are as recognizable-and uniquely American-as the "longrifle." An all-encompassing term for once-ubiquitous flintlock rifles employed during the 18th century for securing food, defending one's person and family, and freeing the Colonies from tyranny, longrifles varied greatly in configuration and appearance. Interestingly, there was no absolute continuity among gunmakers in the same Colony/state, county and even township; however, there were commonalities among the rifles. In a Cabela's-exclusive rifle, Pedersoli captured some of them in its Blue Ridge Flintlock Rifle, which is also offered in a percussion variant. The latter is evaluated here.
As the name "longrifle" denotes, arms of this type have lengthy barrels to improve sighting, not necessarily to consume lightweight to modest charges of blackpowder. Its extended length also improves the rifle's overall balance, which can be further enhanced with a tapered (swamped) barrel, though it is seldom encountered on production rifles due to increased cost of manufacture. Although it lacks a tapered barrel, the Blue Ridge rifle stabilizes nicely in the hands. Its blued, octagonal steel barrel measures 39 inches in length and 0.888-inch wide, thus contributing greatly to the rifle's 7 pound, 10.4-ounce weight in .54 cal. The muzzle is not blued and, if left unclean after firing, will develop surface rust.
The rifling rate of twist depends on the caliber selected; Pedersoli applies 1:48 inches to the .45- and .50-cal. models, whereas on the .54 cal. it's 1:65 inches. As such, in .45- and .50-cal. models, patched round balls and conical bullets can be used, but .54-cal. variants require patched round balls. Concerning "patched round balls," it's prudent to measure the actual bore diameter and, after deducting the lead ball diameter, determine the patch thickness that provides the best "fit"; doing so increases the accuracy potential. The Cabela's patches we used for testing are offered in 0.005 inch, 0.010 inch and 0.015-inch thicknesses.
Topping the barrel are steel buckhorn (rear) and tapered blade (front) sights, both of which are dovetailed into the barrel and drift-adjustable for windage. Correcting elevation will require removing material from the front sight. In adjusting windage, we noted that the rear sight's base was undersized, or the dovetail slot oversized, perhaps both, as the sight moved freely thereafter, and thus required an application of thread-locking compound to re-secure it. The blued blade was difficult to discern against most backgrounds, so we applied a dab of white paint for increased contrast during the testing phase. We'd recommend using a brass or brass-color front blade.
To further improve its aesthetics, the Blue Ridge's lock work and sideplate are case-colored, though no such treatment was noted on the bolster. The nipple thread pattern is 1/4x28, and it accommodates No. 11 percussion caps. The hammer, which features checkering to increase purchase, has three positions: down (fired or on the non-capped nipple), middle (for priming) and rearmost (to fire). The latter two positions are denoted by audible "clicks."
Blue Ridge rifles are outfitted with user-adjustable double-set triggers. Changing the pull weight, however, requires removal of the brass trigger guard. From the factory, the rifle's trigger broke at nearly 15 pounds unset; once set, though, the pull weight dropped to 7.4 ounces. This was a bit light for our tastes.
The Blue Ridge's full-length stock is milled from European walnut with a minimal amount of figure, and overall the stain is applied evenly. The exception to this is the fore-end tip, where it lacks stain altogether. The ramrod, which is nothing more than a 38½-inch dowel rod, is stained to match the rifle; on one end is a brass cap, whereas the other side's cap is threaded to 10x32 to accept a cleaning jag, though none is provided.
As with the original long rifles, there is a considerable drop between the comb and heel, giving it a unique appearance. In fact, the drop at comb measured 1¾ inches and the drop at heel 4 inches; still, the sights align nicely when the rifle is shouldered. It's worthy of note that the cheekpiece is found on the left side of the stock and is, thus, positioned for right-handed shooters. Nicely accenting the walnut are the polished brass buttplate, trigger guard and dual ramrod thimbles.
We opted for a .54-cal. test rifle despite the limited number of projectile options we'd have during the evaluation phase; in fact, both loads featured Hornady's 0.530-inch diameter, 225-grain lead round balls coupled with 0.010-inch thick Cabela's lubricated patches, and ignition was produced by CCI No. 11 percussion caps. The difference between the loads resided solely in the powders. The first used an 80-grain (by volume) charge of Alliant BlackMZ blackpowder substitute, while the second featured 90 grains (by volume) of Goex FFg blackpowder. Between each shot the barrel was swabbed with two Montana X-treme cleaning patches saturated with Birchwood Casey Muzzle Magic No. 77 blackpowder solvent, followed by two dry ones and a cap was fired to dry the bolster and barrel.
Firing from a Coyote Jakes Shoot'n Buddy rest, the average for five consecutive, five-shot groups at 50 yards with the Hornady/Alliant combination was 4.35 inches. When using Goex FFg, the average increased to 5.50 inches. We feel that group size likely would have been smaller had the front sight been easier to see. Also, the test rifle hit low, and correcting this issue requires altering the front sight to change the point of impact. We strongly recommend the addition of a stronger ramrod material. That said, there were no failures of any type during testing.
For the shooter who wants to experience firearms of the past, but doesn't have the capital necessary to purchase a longrifle from one of the semi-custom makers, the Blue Ridge is good option. Given its $600 price ($650 for the flintlock), it represents a respectable buy.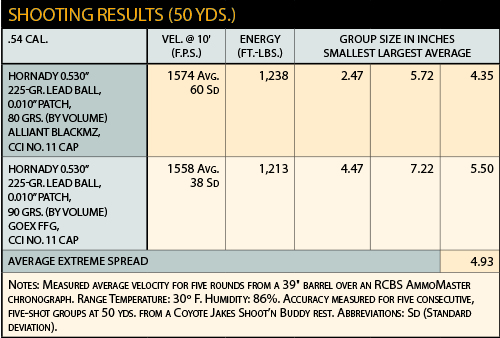 Cabela's Pedersoli Blue Ridge Rifle
Manufacturer: Pedersoli Davide & C. SNC, Via Artigiani, 57, Gardone Val Trompia, Brescia, Italy 25063
Importer: Cabela's, One Cabela Drive, Sidney, NE 69160; (800) 237-4444
Caliber: .45, .50 or .54 (tested)
Action Type: percussion (tested) or flintlock ignition single-shot muzzleloader
Lock: case-colored steel
Finish: blued barrel; polished brass furniture
Barrel: 39" octagonal steel
Rifling: seven-groove, 1:48" (.45 cal); eight-groove, 1:48" (.50 cal.); eight-groove, 1:65" (.54 cal.) (tested)
Sights: buckhorn rear and blade front (drift-adjustable for windage)
Trigger: double-set: 15-lb. pull (unset); 7.4-oz. pull (set)
Stock: European walnut: length of pull, 141⁄8"; drop at comb, 1¾"; drop at heel, 4"
Overall Length: 55"
Weight: 7 lbs., 4 ozs. to 7 lbs., 12 ozs. (depending on caliber); 7 lbs., 10 ozs. (tested)
Accessories: owner's manuals
Suggested Retail Price: $600 (percussion), $650 (flintlock)