Emergency preparedness kits come in all shapes and sizes these days. From the pocketable homemade kits tucked into empty Altoids tins to professionally packed 72-hour supply sets, there's something for everyone. There is one idea that's been floating around the Internet discussion forums for a while now that piqued my interest. It involves repurposing a youth single-shot .22 rimfire bolt-action for wilderness survival.
Building a survival rifle is a project with merit for several reasons. If you already own a youth single-shot that your kids have outgrown, then the most expensive component is already paid for. If you are starting from scratch, these little rifles are easy to find and inexpensive to buy. Factory fresh examples of the breed can be purchased for well under $200. The .22 Long Rifle has long been valued as a survival round because the cartridges are light, compact, and capable of taking a variety of game animals. Best of all is the flexibility of having a kit that can be put to use for recreational activities as well as emergencies. No matter how you slice it, there's far more fun to be had hunting squirrels and knocking over soda cans with a sturdy little .22 than with an Altoids tin.
Selecting a Rifle
After looking over the available options, a Savage Arms Rascal bolt action was selected to serve as the base gun. This is one of those unusual rifles that out-performs its price point. I've been able to produce sub 1" groups with good quality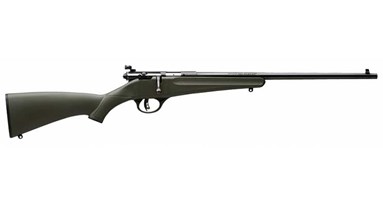 hollow points at 25-yards using the adjustable peep sight, so I'm happy with the accuracy. Despite its youth-sized stock in kid friendly colors, it has the same quality finish, smooth action, and the top notch adjustable AccuTrigger as the center-fire models. The rifle arrives drilled and tapped for a two-piece scope mount for optics. Out of the box the Rascal weighs just 2.95 lbs., so the addition of a pound or two of survival gear will not make it a burden to carry.
Keeping It Simple 
Thanks to the Rascal's design, it's very easy to install a simple set of survival tools. Its svelte one-piece polymer stock is hollow from the grip to the buttplate. The buttplate can be lifted out of the stock to expose a convenient storage pocket when the screw-in sling swivel stud is removed. No fuss, no muss, and more room for gear than one might expect. What to put in there is really up to you. Here are the items I was able to fit in there: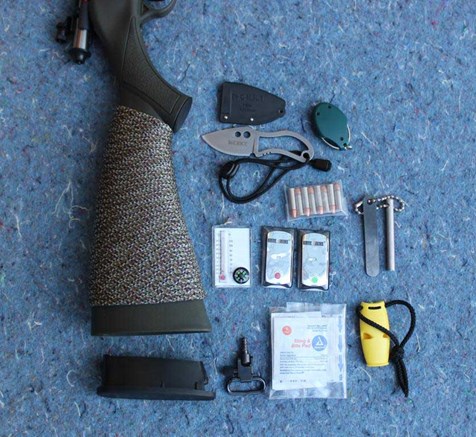 Colombia River Knife & Tool (CKRT) Ritter RSK Mk5 Mini Survival Knife
                   LED Key Fop Flashlight
                   8-Rounds .22 Long Rifle Ammunition
                   Mini Compass & Thermometer
                   Two Brite-Strike Gen-4 APALS Light Strips
                   Mini Magnesium Fire Starter & Striker
                   Small First Aid Pouch
                   Signal Whistle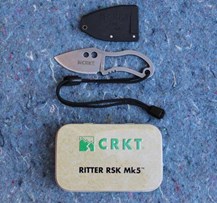 The CKRT Ritter RSK Mk5 is a clever no-fat knife design that fits comfortably into small spaces. Gripping the lanyard properly provides stability comparable to a full length handle. The APALS are ingenious water proof, self-adhesive light strips that provide up to 80 hours of illumination visible for half a mile. Set the APALS to "Steady On" to use as aflashlight, or set to "Strobe" to signal for help. The rest of the list represents typical items that can be found in sporting good stores and first aid kits.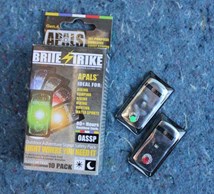 To finish off the set, a 20-ft. length of 550 Paracord was wrapped around the stock. This type of rope is strong, inexpensive, and exceptionally useful to have on hand. Just add a basic sling or carry strap with a couple of swivels and the survival rifle is ready to go.
Expanding On the Theme
There's nothing wrong with sticking to a simple kit that fits in the rifle stock. It's useful, self-contained, and gentle on the pocket book. But once the stock was closed up, I wanted to see what other accessories were available to expand the emergency supplies without turning the rifle into a lead-launching suitcase. The following items filled my requirements quite handily, but they could certainly be put to other uses as well: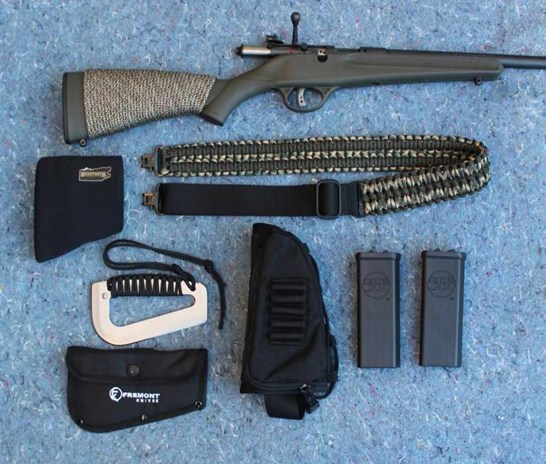 Beartooth Products Recoil Pad Kit 
This inexpensive, light weight, slip-on neoprene recoil pad kit from Beartooth Products arrives with four high-density foam inserts of varying thicknesses. With all of the inserts installed, it extends the Rascal's kid friendly 11.25" length-of-pull (LOP) to 13.25".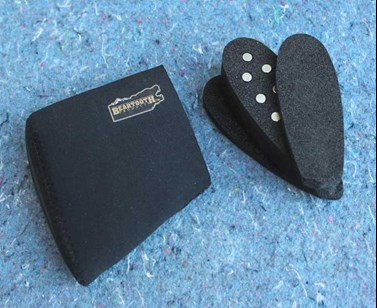 One of the nice things about high density foam is that it's easy to shape with sharp utility knives and new drill bits spinning at high speed. With the two thickest pads pinned together with sewing needles, a 15/64" drill bit quickly carved out pockets for .22 cartridges. The bullet tips do not protrude from the other side of the inserts, so they are protected from damage. Placing the two thinner foam inserts on either side of the cartridges, the recoil pad was assembled and installed on the stock. Cutting a small slit to slide over the swivel stud allows a sling to be used.
BLACKHAWK! Ammo Cheek Pad
This tough 1000 denier nylon rifle stock accessory was designed by BLACKHAWK! with a non-slip covering for use with military precision rifles. The zippered pocket on the right side just about doubles the gun's cargo space providing room for bulkier items like a survival blanket, knife sharpener, a compact backcountry water filter, or additional first-aid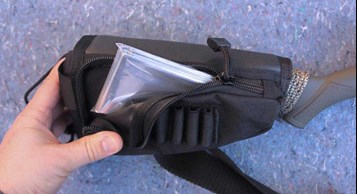 supplies. While handling it, I thought of another use for this accessory. Let's agree up front that a rifle cheek pad like this one is not intended for use as a medical device. However, if, in an emergency, I were to take advantage of its stiff fabric and crisscrossing tie down to temporarily stabilize a sprained wrist or to support a set of splints until help arrived, who would blame me for using the tools at hand?
Freemont Knives Farson Blade Survival Tool
The shape of Freemont Knives Farson survival blade was inspired by Native American stone tools that filled multiple roles. Available in 4cr15 stainless or 1095 carbon steel, this single-piece tool provides 7.75" worth of cutting edge to work with. The curved portion of the blade is ideal for skinning or to shave and shape wood. Turned with the top edge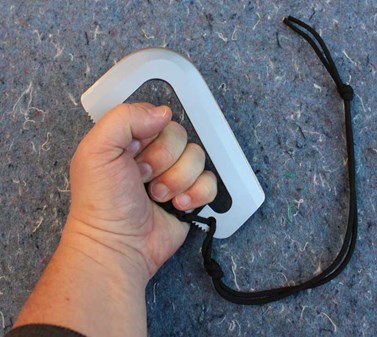 facing down, it can be used to split firewood. The 8 ft. of 550 Paracord wrapped around the handle will lash the blade to a stick to form a hatchet. For the survival rifle, the Farson tool was just the right size, shape, and thickness to fit neatly (in its sheath) in between the cord-wrapped shoulder stock and the cheek pad. It's a tough and flexible tool that will come in very handy in a pinch.
Marble Arms Catch .22
Of all the accessories discovered while researching this project, the Catch .22 from Marble Arms is one of my favorites. This sturdy polymer storage device securely holds and protects up to 50 rounds of .22 Long Rifle ammunition (70 rounds of .22 Short, 30 rounds of .22 Mag.) in 10 columns. The sliding lid is click adjustable so as to expose just one column at a time. Filling the Catch .22 with the cartridge rims facing the top of the container allows it to be used as a dump loader to pour five rounds at a time into tubular rifle magazines. Storing the cartridges with the bullet points facing upwards, and a little practice, allows single rounds to be fed into double-action revolver cylinders.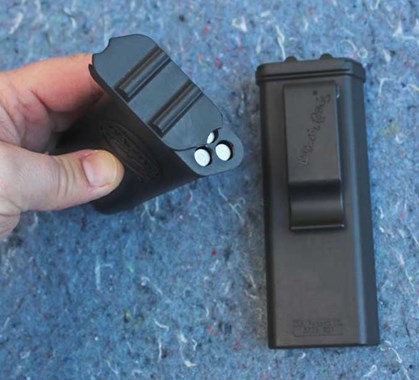 The Catch .22's compartmental design also makes it easy to carry a mixed set of ammunition. Fill a column with bird shot loads, others with hyper-velocity hunting loads, or whatever you happen to need.
Drop it into a pocket or use the heavy-duty clip on the back to attach it to a belt or sling. In this case, it was clipped to the cheek pad for storage. Buy just one Catch .22 and you'll wish you had bought two.
Sandstorm Custom Rifle Slings
One of the easiest ways to carry extra Paracord into the wilderness is to braid it into a useful accessory like a belt or rifle sling. Sandstorm Custom Rifle Slings of Texas offers several custom handmade sling configurations braided with American-made 7-strand Paracord. The sling shown here is a wide Double Cobra weave of Olive Drab and Woodlands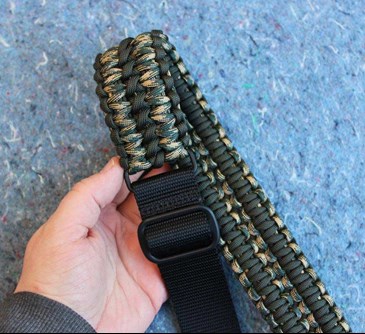 Camo cord that looks great with the Rascal's green stock. Talon QD swivels are installed along with an adjustment strap that allows the sling to stretch from 34" to 41" in length. This good looking and comfortable sling may have been custom made to go with this survival rifle, but I'm already planning to put it to work with other guns as well. Sandstorm's sling prices vary depending on the sling's configuration.
Parting Thoughts
Here is how the survival rifle turned out: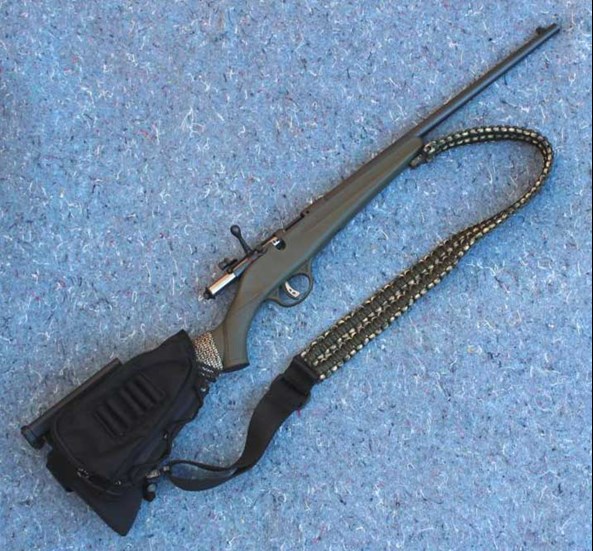 It's still compact and lightweight with all of the accessories installed.
Assembling this survival rifle was a fun and informative project resulting in a useful tool that can ride along with my family when we go to enjoy the great outdoors. If you've got kids at home, invite them to participate in the build so that they can learn more about emergency preparedness and wilderness survival tools. In fact, while you're doing the research and shopping for the rifle, they could assemble their own pocketable preparedness kits. Whether it's packed in a rifle stock or in a candy container, the most important thing is to be properly prepared.