Bergara USA
, a division of Blackpowder Products, Inc. (
BPI Outdoors
), has announced that it is shipping its first new line of production rifles, the Performance Series B-14 Timber rifles.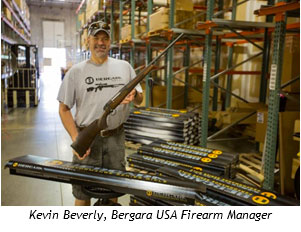 The
Performance Series
production rifles combine the company's custom shop capabilities with the latest in production technologies to create a rifle that has the fit, finish, feel and accuracy of a high-priced custom rifle with the affordability of a production model. The B-14 Timber rifle features the Bergara Performance action with a coned bolt nose and breech, ensuring consistently smooth feeding and a sliding plate extractor for proper alignment.
The Bergara 4140CrMo steel barrel is finished in matte blue and is available in 22" (short action) and 24" (long action). The B-14 Timber rifle is built on a classic style, oil-finished walnut stock with a checkered pistol grip and fore-end. The wood stocks are bedded with integral pillars for stability and enhanced accuracy.
Bergara Barrels supplies barrels to several of the world's top rifle manufacturers, and incorporates a proprietary rifling which have made Bergara's custom rifles widely respected by big game hunters, law enforcement and long-range shooting enthusiasts.